At the edge of technology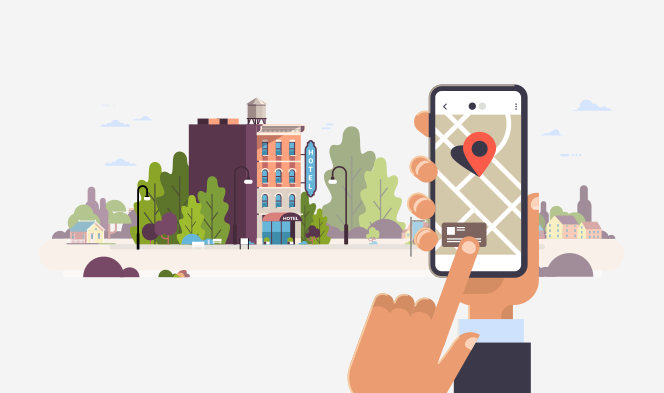 https://www.biztechcs.com/blog/airbnb-app-development/
912
Airbnb Like App Development: Strategies, Features, Cost and How to Standout
29 Jul, 2020
16 min read
The idea of embracing a couple of strangers into your home is scary – and so is staying in a home you are not familiar with. But almost a decade ago, a few brilliant minds (Chesky and Joe Gebbia) saw entrepreneurial opportunities in this idea and launched Airbnb. The startup AirBreadNBreakfast has since been a top choice for many.
Airbnb is an accommodation marketplace that provides access to over 5.6 million unique places in 100,000 cities and 191 countries. That's the primary reason that in no time has it completely conquered the global market. The most interesting part about Airbnb is that it is a master of branding and tempting user experience. Airbnb triggers the most gullible sentiment in people looking for places to stay. The sentiment of finding "a home away from home."
Since its inception, Airbnb has reshaped the rental housing market around the world. It expanded so rapidly that it witnessed the rise of annual Airbnb bookings to 1 billion and the growth rate of the global tourism industry to USD 11,382 billion by 2025. It would be safe to say that investing in an Airbnb app development to offer more services and advanced features would open up many business opportunities.
Today, I will walk you through the know-hows of vacation rental app development (Airbnb-like app development). Read till the end to find out about all the aspects of how to make an app like Airbnb.
Key Takeaways:
What Sets Airbnb Apart?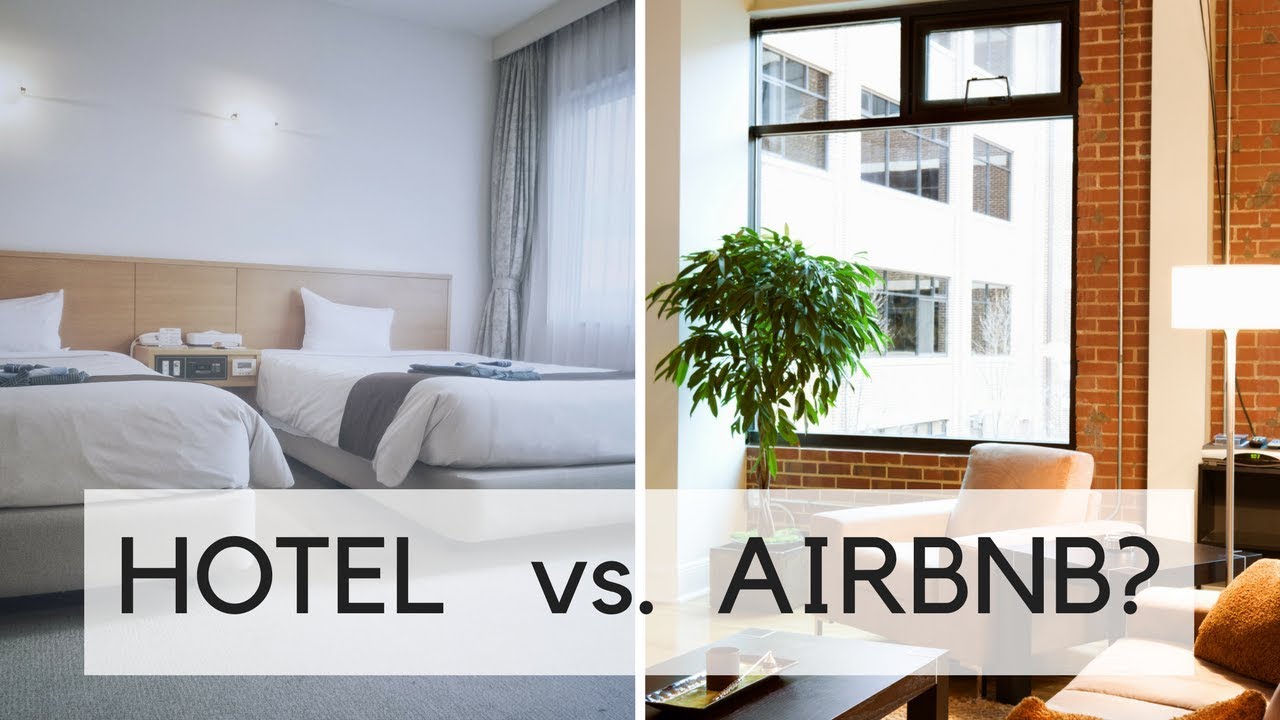 (Source)
You're given two options to choose from. Which one would you choose? A hotel room where you'd have privacy for yourself and yet share some common spaces and a private property where you can be all by yourself without having to share it with anyone. I would pick the latter one, and so would 60% of American travelers.
The idea for Airbnb started off simply after its founders put an air mattress in the living room of their San Francisco apartment to turn it into a makeshift bed and breakfast. The pair rented the space out to travelers to offset the high cost of the rent. In 2008, they developed a website for short-term rentals that would eventually become Airbnb. And now all of us wonder why Airbnb is the talk of the town despite being a simple rental app. The answer is simple. Airbnb focuses on:
Acing the user experience
An intimate sharing of culture and creativity
Personalization and making it fun for users
Collection of unique locations that are inaccessible to common people
Serving intimate and unique experiences
Affordable services (especially if you are in large groups)
When it comes to Airbnb Vs. standard hotels, the USP is that through Airbnb, you can peek into the local life of any place you're traveling. Besides this, Airbnb also participates in occasional philanthropy and has come up with a brand everyone would look upto. Not to mention their eye-catching endorsements and exceptional marketing tactics.
Exceptional Marketing Tactics
deep in the Hundred Acre Wood, there was a house fit for a bear 🍯

celebrate Pooh's 95th anniversary in a home curated by Disney appointed Winnie the Pooh illustrator, Kim Raymond

UK residents can request to book this stay on september 20 at 2pm BST: https://t.co/Vfojxc7LNm pic.twitter.com/rfgtm5mPpy

— Airbnb (@Airbnb) September 14, 2021
Such a short and crisp advertisement/endorsement of their properties. The tweet is merely 50 words yet is informative, intriguing, and eye-catching at the same time.
Community Driven Philanthropy
Starting today, Airbnb will begin housing 20,000 Afghan refugees globally for free.

— Brian Chesky (@bchesky) August 24, 2021
Brian Chesky announces housing for 20,000 Afghan refugees for free
we'd like to thank our generous community of hosts and guests for reaching out and expressing interest in how they can support afghan refugees through https://t.co/f3HXXbao3U.

to learn more about how you can do your part: https://t.co/QqZAVhLajS

— Airbnb (@Airbnb) August 26, 2021
The tagline for their website to support the Afghan refugees: Opening homes in the times of crisis.
Airbnb's Current Value
Long story cut short: It is all about a Unique Value Proposition.
Reasons to Opt for Customized Vacation Rental App Development
Airbnb-like app development keeps getting better and better by the day. It keeps making it easier for customers to book their vacation rental spaces with minimal effort. You might think that cloning the same thing and building a business out of it would be a win-win situation for all. But, it is far from the truth.
As cool as the app cloning approach sounds, it is not practical. After all, an original is worth more than a copy. With the proliferation of multiple cloning platforms, mobile applications' overall quality and originality have taken a nosedive. Many entrepreneurs find themselves in the puddle of problems like up-charging, lousy UI/UX, less scalability, and poor functionality.
The only solution to this problem is to build a customized app like Airbnb. Here are a few benefits:
Scalability: Custom apps are built from scratch and can be customized based on your business needs. They're also easy to scale and not limited.
Functionality and Quality: With custom apps, you won't have to compromise with the quality, whether functionality or appearance.
User Experience: The ease of use and scalability is what matters the most. The user interface must give your users a unique experience. And only custom apps can ensure this.
Advanced Features: Nothing intrigues user attention as much as unique features do. With custom apps, you can introduce and develop the latest features from the core.
On top of these factors, you may still think that creating an app by using the best app cloning platform is affordable. But you don't want to spend too much on poor functionality and appearance, right? Therefore, trying to salvage your app built with clone software may cost you even more than you would have spent on a custom app.
Build an app like Airbnb with a twist that will keep you ahead of the competition. Ask yourself: do you crave to build an app like Airbnb that is the same as Airbnb or want to create something exceptional?
Besides, If your vacation rental app development is in the hands of professional developers, the high functionality of the app can be ensured. The experience you deliver through your application lies at the core of its development. Only development experts can bring an exceptional app like Airbnb together, which is precisely why you must check out Biztech's Airbnb app development model.
Airbnb App Development: Business Model
Airbnb simply works on a sharing economy model (also called the peer-to-peer economy model.) Companies part of this model doesn't involve individuals directly providing goods and services but rather make their money by connecting buyers and sellers.
Airbnb services allow people with a spare apartment or house to earn extra money by renting it. Airbnb makes it possible to book various locations from all over the world. The application is available for two leading mobile platforms (iOS and Android) and a web app.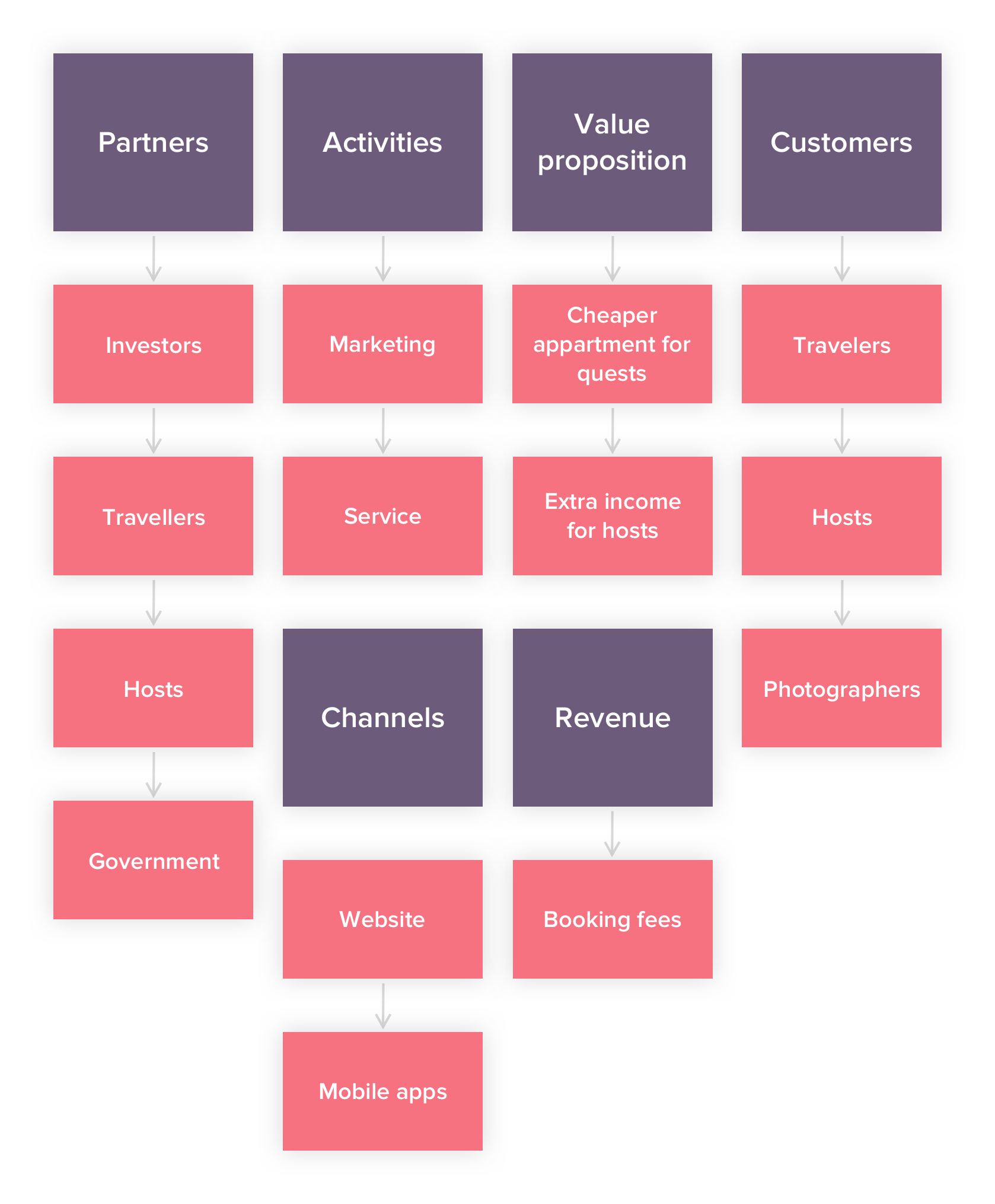 (Airbnb Business Model Canvas)
How to Build an App Like Airbnb
Before beginning with how Airbnb works, its features, and how you can develop an app like Airbnb, let us first understand the target audience, cost structure, technological requirements, structures, and roles.
Target Audience
It depends on the type of properties your hosts will be renting out – whether you want to rent out a home/personal property or a hotel room. For Airbnb like app, the audience would be:
Travelers needing a simple and affordable place
Commercial travelers
Family travelers
Travelers searching for a place to stay in a new city they are visiting
People who are looking for additional income to earn can host
If you want to provide reservations for hotel stays along with private properties, the hoteliers would be your audience too.
Cost Structure
Website and app
Administration team
Online payment platforms like MasterCard, Visa, and PayPal
App promotion and marketing activities
Insurance schemes
Host assistance
Technological Requirements
You'll need a tech partner with a team of developers and a decent history of mobile app development projects to guide you through the languages and technical aspects of developing an app like Airbnb.
What needs to be focused on:
Application Framework
Programming languages
Cloud Storage and Hosting
Voice and SMS API for SMS, Voice, and Phone Verification
Messaging & Communication
Global Payment
SQL Data Storage
Airbnb Like App Structure: Roles
Host: Who owns a house or land and wants to rent/lease it. Admin collects Commissions from hosts upon each booking.
Guests: Travelers, families heading out on holiday, and/or professionals out on a work trip who want to live comfortably at reasonable rates. The admin receives a fee from the guests upon every booking in the form of a convenience fee.
Admin: One who would venture out of business and manage all the hosts' and guests' activities.
How Does Airbnb work?
The vacation rental booking app works with tons of functionalities. You must understand the platform's logic from the client's point of view.
The Airbnb app would connect hosts who want to rent out space in their homes with guests seeking lodging at generally cheaper prices than a hotel. Guests can find the proper listing using a variety of filters, a chat system would connect the guests directly to hosts, and digital payment options would allow them to pay securely through the app itself.
Airbnb For Guests? (A Six-Step Approach)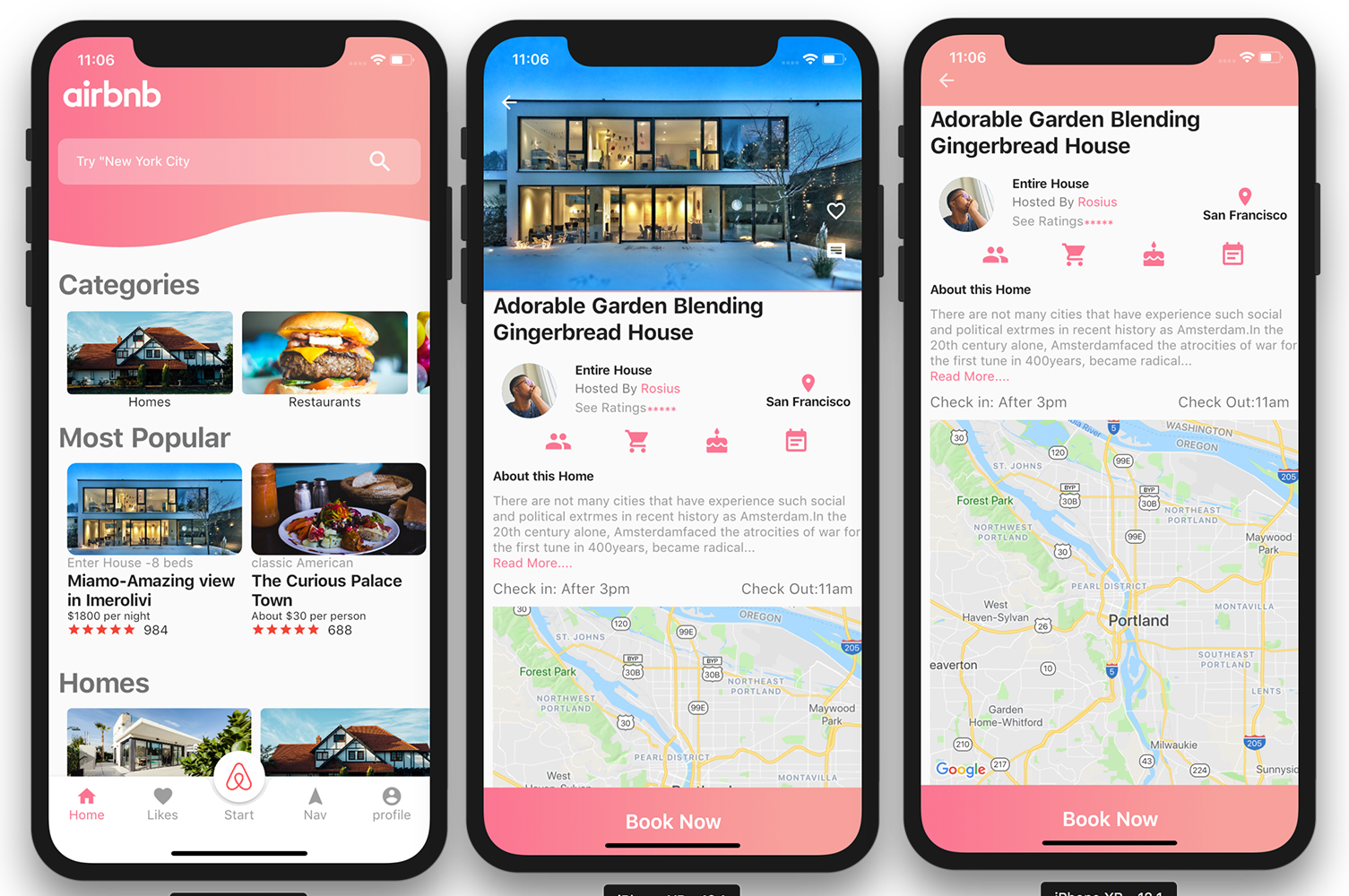 (Source)
Step 1. The user goes to the website/app and registers. (or logs in as a guest)
Step 2. Users can add necessary information/data such as profile picture, ID number, etc.
Step 3. The client can choose the appropriate place to live. They can apply various filters like price, location, space, number of people, etc.
Step 4. The guest can request a stay and receive a confirmation once the host confirms.
Step 5. Guests will then have to pay for a reservation using the app/website.
Step 6. The final step is enjoying the stay!
Airbnb For Hosts (A Six-Step Approach)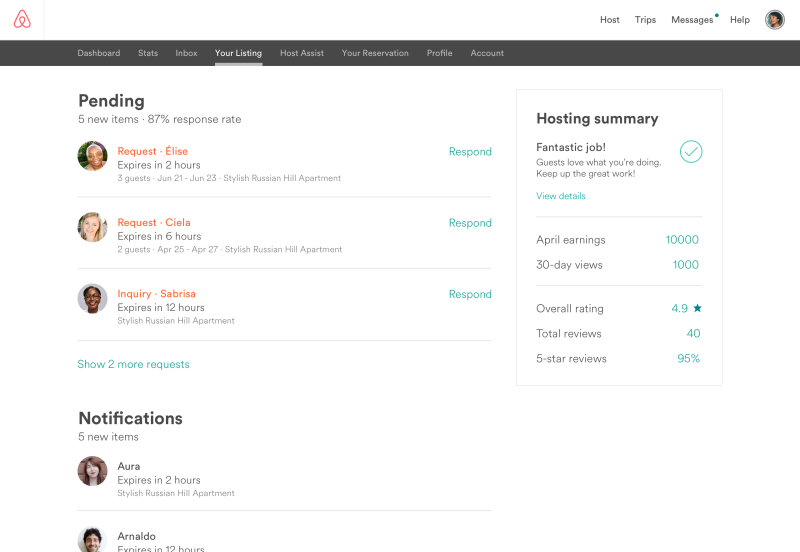 (Source)
Step 1. The user will need to register (or login) as a host.
Step 2. After that, they can register a property on Airbnb. The host can add information about the location, the number of guests, type of apartment, etc.
Step 3. The landlords need to upload real-time photos of their apartments and set the price.
Step 4. When the guest requests a stay, and if the hosts are interested, they can start a conversation and discuss all the details.
Step 5. If everything goes well, the host approves the stay. The host can also reject the stay.
Step 6. The host can receive the payment in 24 hours after the guest checks in. The host needs to confirm that your listing is as good as expected.
As they say, actions speak louder than words; there is a huge difference between reading about the functionalities and visually experiencing their work. If you're still confused and have doubts about how to develop an app like Airbnb, try taking an interactive demo. We have a proto-type demo ready for you.
Airbnb Like App Development: Revenue Model
Airbnb has established a marketplace platform where both hosts and travelers can safely exchange goods and services. It allows individuals to safely choose quality products rather than purchasing lemons. But how does an app like Airbnb earn money? Let's find out:
Airbnb has more than seven million listings and more than 150 million users. An average of six renters checks into a property listed on Airbnb every second. The primary source of Airbnb's revenue is from service fees that come from bookings (from both guests and hosts.) The non-refundable service feed depends on the size of the reservation for guests. Usually, this is under 14.2%. The more expensive your reservation is, the lower the service fees for guests.
Hosts are charged a 3% fee with every completed booking to cover the processing of guest payments. This fee may be higher for the Airbnb Plus listings. When a reservation is booked, guests pay the service fee—unless the host cancels or retracts the listing. If the reservation is altered, Airbnb adjusts service fees to accommodate users.
Build an App Like Airbnb: Feature Listing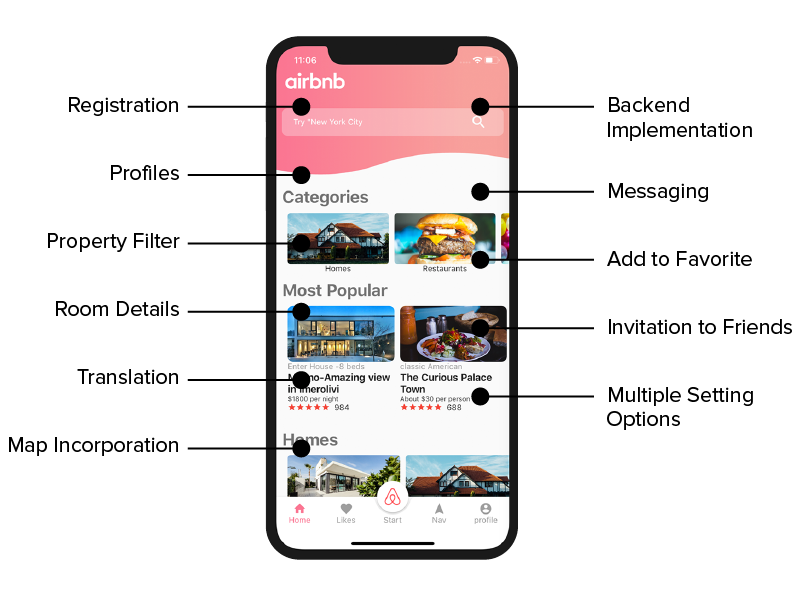 (Source)
Guests/Travelers Features
Log-in/Sign-up: Users are required to log in with their pre-registered ids or create a new account by filling in details such as name, number, etc. They can also log in via their email address or social media channels.
Profile: Manage personal information such as email identification, mobile number, birth date, gender, permanent address, notification preferences, etc.
Notifications: Instant updates and text messages.
Search Filter: To search for desired accommodation by filtering your travels, including city, dates, room type, price range, amenities available, etc.
Chat: Interact with the host through messages even before booking the stay.
Payments: Select the payment method and pay in your desired currency. View the payment receipt and complete transaction history.
Wishlist: Save the listing for the future.
Booking: Check all the past and upcoming bookings.
Support: Users can access the FAQ parts and seek customer support in the event of a misunderstanding with the bookings.
Rate and Review: Users can share their experience with the hosts through rating and review.
Sharing: Users can also invite friends to view the listings or download the app via social media accounts.
Hosts App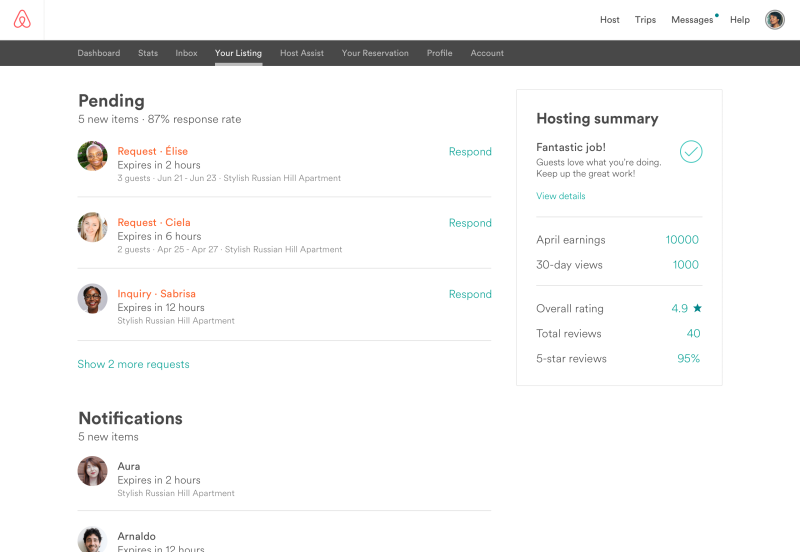 (Source)
Registration, Log-in, and Profile: Similar as guests.
Listings: Handle all details related to the property, such as amenities, pricing, house rules, cancellation policy, and images.
Reservations: To view all future bookings in a calendar form.
Request: To approve or decline the reservation request of the user.
Messaging: Communicating with visitors about the property and other questions the visitors have.
Rate and Review: Each guest can be assessed and reviewed according to their conduct and behavior during the stay.
Sharing: Hosts can also invite friends to download the app via social media accounts.
Booking History: All previous bookings and the received payments can be tracked here.
Admin Panel
Dashboard: The admin dashboard for viewing all the members, sales reports, emails, notifications, etc.
Registration and Membership: Details of all the hosts and the users.
Listings: Manage all listings and scrutinize their legalities and other processes of verification.
Booking History: Manage all previous and new reservations.
Feedback and Complaints: All guest and hosts' feedback can be viewed here. Any complaints about the hosts or any guests can be processed, and actions can be taken accordingly.
Insights: Reports of all the hosts/guests' activities, total earnings, etc. These detailed insights help in future decisions.
Emails and Newsletters: To track the details of all the emails and the news sent out, published, unpublished, etc.
Other Top Features
Calendar
Listings
Admin
Report Export
Cloud Storage
Social Media Integration
Google Map Integration
Profile Management
Website Settings
Responsive Website
Host Penalty
Listing Approval
Advanced Features For Vacation Rental Booking Apps
The basic features will help you build a solid foundation and get you started in the vacation rental market. To improve your app's performance and user experience, you'll need these advanced features:
I. User Verification
When users sign up as a host to list their property, you need to verify their online identity. You can collect identity verification from images of government-issued ID, passport, national ID card, or driving license as permitted by applicable laws.
II. Advanced Search Options
Let your users reach the property of their choice simply. Provide them with advanced search options to put filters such as destination, property type, price range, availability, housing capacity, and many more…
III. Advanced Booking Features
You can provide instant booking features to your users (or loyal users.) You can also provide them with easy trip cancellation features.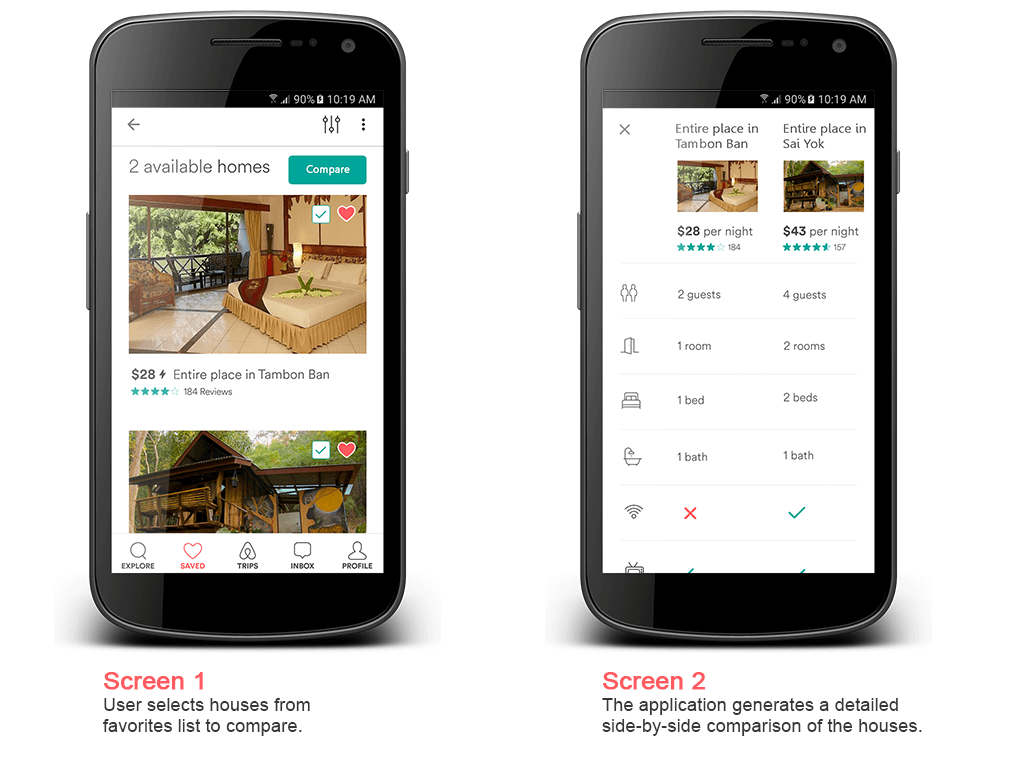 (Source)
The more flexible your app is, the better. Besides this, you can provide a comparison of different properties and listings. This will give your audience a detailed idea and will help them clarify their needs.
Other advanced booking features include:
An in-app calendar.
Payment integration (for a smooth transaction).
Geo-location.
In-app chat functionality.
IV. Trip Cancellation

Think like a user. Some booking apps allow the host to cancel the booking at the 11th hour. The frustration is so real that the canceled users stop using the app altogether.
But, your app can do better. You can reduce last-minute cancellations by simply adding a cancellation fee. For every last-minute cancellation by the host, they'll incur cancellation charges. You can also block calendar dates for a last-minute cancellation.
V. AR and VR Driven Experiences
Give your guests a better sense of judgment through AR-VR features. Even Airbnb itself is experimenting with augmented and virtual reality technologies to enhance customer travel experiences.
Some use-cases of AR-VR includes:
Showcasing rental properties for a better view
Exaggerating on micro details
Giving users the idea of the real-time experience they can have while living at the location.
Not just that, you can provide pictorial notes to your users too. For example, if a host wants to leave specific information regarding their oven that only works after tapping it twice, they can easily add pictorial notes/videos.
Tips to Standout in The Rental-Booking App Market
So, Airbnb has already built a trademark that many believe cannot be outsmarted. Competitors in the rental booking industries have faced a combination of structural headwinds. Plus, the exogenous shock of COVID-19 made it worse. So the question goes, how will you compete with Airbnb? Here are some hacks:
1. Advanced Features
As discussed above, you can always ace the race by providing features that no one else provides. You can quickly gain public attention if your services and features are intriguing. Use the list above to decide which advanced features you would like to add to your Airbnb app development.
2. Go Completely Contactless
This could be a preventive step in response to COVID-19 as well. Keep all processes from booking to check-in to payments completely contactless. Ask your hosts or, instead, make it compulsory for them to offer contactless entry to their properties.
3. Compete On Pricing
This is an obvious way to respond to the competitive threat of Airbnb. Pricing strategies can make or break your business. At the same time, it is still preferable to have some minimal level of occupancy rates.
You can work on your pricing strategy so that it serves better quality for a comparatively lesser price.
4. Compete On Rewards
Reward programs are a massive attraction for users that travel often. But it is one of the few areas where most companies still lag. It is true that Airbnb has its own reward programs, the scale and scope still leaves a lot to be desired for frequent users of the platform. Rewards programs, therefore, represent a potential source of a competitive advantage that you can double down on.
5. Compete On Amenities
Airbnb still lacks to match a certain level of service, comfort, ease-of-use, and so on. You can find out these points and work on them in your business model. For example, Airbnb does not offer room services and food services. This could be your USP!
Or you can make a business targeted to a specific audience like working-class people. You can make an app only for people who want a short-term stay with all the amenities and ready-made services. If you really want to set your services apart, you'll need to brainstorm a lot! But hey, it isn't impossible. Be authentic, and you'll find your USP. This brings us to our next and final question:
How Much Does it Cost to Build an App Like Airbnb?
Biztech Consultancy assures you affordable pricing for the successful execution of Airbnb app development. While calculating the actual cost of developing an Airbnb app for Android and iPhone, the platform (Android or iOS) plays a vital role as it affects the total hours of developers. Without discussing more on the pricing of Airbnb app development, here is a brief analysis of estimation.
The feature list mentioned below includes different modules you would need for guests and hosts.
Kindly note that we can develop your application in phases. Even if you want to customize your business model, we can discuss it further. Our hourly rate would be around <$25/hour. For further queries, you can get in touch with us.
Features
API
Native: Android + iOS (in Hrs)
Hybrid (in Hrs)
Module Name
Design
Development
QA/UAT/PM
Design
Development
QA/UAT/PM
Login and Forgot Passoword, Registration
10
12
40
12
10
30
13
Host profile, Change Password
5
8
32
10
8
24
11
Host Public Profile
2
8
16
6
8
12
6
Host Dashboard
8
12
24
6
10
18
6
Add Property Wizard
5
16
48
12
14
36
11
Edit Property Wizard
2
4
32
10
4
30
10
Property Management
8
16
48
12
14
36
11
Property Draft Listing and Publish
5
12
32
10
10
24
10
Property Detail Page Preview
2
8
16
6
8
12
6
Availability Calendar
5
12
24
6
10
18
6
Availability Configuration
5
12
32
10
10
24
10
Price Manager
5
12
24
6
10
18
6
Offers and Sublet Manager
5
12
48
12
10
36
11
Order Management (bookings)
5
10
32
10
9
24
10
Intuitive Communication Inbox
5
6
24
6
5
18
6
Notifications
10
6
28
6
5
24
6
Order Review and Rating
5
12
40
12
10
30
12
Escrow based eWallet
8
4
32
10
4
24
10
Login and Forgot Passoword, Registration
10
12
40
12
10
30
12
Guest profile, Change Password
5
8
32
10
8
24
10
Guest Public Profile
5
8
16
6
8
12
6
Guest Home Page
8
10
24
6
9
18
7
Guest Dashboard
5
8
24
6
8
18
7
Location Based Search
15
12
48
8
10
36
7
Search Results List View
8
8
24
6
8
18
6
Search Results Map View
8
8
16
6
8
12
6
Move on the map Search
2
4
8
4
4
8
5
Property Detail Page
5
8
24
6
8
18
6
Booking Wizard
8
16
40
12
14
30
12
Availability Validation
10
4
12
6
4
10
6
Booking Confirmation
5
8
12
6
8
10
6
Checkout and Order Generation
8
16
32
10
14
24
9
Intuitive Communication Inbox
5
6
20
6
5
15
7
Orders Management
5
12
32
10
10
24
10
Notifications
5
6
18
6
5
15
6
Order Review and Rating
5
12
40
12
10
30
12
Support to Admin
8
8
24
6
8
18
6
Payment Integration (PayPal, Stripe)
8
12
76
12
10
60
11
Escrow based eWallet
20
4
36
10
4
40
10
258
372
1170
328
332
908
328
Total
Native: Android + iOS + API
2,128
Hybrid + API
1,826
Success Stories of Other Rental App Booking Development
Aren't you excited to get your Airbnb app development started? We are excited about your business!
Before we tell you how we can help you, let's have a quick look at the successful rental businesses with the Airbnb-like business model.
Successful Airbnb like Business Model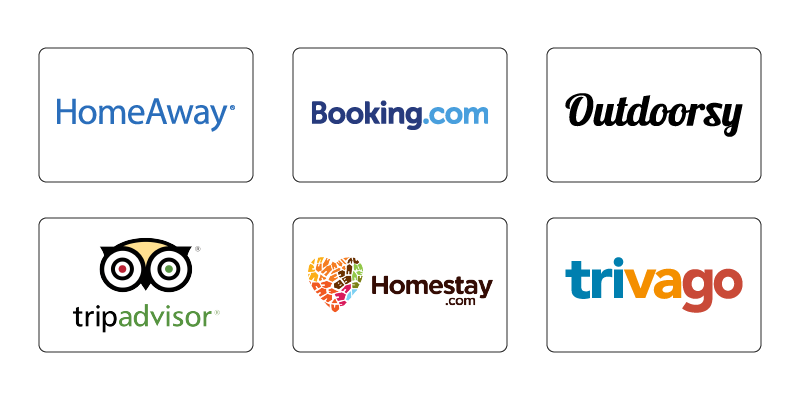 (Source)
HomeAway
HomeAway, a company started in 2005, is the largest provider of vacation rentals, covering millions of vacation rentals, apartments, cabins, and cottages in 190 countries. It runs numerous brands, including VRBO, Vacationrentals.com, BedandBreakfast.com, Travelmob (Asia), Homelidays (France), OwnersDirect (UK), Abritel (France), Stayz (Australia), Bookabach (New Zealand), and FeWo-Direkt (Germany), with the same booking policies. HomeAway has made its way to non-urban destinations with an average monthly download of 8,052.
Outdoorsy
This is the largest marketplace to rent out wheel accommodations such as RVs, motorhomes, campervans, Airstreams, toy trailers, VW vans, etc. Started in 2015, they are rapidly expanding their global foot with hundreds and thousands of rental days booked. The business model of Outdoorsy is mostly similar to Airbnb as they offer the same rental services but in different modes. Travelers looking for adventures or wanting to stay in the wilderness can turn towards Outdoorsy.
Flipkey
It is run by TripAdvisor and has all the benefits of TripAdvisor reviews and an enormous inventory of vacation homes, i.e., nearly 300,000 properties in approximately 160 countries. It offers the best verification program and is known as the "vacation rental marketplace." However, it does not offer shared rooms with other guests such as dorms but features such as the kid-friendly, dog-friendly, or waterfront in their properties. It also offers various booking methods, including inquiries, reservation requests, instant bookings, and more!
Did you know 350 million travelers use TripAdvisor every month?
Wrapping Up
Woah! It's amazing how these companies have grown. Don't you want to be one of them? All you need is to decide whether or not you want to serve a specific location or cover a larger area and then the right development partner to give your application a strong foundation. I hope I was able to cover all the questions pertaining to "how to make an app like airbnb."
With 14+ years of technological expertise, and hundreds of clients worldwide, BiztechCS has come a long way. We can help you develop an app like Airbnb with all the features you need. You want to integrate a verification process like Flipkey or discounts like Roomorama, we've got it all sorted for you.
All product and company names are trademarks™, registered® or copyright© trademarks of their respective holders. Use of them does not imply any affiliation with or endorsement by them.