It's no longer a big deal to find a reasonably priced place to stay when traveling. All the gratitude to Airbnb – an innovation that reshaped the rental housing market around the world. What's interesting about Airbnb is how the business expanded so rapidly, simply providing homeowners a platform to rent their homes and rooms, and giving people who are traveling all over the globe a sense of home.
Moreover, witnessing the rise of annual Airbnb bookings to 1 billion and the growth rate of the global tourism industry to USD 11,382 Billion by 2025, investing in an Airbnb clone app to offer more services and advanced features would open up a lot of business opportunities for you.
But before you check out the Airbnb clone script and get the app booked, read this article to find out how the Airbnb clone app actually works? What are the features you need in your Airbnb clone? And what does its business model look like? And more.
HOW DOES AN APP LIKE AIRBNB WORK?
The Airbnb clone app would connect hosts who want to rent out space in their homes with guests seeking lodging at prices that are generally cheaper than a hotel. Guests can find the right listing using a variety of filters, a chat system would connect the guests directly to hosts, and digital payment options would allow them to pay securely through the app itself. 
Airbnb Clone App for Hosts
Register as a host and then list the space with all the details such as location, size, number of rooms, and others on the Airbnb clone app.
Build the profile, add the details and the photos. Get it verified.
Receive the reservations. 
Accept/Deny the request to book according to availability and requirements.
Receive payment upon check-in by the guest.
Serve the very best to your guests!
Airbnb Clone App for Guests
Create the profile, and add the details.
Search through dozens of properties based on multiple filters, such as dates, area, space, room/guest number, accommodation type, rental type, etc.
Book a listing according to your preferences. You can either book it for immediate dates or for any future dates;  immediately or by asking the host to book according to the options provided.
Pay the amount via multiple payment options, such as a credit card, debit card, PayPal, eWallets, etc.
STRUCTURE OF AIRBNB CLONE APP
Before setting out for that attractive design and robust app features, let's walk you through the entire Airbnb clone app structure.
Business Model
Host

Who owns a house or land and wants to rent/lease it. Admin collects Commissions from hosts upon each booking.

Guests

Travelers, families heading out on a holiday and/or professionals out on a work trip who want to live comfortably at reasonable rates. The admin receives a fee from the guests upon every booking in form of a convenience fee.

Admin

One who would venture out the business and manage all the hosts' and guests' activities.
Target Audience
It depends on the type of properties your hosts will be renting out – whether you want to rent out a home/personal property or a hotel room. For Airbnb like app, the audience would be:
Travelers needing a simple and affordable place
Commercial travelers
Family travelers
Travelers searching for a place to stay in a new city they are visiting
People who are looking for additional income to earn can host
If you want to provide reservations for hotel stays along with private properties, the hoteliers would be your audience too.
Cost Structure
Website and app
Administration team
Online payment platforms like MasterCard, Visa, and PayPal
App promotion and marketing activities
Insurance schemes
Host assistance
Technological Requirements
You'll need a tech partner with a team of developers and a decent history of mobile app development projects to guide you through the languages and technical aspects to develop an app like Airbnb.
What needs to be focused:
Application Framework
Programming languages 
Cloud Storage and Hosting 
Voice and SMS API for SMS, Voice, and Phone Verification
Messaging & Communication 
Global Payment 
SQL Data Storage
Revenue Model
Either you can design a revenue model like Airbnb where you receive commission from both the sources on every booking. For instance, Airbnb charges the guests with 6-12% of the booking fee and hosts with 3%  of the fee on every successful booking.
Or, you can design a model like Booking.com, where on every successful booking, the hosts would be charged a specific fee whereas no charges for guests.
FEATURES OF AIRBNB CLONE APP
Guests/Travelers App
Log-in/Sign-up: Users are required to log in with their pre-registered ids or create a new account by filling in details such as name, number, etc. They can also log in via their email address or social media channels. 
Profile: Manage personal information such as email identification, mobile number, birth date, gender, permanent address, notification preferences, etc. 
Notifications: Instant updates and text messages.
Search Filter: To search for desired accommodation by filtering your travels including city, dates, room type, price range, amenities available, etc.
Chat: Interact with the host through messages even before booking the stay.
Payments: Select the payment method and pay in your desired currency. View the payment receipt and complete transaction history. 
Wishlist: Save the listing for the future.
Booking: Check all the past and the upcoming bookings.
Support: Users can access the FAQ parts and seek customer support in the event of misunderstanding with the bookings.
Rate and Review: Users can share their experience with the hosts through rating and review.
Sharing: Users can also invite friends to view the listings or download the app via social media accounts.
Hosts App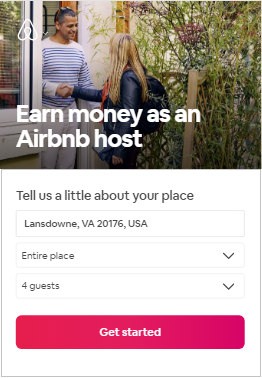 Registration, Log-in, and Profile: Similar as guests.
Listings: Handle all details related to the property, such as amenities, pricing, house rules, cancellation policy, and images.
Reservations: To view all future bookings in a calendar form.
Request: To approve or decline the reservation request of the user.
Messaging: Communicating with visitors about the property and other questions the visitors have.
Rate and Review: Each guest can be assessed and reviewed according to their conduct and behavior during the stay.
Sharing: Hosts can also invite friends to download the app via social media accounts.
Booking History: All previous bookings and the received payments can be tracked here. 
Admin Panel
Dashboard: The admin dashboard for viewing all the members, sales report, emails and notifications, etc.
Registration and Membership: Details of all the hosts and the users.
Listings: Manage all listings and scrutinize their legalities and other processes of verification.
Booking History: Manage all previous and new reservations.
Feedback and Complaints: All guest and hosts' feedback can be viewed here. Any complaints about the hosts or any guests can be processed and actions can be taken accordingly.
Insights: Reports of all the hosts/guests activities, total earnings, etc. These detailed insights help in future decisions.
Emails and Newsletters: To track the details of all the emails and the news sent out, published, unpublished, etc.
OTHER TOP NOTCH FEATURES OF AIRBNB CLONE SCRIPT
Calendar
Listings
Admin
Report Export
Cloud Storage
Social Media Integration
Google Map Integration
Profile Management
Website Settings
Responsive Website
Host Penalty
Listing Approval
SUCCESS STORIES
Aren't you excited to get your Airbnb clone app? We are excited about your business!
Before we tell you how we can help you, let's have a quick look at the successful rental businesses that have the Airbnb like business model.
Successful Airbnb like Business Model
HomeAway 
HomeAway, a company started in 2005 is the largest provider of vacation rentals covering millions of vacation rentals, apartments, cabins, and cottages in 190 countries. It runs numerous brands including VRBO, Vacationrentals.com, BedandBreakfast.com, Travelmob (Asia), Homelidays (France), OwnersDirect (UK), Abritel (France), Stayz (Australia), Bookabach (New Zealand) and FeWo-Direkt (Germany) with same booking policies. HomeAway has made its way to non-urban destinations with an average monthly download of 8,052. 
Outdoorsy
This is the largest marketplace to rent out wheel accommodations such as RVs, motorhomes, campervans, Airstreams, toy trailers, VW vans, etc. Started in 2015, they are rapidly expanding their global foot with hundreds and thousands of rental days booked. The business model of Outdoorsy is mostly similar to Airbnb as they offer the same rental services but in different modes. Travelers looking for adventures or wanting to stay in the wilderness can turn towards Outdoorsy.
Flipkey
It is run by TripAdvisor and has all the benefits of TripAdvisor reviews and an enormous inventory of vacation homes, i.e. nearly 300,000 properties in approximately 160 countries. It offers the best verification program, and is known as the "vacation rental market-place". It does not, however, offer shared rooms with other guests such as dorms but features such as the kid-friendly, dog-friendly, or waterfront in their properties. It also offers a variety of booking methods including inquiries, reservation requests, instant bookings and many more! 
Did you know 350 million travelers use TripAdvisor every month?
WRAPPING UP…
Woah! It's amazing how these companies have grown.
You can be one of them. All you need is to decide whether or not you want to serve a specific location or cover a larger area and then the right partner to give your application a strong foundation.
With 13 years of technological expertise, BiztechCS can help you build an online booking app with all the features of Airbnb. You want to integrate a verification process like Flipkey or discounts like Roomorama, we've got it all sorted for you.