At the edge of technology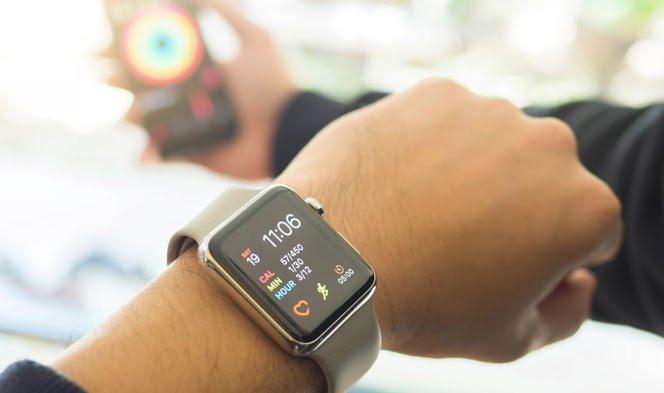 https://www.biztechcs.com/blog/apple-watch-revolutionizing-healthcare-sector/
Apple Watch: Revolutionizing the HealthCare Sector
18 Mar, 2021
6 min read
In the past one year, we all have seen how much the health-sector has revolutionized and advanced with the help of technology at a faster pace. There are many companies who have tried their best to make the health-sector more prominent with the help of technology. But, keeping all companies behind, Apple stood ahead.
With their Apple Watch they are making people more health cautions. Using Apple Watch, monitoring health has become easier. From minute calories intake to complex tasks like understanding your heart-rate, you have it at your fingertips. According to research done by Above Avalon, Apple Watch is on more than 100 million wrists and this is just a beginning for Apple Watches.
Apple Watch does not provide some common features but has saved the lives of many people over the years. Recently, according to the news covered by Deccan Herald, Apple Watch saved the life of a teacher who was ice skating on the frozen river. There are many other instances where the Apple Watch has saved the lives of many people, this shows their contribution to mankind.
Herein, we are going to see, ways top features of Apple Watch which is changing the healthcare sector:
In-built Features of Apple Watch Designed for Health-Care Sector:
Heart Rate Notification:
Apple Watch checks for unusual heat-rates which will be above 120 bpm or below 40 bpm, this will usually happen when users are inactive for more than 10 minutes. Whenever there are fluctuations in the heart rate it will immediately notify the users.
If needed users can change the threshold of the bpm and can also keep the notification either on or off. Lastly, to provide users with the perfect data on hand for further use or contacting the doctor, the data syncs with the health app on iPhone.
Irregular Rhythms:
Irregular rhythms notify the users when their Atrial Fibrillation (AFib) is not proper. Of course, it will not check all the rhythms, but will provide patients reports when they are in the early stage of certain heart diseases.
Irregular rhythms notifications use the optical heart sensor to detect pulse waves at the wrist. When the patient is resting and there is constant change in the heart beat rhythms, it will immediately notify patients. Moreover, the heart-rate with specific date, time, and heart-to-heart is recorded in the health app for later use purpose.
ECG App:
If you are using Apple Watch 4 series or above, and you are getting constant notifications of irregular rhythms, rapid or skipped heartbeats, you can get your ECG report and capture symptoms if needed. Using this, you can get necessary check ups done and take timely decisions.
The Apple Watch 4 series and later uses an electrical heart sensor built on the top of the digital crown and the back crystal of the Apple Watch records the single lead ECG. Then the ECG app provides data such as sinus rhythm, atrial fibrillation be it high rate or poor rate and sends this data to the user. Moreover, it prompts the user to enter symptoms like dizziness, fatigue, and rapid heartbeat. The app generates the data of all the waveforms, heartbeats, and symptoms and all this data exports in the form of PDF from the health app. Thus, helping users to understand and monitor themselves better.
Note: Apple Watch provides ECG data of users who are 22 years and older.
Fall Detection:
When a fall detects on the Apple Watch and you are not able to move for a minute, it will provide you with a 30 seconds counter. If you do not respond to the times within 30 seconds, it will immediately notify your emergency contact and share your live location. All the fall will be detected and recorded in the Health app on your iPhone. Additionally, this system is automatically enabled for the users above 55 years to keep them safe. Thus, during the time of accidents it can be useful to help save lives.
Medical ID:
With the help of Medical ID, medical personnel can get important information about patients. Doctors can access this information from the lock screen of iPhones or Apple Watch without the need of using lock screen password or compromising users' data.
But, patients need to list down all the important information like allergies, medications, conditions, organ donors, emergency contacts, and more. All the information will be in sync with iPhone as well as Apple Watch, making it easy to access when needed.
Using AI and Wearable Sensors:
Recently researchers have developed an AI classifier which can detect specific cardiovascular diseases using Apple Watch. It can detect complex conditions like hypertrophic cardiomyopathy at an early stage which can cause serious issues. Hence, informing users at the right time so they can get themselves the correct diagnosis.
Monitoring Surgical Recovery:
Going one step further with Apple Watch, it is soon going to support surgical recovery from hip and knee replacements. In 2018, they collaborated with Zimmer Biomet for tracking users' recovery and helping them. They are working with a company and have carried out clinical study which involves 10,000 patients to test and study them. All the efforts to help users and keep them healthy.
Going further, let's see some third-party application on Apple Watch which helps in tracking health:
Top Third-Party Apple Watch Apps:
Strava:
Strava is the most popular application among runners and cyclists. It can easily record up to 8 exercises throughout the day like skiing, cyclists, swimming, and more. It can display your stats such as time, pace, distance, speed, and heart-rate. Moreover, every day the app will show the summary of your workout and will sync the data with your mobile app. Hence, no more need to carry a phone to every workout session. You can either buy a premium or free version depending on your need.
LifeSums:
If you are aiming to eat better and keep a count of your calories and water intake, LifeSums is a perfect solution for you. It lets you track your water intake and provide nutritionists tips. At the end of the day, it provides you with details about your proteins, fats, carbohydrates, calories, water intakes, and more. It even provides you with your meal records and logs water intake without the need to unlock your phones. Most of the features are free to use, but if you go with a subscription plan, it provides you with nutritional information and provides you with a diet chart.
Streaks:
If you lack willpower and need more motivation, Streaks is your answer. It helps you to build a habit and keep a track of it. You can specify at least 12 different tasks, customize its logos and icons and encourage you to keep your streaks on. At the end of the day, it even provides you with statistics like how much willpower you have, to finish each task. It even lets you log each habit and keep it in sync with your health app.
Clue:
Clue helps you to keep a track of your period and keeps you informed with the health issues if any. All the data syncs between your Apple Watch and iPhone and provides an ease to view your cycle-data. You can easily log-in all your data and also view them whenever you want and further on the basis of your data it will help you predict your next cycle. Most of the features are free, but if you want additional features, you can go with the premium cycle.
Nike + Run Club:
If you are a runner, what more do you need then the Nike + Run Club. It tracks your run, provides necessary statistics, with the proper kms you ran, will show a map on it for each session. It even helps you with the audio messages about your km count and helps you to achieve your targets. Going further, the app learns your habits and will provide you with a proper health plan which can be useful to you.
Instead of using all the apps for a particular health and fitness regime, you can have custom Apple Watch app development, which has all the needed features.
Create Custom Health App:
Health and fitness industry has a huge market when it gets integrated with Apple Watch. If you are looking for an opportunity in this industry, you can create a custom app. Reach out to businesses like us which can help you with the Apple Watch app development. Have all the features in one or do needed market research and then decide features. Hence, provide an application that can help your customers with tracking their health and grow your business.
Wrapping up:
Health and fitness are the booming market currently and businesses have a huge scope. You can create your own custom Apple Watch app and start to increase your brand. Hence, if you are planning to have your own custom apps, reach out to companies like Biztech and we will help with Apple Watch app development. We are in the industry for more than a decade and have helped businesses to serve their customers better and increase their brand value.

All product and company names are trademarks™, registered® or copyright© trademarks of their respective holders. Use of them does not imply any affiliation with or endorsement by them.