At the edge of technology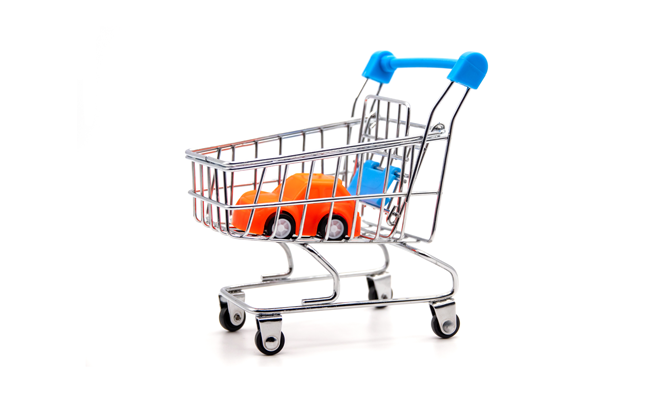 https://www.biztechcs.com/blog/auto-parts-online-business/
629
Take Your Auto Parts Business Online with a Webstore
11 Sep, 2020
14 min read
As brick-and-mortar retailers enter the online space, the automotive parts and accessories sales online skyrocketed over the past five years. A study by McKinsey market survey predicted the growth to continue at a rate of 3% p.a. till 2030.
The major question here is, are you ready to expand your auto parts business online?
Even if your answer is "no", this post will help you prepare your business for online sales. Read through this comprehensive guide on how to sell auto parts online.
Table of Contents
Demand for Auto Parts Industry
The automotive eCommerce industry is already in the state of expansion. Digital transformation powered by Big Data, Predictive Analytics, Mobility, and IoT is enabling us to easily sell car parts online. Moreover, major players like Amazon, eBay, Alibaba Group are focusing on auto parts services to enhance their customer traction.
If this doesn't entice you – a 2016 report from the International Trade Administration states that the US automotive parts ecommerce industry nearly doubled in the 7 years from 2009 to 2016, whereas Statista says, the revenue from auto parts which amounted to $36.1 billion in 2015 reached $57.4 billion in 2019.
Who would like to give up on this billion-dollar business? The growth stats are a compelling reason to sell car parts online.
Direct Selling or Indirect Selling?
When doubt vanishes, the road to the destination becomes clearer. The next question you might ask is: How to start an online auto parts business? Whether I should sell on eCommerce marketplace like Amazon and eBay, or should I develop my eCommerce website?
This is a dilemma.
On one side, if you choose to list your automotive eCommerce business on platforms like Amazon, eBay, or Alibaba, you will have the advantage of their infrastructure, technology, and huge customer base. Yet you won't have any control over your business. You can't create your customer base, no interaction with end-users. That means no retargeting. In fact, you will be bringing more customers for the platform, not for you.
Where does your business stand in all this?
On the other side, if you develop your auto parts eCommerce store, the business is all yours. You can target and pitch the customers directly. Make profits and won't have to share. And you will be building your brand.
Hence, it is advisable to go for eCommerce website development instead of listing your products on the marketplaces.
But as Warren Buffet says, "Never depend on a single income. Make investment to create a second source". Selling on these platforms will give you experience, insights about customer demand and the market, and profits too. All these will help you in brand building in the long term.
At Biztech, we render eCommerce solutions by developing avant-garde online storefronts. Our solutions are user-friendly and integrated with top features.
Online Auto Parts Business Plan
A new business should always start with thorough research. Don't go for it just because your competitor's automotive store is going online.
If you are wondering how to sell car parts online then the first step is to research the market. What's in demand, what customers want, and then create a business plan that consists of a product niche, target market, and a business model.
1. Identify your Auto-Part Niche
Selling auto parts online requires you to decide what type of auto-parts you want to sell. Usually, there are three types of auto parts: OEM, OES, and Aftermarket parts.
OEM (Original Equipment Manufacturer)

OEM parts are the ones manufactured and used by the company itself. Say, BMW wants to manufacture their new model's auto parts and thus hires two manufacturing companies, A and B (Big companies usually hire more than one manufacturing company to avoid the last-minute fuss, technical/replacement issue, or inadequacy). Both companies have manufactured the parts according to the company's requirement but while assembling it into the model, the company uses the auto-parts of company A. Thus, the auto-parts (by company A) originally used in the model would be known as OEM parts.

OES (Original Equipment Supplier)

To boost productivity, automobile companies usually hire multiple manufacturers to produce auto-parts. And those replacement products that serve as original are known as OES parts. Consider the above example, both the companies A and B manufactured the auto-parts but BMW uses company A's auto parts. So, when a customer/user/company needs a replacement, they can use the products from Company B and that auto part would be OES, i.e., supplying the original part.

Aftermarket parts

Consider these as alternatives. If you don't find original equipment, you go for an alternative part that would work as the original. For example, the aftermarket would be of another brand or no brand but it would function similarly to the original parts.

Usually, small businesses prefer aftermarket parts because they are cost-effective.
2. Decide your Target Market:
When selling auto parts online, the target market plays a huge role. They can be:
Professionals – Professionals who source auto-parts for their business. They can be anyone like Retailers, Repair technicians, and Mechanics.
End-Customers like Hobbyists and Do-it-yourself
You can choose to sell spare parts directly to customers.
Or you can serve them both!
3. Select a business model
The business model of automotive eCommerce business can be bifurcated into 3 types:
Retailers

You can be a retailer that sells spare parts of different brands or your own brand. It is most suitable if you are in the automotive business and want to start small. The drawback is inventory and having limited products.

Brands

You can be a manufacturer that sells products of their own brand. However, it would be a huge investment. If you already have a well-established brand, then maybe this option is suitable.

Marketplace

This is the most preferable option. You partner with distributors, retailers, suppliers, manufacturers, and list all their spare parts on your eStore. Customers and professionals can buy online from your eCommerce store. To sell the auto parts on special requirements or in bulk, you can provide different sections: Customers and Businesses, covering both B2B and B2C. Next, you can allow dropshipping where suppliers and manufacturers can directly ship the spare parts to the customer.
Recommended: Selling auto parts online on eCommerce marketplace is preferable. Customers can buy conveniently and you can collaborate freely without worrying about inventory and shipping.
Want to get started right away with an online marketplace? Contact us and we will assist you with the best of our expertise.
Challenges of Traditional Automotive Business Model that Ecommerce Overcomes
Product Unavailability

The major drawback of the brick and mortar auto parts business is the availability of spare parts. Many times, customers have to check with dozens of auto-part sellers to find the one. It can turn to advantage with an eCommerce store. You can consolidate with different distributors and list all the spare parts on the website. This way, even if you don't have a spare part, you can easily get it from another distributor and then send it to the customer or the distributor can directly ship it to the customer.

Operations and Inventory Management

Shuffling between tasks while managing spare parts and providing it to the customers can be stressful. Just imagine, logging every spare part entry in a logbook. The thought is horrifying!

Well, that's the reality of the traditional auto parts business. You shift roles, do tasks, manage it, and repeat the same, next day. Whereas with the marketplace model, you won't have to do all that. Your retailers and distributors will have to handle it from their end. Additionally, you can ask your technology partner to help you streamline inventory management for your retailers and distributors so that more and more businesses start selling on your platform.

Authentic and Detailed Information

Credibility is the first thing customers look for especially while buying automobile parts. With a traditional brick and mortar store, you might have experienced that an XYZ customer contacts you, you provide the details but still, you don't get the sale.
Reason: Authenticity and transparency.
With an eCommerce platform, selling auto parts online becomes easy. Customers can check the product details, if it's authentic, read reviews, that'll help them make swift decisions.
The bad news is these are a few of 100 drawbacks of sticking to the old school pattern.
The good news is that Automotive eCommerce can easily handle these.
Solution: Set up an eCommerce Store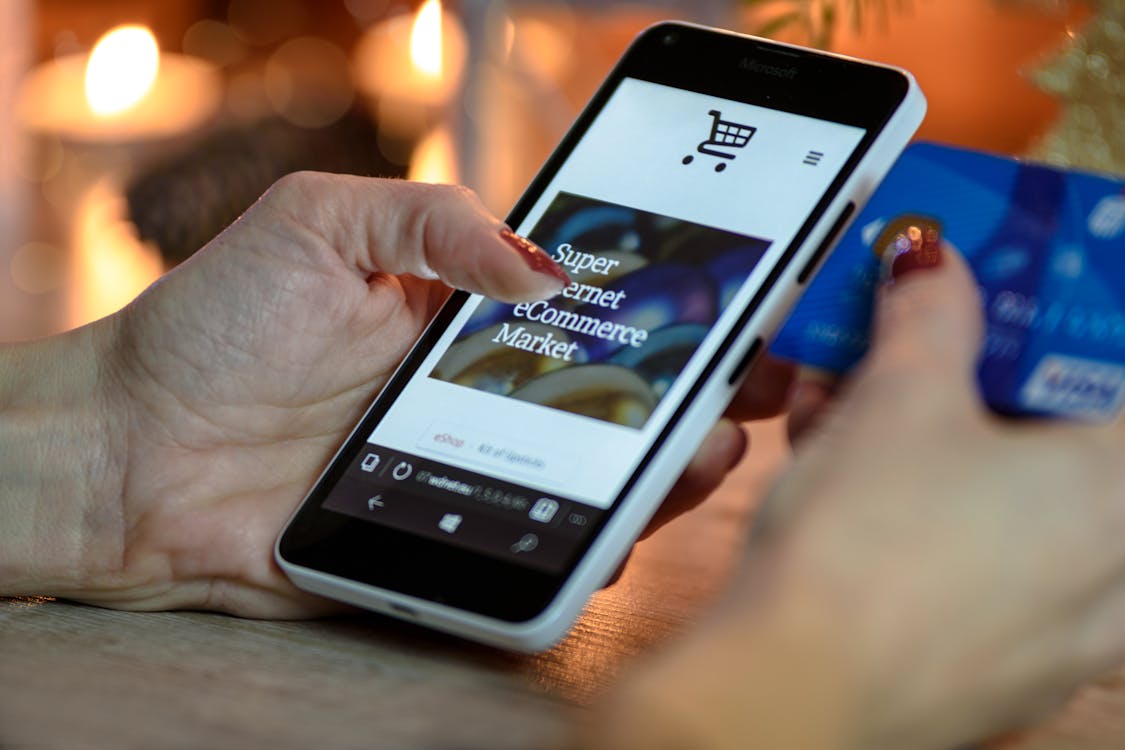 When I say eCommerce, what comes to your mind? eStore – exactly!
To set up an eCommerce store, you will have to start with the right foundation – eCommerce platform.
1. Ecommerce Platform
The right platform will bring major success to your online store. Hence, to choose an eCommerce platform, ask these questions:
Is the platform easy to set up? Does it provide drag and drop features?
Is the platform easy to navigate?
Is it SEO and mobile friendly?
Does the platform support multiple stores, and a huge product list?
Does the platform offer multiple payment options like PayPal, Apple Pay, Stripe, etc.?
Does it support third-party plugins and extensions?
Does it provide reports and analytics?
What is the cost of the platform subscription?
Based on all these questions, here are some shortlisted top eCommerce platforms you can choose from.
Magento

Magento is an open-source eCommerce platform and well suited if you are up for spending some extra bucks for the add-ons. It has quite a list of features such as easy store setup, SEO tools, mobile-friendly, multiple payment gateways, integrated shipping and checkout, supports huge inventory, third-party plugins and extensions, etc.

WooCommerce

If you have prior experience with WordPress, then WooCommerce would be the best solution. It is a plugin that you can integrate into your WordPress and start using it from day one.

Moreover, it's mobile-friendly for both: you and your customers. It has more than 400 extensions, supports payment gateways – PayPal, Amazon Payments, Stripe, PayFast, Authorize.net, FirstData. Also, it's easy to navigate.

Shopify

If you go and ask about an eCommerce platform, everyone in 5 will tell you to go for Shopify. It's popular, has an easy setup procedure with complete guidance, built-in SEO with content optimization. Mobile friendly, multiple payment options, 4000+ extensions, unlimited bandwidth and instant upgrades, top-notch performance, are the other reasons why people prefer Shopify.
Want help with choosing the right eCommerce platform?
2. Features
The next step is to list down all the features of your automotive eCommerce store.
Here's a checklist of features to get you started.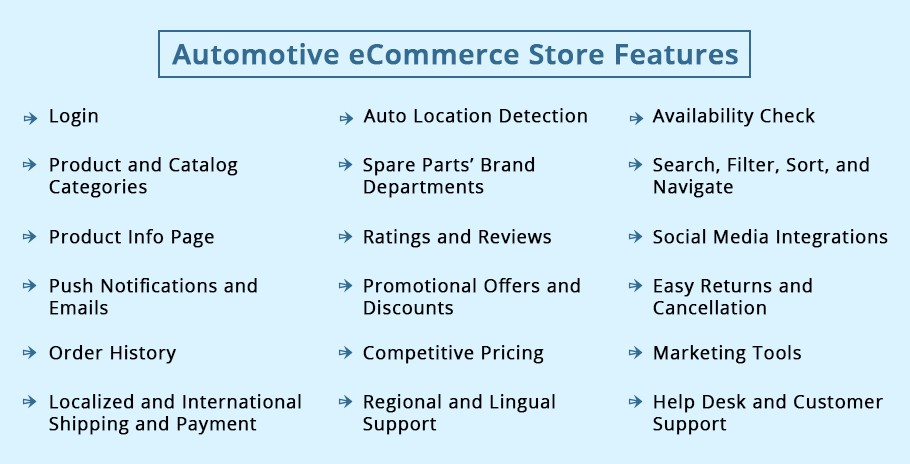 With these, you can start your development. All you need to do now is – Grab the phone, hire the eCommerce development company, and launch your eStore.
Benefits of eCommerce store
To add a cherry on the cake, let me tell you a few major benefits of the automotive eCommerce platform.
Product Catalogue Management

With integrated management tools, you can easily create catalogs, add products, update and maintain them. It automates the entire product management process.

Data Sync

The auto data syncing across platforms will minimize repetitive tasks. Just one click and you can update the data everywhere. It also helps with data retention and data loss.

Complete Details

Now, you're freed from searching for the right information from different sources. Within a few seconds, you can access all the data of the specific part at your fingertip.

E-ordering

The benefit for customers is that they can order the spare parts online from the comfort of their home. For you, it's hassle-free order processing.
Promote your business
Now starts the showtime!
Your eCommerce store is ready and now it's time to tell customers about it.
Let's Market
The first step is free advertising on social media. You can start by engaging with the customers on social media, sharing relevant posts about your offerings, any deals if available.
Next, go for paid marketing such as paid Google and social media ads, some direct marketing campaigns like flyers, gift cards, advertising on television, radio, billboards, etc.
It will cost you a little higher but the potential returns are high too.
When we are talking about automotive eCommerce, digital marketing alone is not enough. You need word-of-mouth to promote your business. And how do you achieve that? By serving your customers effectively.
Customer Service to Improve Customer Satisfaction
A few tips that can enhance your customer service are presale phone calls to clarify the customer's doubt regarding spare parts, step-by-step guidance, instant quotations, post-sale email for further support and concerns.
Remember, knowing where to invest is important.
We help our clients formulate marketing strategies that work. Need help to develop a marketing plan for your auto parts business?
Trends in the Automotive Ecommerce Business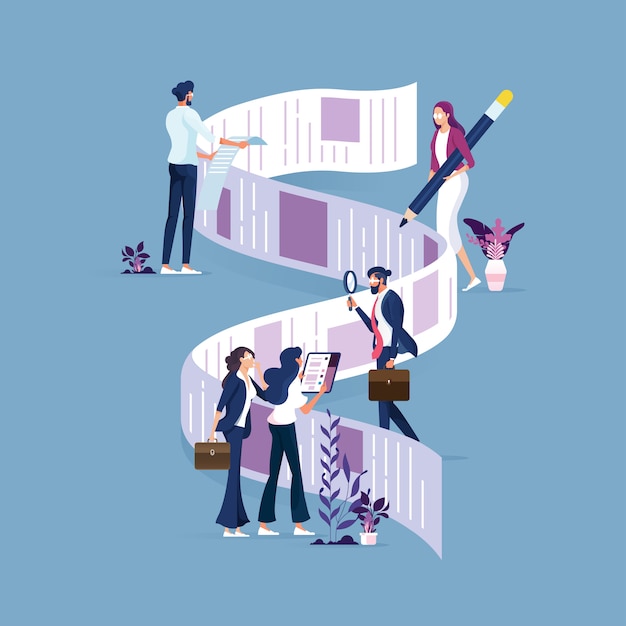 We often predict the future of an industry based on different factors and the technological changes that are happening right now or bound to happen. Let's see the automotive industry's trends that are supposed to shift the industry.
Distributors' consolidation

The distributors across the globe are joining hands to provide customers with the highest quality products and diversified options. So, we can expect that customers won't have to jump from one supplier to another in search of spare parts.

Manufactures at the forefront

Gone are the days when manufacturers were not supposed to deal with the customers directly. By swiping through the smartphones, listing on the website, processing orders through predefined steps, it is easy for manufacturers, suppliers to reach the customers and sell the auto parts. Even OEMs are not behind!

Digitization

Thanks to technology, we can run the business from our smartphone. And customers can access it at the tip of the finger.

Data accessibility

Car-generated data has all the information about vehicles and their parts. Customers can access the data and buy the parts accordingly. No customer is fooling anymore!

Product Transparency

Customers can compare the prices and look for multiple options before finding out the best deal. The product and the business process would be transparent like other eCommerce platforms, thus leaving automotive eCommerce businesses with the challenge of staying on the toes with top-notch solutions for customers.
So, When are You Shifting Online?
The shift from tedious tasks to automated operations will make a huge impact on your automotive business and the industry as a whole. Many suppliers are already looking for solutions to catch up with the technology and the changing nature of the industry. It's high time to start your automotive eCommerce store.
Work with a team of skilled professionals to develop a webstore and set your feet in the automotive eCommerce industry.

All product and company names are trademarks™, registered® or copyright© trademarks of their respective holders. Use of them does not imply any affiliation with or endorsement by them.