1956
Biztech Now Renowned as Switzerland's Most Reviewed Web Development Companies
02 Nov, 2022
5 min read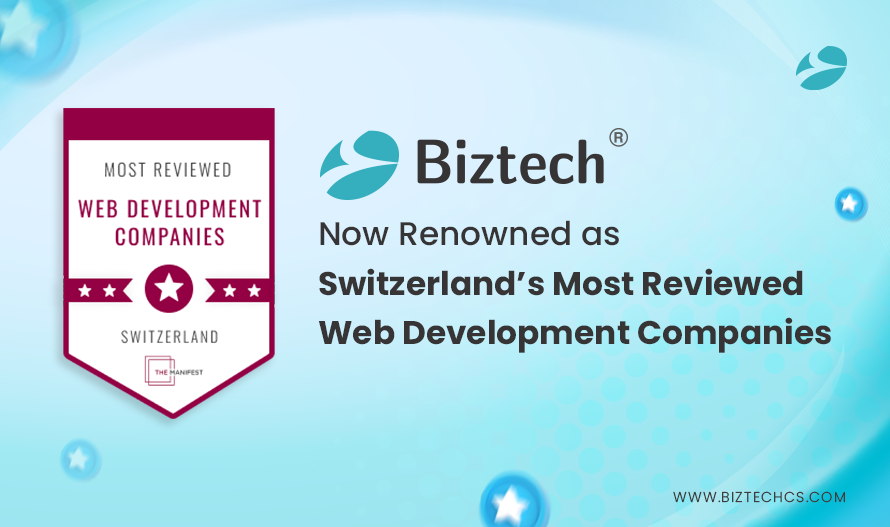 https://www.biztechcs.com/blog/best-web-development-company-switzerland/
Summary
At Biztech, we are a team of highly motivated dreamers and doers who cohesively innovate every day to make Biztech a global leader in IT services and solutions. Our Mission is to bring positive changes in people's lives by delivering best-in-class digital solutions.
Today, we proudly announce that we've been highlighted as the most reviewed service provider on The Manifest. For context, The Manifest is a business blog site that showcases company projects. The platform compiles and analyzes practical business wisdom for innovators, entrepreneurs, and small and mid-market businesses.
Are you wondering how we got here? Let's take a trip back to where it all started.
In 2006, what started as a humble beginning for Maulik Shah has become a strong team of more than 275+ professionals today. As a leading web & mobile app development company, we empower businesses with its digital solutions.
In 2021, we worked on an M2E Pro customization project with OZEPARTS, an automotive parts distributor. The client hired us to customize their M2E pro specs to make it function as they wished. The goals are to make all M2E pro specs, such as shipping/sales policies and templates, synchronization, etc., are correctly customized to suit the client's needs.
"We had direct communication with the programmer, which make our demand can be delivered clearly and easily. And you can always get help anytime when you need them urgently." – General Manager, OZEPARTS
In 2022, The Manifest highlights Switzerland's 15 most reviewed web development companies, highlighting Biztech among the leaders. We're proud to receive this recognition, confirming our hard work and commitment. Thank you to our clients for their continued support and the opportunity to prove that we can handle any challenges they have.
Let's create something extraordinary together. Get in touch with us now!
Befriend Technology for Transformation
Selecting the right technology is pivotal to your business's growth and success. Have you already decided the suitable one for your next project? If so, we can help you take the next step. If not, we can help you decide the best option. Connect with the Top 1% pre-vetted software engineers to build your software.