1082
Best Developers in India According to Clutch - BiztechCS
24 May, 2022
2 min read
https://www.biztechcs.com/blog/biztechcs-top-developer-by-clutch/
Many development projects helped shape the world into what it is today. With that being said, this industry has been rapidly growing and more developers pop up in the market each day. Finding the best partner for your business is gonna be daunting. Thankfully, there are companies like Biztech Consulting & Solutions to help you!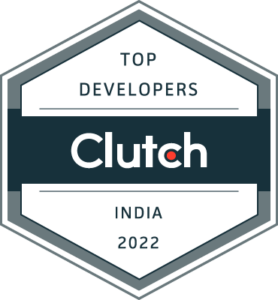 With over 6 years of experience in the industry, our team is confident that we can handle your next project. If that isn't enough for you, our company has also recently received an award from Clutch! We've been named as one of the 2022 leading agencies in India on their platform. This is a huge milestone for us and we are glad that we get to celebrate this with you.
In case you haven't heard of Clutch before, they are an established platform in the heart of Washington, DC, committed to helping small, mid-market, and enterprise businesses identify and connect with the service providers they need to achieve their goals.
There are thousands and thousands of developers locally, and to be singled out for our incredible services is such a huge honor. Of course, this award wouldn't be possible without the help of our amazing team! Thank you for your hard work and dedication. Your passion for serving our clients is the cornerstone of our company.
We are also featured in Visual Object as one of the best web designers on their platform. According to their 2022 research, our team was able to provide invaluable design services in the market and quality outputs.
Let's create something awesome together. Reach out to us to hire the best talent for on-time and bug-free deliverables.
Befriend Technology for Transformation
Selecting the right technology is pivotal to your business's growth and success. Have you already decided the suitable one for your next project? If so, we can help you take the next step. If not, we can help you decide the best option. Connect with the Top 1% pre-vetted software engineers to build your software.