732
How Brands are using Content and Social Media during COVID-19
27 Apr, 2020
5 min read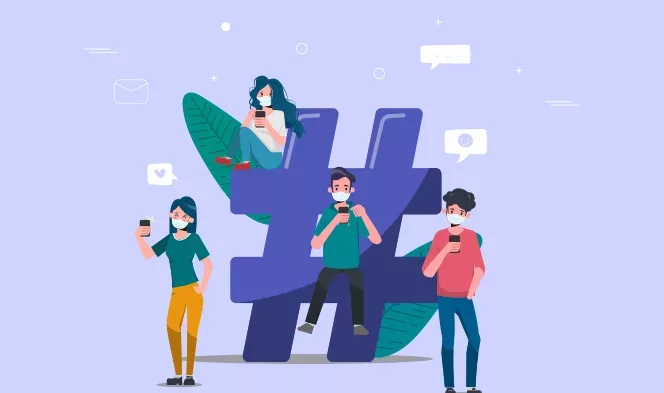 https://www.biztechcs.com/blog/brands-using-content-and-social-media-during-covid-19/
We are living and breathing in the information era. Everywhere you are bombarded with facts, information, How-tos, quotes, ways to live, and whatnot. Sometimes it becomes hard to breathe in the midst of all the content that gets published and consumed. Would you believe if I said that over 4.4 million blogs get published EVERY SINGLE DAY? 4.4 million blogs! And this was in March 2019. I am sure we've come a long way since then.
But this does tell us one thing, that content works. People are as crazy about consuming content as companies are with publishing it. And this is not going to change any time soon. Rather it will be on an upwards trajectory. Sure, new formats are being introduced every now and then and the average shelf life of content is diminishing, nevertheless content still has its effectiveness. Which lies in publishing the right content in the right format on the right platform at the right time.
Here's what I am talking about: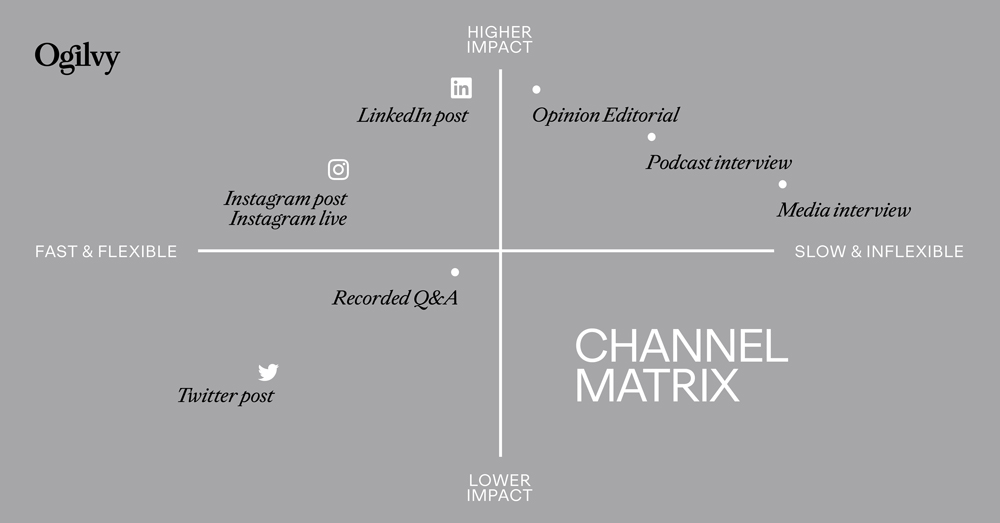 This is a matrix that shows what and where you should communicate with the major stakeholders of your business. And the impact that can create for you. It has been devised by one of the leading marketing firms, Ogilvy, with the central message being how leadership should and can communicate during and through this crisis so as to keep their companies functioning and possibly, profitable.
With recession looming over our heads, oil prices fluctuating and even going negative, we are completely and utterly in shock and not able to fathom as to what the future will look like after we are through with these dark days. But one thing I am sure of, the communication shouldn't stop.
Rather, you should spend more time understanding your audience and what it is that they want to hear from you. As a brand.
The team at SocialInsider analyzed some 9.5Lac social media posts between October 2019 and March 2020. Here's what they discovered about the current discussions going on on social media and the type of content being appreciated and consumed:
Twitter:

People here are divided into two groups. One is interested in talking and hearing about COVID-19 and the other wants to talk about social distancing and receive tips on how to survive this lockdown.

Instagram:

The perfect platform for social distancing posts. 

Facebook:

All the discussions around COVID-19 and the information sharing is happening on this platform.
They also discovered that the talks around social distancing started even before this virus had a name. To know their discoveries in detail, visit their Crisis Communication Plans blog.
The most important thing to keep in mind while communicating with your audience is that this is not the time to sell. It is the time to focus on building relationships and keeping yourself relevant even though it might feel like you are living in a nightmare.
First things first, assuming you know and understand your audience, the first thing you should do is figure out the platforms they are spending most of their time on. With the extra weight on the word 'platforms' because pouring all your energy into one platform won't garner you the results you want. Considering how everyone has a bit more time on hand right now, they are also branching out of their usual platforms and consuming more content via different platforms.
For example, let's say you have a product-based company whose audience mostly spend time on either Instagram, Twitter, or Facebook. Then here is how you can go ahead:
– Customer engagement
Above all, customers trust the experience and opinions of fellow customers. And since all it takes is surfing social media to find reviews, people now more than ever are researching first and then investing in any brand.
Now more than ever, it is crucial for every brand to maintain constant communication with their customers so as to be in their minds even while there's no use of your product or service.
Here's a good example from a well-known brand, Zomato, a restaurant aggregator and food delivery startup. Zomato is a brand known to use Twitter and Instagram effectively. And on both platforms, they interact according to how the platform is by nature. Recently, they asked about what dish one wished was with them during this quarantine. Does this mean they are saying you should order from them or go to a restaurant? No. They are staying relevant, by asking a question that people respond to.
one restaurant dish you wish was with you in this quarantine?

— Zomato (@ZomatoIN) April 20, 2020
Even before they asked the question, there were plenty of tweets about people craving their favorite dishes. I was one of those people!
Sometimes I randomly burst out with a cry "I want to eat pizza" "I want to mezze platter"

Is it just me or anyone else is going through this too? #QuarantineLife #quarantine #iamgoingmad

— Roma (@RomaAmarnani) April 3, 2020
This keeps a brand at the top of the customers' minds which is known as 'Top of Mind Awareness'. This is when a brand gets associated with a particular activity like Zomato is with searching restaurants or home delivery. So, when this quarantine will be over, these people will be using Zomato to find any restaurants or ordering online without even considering its competition.
That is the power of keeping your audience constantly engaged. 
– Right message
This the most important point to keep in mind while creating content during this pandemic. You don't want to come off as a brand that focuses on making money even now. So, it is important to first find your voice and deliver it in the best and effective way possible.
We'll take an example here.
There are certain products and services that depend on going out, the thing that they sell is to go out, like Jaguar. It wants to promote how their cars enable you to go out, reach places, do things. But right now, it is promoting exactly the opposite. Their ad shows cars being parked into garages, to promote the shelter-in-place orders or lockdown orders. Does it make customers buy a Jag right now? No. But when all this ends, they will remember that Jaguar was the brand that cared about them and didn't focus on showing off their cars. Here's a glimpse of the #StayHome campaigns run by various luxury car brands:
View this post on Instagram
– Stay true to your central message
Even though the times have changed it doesn't mean you tweak your brand's central message. You spent years building your brand around a certain idea of something and people remember you by that. So it will be foolish to change it just to fit in the current scheme of things or use that trending social media format. This is where you can show your creative side just like the brand Jeep did. As long as they have been in the market, they've promoted the outdoors. The adrenaline rush. The experiences. Meeting new people. And now, they are promoting indoors with a creative take on their iconic front grill.
View this post on Instagram
This pandemic has forced a lot of brands and maybe including yours to reevaluate the message being shared on your social media channels. This is the time to focus and acknowledge the reality of your communities rather than producing fancy images in bulk. It is the time to give back to the community and not necessarily in a financial way but by sharing the right information, acknowledging the situation, pointing them towards the government messages, etc.
This has also made certain brands realize the importance of conversations happening in the comment section and how they can curate and use that content during these times where they are during these times when there are certain limitations to creating content.
The content has gone through an evolution during this pandemic and it still is evolving. The hard part is not to recognize the change, but to move with it.
Looking to improve your brand visibility on social media? Get in touch with our marketing team from here.
Befriend Technology for Transformation
Selecting the right technology is pivotal to your business's growth and success. Have you already decided the suitable one for your next project? If so, we can help you take the next step. If not, we can help you decide the best option. Connect with the Top 1% pre-vetted software engineers to build your software.