Thomas is an entrepreneur. Just like you, he wanted to create a music app. He jumped straight into building an app without any technological requirements or features in mind. 
Result? A failed attempt that cost an arm and a leg.
Do not be like Thomas. Developing an app like Soundcloud is a tricky thing. It requires proper planning and a thorough understanding of what goes into the process of building an app. 
So, we are here with a complete guide to help you start developing an app. In this blog, we will discuss every factor you need to know. But first, let's find out what the music streaming market is like and how you can monetize your app.
Let's begin!   
On-demand Music Streaming Landscape
Music streaming has a fascinating journey. Vinyls and cassettes, MP3, radio, and now music streaming apps. Today, streaming platforms like Spotify, Pandora, Apple Music, etc. have revolutionized the music industry and the way consumers discover and listen to music. Take a look at the key stats that show how the industry is progressing:
In 2019, the number of audio and video-on-demand music streams in the US since the start of the year hit the one trillion mark. 
89% of people across the globe listen to on-demand streams.
This shows that music streaming is now bigger than ever; and a profitable business idea. 
All You Need to Know About SoundCloud
The Berlin-based music streaming and audio distribution platform is available on both desktop and mobile platforms. SoundCloud offers two mobile apps – 
(a) SoundCloud app which is oriented towards streaming, with music discovery, playlist, and sharing features
(b) SoundCloud Pulse app primarily oriented towards content creators, allowing users to upload their music.
Features of SoundCloud
One of the best features of SoundCloud is the social network-like model. Users find posts that interest them, click the follow button and create a stream just like they do on Twitter or Instagram. Another interesting feature is the apps' ability to add comment on a certain point in a track. Look at the below image. Once the user clicks on "Write a comment", their avatar will appear on the waveform. They can move their avatar to the desired point in the song and add a comment.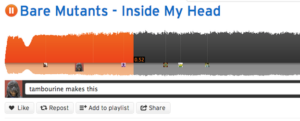 Tracking play counts, downloads and interactions is another important feature of Soundcloud. With a free account, the user will have access to a number of likes, comments, and downloads. While a pro account gives in-depth analysis.
Other features include joining groups, uploading Instagram pictures as album covers, and allowing sound files to be embedded in Twitter and Facebook posts.  
Revenue Model 
Understanding the revenue model of the app will help you formulate a monetization strategy for your music app.
SoundCloud works on a freemium model which means the core music streaming service is free but if you wish to use premium features, you need to pay a monthly fee. Let's have a closer look at the types of subscriptions:
Artist Subscriptions – the company charges an amount from artists to upload their music on a monthly or annual basis.
SoundCloud Pro: $7 per month and around $63 per year for the basic edition

SoundCloud Pro Unlimited: $15 per month and $135 per year for the premium edition

Customer Subscriptions – the basic edition is completely free for the users, but they have to pay around $9.99 a month for the premium edition.
Advertisements – the app generates revenue by charging brands who want to advertise themselves. SoundCloud's advertising partners include Amazon, Netflix, Starbucks, and Red Bull. 
What it Takes to Build an App Like SoundCloud
Clear All Legalities
There are laws and regulations associated with property rights and licenses to use a song for commercial purposes. To build a music streaming app, you need to acquire the streaming rights on sound recordings and compositions. 
There are multiple right holders that you need to deal with. For instance, composition rights belong to the songwriter, recording rights to the label studio. As an on-demand streaming service, you need to pay royalties to copyright holders for the right to make copies of sound recordings. To develop an on-demand streaming app, you'll need to license content from the following organizations:
> Major labels such as Sony Music, Universal Music Group, and Warner Bros 
> Independent aggregators such as the Merlin Network, which represents indie artists 
> Publishers such as Universal Music Publishing Group and Sony/ATV
Application Features
To attract an audience, you need to offer features that matter. Here's a list of features that you need to consider when building a SoundCloud-like app.
Music Library – A large library of songs of different genres is a must-have for your app. For a smooth user experience, consider providing music categorization by playlists, popularity, ratings, etc.  Secondly, make sure it is easy for users to search their favourite songs. 
Personalized Playlist – Users like to create different playlists for different moods. While building an app, consider adding personalization. 
Recommendations – You can suggest top playlists, new releases, and more to the users. Most online music streaming services use audio analysis algorithms and human curation to offer recommendations. SoundCloud offers suggestions based on what the user recently liked or played.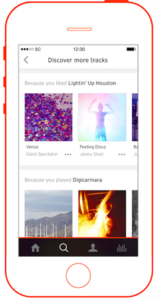 Voice search – Voice search is becoming more and more common. Studies predict a move towards voice search for at least 50% of online searches; which means, with voice search you are ahead of the competition. 
Social Media Integration –  Social media platforms have become a crucial channel for businesses to market their content and brand name. With social media integration, you enable users to share their favourite tracks on social media. This way, you can market your app to potential users. For instance, Pandora Music lets users find friends via Facebook and then listen to their stations. Spotify allows users to create collaborative playlists, send music recommendations, and see the activity of friends.
Here are a few steps to integrate your mobile app with social media.
Include clearly visible click-to-add social media buttons so that the user can easily share the content/playlist. 

Consider having a social-login where visitors can sign-in via their social media accounts. 
Push Notifications – getting users to engage with your app is a challenge. One strategy to reach users is using push notifications. User engagement, brand consistency, customer care, increased conversions, are few benefits of having a notification feature. With this you can inform your users about the events nearby, latest music news, latest releases, and more. Here too you can adopt the personalization strategy where you can send notifications with 'First Name Tags' to address each user individually.  
Offline Access – Users want to listen to music at any place and anytime regardless of internet connectivity. There are two ways you can benefit from giving an offline mode – (a) add the offline option in the premium plan of your app. This way you will get more paid users, and (b) this feature is a good way to attract and retain users. Suppose your competitor doesn't give an offline but you do; there are more chances of your app attracting more traffic and enhancing user experience. For example, Spotify supports an offline mode. To use this feature, a user must subscribe to Spotify Premium. 
Other features include: 
Registration and login authentication

Advanced search

Music player

Home page

User profile

Artist profile

Content upload

Lyrics 

Subscriptions 

Live streaming

Pre-save 
App UI/UX
Other than features, what your app needs is an app interface and user experience which is interactive. Your SoundCloud clone app will require standard UI elements like music player control, navigation panels, an account page, and the settings menu. For this, you need to keep these fundamental UI principles in mind:
> App Layout – the aim is to create an app layout with zero clutter. Creatively utilize the space between the details, use minimum elements, and design in a way that the user is not confused. 
> App Visual Design –  your design will directly impact user interaction. You need to have a solid visualization to provide an engaging experience. 
> App Color Scheme – choose colors that go well with your brand's mission. To avoid mess, use a maximum of 4-5 colors. 
> App Typography – you can play with different styles and fonts but it is necessary to choose fonts which look professional. 
We suggest you research before finalizing the design strategy. Check out what colors and fonts are popular with music apps. Along with UI design, UI dynamic is important too. Ensure that your app has a smooth navigation, and a good loading speed.
Now, let's analyze some elements of SoundCloud to see what gives a good user experience.
Music Player – Look how beautiful the player looks. The album art is blurred, and the track length is in large fonts which makes it easy to read.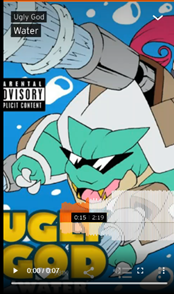 Color – the branding of Soundcloud is consistent. Just see how they have used a single color everywhere!
Home Page – it's minimalist with striking visual elements.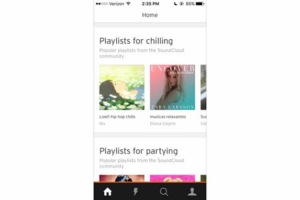 Technology Stack
The probability of your app being robust and scalable relies on the technology combination. Here's an ideal technology stack for SoundCloud clone app development. 
> Application and data – Scala, Clojure, EdgeCast, jRuby
> Business tools – Slack, G Suit, Freshdesk, Desk.com, Layervault
> DevOps – Webpack, New Relic, RequireJS, Pingdom, Prometheus, Crashlytics, Cloud 9 IDE
> Utilities – Elasticsearch, Mandrill, Embedly, BitBar, Nicereply 
Other than these, ReactJS for frontend UI development, Bootstrap for frontend framework. Laravel 5.2 for backend development, and MySQL for database management. You can use Digitalocean for hosting, and Stripe for payments.   
Create an MVP Mobile App
"The minimum viable product is that version of the new product which allows a team to collect the maximum amount of validated learning about the customer with the least efforts" — Eric Ries.
There's no surprise that as a startup, you will face problems of limited resources. However, you will want to add every possible feature and functionality in your app because you believe in your idea. One error in the process and that would cost you a lot – which is why it is better to create a replica of your product and test its initial growth. If it's successful, you continue working further – that's what an MVP is. They are only effective if you take the market feedback seriously. 
Hire a Development Team
The goal is to find a team that not only helps you choose the right technology but one that can help you build a feature-rich application using the latest technology. Secondly, before choosing developers, make sure they have enough experience developing for multiple platforms. And last, a good development company will always offer post-development support and activities. 
At Biztechcs, our team of dedicated mobile app developers fulfills your business expectations and delivers results exactly as expected. To understand you and your projects better, we offer a risk-free two weeks trial. Do you want to share your ideas with us?
Tips to Promote Your App
Your app will reach the target audience only if you promote it and promote it well. Consider including these points in your marketing strategy:
Create a video introduction of your app and upload it on various channels.

Include links to your app in your email signature.

Encourage customer reviews

Set up a website and post music-related blogs. 

Do what everybody does– actively share on social media.

Use Facebook ad campaigns, influencer marketing.

Write blogs, and invite others to write on your site.
Wrapping Up
We hope with all the necessary information on design, features, and technology you are ready to build a music app like SoundCloud. If you have more questions, mail us at [email protected].
All product and company names are trademarks™, registered® or copyright© trademarks of their respective holders. Use of them does not imply any affiliation with or endorsement by them.