1997
CRM Implementation Process: The Typical Steps Involved
13 Jan, 2020
5 min read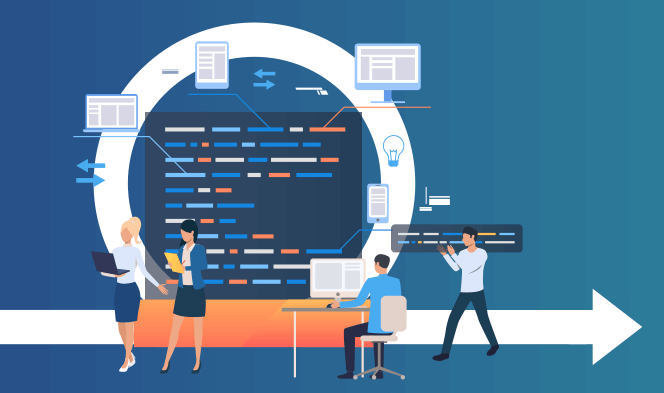 https://www.biztechcs.com/blog/crm-implementation-process-typical-steps/
It wouldn't be wrong to say that Customer Relationship Management is the most efficient approach to maintain and create a valuable buyer-seller relationship. It leads to a strong bonding between both parties that are accountable for the loyalty and trust between the two.
Once this relationship is built suitably, the organization is able to easily identify the actual needs and requirements of the customer and offer them products and services consequently. It not only leads to better conversion on the part of the seller, but also keeps the customers satisfied with the services. So, though having CRM for your organization is important, implementing it with the right approach is equally important.
In this blog we have come up with the typical steps involved in the CRM implementation process. Following these steps closely will save you from any downsides you might face otherwise.
Steps to a Successful CRM Implementation
Let's have a look at the steps that can guide you through a procedure for successful CRM implementation:
Step 1: Identify why you need a CRM and what you expect from it:
The first and foremost step is to understand why your enterprise needs a easiest CRM system. Start off by identifying the areas you need to improve and the problems that require attention. You need to have a vision that syncs with the definitive goals of your business. Once you decide on the goals of your CRM implementation, share them with everyone in the team to ensure all are on the same page and moving along the same lines to achieve goals.

Another thing to consider is how you want to integrate it with other systems in your organization. Integrating your cloud based CRM with other integral systems of your enterprise can result in better understanding of your customers and hence an effective CRM.

Step 2: Find a suitable CRM vendor for your organization:

You will get many options in terms of vendors offering CRM. But you need to explore a bit to  find the right CRM system for your business as it will largely affect the implementation. The strength of the vendor's product is to be judged along with the vendor's experience in the respective market. Along with that, you will need to consider factors like the knowledge and experience their employees possess, their experience in working for enterprises similar to yours, and the corporate vision of the vendor. You can also dig into some of their previous clients' reviews to know about the service quality of the vendor.

Step 3: Develop a budget:

You need to develop a realistic budget that you can use for the expenses related to the implementation process. It's very important that you remain very clear about your resources with your CRM partner so that they can plan according to your investment. Balance your budget so that you do not compromise on the implementation. Go for 'value for money'. An effective CRM implementation can significantly lead to higher conversions while if the implementation goes wrong, you might have to reinvent the wheel.

Step 4: Identify which departments and staff will handle the process and train them accordingly:

It is one of the most important steps which organizations often ignore, leading to serious user-adoption issues. To make sure that you are following the best practices in the process, select two key members and make them a part of the project team.

Take their feedback about the implementation process as well. Make them a part of the demo and feedback sessions and take actions on what they have to say. Now, you also need to take care of the training of the end-users of your CRM.

Devote some time and effort to create training material for your end users. Recorded training sessions are recommendable as they will help you train new staff for quick adoption of your CRM system.

Step 5: Draw a blueprint on how you need to progress with the CRM:

You need to have a step-by-step road map on how you want to move with the CRM implementation. You can't implement it and expect it to give you a 360 degree view of your customers immediately. The process is gradual and but you will see the results eventually.

Come up with a practical and realistic way to achieve it over a period of time, which can't be precise. Your vendor can guide you and your team through it to help you understand the tactics for effective CRM system executive. It's again one of the reasons why you should select your CRM vendor carefully. Also, following a sorted out road map helps you keep all the possible complications in the process of CRM implementation at bay.

Step 6: Ensure equal participation from business and IT:

Like Enterprise Resource Planning, a successful CRM system is never just an IT program. So, if you just run it as such, it's going to fall flat. A successful CRM system demands equal participation from the business as well. You can create a Center of Excellence (COE) to maintain this teamwork. An effective COE can play a key role in the success of this collaboration and ultimately lead to successful CRM implementation. 

Successfully implementing CRM and getting your team members to use it regularly may seem like a daunting task. However, if you take care of the above steps and processes carefully it's not that difficult too. If you still find CRM implementation a task you can't handle, you should always get some professional help.
Befriend Technology for Transformation
Selecting the right technology is pivotal to your business's growth and success. Have you already decided the suitable one for your next project? If so, we can help you take the next step. If not, we can help you decide the best option. Connect with the Top 1% pre-vetted software engineers to build your software.