1262
Logistics App: Discussing Technologies, Features, Development, and More
08 Jan, 2021
16 min read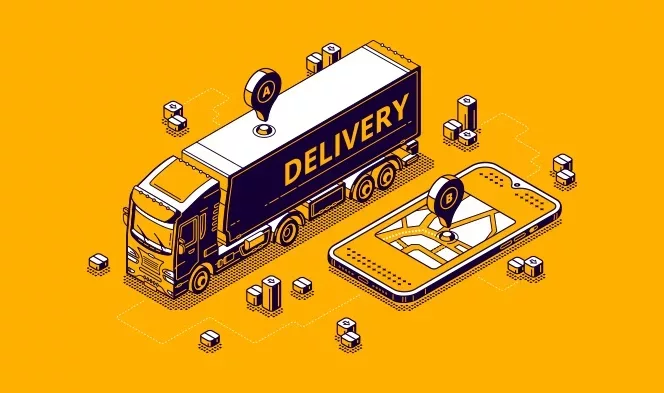 https://www.biztechcs.com/blog/delivery-logistics-app-development/
"The logistics industry across the world will grow by $287.1 million between 2020 to 2024. This equates to a 5 percent increase in the CAGR."
The logistics industry carries out a large part of operational functions in the online business ecosystem. The logistics industry has to do it all, whether shipping through courier services, movers, packers, warehouse management, fleet management, order tracking, or order fulfillment. It would be fair to state that the entire eCommerce and online retail industries primarily depend on the logistics industry.
In 2021, like most industries, the logistics industry, too, is undergoing a gradual yet permanent transformation in terms of tech adoption. Since the onset of the COVID-19 pandemic, the logistics industry has been at the forefront of disruption. The pandemic tested the supply chain resilience to the hilt and paved the way for quick tech adoption across the industry.
*Enters the concept of logistics app development.*
Logistics apps have made the sector more advanced, connected, and lucrative. In many ways, automated workflows have become the cornerstone to achieving efficiency. Digitization and incorporation of technologies make the sector more advanced, connected, and lucrative. The concept of logistics mobile app development has solved the major challenges faced by stakeholders. Logistics apps:
Eliminate a lot of paperwork and endorse automation
Solves all the tracking difficulties and challenges
Optimizes, dispatches, and routes
Reduces all the warehouse management errors
Reduces delivery time and costs
Besides this, logistics apps have progressed leaps and bounds, widening their geographical scope to the entire global arena. Apps have enabled stakeholders to manage several tasks (quickly), including packing and transportation of goods, warehousing, maintaining inventory, the flow of information through supply chain management, and much more. So, logistics apps have undoubtedly played a pivotal role in enhancing the logistics sector's efficiency.
An ideal logistics app can prompt the flow of your business operation, increase productivity and opportunity. So if you're looking forward to starting a logistics business or taking your existing logistics business online, you're in the right place. This blog aims to help you with the know-how of logistics mobile app development. For the next 15 minutes, I will walk you through every necessary information about logistics mobile app development, including key technologies, challenges, features, advanced trends, etc. Here's your five-step guide to "How to start a logistics business:"
Step 1: Define the Type of Logistics App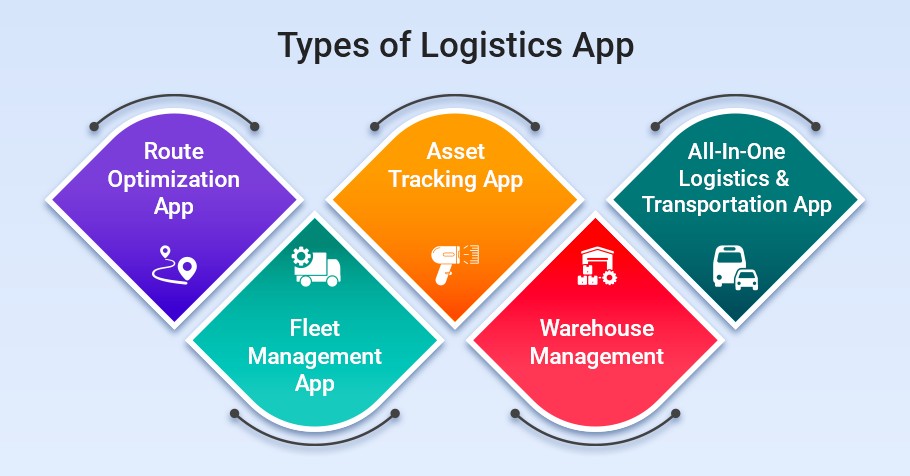 Logistics includes managing multiple aspects like a warehouse, vehicle management, carrier tracking, and so on. Hence the first step in your logistics mobile app development journey would be to decide the niche for your business. There are mainly five types of logistics apps that improve the working quality of your logistics organization. Here are the five types:
Route Optimization
Fleet Management
Asset Tracking and Management
Warehouse Management
All-In-One Logistics and Transportation
I. Route Optimization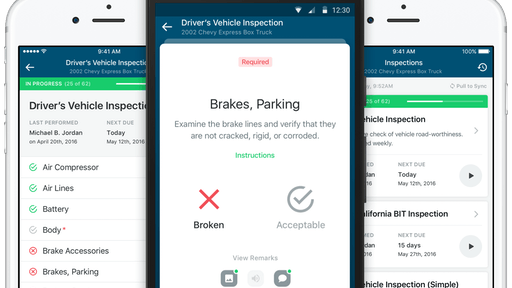 In a nutshell, route optimization is the process of discerning the most cost-effective route for a vehicle carrying a shipment. It not only saves cost but also time and workforce in the long run. You can set the best route for your drivers with the help of GPS technology. Managers can approach and guide the deliverers with the correct information. Route optimization offers adequate real-time data. As a result, deliverers can avoid traffic jams and divert to the best and fastest route to the destination.
Check this out!
One of the coolest examples of an AI-based smart road system is that of Valerann. It is a traffic management platform that delivers information about road conditions to autonomous vehicles and users. You can get this for your app too! Your route optimization app clubbed with an advanced AI can cut-short your expenses to an entirely new level.
OTOH, you should try experiencing the working of a logistics app and find out how you want your app to be. Check out our ready-to-go prototype for your logistics app development.
II. Fleet Management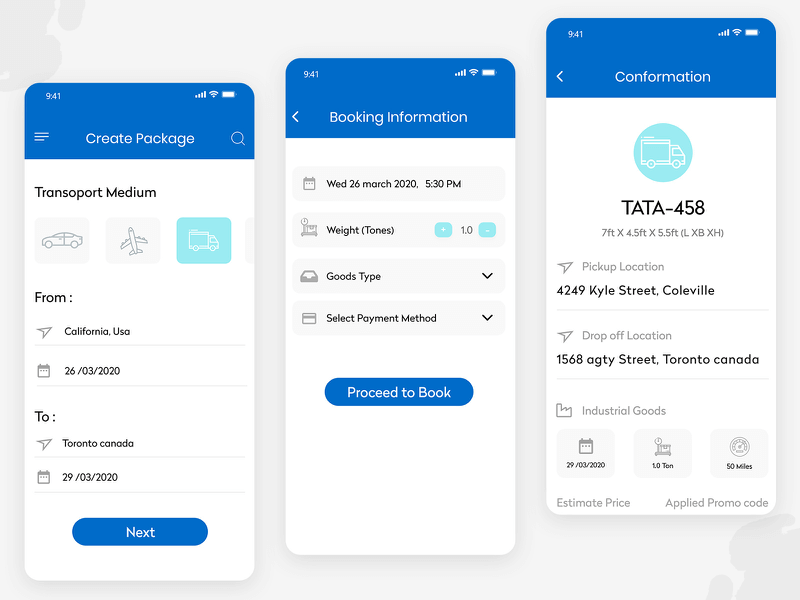 If you have a huge fleet to manage and fewer hands working on the same, you need a fleet management app! It offers a real-time status report of your fleets and allows you to improve efficiency. You can enhance and organize each and every task with a fleet management app.
It is helpful to record and organize data and information related to vehicles and fleets to keep the overall fleet operation hassle-free. This solution helps fleet managers gain real-time visibility into their operations while increasing driver satisfaction and decreasing fuel usage through predictive analytics and accurate reporting. With these applications, you can reduce costs and boost performance.
An easy-to-understand example of fleet management is a trucking company. Cargo trucks often cover long miles and a large variety of environments. It is imperative for a rock-solid maintenance structure to exist so that a truck doesn't break down in the middle of anywhere.
III. Asset Tracking and Management
An asset tracking feature cannot be missed by any company involved in logistics. This helps them to manage the location and tracking of their assets in the warehouse. The sole purpose of this feature is to manage and provide consistent tracking reports and updates.
You can build transparency with your end-users as they can get the exact location of their orders with easy tracking to know when their shipment will arrive. It will significantly impact supply chain visibility for you and customers, which ultimately results in a great advantage.
VI. Warehouse Management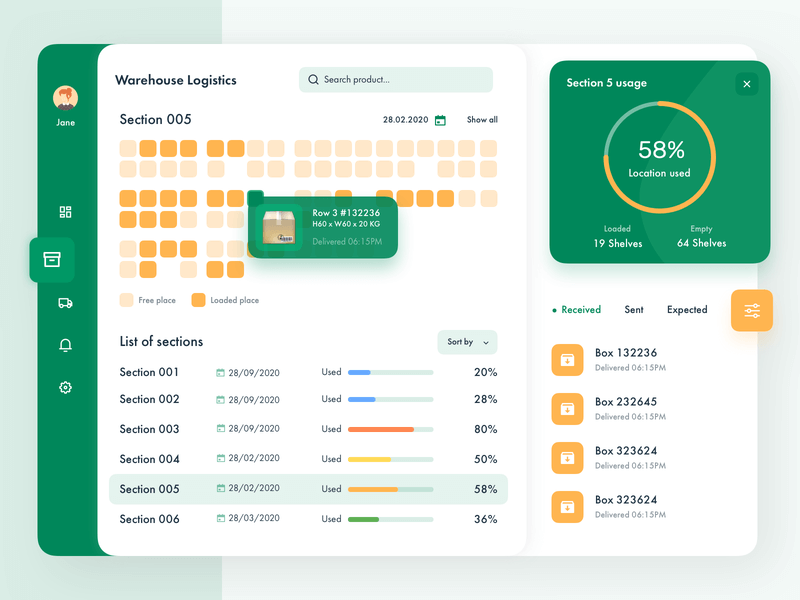 If your business owns a warehouse, you know that that's a bustling place. You need a digital solution that will help you manage assets, track inventory, shipments, and warehouse operations from anywhere at any time. Warehouse mobile apps make warehouse management an efficient task by storing and managing huge amounts of data related to the products. The app even facilitates you to manage the workers working in your warehouse and evaluate their performance.
V. All-In-One Logistics and Transportation
An all-in-one logistics app consists of all features mentioned above. Transport and logistics app development are in huge demand. They benefit enterprises with cost-effective transportation, location tracking, fuel management, and more. We suggest all-in-one delivery logistics app development to enhance productivity and meet delivery benchmarks.
Step 2: Market and Trends Research
The next step to start a logistics business is conducting comprehensive market research and getting valuable insights. Analyze your competitors with existing logistics mobile apps and examine the features, UX, and other aspects of the legacy apps. See how others have implemented the apps in their workflows and how it is benefiting/backfiring on them. Once you've done the market research, list down your requirements.
A typical on-demand logistics app will have three panels:
Admin Panel
User Panel
Dispatchers Panel
You need to determine what panels you need in the app. Each panel will have specific features and functionalities. You also need to know what panel will include which features and plan your logistics app development accordingly. Let's look at some popular trends in the current logistics app market.
I. Internet of Things Based Solutions
IoT is a connection of physical devices that monitor and transfer data without human intervention. IoT logistics improve the efficiency of inventory management. It also enables transparency, real-time visibility of goods, condition monitoring, etc.
Example: FleetRoot for Fleet Management
UAE-based startup FleetRoot offers an IOT platform for managers and companies to control and manage their fleet. It offers fuel management solutions by providing fuel consumption and wastage reports. The platform monitors a vehicle's performance and sends critical alerts to the system using sensors embedded in the system. FleetRoot also offers route optimization services and delivery solutions for the transportation of goods.
II. Artificial Intelligence Solutions
AI algorithms combined with machine learning help companies to be proactive in dealing with demand fluctuations. It allows managers to plan supply chain processes and find ways to reduce operational costs.
Example: Adiona for Process Optimization
Adiona allows companies to improve their logistics processes and reduce costs. It optimizes static and dynamic delivery routes by solving vehicle routing and related challenges. The software employs machine learning techniques to predict conditions such as demand, weather, traffic, etc.
III. Robotics
Automation always increases speed (and accuracy) and reduces errors. Robots offer more uptime and increase productivity.
Example: Actimai – Robotic Process Automation (RPA)
This kind of automation includes operations like invoice processing, automatic information storage, automated input (at the time of order purchase).
Philippino startup named Actimai designs deploys, manages, and optimizes RPA solutions by leveraging AI and big data.
IV. Last-Mile Delivery using Drone
The last step in the delivery process is usually inefficient. It comprises a significant portion of the total cost to move goods. Problems like traffic congestion, customer nuances, government regulations, etc., usually cause a delay in the last-mile delivery. Imagine drones delivering your packages! No problem with traffic congestion, and no human contact needed! Drones can reach remote locations and hence reduce time and cost.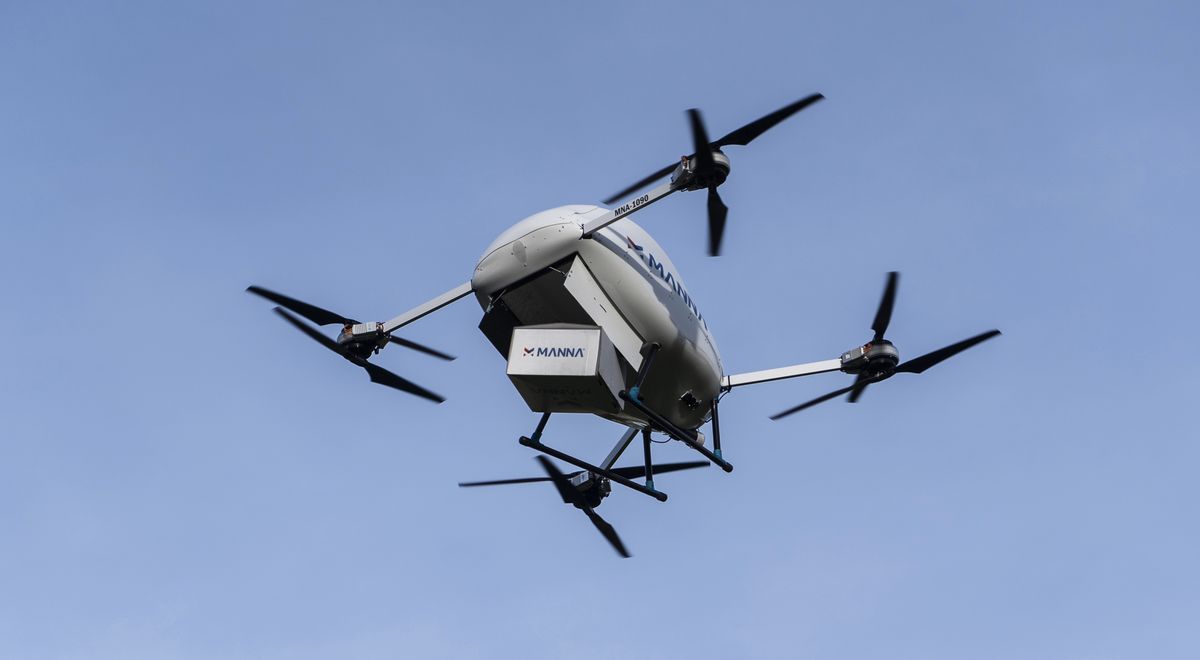 Manna Drone Delivery Partnered by Samsung
Irish startup Manna is known to offer drone delivery as a service to restaurant chains. Their drones can fly at an altitude of 50-80 meters at the speed of 60 km/h.
So, these were some of the prevalent examples of recent market trends. So if you're wondering how to start a logistics company and thinking about logistics app development, start with thinking about your USP. Build a logistics app with a twist that will keep you ahead of the competition. Ask yourself: which specific problem do you want to solve? And then think about an advanced feature that'll help you solve this problem.
The best approach is to work with professional developers to ensure the high functionality of your app. The experience you deliver through your application lies at the core of its development. Only development experts can bring an exceptional app together, which is precisely why you must check out Biztech's logistics app development model.
Logistics App Development Technologies
Before jumping onto the features of logistics app development, let's quickly look at the technology you'll need for it.
1. Location Tracking
Location tracking is one of the crucial technologies in logistics app development. With the help of location tracking feature or technology:
Both you and your customers can see the real-time location
You can figure out the estimated time of arrival.
In case of emergency, you can guide or send help to the truck driver.
Location tracking relies on two types of signal:
Cellular tracking works best only where the cellular network coverage is better. This means if there is no network, there is no data available. It is a preferred choice in most logistics apps. Satellite tracking provides fleet managers with precise accuracy for location and activity information. Location tracking enables you to monitor the truck's location and predict the timing of its arrival. This way, location tracking facilitates accurate communication to avoid further delay in the shipping process.
2. Map & Route Navigation
How will you get real-time updates about traffic or road accidents? By implementing Google Maps API, you can get live traffic data.
Route Optimization With Traffic Information
Time is an essential factor in the logistics industry. Suppose the driver doesn't receive any information on the traffic congestion ahead on his route. This will delay shipments, and your business will suffer loss.
Therefore, a key option necessary is route optimization with the help of traffic information. This way, drivers can find out the fastest route possible to reach their destination.
Make sure to include the following features during logistics app development:
Google Maps integration
Consignment tracking modules
GPS vehicle tracking
Mileage tracking tool
Locate service center
Roadside assistance
Mileage log
Google Maps/Waze navigation
3. Telematics
Imagine an intelligent computer in your vehicle that reports every detail – speed, fuel, tire pressure, etc. With this information, you can save maintenance costs by monitoring the vehicle.
Telematics is precisely this! Telematics is a method of tracking an asset with the help of GPS and onboard diagnostics. This helps record movements on a computerized map.
Telematics provides fleet operators with the information they need to manage fleets. With live fleet monitoring, you can monitor your vehicle 24*7. This way, you stay updated about the delivery process and take immediate actions in case of unethical activity. This option also improves fleet performance by raising awareness about the wear and tear on vehicles.
4. Blockchain Technology
Blockchain is a system of recording information that makes it difficult to change or hack the system. This decentralized distributed technology is transforming logistics operations. It helps in creating an efficient system. Secondly, the technology is highly effective in enhancing security by reducing frauds and errors.
Here's how blockchain is improving the logistics industry:
Brands like Walmart and Nestlé are experimenting with blockchain to track their inventory.
Blockchain-enabled platforms allow easy coordination of documents on a shared ledger.
Blockchain is proving to be useful in invoicing and payments. It ensures the prevention of frauds and errors without the need for a middle agent. Moreover, blockchain ensures secure data across the logistics ecosystem.
5. Artificial Intelligence
The primary purpose of implementing AI in the logistics industry is to automate actions and save money. For instance, in automated warehouses: you can use Artificial Intelligence to organize inventory, collect data, and predict demand.
Other examples of AI in logistics include:
Self-driving cars: Waymo was the first company to integrate a commercial taxi service with self-driving cars.
Smart roads that can sense traffic volume and patterns. These before-hand predictions help deliver faster.
Step 3: Features For Logistics App Development
User Panel Feature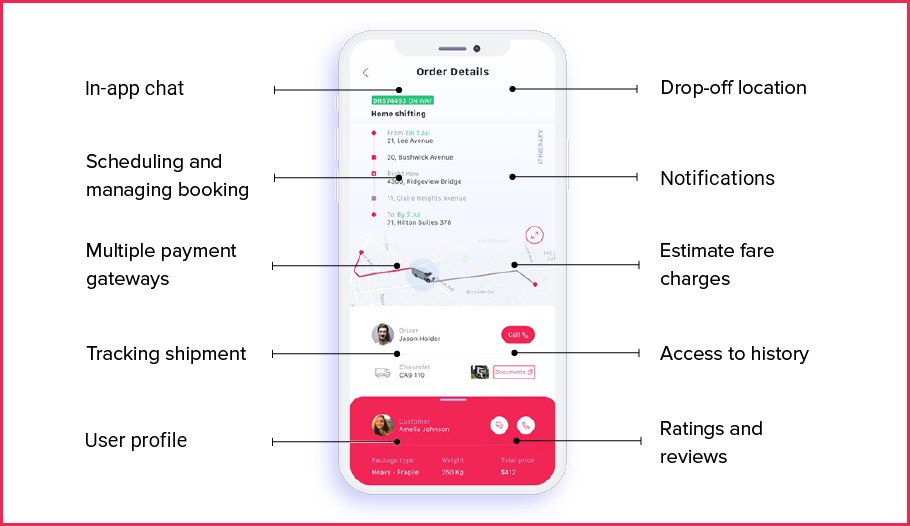 Customer Registration
Sign-up is a crucial step for identification. Provide standard options such as phone number, name, and password for sign-in. This way, you can use the phone number (especially of the drivers) to carry out further procedures.
User Profile
If you want to collect the client database at an early stage, then the user profile can help you. However, if you wish to ask the client to create a profile only after signing a deal, you can do that. A personal profile for a driver is necessary because it will equip you with all the necessary information to link a driver to a specific delivery. Therefore, ensure that the driver profile includes:
Name
Date of birth
Driver's license number, type, and date of its expiry
Photo
In-app Chat/Call
The option to chat via the platform is critical functionality that logistics apps must incorporate. There can be a combination of chatbots and human agents in this segment. For example, a bot can handle simple queries that require instant solutions, whereas a live agent can deal with complex problems.
While live chat through the app is becoming immensely popular, many customers are still old-school and prefer to speak to a customer service agent in case of queries. Having an in-app call facility can connect them instantly without having to leave the app.
Notifications
Real-time alerts are a great way to inform users about necessary information while engaging them on your application. Notifications will help you keep your customers updated. Utilize notifications to assign new orders, make changes in any order, communicate with the users, and more.
Manage/Scheduling Booking
Let users book a vehicle to avail services in a simple manner. Let them pre-book by mentioning the exact date, time, and location for pick-up.
Multiple Payment Gateways
When it comes to payments, the more the options, the better the experience! Provide options like credit/debit cards, online wallets, cash on delivery and encourage users to use the app more often.
Tracking Shipment
The tracking facility is something fundamental. Your users are already expecting it from the transport and logistics app. Make sure you implement it in your end products.
Drop-off Location
Let users enter the exact drop-off location of their parcel either manually or with the help of the GPS.
Estimate Fare Charges
Users need to know the value they are expected to pay for the services. You can provide a built-in fare calculator to your customers. This feature will calculate the cost of services based on the size and weight of the package.
History
Let users revisit their previous transactions and invoices to keep everything on track and record.
Ratings and Reviews
Let your customers rate and review their experience with your app. Let them give feedback too that'll help other users.
Driver Dispatcher Panel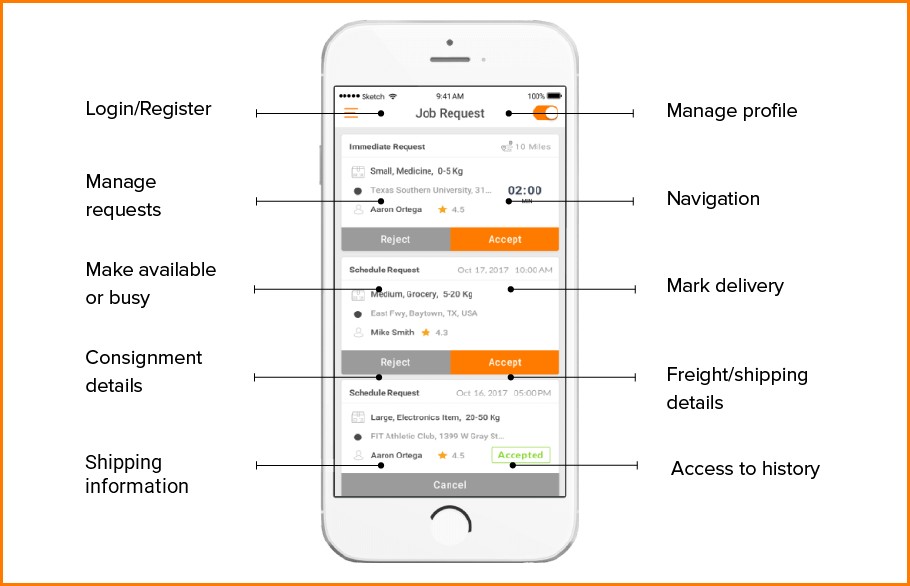 Login/Register
Like users, drivers can also need a sign-up feature. Let them sign up using their existing email IDs, phone numbers, or social media accounts.
Manage Requests
This is a basic feature that allows drivers/dispatchers to accept, reject or order based on their preferences.
Shipment Information
This feature provides the drivers with essential information on transportation orders. To avoid any confusion, make sure the driver has access to the following details.
Current and scheduled orders list
Pick-up and drop-off locations
Estimated time/day of arrival
Total distance
Details of cargo, including weight, pallet number, etc.
Customer details
Payment information
Map screen
Make Available or Busy
Let the deliverers show their availability for services using options like marking self-availability.
Consignment Details
Help your app become popular by getting insights into the consignment that is to be delivered.
Manage Profile
Profile management is another most essential feature of a logistics app.
Navigation
This is a crucial feature for the deliverers. The navigation feature also gives information regarding the best route to the customers' addresses to facilitate on-time delivery.
Mark Delivery
Allow deliverers to send alerts to customers and admins and give them updates about delivering a particular parcel.
Freight/Shipping Details
Let the deliverers access details related to freight (weight of goods, distance covered, fuel consumption, toll charges) and shipping (name, address, phone number, destination)
Admin Panel Features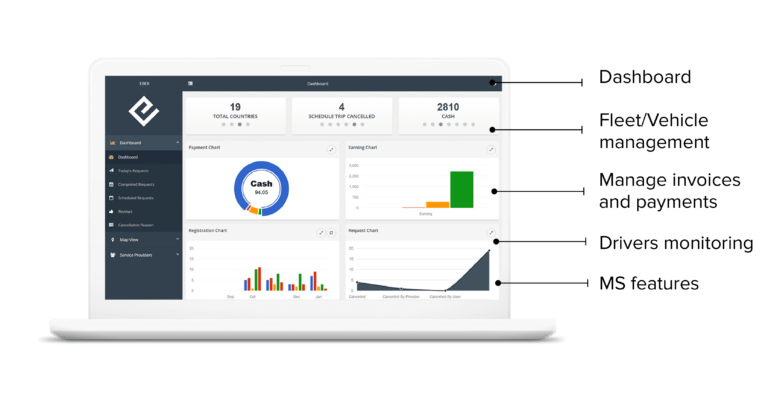 Dashboard
The dashboard displays all critical information about the users and drivers. The admin is also able to track the pending and completed orders with real-time data.
Fleet/Vehicle Management
With these features, admins can keep complete track of vehicles and shipments and update them whenever necessary.
Manage Invoices and Payments
The admins can generate/update invoices with the help of this feature. Admins can also manage payments, i.e., approve payments received by deliverers and analyze them.
Drivers Monitoring
Let this feature help the admin manage and assign tasks and monitor their on-road time, activities, and requests.
Additional Features
Get a Quote
Let customers request a quote from the service providers to get an idea of the services' cost and time.
Chat Support
Chatbots play a huge role in B2B and B2C industries. Most industries involved in any kind of service or product are equipped with chatbot app development.
Multilingual Support
Mobile applications usually provide multilingual support. It can boost the popularity of your app globally.
Empower Your Logistics App with Advanced Features
Make your user experience unique with these advanced features:
Built-in messaging
Digitized documentation
Digital gallery with freight images
History of completed shipments
Changeable shipping order status
AI algorithm based route optimization
Real-time inspections submissions
Barcode scanning API integration
Logistics optimization software
Step 4: App Design: Why UI Matters for Logistics App Development
'Good Design is Good Business'
– Thomas John Watson Jr,
Chairman and CEO of IBM
A well-thought app design improves the overall business performance and market position. Therefore, it is necessary to pay attention to the UI/UX component of your logistics app. Pay attention to the UI/UX component of your logistics app.
The bottom line: Keep the design simple, smooth, interactive, and without any error.
The basic rule of UX design is 'complex but easy to use.'
Take Uber, for example. It tracks hundreds of vehicles in real-time. Its design has been consistent throughout the user base and is engaging at the same time. It is easy to use yet complex as it fetches the data of hundreds of vehicles in real-time.
Just like Uber, you must aim to deliver an appealing and intuitive experience at the surface without hampering the complexities. Work with logistics app development experts who can help you hide the complexities of your app through a powerful UX. Now, many people tend to believe that having a minimalist approach creates a clear and simple design.
Going back to where we began, 'a well-thought app design' – what your logistics app needs is some time, brainstorming sessions, and a clear strategy. If you need help developing a UI/UX strategy for your logistics app, we can help you. Check out our prototype demo and visually feel the impact of a powerful UI/UX.
Step 5: Choose the Right Development Partner
Due to the multiple benefits of the logistics app, it is the right time to invest in logistics app development services. Choosing the right logistics app development company may not seem like a big deal, it is!
Plus, a logistics app is an on-demand application, therefore, its development cost also tends to be higher compared to other industries. Hence, it becomes all the more critical to pick the right development partner. The cost of your logistics app development depends on:
Choice of the platform (iOS/Android/Cross-platform)
The technology stack
Customization
Number of features
Number of advanced features
Design and UI/UX
Contact a reputed logistics app development company and hire app developers to help you bring your ideas to reality. You can either build an app from scratch or go with development partners who have a fully functional prototype ready. A prototype model approach is relatively easier as you'll only need to focus on customization and bring different modules together rather than worrying about building everything from ground zero.
The Bottomline
I hope I was able to answer all your questions pertaining to "how to start a logistics business." Technology has become a significant disruptor in any industry, and the logistics industry is no exception. Traditionally a resource-intensive industry (like logistics, transportation, etc.) can hugely benefit from advanced mobile apps.
Delivery routes can be optimized.
You can save costs and resources.
Last-mile deliveries can be faster and easier.
Far-off infrastructure (like warehouses) can be managed and tracked easily.
Supply chain management can be made more robust and cost-effective.
It becomes easier to meet the ever-changing demands of customers.
Ready to start a logistics business. The point is that the emergence of multiple types of on-demand logistics apps will eventually make the logistics industry prosperous. If you're looking for logistics app development partners, I suggest you try out our prototype demo. Our development experts have brainstormed and come up with a fully functional logistics app solution. We can further help you customize it as and how you want.
All product and company names are trademarks™, registered® or copyright© trademarks of their respective holders. Use of them does not imply any affiliation with or endorsement by them.
Befriend Technology for Transformation
Selecting the right technology is pivotal to your business's growth and success. Have you already decided the suitable one for your next project? If so, we can help you take the next step. If not, we can help you decide the best option. Connect with the Top 1% pre-vetted software engineers to build your software.