If your staff still manage appointments manually and spend hours behind it every day, a doctor appointment app can definitely help you to manage appointments more effectively.
Today, more than 97,000 health and wellness apps are available in the market and about 52% of the population relies on smartphones for health-related information and notifications. Hence, having a doctor booking app not only streamlines your management but also modernizes your way of providing services and updates with features like real-time notifications, knowledge center, appointment scheduling, etc.
If you're looking to develop a doctor appointment app, you're in the right place. Today, we'll talk about why this app works, which features to include, and the cost of development.
Reasons to Develop a Doctor Booking App
Developing a doctor appointment app can be a win-win solution for doctors and patients both.
With an appointment booking app, hospitals/clinics can:
Streamline their processes
Manage appointments
Automate administrative tasks
Avoid overbooking 
Reduce no show-ups
Lessen human errors
Analyze their performance through different reports such as appointments completed, no-shows, to understand their services and impact in helping their patients.
Patients can:
Access health care 24/7.
Schedule appointments from anywhere at any time.
Communicate in real-time with their care team.
Access medical records and pay bills directly from the app.
Revenue models for hospital reservation system:
Before building a hospital appointment booking system, it's necessary to decide your revenue model. You can choose a monetary model from different income-generating streams as mentioned below.
In this model, you can generate revenue by taking a commission from doctors. For every successful appointment made via the hospital reservation system, doctors can provide some portion of their fee as a commission to the app. The fee can be variable as well as fixed.
Hospitals/clinics register and get themselves in the list of featured hospitals/doctors by paying a specific amount as a fee. The featured doctors will be given better visibility in the app resulting in better reach and more appointments from the app.
In this revenue model, you can earn by allowing ads from healthcare companies and brands to be shown on the hospital appointment booking app. This will be similar to Amazon's sponsored listings or even Google Ads to some extent.
Features of Doctor Appointment App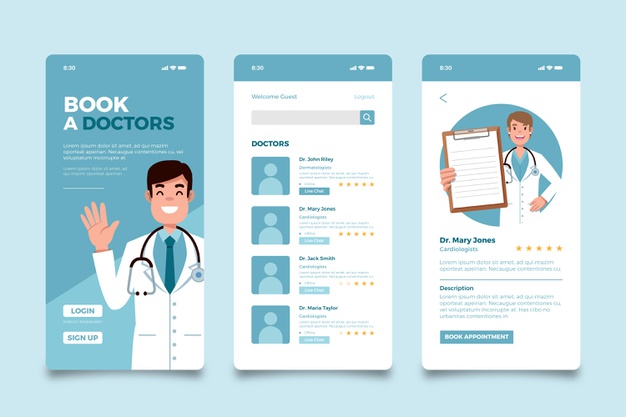 The features of your app will decide its usability as well as its success. So, make sure when building a hotel reservation system, you are taking multiple use cases into consideration. Apart from that, here are some of the features you can get started within the first phase of your app:
Provide separate profile sections for patients and doctors. Allow patients to add their personal details, contact details, medical history, documents, and reports, etc. Doctors should be able to add their details, specialization, experience, certifications, competencies, languages spoken, their schedules, etc.
Patients should be able to schedule appointments with doctors from the booking screen. You can also offer reschedule and cancel features to the patients.
Allow doctors to view their appointments on the calendar with an option to cancel or reschedule. Doctors can plan their schedules based on the free slots and manage their staff schedules accordingly.
Let patients track if there are any COVID-19 patients in the hospital/clinic they are visiting. Patients can even check for infected people near them.
Update patients with their appointments by sending auto-generated push notifications or messages, so as to reduce no-shows or miscommunication. Similarly, update doctors with alerts and notifications about appointments/events/meetings, etc.
Let patients search for healthcare providers by sorting and filtering based on specialty, ratings, experience, location, etc.
Allow your patients to pay via different payment modes such as PayPal, debit/credit card, net banking, eWallets, coupons, etc. For this, integrate an in-built payment gateway to your hospital appointment booking system.
In case of emergencies, let users call an ambulance with a single click directly from the app.
In case, a physical meetup isn't possible, then doctors and patients can consult via online video calls, chats, etc.
Patients can locate the hospitals/clinics using maps and reach in a short time.
Allow patients to rate a doctor based on their treatment, competency, and communication. This would help other patients while scheduling an appointment.
Allow patients to view their test results, reports, exams, radiology images, prescriptions, and other appointment-related case papers digitally through the app with downloadable features.
Alert patients with reminders to take medicines and refill prescriptions.
You can regularly share useful guides to healthy living and advice on illnesses.
[Free Guide] How to Develop a Successful Online Booking App
Know the Technological Requirements
List down all the technologies that would be used while developing your hospital reservation system.
Ask the tech team about: 
Frontend and backend technologies
Programming languages
Payment Integrations
Push Notification integration
CMS, CRM integration
Database
In-app calling and messaging
Real-time analytics
Video streaming
GPS and document manager
Cloud Environment, etc
Steps of developing a doctor booking application
By this stage, you should know the must-have features, technology stack, and other important tips for building an on-demand doctor appointment and booking app, let's have a look at the various stages of its development process.
App Concept
It is advisable to perform extensive research. First of all, you need to clear all the requirements of your doctor's application. After that, you need to have a clear idea about your target audience. Then you should prepare various prototypes with minor alterations of the same concept.
Business Analysis
Once you have the concept, it is time to hire a team of competent business analysts that can build the wireframes and user flow for different use cases of your doctor appointment application. It will help you define the final road map of your application.
App Designing
This is one of the most crucial parts. Here you need to make sure that the overall experience that you create should be focused on making design simple yet engaging.
Development
The next step is app development. Here you need to hire a team of developers or partner up with a company that has a similar experience. The main objective should be to ensure that all your developers/tech partners have the expertise of the technology stack. Here quality also plays a major role to make sure that your app's overall workflow is efficient and user-friendly.
App launching & Reaching out
Begin with a grand pre-launch campaign that runs all along the development process. To make the event big, you can engage with industry leaders and influencers. You can also reach out to users via various channels to make your app launch a huge event.
Tips to build a successful hospital appointment booking app
You need to have a network of good and experienced doctors. Associate with multiple specialized hospitals/doctors to provide patients with expert treatment.
Make sure to provide your doctors with various benefits on registering on the applications like simple payments, visibility on a broader level, and more.
Verify doctors and hospitals with their certificates, legal, experiences, and other competency proving documents.
Carefully select your revenue model
Based on the above-mentioned models, select the revenue stream that suits your business requirement.
Partner with a tech company
Research and then partner with an experienced software/app development company.
Cost of appointment booking app development
The cost of developing a booking app depends on various factors such as:
Design
Technologies used
Features of the app
3rd party integrations
Location of the development company
Hours required
Technical complexities
And the cost also depends on which features and services you want to integrate into your app. If you have your requirements ready, we can help you with the estimation.
CTA
Over to you
The doctor's appointment booking app is nothing different than a vehicle or food booking app. Just like those, scheduling appointments and managing all those health-related information digitally has made life so easy.
Planning to enter healthcare or provide your hospital with some easy to use the technological tool?
For that, developing a doctor reservation system would be a great idea. And we can help you with one. We are a software development company with expertise in apps and web development. To know more about us, get on a call with us.
All product and company names are trademarks™, registered®, or copyright© trademarks of their respective holders. The use of them does not imply any affiliation with or endorsement by them.