Have you ever surprised a friend with a midnight birthday cake? or attended to your empty stomach when you didn't want to cook but wanted to eat at home? Then be thankful to online food delivery services for fulfilling all our wishes.
In today's time, we can not imagine our life without online food delivery applications. According to Statista, Zomato received 200 million orders in the first half of 2020. It was more than the previous year's 55 million orders. These numbers clearly show how much we all depend on and even prefer to order our favorite cuisines online.
Today, the food delivery app industry is one of the fastest-growing industries. In another research by Statista, the online food delivery industry is expected to grow by 8.4% in 2022. During the pandemic, it turned out to be one of the most promising businesses. Many existing companies have rolled out new features like priority delivery, contact-less delivery, and more to keep the business running smoothly and deliver food safely and on time to its users.
If you want to explore this industry and start with on-demand food delivery app development, you are at the right place. In this article, I will walk you through creating a food delivery app, different models of it, which one to prefer, and more.
So, let's talk about how to start with a food delivery app development, the advantages and disadvantages, and which business model to choose.
Food Delivery App Business Model:
When wondering how to create a food delivery app the first thing you need to consider is the business model. There are different types of business models and each of them has their own benefits and shortcomings. Going further, let's see different types of business model: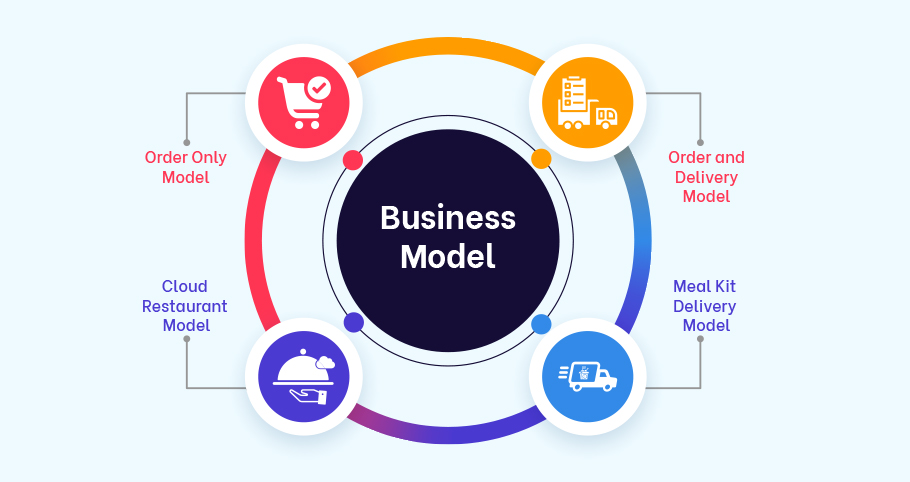 The Order Only Model:
In this type of model, restaurants play a significant role instead of aggregators. Here, customers can have food from a particular restaurant; they place an order, the restaurant accepts it, prepares the meal, and delivers the food. First-generation restaurants like Dominos introduced this type of model. Here, the main aim was to move customers to websites and apps from the phone ordering system.
Advantages:

Restaurants have a dedicated and loyal customer base.

Limitations:

Restaurants will need to invest significantly to develop the entire infrastructure and hire delivery persons.
Order and Delivery Model:
Another name for this model is the Aggregator model; this is an enhanced version of the order-only model followed by companies like Zomato, Uber, DoorDash, etc. In this model, the aggregator provides users with multiple options of restaurants. Customers can search for their preferred restaurants, place orders, and pay. Next step – restaurants accept and process the orders, a delivery person accepts the delivery, and the customer receives their orders.
In this model, there is a huge network of delivery people, and they are paid based on the distance traveled to deliver the food. Moreover, customers have to pay approx—20% to 30% for each order.
Advantages:

You can tie up with popular restaurants, which can help to increase your sales.

Limitations:

Service providers have to initially invest significantly to provide software to each user, i.e., delivery people, restaurants, and end-users. To make the entire process work smoothly, they need to invest heavily in hiring resources, developing and maintaining software, teaching on-field teams how to use the application, and more.
Cloud Restaurant Model:
Here, the restaurants do not provide in-house dining services to customers. Customers can place an order, and it is either delivered by a restaurant or third-party delivery services. A cloud kitchen does not need to invest in real estate and can simply serve customers.
Advantages:

It helps you save money as there is no need to invest in real estate to build restaurants or cafes.

Limitations:

Since it's a cloud kitchen, it becomes challenging to brand it and reach more customers.
Meal Kit Delivery Model:
This is a niche and recently built market which solves one of the biggest problems we have i.e. 'what to eat today?' Companies following this model help you decide the week's menu depending on your choices and the number of people you are preparing meals for. Once you select these things the needed ingredients will be delivered at your doorstep. Next up, all you need to do is prepare the fresh meal for yourself and enjoy it.
Advantage:

In this model, the profit is very high as it is a subscription-based service, and customers can choose the dishes they want to make, and ingredients will be delivered.
Your answer to how to start a food delivery business is in the business model you choose. Before starting with on-demand food delivery app development, you need to define the business model you want to follow. If you are struggling with deciding your application's business model, you can reach out to us. After understanding your requirements, our experts will help you select the best business model for your app and help you with online food delivery app development.
How Food Delivery App System Works:
Depending on the business model you choose for your application, the workflow of your application will change. Herein, I've showcased the most used model, i.e., the "Aggregator Model."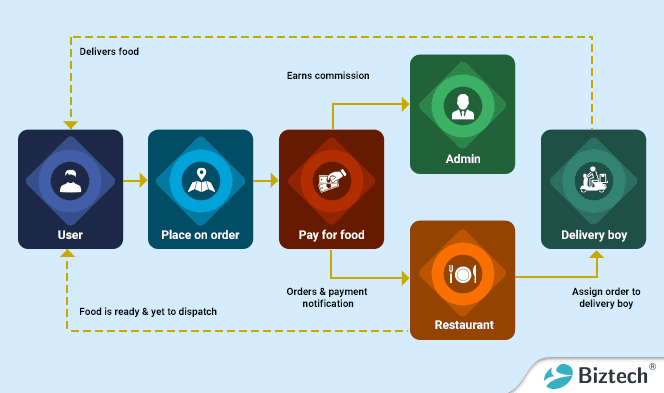 Browse Restaurants: Customers will scroll through the feed and find the restaurants of their choice.
Menu Selection – Next step is customers will browse through the list of cuisines and add their preferences to the cart.
Finalize the order – Customers will place their orders and proceed to checkout.
Track orders – Once the restaurant accepts the order and starts preparing it, customers can then track their orders in real-time in the app.
Delivery – The last step, customers get their food delivered.
Once you have decided on the food delivery business model, the next step is to start with food ordering app development.
Steps to Start with Food Delivery App Development:
Market Research:
The first step to food ordering app development is to do proper market research. Once you start with market research and competitor analysis, you will learn about their business model, recent market trends, needs of consumers, etc. These things will help you define your app's main aim and direction. One of the major benefits of carrying out market research is you get to know in detail about your customers and their requirements.
Search the Latest Market Trends:
Every day there is something new coming into the food delivery market. When you create a food ordering app, the first thing you need to do is study the recent market trends. Every food delivery company is carrying out various and unique ways to serve its customers. Companies like Dominos came up with an idea to order by tweet. People can order pizza by just using "Pizza emoji" and tagging Dominos. This was a unique idea to serve their customers.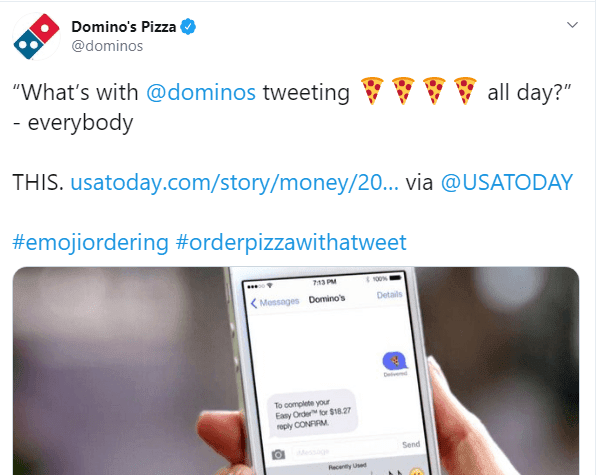 The users will need to create a pizza profile → list their favorite pizza → fill in the default orders section → link a Pizza profile with your Twitter account.
Dominos was also a pioneer for ordering pizza from the Android smartwatch to provide more ease to order and track it.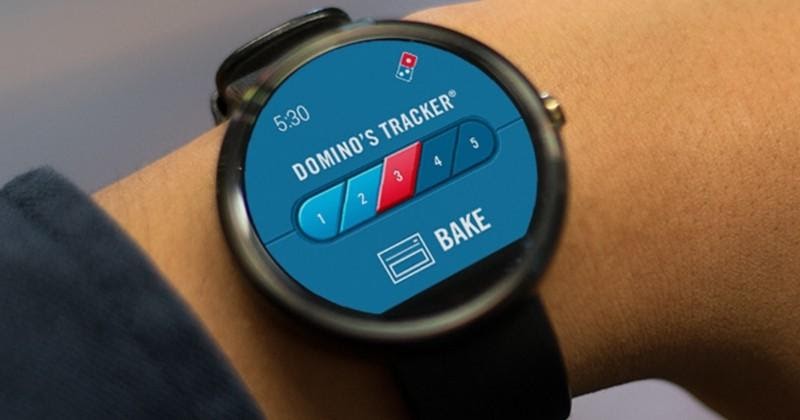 Hence, make sure to search for the latest market trends and study them. It will help you understand customers' needs.
Decide Business Model:
There are four business models for food delivery applications that we saw above. Out of them, depending on the services you want to provide, select any one business model. Further, depending on this model, you will start with food delivery mobile application development.
Two of the most famous food delivery business models are the Aggregator model and Order Only model. Because of the ease, it allows users to order food from their comfort and convenience in just a few clicks.
Many well-known companies adopt the Aggregator model and have benefited from it with growth in users and sales. Hence, compared to both of these models, it is better to go for the Aggregator model. Additionally, when you reach out to any food delivery app development company and share your idea, even their recommendation will be to use the Aggregrator model as it is most common.
Design your Application:
"The design is not just what it looks like and feels like. The design is how it works" — Steve Jobs.
We all have heard this quote, and it has even proved to be correct over time. Design is the most crucial part of your application as it determines how it will be used. Nowadays, companies understand the importance of having good design and easy navigation of the application; thus, they are investing more in it.
You need to make sure that your application has an intuitive and interactive design and is easy to navigate. Get in touch with a food delivery app development company who has a dedicated UI/UX designer who can design the app after understanding your users' requirements. A major benefit of having a good design is it will retain customers on your application.
Hire a Technical Partner:
Starting with food delivery app development includes plenty of complexities, and so you will need to have a technical partner who has experience and expertise in development. When in search of technical experts, you have two options:
Both of them have their benefits, but you will need to select one depending on your business requirements. When in the dilemma of choosing between freelancers and IT companies, prefer to choose IT companies. Let me give you reasons:
When you reach out to an IT company, they have skilled professionals in various verticals that will make the development process easy. IT companies like us have experience with app development and have helped many companies, so you'll be in safe hands. Another benefit is things here are done within the time limit, and each phase of development has experts handling it.
On the other hand, working with freelancers is a bit difficult as you may find them experts in one field that is food delivery mobile app development. Other things like designing, maintenance, testing, security, uploading on Play Store and App Store, etc., you will have to handle. IT companies can develop, design, test, maintain, deploy, and upload on the store. You don't have to worry about anything, just send in your requirements, explain them, and let the company handle everything for you.
Hence, to develop a food delivery app, it's better to opt for the services of an IT company. If you are thinking on how to start food delivery business, you can reach out to us. We have helped many companies build applications from scratch and help increase their sales. Our experienced team of developers, designers, marketers will help you with food delivery application development.
Define Features: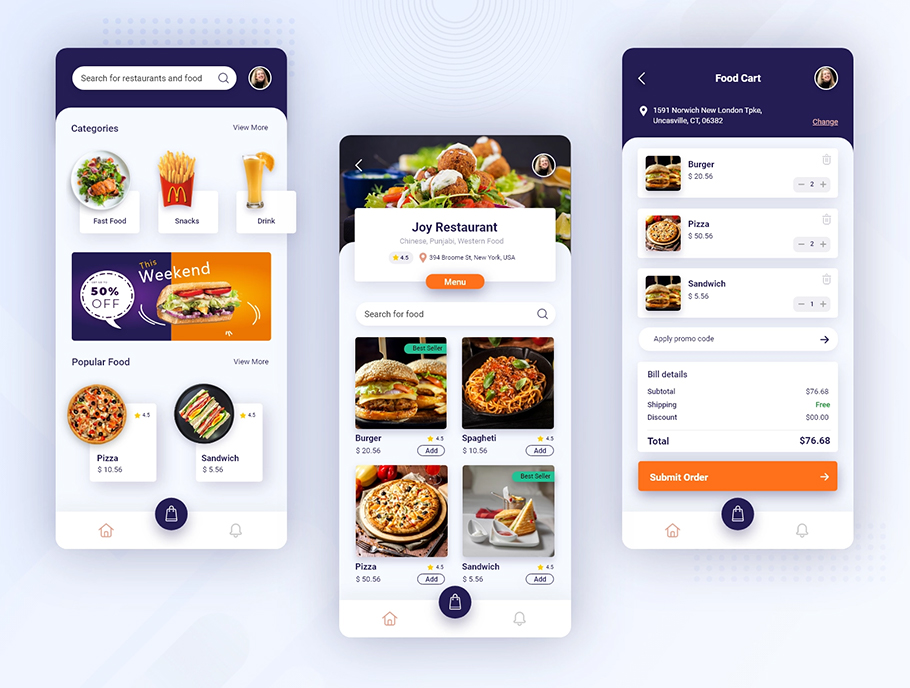 Before you start to build a food delivery app, you will have to define features for each application depending on your users' persona. Each of the applications will have some common and some unique features. Define the feature you want for your application and provide the details to your technical partner. To help you, I've listed some of the features you will need in your application.
User Panel:
Geo Location:

This feature will help users find restaurants based on their locations. Once the order is placed, they can also track the delivery person and know the exact location of their food and estimated delivery time. Thus, making the entire process transparent.

Restaurants List:

Provide a list of restaurants to the user, providing details like ratings, feedback, and other users. This will help users get an idea about the restaurant which helps them decide the restaurant they want to order from.

Delivery address:

This is a basic feature you will need to provide users to add the delivery address for the parcel. Moreover, you can add tagging options to label their address like home, work, or custom tags..

Food Cart:

A food cart is an essential feature of food delivery application development; it works like an add-to-cart opinion. Users can add multiple meal options from the same restaurant at one time and then checkout at last.

Payment Modules:

You will need to provide multiple payment options to your customers like cash on delivery, credit/debit cards, Stripe, Apple Pay, Google Pay, etc., so make sure to integrate various payment methods.

Order Scheduling:

Users can schedule their meals and have them delivered during their lunch hours or any specific time.

Review and Rating:

Allow users to add reviews for restaurants, food, and delivery people; it will make the food ordering process transparent. Additionally, it will help other users to decide while ordering food.

Order History:

The order history feature makes it easy for users to re-order the same food if they need. It will even help you understand your users and recommend restaurants and dishes based on their previous orders.

Push Notifications:

This can work as a marketing way for you. You can use push notifications to alert users about discounts, coupon codes, status of their orders, and cart abandonment. This will bring the user back to your application.

Real-Time Tracking:

Integrate maps with your application and provide users with the real-time tracking of their food.

Multiple Filters:

Filters help users search for particular cuisines or restaurants efficiently—filters like location, price, cuisines, restaurants, ratings, and more.

Promo Coupons:

Provide users with promotional coupons and discounts timely; it will help you retain customers.

Help and Support:

Integrate a support and chat system in the app, making it easy for users to interact with your customer support to solve their problems.
Admin Panel:
Admin panel is a centralized system from where the admin can handle the entire application.
One-Click Dashboard:

The dashboard is the central place where the admin can have control over the entire application. They can handle all the backend operations and can track orders, manage inventories, and more.

Profile Management and Registration:

Admin can have access to all the profiles and registration features. Admin can verify profiles of drivers, customers, and restaurants. Once they are registered, depending on their profile type, they get access to features.

Payment Management:

Admin can manage all the transactions happening in the application and look over prepaid and COD orders to keep track of payments and food orders. Admin has details of each and every transaction, manages tax and commission-related information. They can also set the commission rates and accept all payments.

Driver Management:

This feature lets the admin manage drivers efficiently and have all the necessary information about them. Admin can add, edit, and remove the drivers. Admin can view driver information like their login time, trip details, contact information, travel time, number of orders delivered, and customer feedback on each driver.

Order Management:

Order management lets the admin assign orders to particular drivers. They can view the order status, the amount earned per order, canceled/missed orders, etc.

Modify App Elements:

Admin has all the access to the application and can make the changes in their app according to their wish. They can personalize and change the dashboard settings, change the theme of the application.

Campaign Management:

Admin can run and manage various campaigns directly from the application and help in retaining the customers. They can run various discount campaigns via coupon codes, discounts on certain debit cards, special events, etc.

Run Discounts and Promotions:

Admin can run various discounts and promotions across the application to attract customers.

Manage Restaurants:

Admin can manage restaurants and have all the necessary information about the restaurants like ratings, service details, working hours, etc. Admin can also add and remove the restaurants from their listings.

Feedback Management:

Admin can view customers' ratings and feedback for food, restaurants' services, and more.

Reporting and Analytics:

Admin can access real-time analytics about their application like peak timing, popular cuisines, restaurant reviews, etc. They can pass this information to restaurants which, in turn, can help them adapt to demand.
Restaurant Panel:
Managing Orders:

Restaurants can manage orders. They can either accept or reject the orders, update the status of the order, etc.

Account and Management:

Restaurants can manage their accounts and know about the orders they served, everyday income, paid orders, successful/failed orders, customer feedback, and ratings.

Dashboard:

On the dashboard, restaurants get all the necessary information like new order details, canceled orders, delivery person location, accept or reject options.

Restaurant Profile:

Restaurants can add, update, and maintain their profile. They can add their best seller items, menu, rates, chef's special, ingredient details, etc., to help your user make an informed choice.

Add Products:

Restaurants can add their menu and further customization options for required items.

Accept and Reject Orders:

Once the customers place an order, restaurants can accept or reject the order depending on their availability. Once done, customers are notified.

Manage Multiple Outlets:

Restaurants can efficiently manage their multiple outlets and can be found in the app depending on the user's location.

Special Offers:

Restaurants can run offers specially for such an app to attract customers.

Order Alerts:

Restaurants are notified when customers order food. Further, they can either accept or decline the orders.

Track Payments:

Restaurant owners can know the payment status of each order.

Order Reports:

Restaurant owners can get real-time information about their restaurants' orders and sales data. This makes it easier for them to make necessary business decisions.
Delivery Person Panel:
Registration:

The first step is to make the delivery person register and create their account. Using this, delivery people can keep track of all their orders, accept and reject deliveries.

Orders:

Here, the delivery person will have all the lists of orders in one place. They are also notified about new orders and can either accept or reject their orders.

Delivery History:

Using this feature, delivery people can keep track of their deliveries and view them anytime.

Call/ Chat:

This feature allows drivers to call the customers or restaurants in case they need help with directions, know order instructions, etc. These calls are routed via the company, so the delivery person never gets a user's phone number and vice versa.

Managing Orders:

Delivery people can get all the details about their orders. They can know about delivered orders, upcoming orders with address details about customers, delivery time, and restaurant details—all necessary details at one place.

Maps:

Apple Maps or Google Maps is integrated with the application that helps delivery people reach customers and restaurants on time. It helps them to pick and deliver orders on time.
Depending on your application's business model, define the features you want to provide to your users. Prepare a requirement specification document and pass it across to your technical partner.
Decide the Technical Stack:
Once you have decided on the features of your application, your next step to build a food delivery app is to select the technical stack for your application. To do so, the IT company you are working with will help you. Depending on your application's requirements and your business model, you can select the technology platform.
When you create a food ordering app, remember that you need to develop an application for people who use different devices. You need to make an application that is responsive, interactive, easy to use, and understandable by everyone.
There are two ways you can develop an application for varied devices, i.e., cross-platform app development and native app development. If you plan to develop an application for multiple operating systems, then prefer cross-platform application development. Multiple cross-platform application development frameworks will help you to make your development process easy and fast. With the single-codebase, it saves development time and works as a native application.
On the other hand, if you choose native app development, you will need to code separately for multiple operating systems. As a result, you will need to invest more in hiring resources to develop an application for multiple operating systems, which can take up plenty of time and money. Additionally, making changes in one feature of the application will need you to code multiple times.
There are multiple technologies in the market to help you develop applications like:

If you are still struggling with finding the right technology for your application, you can reach out to us. Our technical experts will guide you and help you find the right framework for your application, depending on your requirements.
Choose Revenue Model: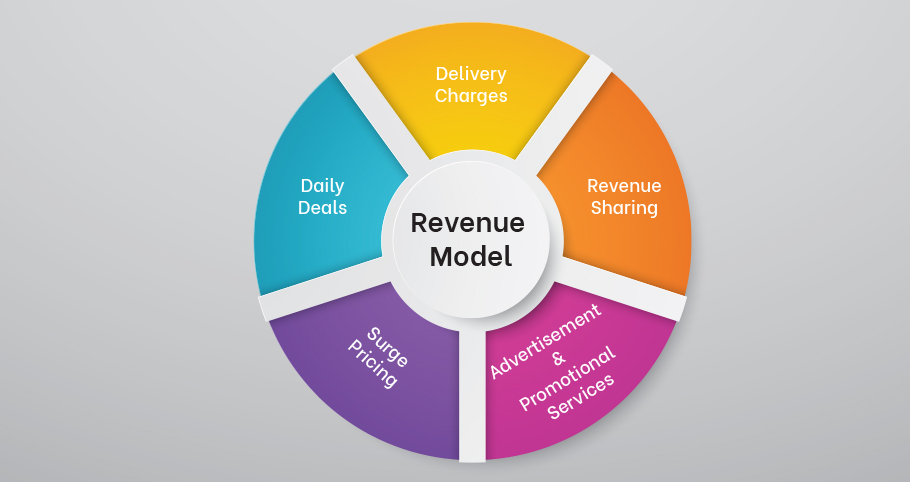 Your application is not for free. You will need to decide the revenue model for your application to generate an income. Below are some ways food delivery apps earn:
Delivery Charges:
Food delivery apps charge for delivering food items to customers. You can calculate the delivery charges based on the distance traveled or keep it fixed. Further, you will earn the money and pay the delivery person their fixed amount every month.
Revenue Sharing:
You can collaborate with restaurant owners on revenue sharing of food items being served. Most of the commission rates are 15% to 40% or can vary according to the quantity of food.
Advertisement and Promotional Services:
You can run an advertising campaign in your application dedicated to some selective restaurants. There are restaurants who want to advertise their services on your app. This will showcase the restaurant banner on the top of the application, aiming to grab users' attention. This method of revenue earning will help you as well as restaurants.
Surge Pricing:
This revenue model includes charging a high amount on delivery during peak hours like lunch, dinner, or due to festivities when there is rush in restaurants.
Daily Deals:
You can make a deal with restaurants to serve fixed daily meals to customers at a slightly low cost. This helps restaurants to sell their meals at fixed prices, increases sales and the number of customers.
Marketing: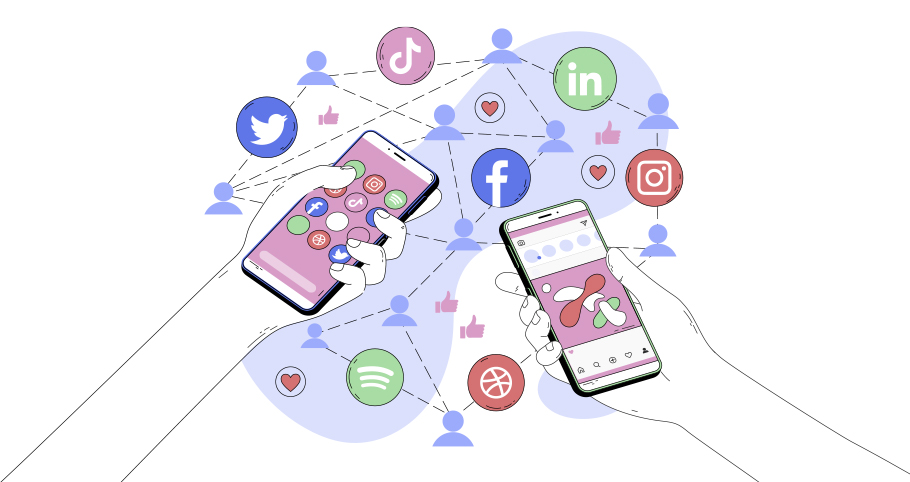 Marketing has a huge role to play when thinking about how to start food delivery business. Once your application is ready and deployed, your last and final step is marketing the application. Marketing your application will help you reach users and increase your sales. There are multiple ways like digital marketing, influencer marketing, social media marketing, and more. You can implement each of these methods and increase your product usage. Let's see them in a quick brief:
Digital Marketing:

It is divided into two phases, i.e Organic and Paid. In the organic way, mostly you need to make sure your app is optimized according to google search algorithm. It can take up to a few months for your website/application to rank on various search engines. Whereas paid models work with different models like PPC. It stands for Paid per Click, it is a paid way to make your website/application immediately rank on multiple search engines.

Influencer Marketing:

This is a new way to attract users to your application. Get in touch with influencers who can help you promote your application on their social media platforms. You can provide them with affiliate links which even helps them earn some commission.

Social Media Marketing:

In current times, companies need to up their social media marketing game. It is a reflection of your company culture. Promote your product on social media platforms to make it reach the right audience.
Conclusion:
Despite having so much competition in the food delivery industry, there are still chances of standing out as a food delivery company from the others by understanding your customers' pain points. If you are planning to enter into the food delivery industry, thinking about starting a food delivery business and bringing the next big change, you are at the right place. Define your food delivery app business model, do market research, carry out competitors analysis, define features, and how do you wish to serve your customers.
If you are searching for a technical partner who can help you with food delivery app development, you can reach out to us. We have technical experts who have decades of experience with food delivery mobile app development and can help you at every development stage. Our sales team will pitch you the best food delivery app development cost. Reach out to us, and we will be happy to help you.

All product and company names are trademarks™, registered® or copyright© trademarks of their respective holders. Use of them does not imply any affiliation with or endorsement by them.