2919
IoT Fleet Management: The Roadmap to Success
13 Oct, 2020
14 min read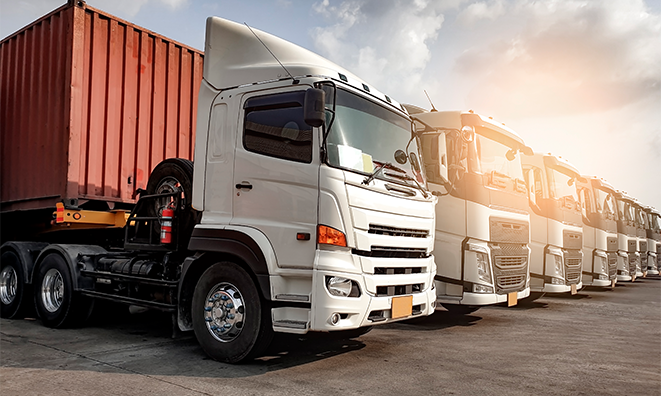 https://www.biztechcs.com/blog/iot-fleet-management-roadmap/
How regularly do you check on your vehicles for their maintenance? Perhaps not unless it's broken or you think that it's running very smoothly.
This may be fine if you have a single vehicle to check on. But for logistic industries, even a slight difference in tire pressure might end up costing a lot. However, if maintained properly; it can save them thousands of dollars.
Maintenance is one aspect. What if fleet managers can optimize their entire fleet? This includes monitoring driver and vehicle, optimizing fuel consumption, managing routes, improving safety, and more.
Well, all this would look like a dream if asked a few years back. Today, Internet-of-Things (IoT) has made it possible. Not only is it a reality, but many companies are already leveraging IoT fleet management solutions to streamline their operations.
Let's check what it has for you, fleet managers!
This post will cover the following topics:
Fleet Management: Challenges
Efficiency is the most critical component of fleet management. However, most of the fleet managers log tasks manually. This consumes a lot of time and adds little to no value.
Besides, they face various challenges such as:
Excessive time spent on fleet management tasks

Admin tasks such as invoicing and quoting, handling the admin dashboard takes a lot of time. In fact, according to TomTom's global research, 49% of fleet managers spend approximately 1.5 to 2 hours on quoting and invoicing 42% on identifying and dispatching the best workers for the job 43% on expense management, and 40% on keeping customers informed. All this results in a staggering number of hours spent on non-core business activities.

High cost of fuel

Fuel is a major cost of businesses running fleets. Improper tracking of fuel consumption and the rising fuel price are some of the major concerns of fleet managers. TomTom's study reveals that 34% of fleet managers agree that their company's vehicles are consuming more fuel than necessary. Are you one of these? Then what you need is IoT fleet management solutions.

Rising vehicle maintenance costs

Vehicle maintenance is critical to reduce downtime and prevent breakdowns. Even a slight tire knock-out can cause a huge deal if it's not maintained properly. In fact, respondents in TomTom's study revealed that their vehicle costs are higher than necessary.

Relaying messages to the fleet drivers

Communication with your drivers relies on phones and network while on the road and thus was challenging. Miscommunication about the location, routes taken, asset conditions often led to increased expenses.

Delivering within the estimated time of arrival

Inaccurate estimated time of arrival often leads to customer disappointment and business loss.Customers want to know the accurate location of their package while on the road and IoT automation can help achieve it.
If you are looking for an IoT solution to manage your logistics business, we can help you with your project.
How has IoT Helped Fleet Management
As a fleet manager, you often look for technologies and solutions that can help you meet safety standards and operate the fleets effectively. Here are some examples of how IoT has helped fleet management businesses, and how it can help you too.
Remote Tracking

Smart fleet management uses telematics (telecommunication and informatics). It is an IoT fleet management solution that allows fleet managers to track assets' location. In addition, it provides two-way communication. Meaning, it receives and transmits data in real-time, ensuring driver and vehicle safety and timely delivery.

it receives and transmits data in real-time, ensuring driver and vehicle safety and timely delivery.

Increased Fuel Efficiency

Fluctuation in fuel costs affect the transportation industry on a large scale and therefore sensors take a front seat in optimizing fuel. They gather data such as vehicle's acceleration, braking, and other experiences, and together encourage optimized routes.

Optimized Maintenance Costs

To keep vehicles running, a timely maintenance check is necessary. IoT Predictive Maintenance predicts the damage or failure even before the scheduled maintenance check. This reduces the downtime by alerting about the vehicle condition.

Streamline Delivery Management

Online shopping is changing the customer delivery experience. Customers want to know the exact location of their product. Dominos shows the exact location of the order once it's out for delivery. Similarly, using GPS and RFID technology, fleet managers can track it every instant. Plus, they can automate the shipping time, control interior vehicle conditions such as temperature.

Also Read: A Comprehensive Guide to IoT Inventory Management

Improved Safety on Road

Another reason for sticking to IoT fleet management solutions is they provide fleet managers with actionable insights. For instance, it provides valuable insights about average delivery time. This further helps to streamline business functions. Technology such as Telematics also improves decision making power. They can help monitor assets identify problems, and provide analytics.
IoT Fleet Management: Technologies
Fleet management powered with IoT devices is economical and made default by government mandates such as the ELD mandate in the United States. Currently, IoT in fleet management works on three main technologies:
Radio-Frequency Identification (RFID): It helps control and track products
Global Positioning System (GPS): It helps obtain real-time information on location
On-board diagnostics (OBD II): It provides information on vehicle maintenance and driving conditions.
Radio-frequency identification (RFID) technology comprises wireless microchips ("tags") that are installed on objects and emit radio waves. A reading device, i.e. an RFID reader, detects the waves from the tags, tracks the object, and transmits the collected data to the cloud for further processing. It is the most widely used technology due to its data holding capacity which is far better than barcodes.
Another technology transforming real-time tracking and navigation is Global Positioning Systems (GPS). GPS links to the vehicles via trackers/sensors to obtain real-time information on the vehicle's location and routes.
While GPS helps in navigation, on-board diagnostics help in identifying the vehicle problems. It is one of the most important components of the IoT-based fleet management system. A widely available version of the technology, OBD II obtains information on vehicle maintenance and driving conditions through a device plugged into a vehicle's OBD II port (every passenger vehicle sold in the US over the past 20 years follows OBD standards.)
Once connected, the device reads data from a wide number of vehicle sensors including engine speed sensors, oxygen sensors, voltage sensors, and everything in between. It then transmits the collected data to the cloud where the cloud processes it and turns it into valuable insights. This valuable data then informs the fleet manager about the vehicle, failures, or any engine-related problem, weather conditions, etc.
In addition to these technologies, sensors and new connectivity technologies are also on-demand. For instance, you can attach sensors to nearly everything whereas RFID has certain limitations, and thus, using sensors, managers can track nearly anything in a vehicle by collecting any type of data.
How an IoT based typical fleet tracking system works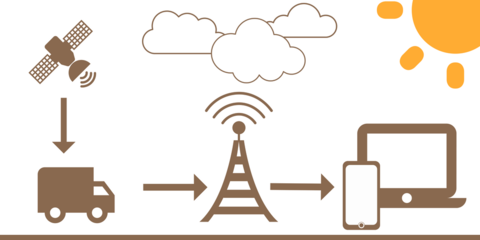 On-vehicle sensors including RFID, GPS, OBD II collect location data.
Then, the data from all sensors goes to the local gateway over a mobile data connection as the vehicle moves.
The gateway sends the speed, location, direction, and other variable data to the network for processing. The processed data then goes to a secure application server in the cloud.
The application server converts this raw data into valuable patterns and sends clear and concise reports and alerts on the movement and safety of the vehicle to the driver's or fleet manager.
In short, the three technologies (RFID, GPS, OBD II) combined with IoT together form a smart fleet management system.
Wondering what could be the best choice for your business? We can guide you through it.
Advantages of Adopting IoT Fleet Management
IoT offers a wide range of devices like vehicle tracking tools, rear-view cameras, driver mobile apps, to provide a seamless experience along with. Let's find out more about how has IoT helped fleet management business owners.
Remote Monitoring

IoT fleet management provides real-time data of the vehicle, road and weather conditions, driver behavior, asset condition, etc. This data helps fleet managers to optimize their delivery.

Also Read: IoT Asset Tracking

Task Automation

IoT fleet management allows fleet managers to automate various processes and trip planning. For example, if a vehicle breaks down, the nearest tow and repairing service provider will get an instant notification. Or if the weather conditions are not favorable, drivers will receive notifications along with a rerouting plan.

Efficient Fleet Operations

Fleet operators can move to the cloud for their daily operations and track fleets anywhere, anytime on any device. They can integrate smart fleet management solutions with their existing ERP systems to help management make informed decisions, or a dashboard to view fleet-wide data.

Cost Optimization

The IoT-based fleet management system helps transportation and freight businesses to mitigate risks and traditional ways of operating fleets. It allows fleet managers to communicate with the fleet operating staff in real-time along with feedback and training whenever required. Another way fleet management helps optimize costs is by making sensors and connecting devices available at economical prices.

Enhanced Engine Performance and Efficiency

Previously, fleet operators didn't have tools and technology that would help in monitoring vehicles' engine performance as well as fuel efficiency. But now, with a digital tachograph* that records complete data with respect to vehicle's utilization, they can enhance the performance and efficiency by making accurate and profitable decisions.

*Digital Tachograph is a device installed on a vehicle that digitally collects its speed and distance, together with driver's activity (selected from different modes).

Driver Behavior Management

With IoT fleet management solutions, managers can monitor drivers' behavior. Whether they are adhering to operating standards, following defined schedules and routes or not. IoT sensors for fleet management provide vast data. This includes frequency of engine ON/OFF, braking, accelerator, and even sleep pattern. It can also help drivers' stay awake by sending real-time notifications. Moreover, with Electronic Logging Devices (ELDs), fleet managers can have a record of drivers' driving hours and therefore, adhere to DOT guidelines.

Improved Decision Making

Another reason for sticking to IoT-enabled fleet management solutions is that they provide fleet managers with actionable insights. For instance, it provides valuable insights about drivers' driving patterns, analyzes routes, average delivery time, and all the fleet-related insights that help in streamlining business functions. Technology such as Telematics also improves decision making power by monitoring assets and trucks, identifying the problems, and providing analytics that ultimately suggests potential solutions.

Predictive Maintenance

OBD II system integrated with IoT-enabled devices supports predictive maintenance. It sends early malfunction warnings to fleet operators so they can perform repairing and servicing tasks beforehand.
Good Read: IoT Warehouse Management
Let's help you build IoT fleet management solutions to streamline your business processes.
IoT Fleet Management: Potential Use-Cases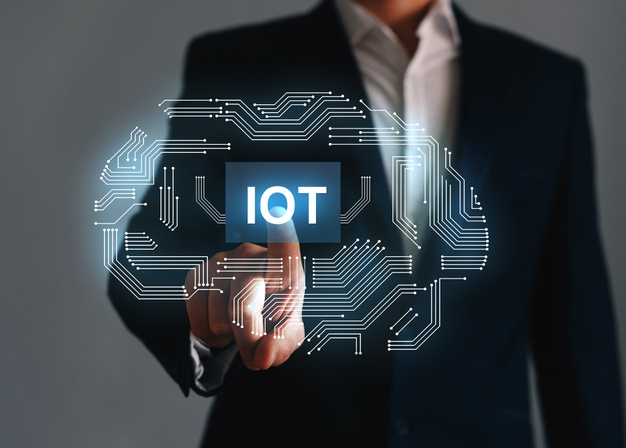 The potential of IoT applications is as wide as the industries around and maybe more. Here are the IoT solutions available for Fleet Management.
Driver Maintenance

OBD II and IoT is a good combination. With its help, fleet managers can collect data about drivers' behavior and help them make better decisions while on the road. Specialized devices such as image recognition can help in detecting driver drowsiness. External devices like Stopsleep, ActiWatch or Warden fixed on the seat or driver's wrist generates an alarm in a state that's dangerous for the trip. The IoT sensors can also help companies monitor actions such as how often a driver idles, brakes, drifts out of lanes, etc. Using such information managers can plan measures to help drivers be efficient and safe on the road.

Do you know that top car manufacturers like Mercedes and Volvo are developing built-in safety systems? These systems monitor steering behavior and notify drivers on detecting changes.

Vehicle Management

Vehicle management means the longevity of vehicles while managing the budget. And this is possible with IoT fleet management software generates important data about vehicles, its failure, and parts that need repairing.

Environment-Friendly Options

If you're in Go Green then you would want to invest in IoT fleet solutions. They can reduce assets' idle time, optimize routes and monitor driver patterns. It helps in reducing carbon footprint and this way you can stay environmentally friendly.

Fuel Monitoring

Besides driver monitoring, companies can use IoT sensors to keep a check on fuel. These sensors alert managers in case of a leakage or other maintenance needs. HID Global identiFuel system uses RFID- enabled tags to collect vehicles' fuel information.

Loss Prevention

By detecting the conditions within the vehicle, sensors can alert fleet managers about the potential loss or theft. They can even help fleet managers with maintenance needs. For example, if the temperature in a refrigerated truck rises, the sensor will give timely alerts. Fleet managers can then take measures accordingly.

Predixion Insight from Intel is one of the successful examples of preventive analysis systems. The system receives data from sensors including tire pressure, hydraulics, and other elements. After collecting the data, the gateway then analyzes it for immediate alerts. Further, the system passes it to the cloud for valuable insights.

Predictive Analysis

Predictive maintenance includes

(a) Monitoring systems such as driver monitoring, fuel monitoring, and loss prevention systems

(b) Sensors to monitor engine, tire pressure, and other vehicle movements For example, sensors combined with GPS location could indicate an issue with the braking system. Fuel usage combined with engine reading may show up the problems with fuel efficiency.

By analyzing the data collected, predictive maintenance can predict when a vehicle needs maintenance. This allows fleet managers to cut down on their maintenance cost.
Conclusion
IoT is evolving constantly and so are its applications. Many industries are already leveraging IoT for their business operations. Fleet management and transportation industry is one of those.
And you have already seen how IoT has helped fleet management – from fuel monitoring to improving safety.
If you're into logistics or any fleet management business, this is the right time to move towards IoT as it is more efficient than a traditional vehicle tracking system.
All product and company names are trademarks™, registered® or copyright© trademarks of their respective holders. Use of them does not imply any affiliation with or endorsement by them.
Befriend Technology for Transformation
Selecting the right technology is pivotal to your business's growth and success. Have you already decided the suitable one for your next project? If so, we can help you take the next step. If not, we can help you decide the best option. Connect with the Top 1% pre-vetted software engineers to build your software.