At the edge of technology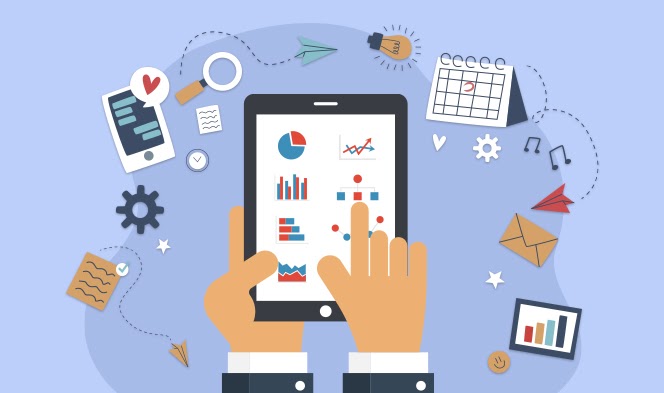 https://www.biztechcs.com/blog/ipad-increase-companies-productivity/
iPad: Increasing Companies' Productivity
16 Mar, 2021
6 min read
What is it that comes to your mind when you think about having a device which provides mobility, robustness, and portability? For me it is an iPad. Ever since, Apple introduced the iPad (1st generation) it revolutionized the way businesses carry out operations. Not only this, it also changed the way consumers used to deal with technology and other gadgets. It paved the way and made the consumer products more portable and accessible.
Like every year, with its series of hardware products, Apple launched a brand-new iPad, iPad Pro, iPad Mini, iPad Air, and other iPad essential hardware. And as always, these products changed the consumers' perception about the technology. The new iPad came with some magnificent features which consumers love. It also has a sleek and classic pencil which attaches magnetically on the top of the iPad and charges too.
Let's see some of the in-built features of the iPad which benefits your business and helps them to work efficiently:
Built-in Features which Helps Businesses:
Slide Over:
Slide over application helps users to work productively by dividing the screen in two halves. They can divide the screen according to their needs and then make the work accordingly. This helps them to increase productivity and work efficiency. For example, you can plan your schedule in the calendar, simultaneously make the tasks lists and also create your to-do lists. Everything at the same time makes your everyday work easier and efficient.
Split View:
Split View is almost similar to Slide Over but the screen automatically divides in fixed two parts i.e. 50-50 ratio. Additionally, here users can also access both the apps to its full potential. Thus, multi-tasking becomes efficient and users can use the application to its full potential.
One of the best use cases of this feature is when you are using one screen to research and another to take notes. Using it, you can easily select the particular texts, copy or drag and drop them to save them for later purpose. Thus, saving time, quickly creating and saving notes, and helping employees to be more productive.
Picture-in-Picture Feature:
This feature makes customers use the iPad to its full potential. While watching the videos users can use this feature and then use them in the picture-in-picture feature. It makes using the iPad in the best way possible. Once you select this feature, it will play in the small window while users can use other features. Additionally, businesses can also move it around the screen as per their convenience and use the product to its full potential.
Apple Pencil (2nd generation):
It is one of the best hardware inventions by Apple till date. It helps customers to work efficiently using it and almost do anything in it. The nib of the pencil is of rubber and the pencil is very lightweight which makes it easy to carry. Moreover, if you are using the Apple pencil while using your iPad, it won't take input from your hand gestures. The pencil is so advanced that it can detect position, force, and tilt sensations from the users. Thus, designers can use it like an actual pencil for shading purposes and help create great designs.
Presentation on the Go:
Creating presentations can become a bit difficult and can also be a tardy task. But, not anymore, businesses can solve this problem using the iPad. Now, they can efficiently create different PowerPoint presentations and provide win over your potential clients. Create attractive and insightful presentations using different layouts, design templates and more on the go. It saves time and helps you get the business deal too.
Augmented Reality:
Many companies are investing huge amounts of money in AR and make using technology fun. The in-built AR feature makes it easy to check things in real time and understand them better. For example; if you have a business of interior designing, it will help you and your clients to check how particular designs or products look in specific spaces using AR technology. Thus, there is no need to change or move heavy products from one place to another. Hence, getting the real-life experience to look and feel everything your business needs.
These benefits enforce businesses to depend on iPad and grow their organization. Going further, let's see some of the major benefits of having third-party iPad applications which benefit businesses.
Best Third-party iPad Applications:
Microsoft Office:
Microsoft Office is a must have application on every device. Some of the most needed applications of the Microsoft bundle is Word, Excel, PowerBi, and One Note. When it comes to writers, they can efficiently use the Apple Pencil and do the necessary edit, write, and more. PowerBi is one the most efficient tools of Microsoft to study and present data of various products to make better decisions. Often it is difficult to showcase the data in the excel, hence this is when using PowerBi, you can efficiently develop and present the data. Lastly, OneNote helps users to efficiently write, edit, digitally sign, and annotate the documents on the go. This makes it using and working around it effective.
Mint:
Managing the monthly budget can be very difficult tasks for anyone. This is when apps like Mint come to your rescue. Once you have entered your business credit/debit cards, linked your bank accounts then the app will automatically create a monthly budget for you. Depending on your expenses, you can increase or decrease your expenses. A one stop complete solution to track your finances.
Fantastical2:
Having a customizable, robust, and portable calendar which can help you with your schedule is very important. When it comes to calendar, Fantastical 2 comes to the rescue. It is everything which you need to have for your business. This robust app keeps track of your and your employees' calendar and will send important reminders when and where needed. Increase the productivity of your team by helping them set their schedules and notifying them whenever needed.
LINEA Sketch:
Creative people in your organization need space to unleash their creativity in the digital format. This is when LINEA sketch comes to your help. There are some amazing features of the application which makes it a fun tool for sketching or storyboarding some ideas for big projects. It supports layers, multiple types of brushes, three-line style options, and more. This makes creating sketches and illustrations fun work.
Kindle:
If you are a book lover and need some good illustrations, reading effects and all, Kindle on iPad is your answer. Once you purchase books from Amazon, you can send it directly to your Kindle from the website. The reading experience on the iPad's large screen is phenomenal. Furthermore, you also get different modes like landscape and portrait, choosing texts in different formats, color combinations, and more formatting according to your need. This makes the overall experience fun to use and read from the iPad.
GarageBrand:
Making music becomes easier with the iPad then you can ever imagine. Whether you have music instruments or not you can easily create the music of your dreams. You can also download music from the other app which you have created and make necessary changes. Furthermore, you can also attach your own instrument using an adapter or use a microphone to share your music. The app does not stop here, it even provides you with the needed in-built instruments which makes it easy for you to create music. So, even if you don't have different instruments, you can depend on the apps in-built instruments to create your own music and share it.
Custom iPad App Development:
This might have surely given you some inspiration to create your own iPad application. To increase the productivity of your team you can always reach out to IT companies which can help you with iPad app development. With the custom app you can build custom needful features surrounding your business model. Not only this, going further, you can also help add, edit, or delete features depending on your employees' needs.
Also, make sure that the company is helping you with deployment and maintenance services. All these things will help you to sustain your business and brand reputation. Thus, having a custom application will help you and your employees to increase their productivity, increase revenue and will help your business to grow.
Conclusion:
Having your own business and moving forward is the main aim. Thus, using all the needful tools to increase your productivity and providing better services is the main aim. Thus, using the latest technology for your team and helping them achieve their business goals will in turn help you to increase your sales. Thus, having the right technology tool is all you need to have.
Moving further, if you are looking for an IT company which can help you with iPad app development, we would be happy to provide our services. We have been serving in the industry for a decade and have helped many companies to serve their customers and create better products.

All product and company names are trademarks™, registered® or copyright© trademarks of their respective holders. Use of them does not imply any affiliation with or endorsement by them.