At the edge of technology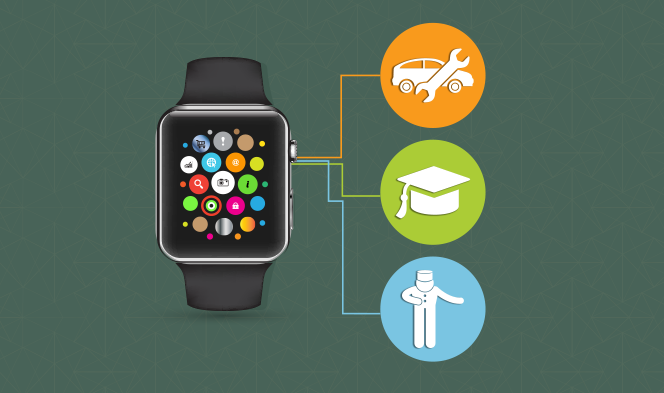 https://www.biztechcs.com/blog/leveraging-apple-watch-automobile-education-hospitality/
Leveraging Apple Watch in Automobile, Education, and Hospitality
30 Mar, 2021
6 min read
Apple is changing the face of the automobile, educational sector, and hospitality like never before. Innovation lies in the heart of the Apple, and it has never failed to woo customers. Their main aim is to make people's lives easier with the help of their products and provide customers with a better lifestyle.
There are many industries and professions that Apple products rule and help businesses to serve their customers. Be it educational, automobile, designing, hospitality, or any other, Apple products are bringing ease to people.
This article includes some exciting use cases for the automobile, educational, and hospitality field and how people are using it to serve their customers.
Apple Watch App in Automobile Industry:
Locking and unlocking your car was a dream while watching sci-fi movies.Making it a reality was a far-fetched dream. Of course, we all reached till making our car easy to operate with a variety of innovative features like touch-screen dashboard, gearless, electric cars, and more features.
Unlocking/locking your car, opening it for trunk or frunk, is a reality you can do with your Tesla car. If you have a Tesla car you can use a third-party application named "Watch App for Tesla" designed by Tesla 3 owner "Kim Hansen." And it doesn't end here. There are also rumors that Tesla is working to bring an Apple Watch App for their cars.
a little birdie in my DMs says Apple Watch Tesla app really is in the works

— Whole Mars Catalog (@WholeMarsBlog) August 21, 2020
Let's see what are some of the things you can do with Watch App for Tesla:
With the help of Apple Watch you can provide users with an effortless way to unlock and lock your car. It even helps you to start your car remotely with the help of Apple Watch, though this feature requires you to have internet access. Next up, you can set up a lock status which notifies you when your car locks and unlocks, this makes you stress-free when you are constantly thinking about your car being stolen.
You can open your car trunk and frunk remotely using your Apple Watch. The charging feature on your Apple Watch will provide you with the charging status of your car, how long it needs charging, and how much more energy it needs. You can tap on your Apple Watch and start with the charging progress; set the charging limit and you can also unlock the car from the charging port when needed.
Following are some more things which the app can do for you:
Notify you if you forget to charge your car
Opens and closes the window via your Apple Watch
If you own multiple Teslas, you can switch control between them
It can help you to start the car's vent, defroster, seat heater, air conditioner, and more
You can command Siri to set or get the lock status of your car
It will even display the time taken by your car to fully charge
Automate your entire Tesla car and get everything at your wrist in just a few clicks. As a business owner, you can even create an Apple Watch application which can help Tesla car users by automating more things. Reach out to companies like us which can help you with Apple Watch app development and Tesla communities. Try to provide more options compared to already existing, you can also define whether you want to provide a free application or go with a paid model.
Currently, Tesla is already providing users with the option of an iPhone app which uses Bluetooth technology to lock/unlock your car, but it sometimes has connectivity issues. Hence, while creating Apple Watch you can decide which type of technology you want to go with.

Source: LifeWire
This is just the beginning of Apple Watch in the automobile industry.
KeyPass: Apple Watch in Education
KeyPass is helping Apple to bring more ease on college campuses and go digital. With the Apple Watch, Apple is revolutionizing the way students move around and on the campus. Many universities have collaborated with Apple Watch to make their card go digital which provides users an ease to purchase anything on or around campus.
Let's see how it works:
Students can add their student ID card on their Apple Wallet on their iPhone or Apple Watch and can easily access their dorm, library, campus events, pay for laundry or food, and more. Everything in just a few clicks.
They need to hold the Apple Watch or iPhone near the reader and either make the payment, enter their dorm, or take the necessary books from the library, and more things. Students don't need to take their physical card anymore and worry about losing it anywhere.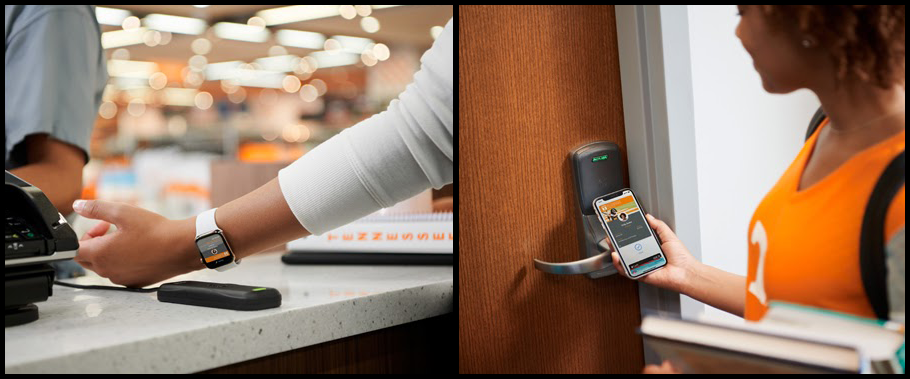 Source: Apple
According to Apple's official website, "since launch, students across the country have purchased 1.25 million meals and opened more than 4 million doors across campuses by just tapping their iPhone and Apple Watch. " These figures speak for themselves and show us how much students prefer to go digital and the amount of ease Apple is providing to them. Moreover, all the credentials have two-factor authentication which makes sure that all the important information is secured.
Despite this in-built feature of Apple Watch, you can still go third-party Apple watch app development and provide more features which can help students. Create an app which helps students to save their card and do almost everything on and around campus. Digitalizing campuses and helping students by easing the process can be a huge contribution.
Apple Watch for Hospitality:
Who would have thought that Apple Watch could make hotel reservations so easy? Hotels are providing luxury to customers by intervening technology in their services. Many hotels provide Apple Watch applications which make locking/unlocking rooms, reservations, ordering breakfast, and more.
With Apple Watch, guests can navigate to hotels easily, they can zoom in the location, pan, zoom out, get local information, and more everything directly on the map. Here, the major benefit is guests do not have to do back and forth with their mobile phone.
Going further, Apple Watch app provides them with automatic check-in feature. No more need to go to reception, wait for long hours to make your reservation. Guests can directly go to their rooms and enter their room without the need of having a physical key. Guests simply need to hold their hand near the reader and unlock their door.
Who loves to search for food in unknown areas? With the help of Apple Watch, you can search for nearby restaurants, book a table or even order takeaway. Everything with just a few clicks. All these features will turn your guests into your brand ambassadors and work as a good marketing strategy.
Moreover, you can even create your own custom application for your hotel which provides more ease to customers. You can provide features like parking, making reservations, table booking, lists and details of nearby sightseeing options, and more. This will work as a marketing tool and help your hotel business run efficiently.
Create your own Custom Application:
There are multiple industries left where technology has not reached yet. You can build the application and bring the next big change. Solving real world problems and helping industries to move forward is important. In the current times, when everything is going digital, you can help businesses by providing digital solutions. If you need help with Apple Watch app development, reach out to IT companies which can help you with developing applications.
Conclusion:
Contributing to the betterment of mankind will make you stay ahead of the competition. Automobile and education are the two industries where technology is booming like never before. It is benefitting, decreasing workload, and providing more ease to people attached in that industry.
If you have an idea which can help these two industries or any other, start by giving your idea a shape and bring the next big change. Lakhs of people benefit and help businesses to make themselves future ready and bring the next big change.

All product and company names are trademarks™, registered® or copyright© trademarks of their respective holders. Use of them does not imply any affiliation with or endorsement by them.