At the edge of technology
https://www.biztechcs.com/blog/online-grocery-app-development/
544
Take your Grocery Store Online
12 Nov, 2020
5 min read
Do you remember, making a grocery list at the start of the month and going to the store to purchase it?
Then, to make it easier, grocery store owners started home deliveries by taking orders over the phone.
Now we are happily ordering grocery items with an app or website. None of us imagined ordering basic essential items from the ease of our homes. Online grocery stores are growing in popularity and changing our regular purchase routines.
Over the years there has been a lot happening in the online grocery market. According to Statista, the online grocery store revenue has increased to 15 billion U.S. dollars in 2020 and is expected to surpass the 20 billion thresholds by 2023.
It's a huge number when talking about purchasing groceries online. In 2020, the pandemic played a vital role in pushing the boundaries of this indoors. As we all were locked up in our homes to keep ourselves safe, this is when we used online grocery apps the most.
With the ever-growing ease of buying groceries online the craze of developing an online grocery store has increased a lot. Let's look at some of the benefits that customers can have with an online grocery shop:
Less physical contact between people
Easily purchase things from the ease of the rooms
No need to carry heavy bags of groceries
No need to stand up in long queues
You can easily keep track of your expense
Freshness and good quality
And many such benefits have increased the importance of shopping for groceries online.
But, did you know there are various models on which online grocery shopping works. If you are someone who wants to offer this experience to customers and make a business out of it, let's talk about the types of grocery store apps:
Aggregator Model:
In this model, the eStore grocery company ties up with existing supermarkets or grocery stores. When the buyer makes an order they collect it from these supermarkets and deliver the order. This type of model has fewer expenses as you don't need to invest in having a warehouse, or staff for it. You are simply picking up and delivering the goods.
Click and Collect:
Another name for Click and collect is the store pick model. In this, customers will place an order for their products using apps or websites and go and pick up their orders at their preferred time.
If retail store owners are thinking about entering into the eStore platform then this is the good business model to follow. It does not require the door to door deliveries and gives an elevated experience to the customer who can pick up their purchase without having to spend time inside the store.
Pure-Play/ Warehouse Pick Model:
We can say that warehouse pick models are a bit more expensive compared to other products. Here, a company needs to take products directly from the manufacturer, store them in a warehouse, and sell them.
Hybrid Model:
This is a combination of the Click and Collect and Warehouse pick model. You either own or not own a store and provide your customers with a pickup option at their convenient time.
Looking at these, you can decide which business to follow. I would recommend choosing an Aggregator model or Click and Collect model as it will help you to save some money and as you are taking your first step.
Once you decide your business model, let's talk about developing an application. In the grocery business, you will need to develop three different applications for your customers, delivery agents, and admin. Let's see them in brief:
Customer Application:
This will be the application which your end users will be using. While developing this make sure to have all the possible features which make it easy to use. Following are some of the basic features you must include:
This feature you will find in almost all applications today. Providing your customers with personalized experience is the key. Once they sign in you can provide them with personalized dashboards on which they can see their previously purchased products, wish lists, customized discount coupons on their previous purchases, etc.
Not all the users who visit your application would like to make an account immediately. With a guest sign-in option, you get to make the sale even without making a permanent employee. You can use this feature to attract them to sign up.
Using this feature they can come to your eStore, browse it, add things to cart, and checkout.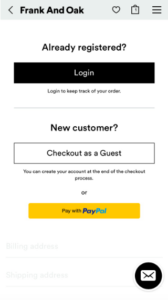 Easy returns and fast delivery:
In today's time, customers want things to be easy, fast, and less time-consuming and many leading companies have made this thing as their USP.
And so, you too can!
Use easy returns and fast delivery as your USP and sell your products. Provide your customers with services like 30 mins delivery, free cancellation, etc.
Go one step further and provide them with scheduled delivery options. Using this your customers can schedule specific date and time of delivery. This assures their delivery is done at the given time. You cut down on shipping costs, and there is much less hassle of a missed delivery.
These are some of the tactful ways to retain customers, serve them better, and have year over year increase.
Multiple payment options:
Try having as robust features as possible. Provide your customers with multiple payment options like cash on delivery, net banking, credit/debit card options, e-wallets, and more.
Multiple options will make sure that your customers can easily make the payment and there are fewer chances of cart abandonment.
In-app chatting, status, and live location:
Notifying customers about the status of their order is very essential as it shows the transparency of your business. Once the order is out for delivery you can provide them with a live location feature and delivery agent's details. This will help them to know the exact location of their product and reach out to the delivery agent in case of any issues or delays in delivery.
Daily deals & promotions:
Notify your customers with every day exciting deals and give them multiple ways to purchase things from your eStore. Writing an amazing marketing copy can do wonders in this and prompt your users to click on it and purchase your product.
Delivery Person Application:
This application will be used by your delivery agent. It will bridge the gap between your business and customers and also easily allow them to connect with your customers. Make sure to have some of the below-listed features:
Integration with GPS system:
This is one of the major features you need to consider. Make sure the application has integration with the GPS system which helps them find the location easily and to deliver products on time.
Order and Payment details:
Order lists will provide them with the data of all the pending orders, completed orders, and incoming orders.
Provide a section of transaction details in which they have the detail about the previous as well as pending transactions. They can also know the mode of the payment so if it is cash on delivery they know that they are supposed to take a payment.
Administrator Application:
Administrator applications are the most crucial thing. They need to be perfect with all the rights given to them. Admin apps have access to all the features of your entire ecosystem.
Make sure to have some of the basic features:
Admin should be able to manage orders, inform store owners about new orders, or accept on their own, manage and view feedback and ratings for any particular shop, etc. Additionally, they should also have access to add, update, and delete any order if and when needed.
Admin should know details about each and every product which needs to be restocked, its location, quantity, percentage of usage, and in depth knowledge about each and every product's sales.
Once you have done the research on the features you wish to provide in all the three apps you move on the development part. Now, comes the question: how will you develop an online grocery store?
We all know today there are multiple ways to start your online business. Plenty of websites provide easy drag and drop options to make your website and start with online business.
But, the major drawback of this method is the staticness it provides in features. This is when IT companies like us will come to your rescue. Having an online store can come with a lot of technical stuff to deal with. As your IT expert, we can help you from scratch.
These are some of the factors you need to consider while creating your online store:
Competitor Analysis:
Analyzing the market and competitors will help you a lot in the long way and also help you define your unique selling point (USP). Additionally, you can try to go one step further and provide better features compared to your competitors.
Develop Cross-Platform Apps:
According to recent trends, you cannot make an app or a website only for a single platform and launch it. It's the time of cross-platform apps.
This is when Flutter, ReactJS, AngularJS, and many more will help you. Research about the current market technological trends, along with your IT business partner and use the correct framework to create cross-platform apps. Remember to provide your customers with seamless experience be it Android, iOS, or web.
Contactless Delivery:
The new normal comes with a new feature i.e. Contactless delivery. Have this one particular feature in your app or website and even highlight it during marketing. This is a basic thing that customers need today.
Conclusion:
Grocery store products are essential items that people need in their day-to-day life. It's very unlikely to run out of business in this industry. The only thing we need to consider is that with the change in the time it's the time to introduce technology in your business and take it one step further. Build your online grocery store and connect with customers in a new way.
All product and company names are trademarks™, registered® or copyright© trademarks of their respective holders. Use of them does not imply any affiliation with or endorsement by them.