727
Sales Advice During COVID-19 by our VP of Sales, Achal Chhajed
09 Jun, 2020
5 min read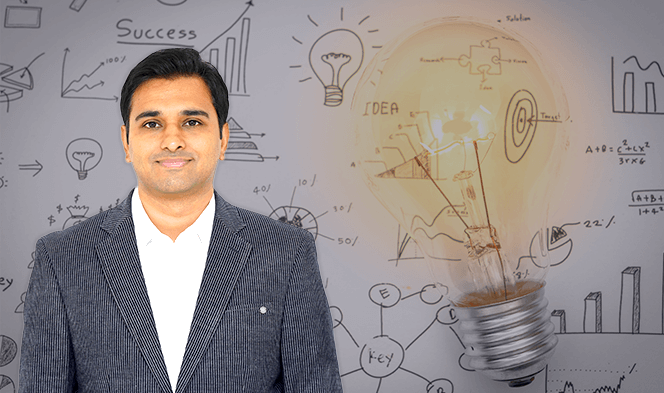 https://www.biztechcs.com/blog/sales-advice-during-covid-19/
"Pivot. Pivot… Pivot! Pivaattt!"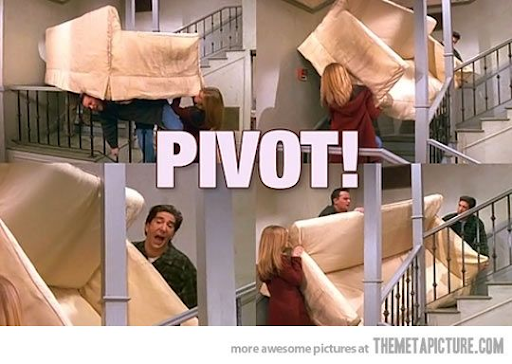 Yes, Ross' famous words are a sales strategy now.
When the lockdown, shelter-in-place, work-from-home policies came into place in the middle of March, everyone moved home. Manufacturing units that made cars, hair dryers, etc., pivoted to making ventilators. Clothing designers pivoted to making masks for medical workers and more people.
Now, of course, we might not be able to pivot in the same way or with the same intensity. The point isn't just that. The point is to be flexible. Our business is not Ross' couch after all. We can pivot quite easily.
And for that, we need to understand the market, customers' current buying habits/patterns, and most importantly, the current trends. Because if we don't, then it might be impossible for us to survive this storm called COVID-19. And it not only came with rain, but also with thunder, and hail. And just like nothing is the same after a storm, the market is not going to be the same after COVID-19 passes, if it ever truly does. We have a new normal now.
For a while, we looked deep within us to learn what we can do with our resources to stay afloat. What are the sacrifices we are willing to make? And what are the sacrifices we have to make? Once we answered those, we could really focus on our priorities. Keep as much of your staff as possible, top management takes pay cuts first before it passes down any further, and work on products that can actually help during the situation if you've already got them.
If you have relatively less work to give to your staff, use this time to provide training. This training will go a long way when you have work. Yes, it is very much a sales strategy. Your team's prowess enables you to confidently sell your product or service.
Let's dive deeper into some changes all of us can make to our plans:
Inventorize your leads
Collect all your active lead data and put it in a sheet. Create an inventory and list down their true status. Emphasis on the word true because now that the pandemic is happening, chances are they might have changed their strategies, budget allocation, or maybe the whole business model.
Quick tip: When we were reaching out to understand where our customers stood in terms of doing business with us, we made sure not to sound too salesy. We all together avoided pitching our solution or services, and focused on asking if they were okay or not, if they needed any help with their business or if there was any way that we could help. Because empathy is the only way we are going to revive this planet as well as the economy. LinkedIn's ex-CEO Jeff Weiner has summarized it in one of his comments. Have a look: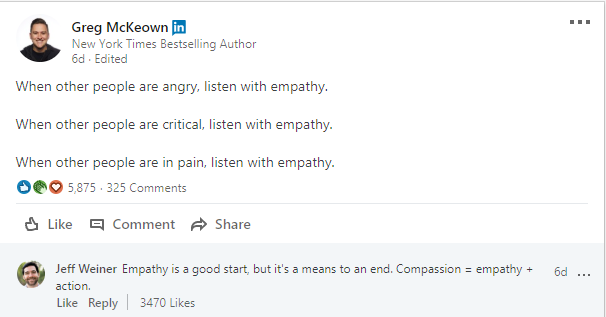 Once you know where you stand with your leads, try and analyze your offerings and then approach them again with your improvised offerings. This is because of the huge shift in the market and there is a possibility that their market has also changed and so would have their needs. So see to it that you are keeping yourself updated and staying relevant with your offerings. For that particular client or in general as well.
Revisit your pricing plans
Do you offer yearly plans? If yes, then it is time to revise your pricing plans. It's not a good time for many businesses and industries to make any long-term commitments. So why not revise your pricing plan and promote plans which are short-term with lower investment requirements. This will speed up your sales and marketing funnels and will also give you a chance to help your fellow customers. When the only thing holding back a purchase is price, this will move it forward.
Quick tip: You can also offer an EMI option to them which will keep both your businesses afloat. It is one of the ways we've been doing business to help our fellow business owners.
Check on your current customers
See if they need anything. This is the chance to create long-term relationships and stronger bonds. Not only will they appreciate your concern but they will be there with you even after we are through with these dark times.
Quick tip: Check if your existing customers know anyone who can be benefitted from your products or services. Offer some discount based on your relationship with the client.
Invest time to create resource hub
Create a resource corner for your customers where you can offer some of your products, whitepapers, e-books, etc. for free to help them get through this pandemic. This is the time to create high-value content to help you reach out to your prospects with a helping hand and without being too upfront about selling. It can be a conversation starter. Not all things need to have a price put on them. An open exchange of ideas and work can bring about much more significant results and changes.
Tweak your lead pipeline
Revisit your lead pipeline to see if there's any stage that's not relevant to the current situation and then remove the same to optimize the lead flow.
Revisit your lead nurturing strategies as well. How you follow-up now matters a lot as that can create a positive or a negative brand image easily. If you are too salesy or aggressively pursuing the leads, then it will have a negative impact on your brand. So go back to your whiteboard with your follow-up strategies to increase your conversion rates.
Allocation of resources
If required, reallocating sales resources is not a bad idea. Depending on your customer visits and online activities you can be flexible with your resources and shift them on the activities which have more response. This way you will be optimally utilizing your resources and their time. We did a similar kind of activity with our resources after studying the market, current needs of our target audience, and the traffic data. We also visited our product portfolio and figured out which products need to be put in the frontline for sales and marketing activities and which will be taking a backseat. This not only allowed us a focused approach but also helped us retain all our staff.
Reinvent / Innovate
This is the time to fill that gap you've been meaning to fill. Take your products and compare them with market leaders and if possible, research as to where the market will be shifting and what it is that the customers will be looking for after this pandemic is over.
And then, reinvent.
Make your product ready to make a splash when the markets reopen or when we move forward to a new normal
A similar activity we did for one of our product store, AppJetty. We started adding Shopify extensions and started building a portfolio in the Shopify marketplace. Before lockdown, we didn't have a single product and now we have successfully launched 4 plugins to our Shopify product portfolio.
This will help us enter into a completely new market which has a lot of untapped potential. And you could do the same.
Be available
Install Live chat or messenger tool on your website as this can give an instant option to your website visitors to directly communicate with your team. Also, we would recommend training your team in managing this communication because there might be a lot of vulnerable business owners out there seeking help. And these kinds of messages need special kind of attention with the correct tone and message.
Most importantly…
be sensitive, helpful, and be safe. As well as extend that safety to your customers. And understand that your community needs you more than your business goals. If you are able to afford it, build relationships, and not customers.
If you think there is any way where we could help you or your business, feel free to reach out to us at sales@biztechcs.com or you can also leave a tweet on our business handle @biztechcs with your message.
Writer's Note: This article has been written in collaboration with Kanchi Vasavada and after interviewing our VP of Sales, Achal Chhajed.
Befriend Technology for Transformation
Selecting the right technology is pivotal to your business's growth and success. Have you already decided the suitable one for your next project? If so, we can help you take the next step. If not, we can help you decide the best option. Connect with the Top 1% pre-vetted software engineers to build your software.