1148
All about Travel App: Types, Features, and More
05 Mar, 2021
6 min read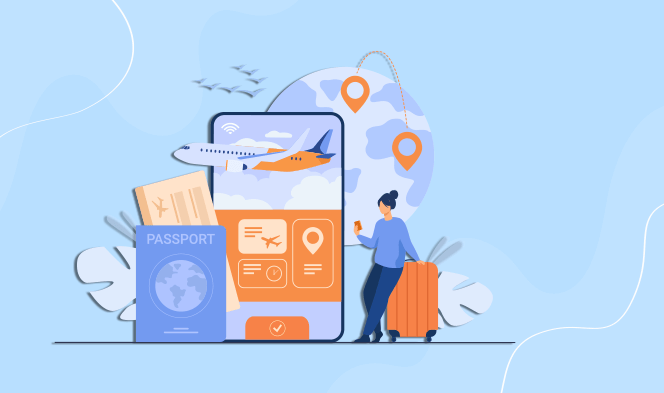 https://www.biztechcs.com/blog/travel-app-types-features-more/
The market size of the online travel agency sector in 2020 reached $595.78 bn. Expedia, Airbnb, Booking.com have revolutionized the online travel industry over the past few years. There are a few findings that may interest you.
66% of millennials book their trips with smartphones.
85% admit that they consider reviews before making final travel decisions.
These stats show how an online travel business is very popular these days.
Let's observe some more stats and facts.
According to Statista's survey, 40% of the people surveyed admitted that they downloaded a travel app because they couldn't find the features they like on the mobile web.
The rest 60% cited different reasons to prefer a travel app to a travel site like:
To receive updates and offers via relevant notifications.
To use some features in the offline mode unlike on a travel site.
To store preferences to make the booking process easier.
For better speed, look and feel, and reward points.
If you own a travel company and are musing on the thought of taking your business online, a travel app can be the perfect companion of your travel site.
In this post, we'll discuss the types of travel apps and the features you must include in your travel app.
Types of a Travel App
In general, travel apps lie in one of the following three revenue models:
Most of the companies use one of these models for their iOS and Android app development for their travel business.
Merchant Model
In this model, the company buys or rents hotels, guest houses, rest houses, etc. at bulk rates. It then resells them to the guests. Besides, merchant models also provide airfare, car rentals, and other services.
The best example of a travel company that has used this model for their Android app development is Expedia. Expedia rents rooms in bulk and the hospitality partners (hotels, guest houses, etc.) offer the most affordable deals to Expedia's customers in return.
Commission Fees Model
There are some small hotels that don't have big advertising budgets as huge hotel chains, like Hyatt, Hilton, or Marriott do. To increase their visibility and outreach, they tie-up with large online travel companies to get featured in their listings. In return, these travel companies may charge certain commission rates for every transaction.
One of the famous companies that runs on this model is the Dutch travel agency – Booking.com. It charges somewhere between 10% and 30% for each booking customers make on their site.
Advertising Model
If you are a small travel agent looking to build a travel app, this model may be ideal for Android app development for your travel company. It is the most affordable and works best for travel agency owners with a limited budget.
In this model, you can display relevant ads of tour operators, airlines, hotels, car rental services, etc. You can also sell a portion of your advertising space to big firms in the travel industry.
A good example of this model is TripAdvisor. It runs ads for flights and hotels on the app and earns money through cost-per-click charges it collects from OTA and suppliers. To put it in plain words, TripAdvisor earns revenue by redirecting the customers to third-party websites. There is no guarantee of a surge in bookings because reviews and rates are all the same. However, some small hotels can increase visibility and traffic with a sponsored ad on this kind of app. The higher the charge a hotel pays, the higher it appears in search results of the users.
While the app's owner company earns a good revenue, the hotel that pays for ads earns visibility, traffic, and of course, more guests and income. A win-win situation for both parties.
Want us to help you repeat the success of these apps? We can help you achieve that in a hassle-free way.
Features to Include in a Travel App
There are two kinds of features that you can consider for an iOS or Android app development for your travel company.
The first kind of features are Minimum Viability Product features or core features.
Below are a few of them:
Registration and Profile Management
Sign Up is the must-have feature for any application. You should enable users to browse your app without logging into it each time. However, you should make registration a must for the user who wants to book a hotel, flight, etc., save payment details, and more. Most of the travel apps allow sign-up via email or phone number.
Besides, you should also integrate social login for users. It enables users to log in to your app via log-in details from Google, Facebook, etc. faster. It also enhances the users' experience.
Apart from that, there should be support for personal accounts for the hospitality partners (hosts) in the app to list their property. For safety concerns, there should be no skipping of the registration step for the partners. Rather, becoming hosts generally takes more time than the common user registration. It is because they need to produce documents to confirm their ownership, agree to terms and conditions, and so on.
Search and Filters
Users should be able to navigate your travel app without hassle. There should be a search option for the users. There should also be the feature of Search Filters to narrow down the long list the users have to wade through.
According to their preferences, users should get to filter search results by certain criteria. The more complex the filters are, the more precise the search results become.
Some primary filters that you can provide are location, budget, number of guests, additional services including parking, Wi-Fi, etc. Plus, some advanced features like reviews and ratings, Room availability calendar, price comparison can also be added using travel APIs.
Listing Information
The users should get access to additional details like descriptions, customers' ratings and reviews, refund and cancellation policies, etc. You can also show listings on a map to help users see the exact location of the hotel and the surroundings. They can also determine how far their chosen hotel is from the city center or the nearest bus or railway station.
All this information helps them in quick decision-making and enhances their experience. Most of the companies integrate Google Maps or Apple Maps.
Also provide the hosts an option to add their property and add details like address, photos, description, prices, and more.
Messaging Channels
There should be a means of communication between you and your customers. If a user doesn't find an answer to any query or wants some extra details, they should get to contact you. You can also provide a live chat option to the user to contact or a travel agent that you hire. It will help them pick the right package, hotel, and more. If you want, you can also enable the customer to connect with the hotel representative via chatbox.
Push Notifications
Push notifications are a great way to engage and re-engage users and drive bookings and revenue. There's a lot that you can convey via your push notifications and grab the users' instant attention.
You can use push notifications to:
Keep users posted about new offers, prices, and discounts.
Remind customers about the services they abandoned before making the payment.
Enhance customer experience by conveying booking changes and reminders.
A few advanced features that you can add are:
Weather Forecasting
Weather plays an important role in decision-making for a traveler. If you show accurate weather forecasts to users, they are sure to welcome it. You can use popular APIs by Forecast.io, OpenWeatherMap, YahooWeather, etc. for this purpose.
Emergency Services
While being in a foreign country, a traveler may get lost or end up in an emergency situation. If they can't speak the local language and are not familiar with the place, they may face big trouble.
To help prevent this, provide well-detailed information about emergency services to the users. You can even take it a step further by giving an option to make an emergency call from within the app.
In-App Payment
Accept mobile payments in the mobile app. Redirecting the users to a third-party payment gateway online can consume more time and the users may drift away. In-app payments can make payments faster and reduce transaction abandonments.
Loyalty & Referral Programs
Make your first-time customers return to your store by rewarding them with loyalty points. You can also encourage more downloads by offering first-time install offers and app referral offers.
You can also monetize your app via paid downloads, advertising, paid subscriptions, paid access to premium features, and affiliate travel tickets and bookings.
Hire Us – Your Alpha Team
If you have decided to launch your travel app by now, we are there to help you out. Our developer team analyzes your requirements, assesses the scope and feasibility of your project, and then develops it. Our QA team makes sure that the final app you get is completely glitch-free. So, don't wait anymore, and let us help you turn your travel business into an empire with a travel app.
All product and company names are trademarks™, registered® or copyright© trademarks of their respective holders. Use of them does not imply any affiliation with or endorsement by them.
Befriend Technology for Transformation
Selecting the right technology is pivotal to your business's growth and success. Have you already decided the suitable one for your next project? If so, we can help you take the next step. If not, we can help you decide the best option. Connect with the Top 1% pre-vetted software engineers to build your software.