After Uber revolutionized taxi booking by taking it completely online, many companies came up with similar models to serve different industries having booking systems. The ease of opting services and highly satisfied customers are the reasons for the success behind this business model.
If you're in the Taxi business or looking to enter the industry with an uber clone app having all the native features like GPS tracking, Push Notifications, Instant Payment, and more would be perfect.
To get an answer to why you need to develop an app like Uber, how to create an app like uber, and technical know-how of uber clone script, keep reading!
Why go for an uber clone app?
For that, let's dive in to understand the reason for Uber's success. It was just an idea that emerged in 2008 when two friends meeting at a Paris conference couldn't find a cab to go back to their hotels. What if we could only book a cab in seconds, without calling dozens? And then boom! Uber app was born. 
A solution to the travel problems faced by almost every single one of us.

Allowing cab bookings with full clarity regarding price, car type, and other items within seconds.

Easy bookings via smartphone

Autonomous kind of job

Customer-centric business approach 
And most importantly the business model that Uber has is a huge success.
Cost and time saving are the main reasons to go with the Uber clone app. Ideating and building an app from scratch requires a huge amount of money and resources. With an uber clone script, you can reduce the cost of the app, and save a lot of time otherwise spent collecting all the business requirements, ideating features, and giving the idea a structure. Since the Uber-like app is completely scalable, you can analyze your working model and then inculcate new and advanced features that are not in the Uber App.
So let's take a short ride on the flow of the uber clone app.
How does the uber clone app work?
Before developing an app like uber, the first thing is to know how it works. It's like navigating through a map unless we know the origin and the destination, we are going nowhere.
The simple flow of the uber clone app: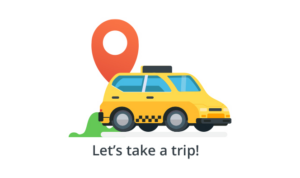 Customers request for the ride by choosing the source and destination, then they pick an option based on the fare and car type.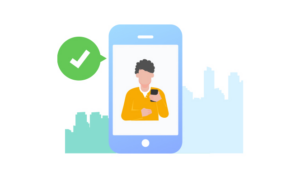 The user confirms the pickup location.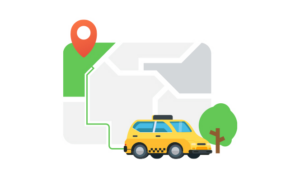 Uber locates nearby drivers. The driver chooses to accept or decline the drive request. If one driver rejects the request, it is automatically diverted to another nearby driver.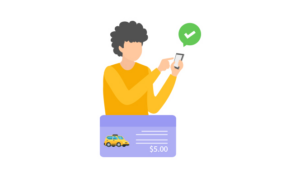 Auto-deducting the payments at the end of the ride. To make it fast and hassle-free, users add their credit and debit cards, PayPal account, and other wallet accounts.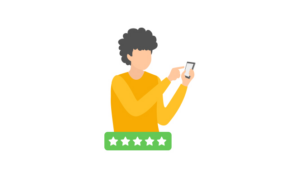 Ratings are requested after the ride has ended. These ratings help other users in choosing the driver for their next ride.
And that's how an app like Uber works. But which features will you require to make this flow smooth and effortless for riders, drivers, as well as admins?
What are the features of the uber clone app?
The process of the uber clone app is way simple. Just a few clicks and passengers are satisfied with the ride on their doorstep and drivers with their next trip. However, to make it more convenient and deliver value, you need to have multiple features based on the expectations of all your users.
Different functionalities for Admin, Drivers, and Passengers are as mentioned below.
Rider features in an app like Uber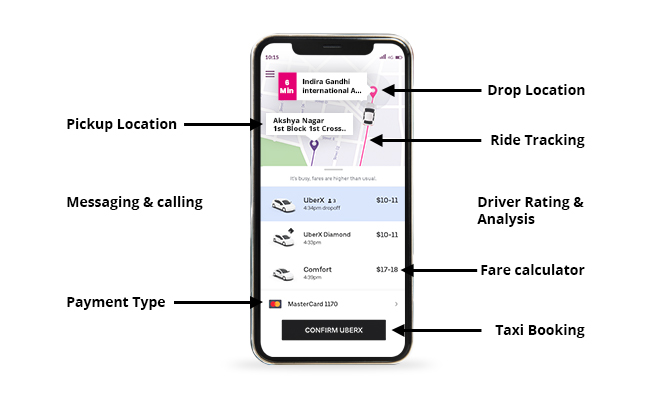 Registration:

Allows your customers to register or sign in via email and social media. If the majority of your customer base uses iOS, then adding sign in with Apple can help you stand out

Taxi Booking: Your customers can book a taxi by entering the address, selecting the type of car and the location of the pickup
Fare Calculator: Auto calculates the total fare for the ride based on the kms, car type, fuel prices, and the traffic
Ride Tracking: Realtime tracking of driver activity to stay up-to-date with their travel route and estimated time of arrival
Payment: Auto payment feature with various payment options, including credit card, debit card, PayPal and other e-wallets
Messaging & Calling: Message/call the driver from the app
Driver Rating & Analysis: Provide driver rating based on the journey, car comfort, driver behavior, and so on
Travel History: To show details from previous rides and transactions
Other features that you can add along with these for better user experience:
Pickup Location: To enable passengers to locate the drivers at their location
Ride Cancellation: To cancel the ride within the time specified
Split Payment: To share the ride fare with a few traveling fellows
Multiple Destinations: To add extra stops along the route
Schedule for Later: Allows passengers to book a trip at a selected time in advance
Book for Others: Allows passengers to book for their friends, relatives from their account
Drivers features in an app like Uber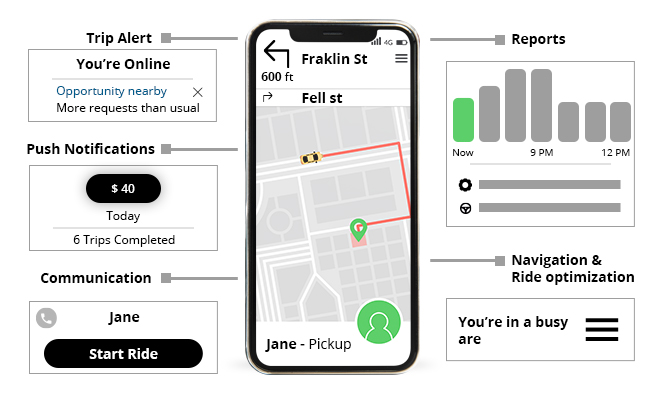 Driver Profile & Status: Full driver information and verification (license, car insurance, etc). Status to denote driver availability
Trip Alert: Notifications to receive trip orders in order to accept or decline, including complete information on the location, route, and passenger detail.
Push Notifications: On ride commencing, trip changes, and completion
Navigation & Route Optimization: Provide the best and shortest trip route using Google Maps
Reports: Provide insights regarding trips and earnings on a daily/weekly/monthly basis
Communication: Texting or calling a passenger from the app
Advanced features in a taxi booking app like Uber:
Earning: Ability to earn more by completing the targeted number of trips
Waiting time: Charging the passenger if the waiting time is more than 5 mins
Next Ride: Accepting another ride while completing the first
Admin features in an app like Uber
A centralized approach is required for an Admin to manage the drivers and passengers, and the overall system; a complete management system.
For that, the Admin management system must have the following features:
Customer and Driver Details Management (CRM)
Booking Management
Vehicle Detail Management (if self-owned)
Location and Fares Management
Call System Management
Communication
Ratings and Reviews
Promotions and Discounts
Payroll Management
Content Management
Customer Support and Help
Covid-19 related safety features
The world is gradually returning to its routine after three months of lockdown, despite the growing cases of coronavirus. Thus, care must be taken and it would be valuable if your Uber clone app had advanced safety features that would benefit drivers and customers on the road.
Verification
Every time a driver starts the ride, they need to go through a checklist. A real-time selfie that would ensure the driver is wearing a mask, along with other information like completely sanitized, no COVID-19 symptoms, body temperature, etc.
The driver would be able to commence the ride after verifying all the info.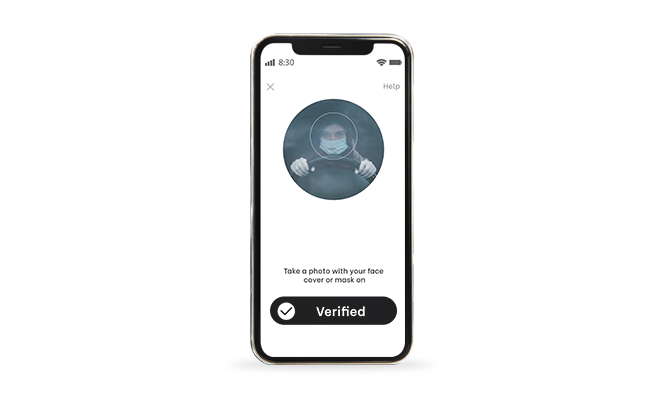 Similarly, the customer taking the ride would also be asked to take a selfie/photo with a mask on and only after it's confirmation, they would be supported with a ride. 
COVID-19 Tracker
Integrate a tracker that would assist drivers and customers in tracking nearby COVID-19 patients and provide details of the total count in the area they are riding. Drivers can be sure, with the help of a tracker, if they want to take a ride or cancel it. 
Security is a must, after all! 
No Fee Ride Cancellation
When a driver feels that the destination of the ride requested is not safe, then allow them to cancel the ride at no charge.
By allowing the COVID-19 tracker to capture the details of that region, you can automate this feature and give drivers an option:
Example: Area XYZ is a red zone.
Want to go on this ride?
Yes or no
Note: No fee would be charged
You can even add this feature:
'Not more than 2 clients at one time'
Note: If a driver finds there are more than two people on arrival, they can cancel the ride and no charges would be incurred.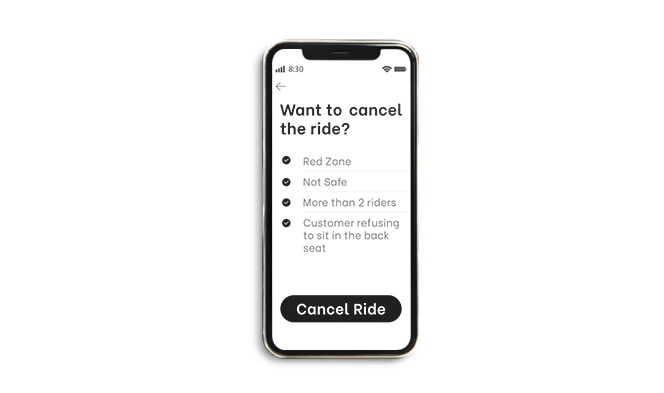 Ratings and Reviews
Riders are asked for ratings based on various factors such as driver's behavior, vehicle, etc. You may add another segment to it, asking if the driver has followed all the safety measures. Had taken all the precautions like masks, coverings, sanitizers, etc.
The benefit of this feature will be that it double-checks the overall safety. And this allows other customers to book with relief.
Complex features to have in an app like uber
By now, we have the idea of the features that would make uber clone apps a success. But, are those basic features enough?
In our opinion, not so.
Hence, here are the must-have additional features for a robust uber-like app.
Let's just take a look.
Fare Calculation
How do you think the fare for the trip is calculated?
Kms-based, huh? But does that do justice to the waiting time, traffic, and the time it takes for the drivers to complete the ride or the fuel prices?
No!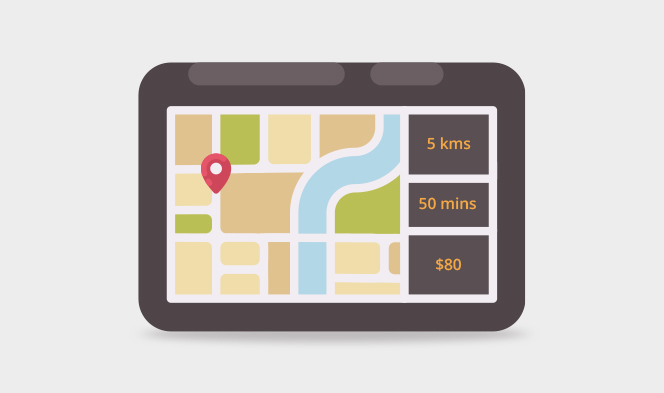 And so you can have an alternative way of calculating the fares. That's by taking into account the traffic and calculating the minutes it will take for the driver to complete the ride and if it takes more than anticipated the charges get added to the fare or you can define a distance of particular kilometers after which the fare would be calculated based on the minutes it takes to reach the destination.
As such, it should take into account the traffic and calculate the minutes it will take for the driver to complete the ride, and if it takes more than anticipated the charges get added to the fare.
Tracking distance and the time in real-time and auto-calculating the fare based on it is how the uber clone app can help you be fair with your drivers as well as the passengers.
Ride Searching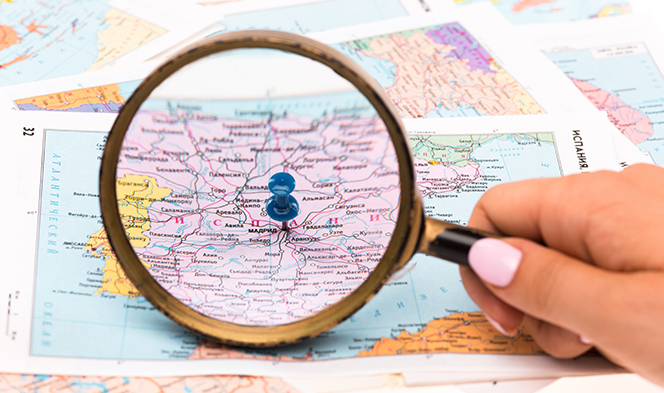 To help passengers find a suitable ride and your drivers a suitable ride, have a built-in radius threshold feature. 
You can mention a defined radius of say 10 km for passengers and the drivers within that range would be alerted of the ride. Drivers, on the contrary, will be able to pick the distance in the direction they'd like to go to. Say, 10 km in the passenger's direction or in the opposite path.
Only when both the parties, passengers and drivers, are in the range of 10 km, they would be notified of the ride details.
Payment Processing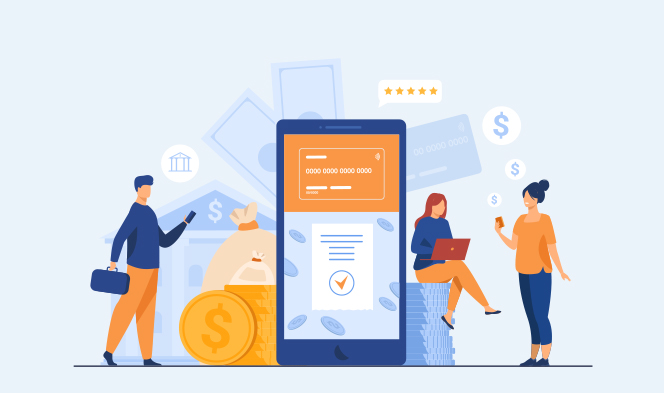 Along with multiple payment options, you can provide an automated payment processing feature. And it works like this:
Upon completion of the ride, the payment would be auto-deduced from the credit/debit card of the passenger. The deducted payment will be automatically bifurcated into the share of drivers and the commission of Admin based on the given rates and credited to their respective accounts.
A rider sometimes pays the fare ahead of time only to be told that the driver has canceled the journey. As a leading mobile development service provider, we can support you with an uber clone app that will have automatic refunds and other complex features.
How can we help you?
By providing you with all the features that Uber has, the complex, and the safety features that your Uber Clone App must have along with your additional requirements. And to get all this done, you would need a lot of technologies, integrations, backend developments, and other complexities. 
We have expertise in various technologies and can help you with:
Application Framework

Programming Languages 

JavaScript Framework

Cloud Storage

Cloud Hosting 

Automation Frameworks 

Voice and SMS API for SMS, Voice, and Phone Verification

GPS and Tracker Integration

Messaging & Communication 

Global Payment 

SQL Data Storage
Wrapping up
After driving through all the features, if you still have a question that if Uber Clone App is right for my business or not, let us tell you that there are a lot of successful Uber Clone Apps on the market, such as Lyft, Ola, DiDi Dache, Careem, Ingogo, Takkun, Grab, etc., that are growing and diversifying. The main thing is to have that X factor and we can definitely help you with that.
If you want a solution that best fits your business needs, we can help you get your Uber Clone App with original features. We specialize in mobile app development for both platforms, Android as well as iOS and cross-platform apps.