2144
Use IoT Applications in your Logistics Business
07 Dec, 2020
5 min read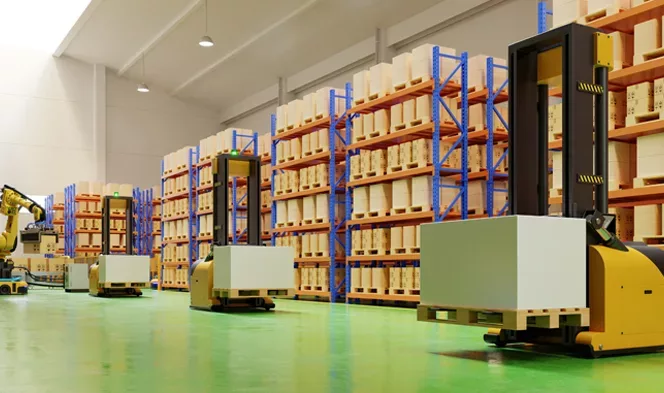 https://www.biztechcs.com/blog/use-iot-applications-logistics-business/
Wikipedia says, "The Internet of Things describes the network of physical objects—"things"—that are embedded with sensors, software, and other technologies to connect and exchange data with other devices and systems over the internet".
Over the years this definition has changed. Today it includes real-time analytics, machine learning, commodity sensors, conversational AI and embedded systems.
If one were to essentialize it, you can connect almost any device with the internet and send or receive information from it.
According to reports from Statista, the global market of IoT end-user solutions is expected to grow by 1.6 trillion by 2025. This is a huge amount of investment happening in IoT. Like every other technology, if used to its full potential, it can bring a huge revolution. Additionally, it is also predicted that the global spending on IoT will increase to 1.1 trillion U.S dollars by 2022, thanks to the introduction of 5G.
I am sure these stats are more than enough to show you the direction that IoT is going in and the scale at which we are adopting it.
There is not a single industry that is left untouched by the applications of IoT. Here's a list of industries that uses IoT in most of its applications:
Automobile Industry

Manufacturing Industry

Agriculture Industry

Healthcare Industry

Hospitality Industry

Retail Industry

IoT in Logistics and Supply Chain

Energy and Utility Industry

Housing Industry
All these industries have achieved a lot of things with the help of IoT. In every industry, it has given a new dimension to businesses to grow and serve their customers better. This post particularly talks about how you can implement IoT in your logistics business for automated and streamlined flow.
Internet of Things in logistics
According to Shopify, "Logistics is used more broadly to refer to the process of coordinating and moving resources – people, materials, inventory, and equipment – from one location to the desired destination. The term logistics originated in the military, referring to the movement of equipment and supplies to troops in the field."
In business scenarios, logistics is useful to send the right products to the right customers and in a timely manner. There are two types of logistics:
Inbound logistics: It is about the raw material coming from supplier to businesses

Outbound logistics: It is about finished goods reaching customers from businesses
Both types of logistics are essential and help businesses function efficiently. Both of them have a lot of things to offer but also face a large number of issues.
We all know how logistics work. Let's see some of the major issues traditional logistics face:
Security:
Securing your goods is one of the major concerns in logistics. While transporting goods, there are chances of it getting misplaced, stolen, and many other issues. This can be solved using technology like IoT in logistics. We will see how, later. 
Climate change issues:
Climate change is one of the major issues that the entire world is facing today. And the Internet of logistics has a major role to play in it. Technology can help here as well in reducing the carbon footprint.
Lack of coordination:
There are a lot of people included in logistics industry managers, drivers, end-users, and sometimes it becomes difficult for people to coordinate with each other. In such times, it becomes essential to coordinate with each other and timely deliver the product to their customers. This is when you need to have technology i.e. locating them with the help of GPS systems, using IoT devices.
Decrease in Manpower:
The logistics industry requires lots of manpower to load, unload and move things around everyday from one place to another. But, now you can attach IoT sensors to your loading equipment so they are able to function independently around the warehouse. 
IoT Applications in Logistics:
The Internet of Things is changing the face of the logistics industry. It is very useful in making the logistics industry more efficient, reliable, and easy to work in.
Some major benefits of Internet of Things in Logistics:
Eco-friendly shipping:
We all know how important it is in current times to reduce our carbon footprint. Logistics has a major role to play in it as well.
For example: Companies can use IoT sensors to learn the details of the roads, from terrain to climate and general traffic. This helps them do proper route planning so there is less fuel consumption and reduces carbon emission.
Additionally, to lower the footprint, companies can use IoT sensors that help them monitor, analyze, and manage equipment. Depending on the data they receive they can make necessary changes. They can even understand which load to decrease and use optimal methods to decrease emissions.
Better supply-demand balancing:
Either of the ones is always up or down, and bridging this gap can be challenging. But, now businesses can leverage IoT. The connected devices can help them understand which products customers are purchasing, and why they are purchasing.
On the basis of the gathered data they can manage a better supply, by increasing or limiting production, which area uses which product particularly, and other detailed stuff. With all this data it becomes very easy for businesses to understand their customers and serve them better.
Looking to set up an IoT application for your business?
Location and route management:
Most of the goods which are supplied travel via trucks. They cover long distances, via some known and unknown routes, carrying products worth thousands of dollars. In this case, IoT sensors can track the temperature of the vehicle, and match it with the temperature that goods require. And this is just one of the things that IoT sensors can do. 
Using IoT sensors you can track the exact location of the truck, check its humidity, temperature, if any intrusion occurs during travelling, etc. This can help businesses get a better idea of transportation conditions and work around it. 
Inventory tracking:
Now, with inventory tracking, your entire inventory system is at your fingertips. You can attach IoT sensors at a certain distance in your store and it will provide you with all the information. You can know information like change in temperatures, stock details, restocking, particular product location, etc. Everything at your fingertips.
Asset tracking:
With the help of asset tracking you can connect the IoT sensors with your inroad vehicles. You can also check your asset condition like humidity, temperatures, product condition like is it broken, etc. This will help you to live monitor your assets and your employees as well. With information like terrain, fuel consumption, engine conditions of the vehicle, you can optimize your fleet.
Warehouse management:
You can equip your warehouse with temperature sensors if you store goods that require a certain temperature. If there is a drastic change in the temperature, the connected sensors can fire off an alert so you can take quick action. 
If you have equipment on shelves, you can install pressure sensors on those to count for when an item is taken or kept, instantly updating that in your inventory software. This is one of the ways that Amazon Go stores uses IOT. 
IoT predictive analytics:
With sensors giving you various kinds of information that is often not possible to humanely collect, machine learning can analyze it. That analysis can be predictive after a certain period of time. And when you can predict what happens, you can work to optimize for those conditions. 
Drone-based delivery:
According to Gartner's report, the global drone market is expected to reach $11.2 billion by 2020. This means a major growth in commercial and personal use. They add speed and efficiency to deliver products to remote areas. 
IoT enabled drone delivery systems can help deliver to almost any and every place. You can easily track goods with RFID tags and sensors that constantly keep sending data back and forth.
How you can implement IoT in logistics operations:
Implementing IoT in logistics in the correct format and at the correct place matters a lot. Let's see places where you can instill IoT and logistics together.
Warehouse:
Upon connecting the IoT devices in the warehouse, you can know the quality and quantity of goods. When they are out of stock you can get the data and restock them on time. They can also help you to understand and plan your holiday workloads.
Smart containers:
You can attach the IoT device to the container and try to locate, track, check the temperature, and quality of products, real-time sync with live locations, and many other things. This will help you to keep an eye on your products.
Next up, things companies need to take care of while implementing IoT applications in logistics:
IoT projects take a long time:
IoT projects are tiresome and take a lot of time to plan, execute, and finish them. There can be issues like lack of proper business/project planning, technical issues with developing sensors, software issues, device incompatibility, and many other factors that contribute to delay IoT projects.
Hence, while planning any IoT project make sure to have proper detailed planning, consider all these things, have a time buffer, and keep your team members informed. Everyone on the same page, clear and transparent communication, are the key to decreasing the time wasted on IoT in logistics projects.
Lack of skilled employees:
To implement any Internet of things project one needs to look after all the aspects like cloud architecture, designing systems and devices, developing software, device communication and many other things. 
This is definitely not one person's job to know everything. Hence, many times it becomes difficult for companies to find the right candidate and make them do the tasks. Another major reason for this is IoT is still a developing industry and is yet to tap its full potential.
Thus, while creating a collaborative team for your IoT and logistics project, make sure to give your team members enough time to learn the needed skills, understand the field and then implement them.
Complex driver issues:
Connecting, sending, and receiving data from drivers and sensors is one of the major issues most developers face. Many times, it becomes difficult to find or solve these issues. Another scenario to this is there can be times that when application loads in your mobile initially take time.
While making IoT kits make sure of things like time taken while sending and receiving the data, real time synchronization, how accurate the data is, time taken by the application to load. This will help you to make your kit better, and serve better.
Scalability issue:
Many times, people realize this once the entire project is deployed. When there are more than a thousand devices connected and each of them has to work in sync then it's very likely to have an issue. In such a situation make sure to have all your devices in sync, test them properly, if the issues still persist you can try to upgrade them.
Today be it government or private companies everyone chooses to leverage the power of technology. Multiple projects are successful and it has changed the way we see technology today. Companies like IBM are using IoT to streamline traffic at the Rotterdam port. Apart from this DHL is working in collaboration with Huawei and using IoT in logistics and supply chain to provide solutions.
Conclusion:
The Internet of Things is one of the most booming technologies today. It has spread its branches in almost every industry and is useful in many ways to serve customers better. Hence, there are a lot of ways you can leverage IoT in logistics and make the best out of it. 
For over a decade now, we are working in the Information technology market and providing various solutions in the field of development, IoT, AI, ML, etc. If you are planning to upscale your business with IoT applications in logistics business then we can be your one stop solution.
All product and company names are trademarks™, registered® or copyright© trademarks of their respective holders. Use of them does not imply any affiliation with or endorsement by them.
Befriend Technology for Transformation
Selecting the right technology is pivotal to your business's growth and success. Have you already decided the suitable one for your next project? If so, we can help you take the next step. If not, we can help you decide the best option. Connect with the Top 1% pre-vetted software engineers to build your software.