business category

Lifestyle
Overview
In 2006, Better Kitchens, a UK-based company, stepped into the industry with a vision of providing quality kitchen units in a variety of configurations. With time, they realized the importance of digital transformation to keep up with the changing landscape and to better cater to their customers' needs. To achieve this, they partnered with Biztech, aiming to create a unique online shopping experience that allows customers to virtually design and buy their kitchen units.
In their quest to make the website user-friendly, Better Kitchens prioritized creating a backend solution that was equally easy for the staff to maintain. They desired a comprehensive platform that could handle ERP functionalities like Order Management, Inventory Management, Delivery, and more. The objective was to streamline the customer's journey, from choosing their kitchen style to having it delivered at their doorstep, while simultaneously simplifying logistics and operational management for the staff. By successfully integrating a custom website into their business model, Better Kitchens could provide exceptional service to their customers, thus redefining the traditional way of selling kitchen units. This project marked a significant milestone in their digital transformation journey, revolutionizing the way they did business.
Challenges
Creating an accessible, intuitive, and user-friendly virtual design experience was a significant challenge.
Ensuring smooth backend operations using ERP functionalities needed careful planning and execution.
Functional Integration
03
Integrating various ERP functionalities like Order Management, Inventory Management, and Delivery was a complex task.
Enhancing customer engagement with an intuitive kitchen design module required a robust solution.
Operational Efficiency
05
Improving operational efficiency while maintaining user-friendliness was a challenging balance to achieve.
The solution needed to be scalable to cater to the growing needs of Better Kitchens and its customers.
Solutions
Dashboard Implementation
A Delivery Scheduler Dashboard was implemented for efficient order management and delivery planning.
Google Maps
The selected orders were displayed on Google Maps for geographical clarity and streamlined deliveries.
Style Module
A 'Choose My Kitchen Style' module was incorporated to enhance customer experience and ease of purchase.
ERP Integration
Effective integration of key ERP functionalities ensured smooth backend operations.
User Experience
User experience was enhanced through a simplified and intuitive interface for kitchen design and purchase.
Scalability
The solutions were designed to be scalable, keeping in mind the future growth of Better Kitchens.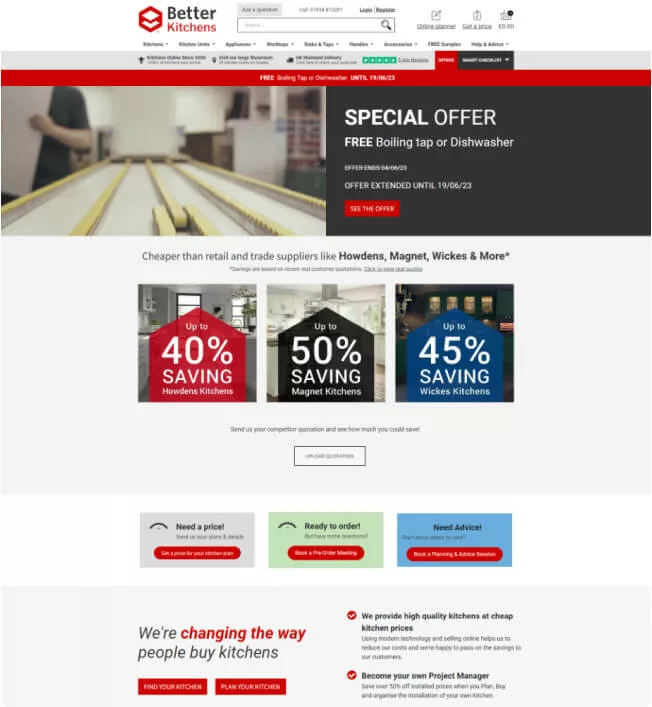 Screenshots
Better Kitchens, a UK-based kitchen unit retailer, partnered with Biztech to revolutionize their online presence. We implemented a customized and user-friendly website, integrating key ERP functionalities such as Order Management, Inventory Management, and Delivery. We developed a virtual kitchen design feature that greatly enhanced the customer experience by enabling them to assemble and purchase their kitchen units online. Additionally, a backend solution was created, streamlining logistics and operational processes for the staff. This collaboration with Better Kitchens signified an effective digital transformation, delivering a seamless online shopping experience for customers while boosting operational efficiency for the retailer.
Results
Operational Efficiency
The implementation of the Dashboard enhanced operational efficiency and facilitated timely delivery of orders.
Customer Reach
The online platform and 'Choose My Kitchen Style' module increased customer reach and engagement.
Sales Boost
The ease of design and purchase on the platform contributed to a significant boost in sales.
Customer Satisfaction
Enhanced user experience led to increased customer satisfaction and repeat purchases.
Streamlined Processes
Back-end operations were streamlined, improving overall productivity and reducing operational costs.
Future Readiness
The scalable solutions ensured Better Kitchens is ready for future growth and can easily adapt to increasing demands.
Words That Make an Impact
From the initial contact, the professionalism from the Biztech team has been incredible and after they completed some small projects for us, we were confident that they could help us move our business to the next phase. Our new cloud based ERP system is now up and running with the support from the Biztech team. 18 months on we are having further modules created and we are still receiving daily updates with direct communication with the lead developers when needed. We are confident that our future software requirements can be met and supported.

Ardene Stoneman
Director - Better kitchens ltd
Your Growth Transformation Partner
We help businesses like you expand their growth with the power of technology. Our world-class team of agile enabled innovators help you extend your tech capacity with advanced technologies and processes. To see it in action, let's connect today and initiate the discussion.
Contact Us
Let's create something awesome together. Reach out to us to hire the best talent for on-time and bug-free deliverables.