Overview
Biozol, a longstanding and prominent entity within the life sciences sector, was grappling with the need to efficiently manage an enormous online product portfolio consisting of over 20 million items. Their existing website, developed in Ruby, was proving to be woefully inadequate to handle the task. It was plagued with regular crashes, and customers were often left grappling with a sub-par user interface. This situation was not conducive to the high level of service that Biozol aspired to provide to its global customer base.
Seeking a partnership to overcome these issues, Biozol joined forces with BiztechCS. The primary vision for this collaboration was to create a powerful, user-friendly online platform that not only was robust enough to manage Biozol's extensive product catalog but also provided an exceptional user experience. The plan entailed the development of a comprehensive search engine that could handle millions of product listings, a shopping cart feature to enhance the customer shopping experience, and a focus on an intuitive, efficient UI/UX design. All these features needed to function seamlessly while managing large volumes of data and ensuring quick loading times.
Challenges
The previous site, developed in Ruby, frequently crashed while loading the extensive product list.
The existing website lacked a basic, user-friendly interface, making navigation difficult for customers.
With over 20 million products, the challenge was to provide an efficient search system.
The sheer volume of products posed a challenge in data import and management.
The need for a customized data listing and dynamic settings was a significant challenge.
To serve global customers, multilingual support was necessary.
Solutions
Improved Performance
BiztechCS developed a Laravel-based website ensuring smooth performance and reduced loading times.
Enhanced UI
A user-friendly, sophisticated frontend was designed to ensure easy navigation for customers.
Efficient Search
Integration with the Solr search engine enabled quick and efficient product search.
Data Management
A bulk import feature allowed the import of massive product lists in CSV and Excel format quickly.
Custom Features
Custom data ordering and dynamic settings for offers were implemented for flexibility and automation.
Language Support
Multilingual support was added to reach out to international customers.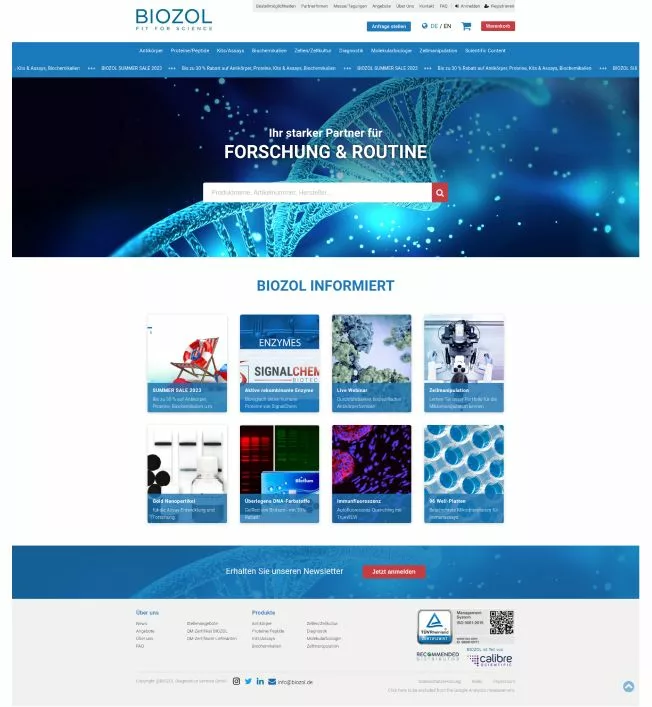 Screenshots
The accompanying screenshots offer a visual insight into the depth of work undertaken by the Biztech team for Biozol. The images vividly capture the highly functional, user-friendly interface of the newly developed Laravel website. The screenshots demonstrate the optimized search engine functionality, capable of handling quick and efficient searches among millions of products. Further, the visuals depict the unique custom features, such as the custom data ordering and dynamic settings for offers, providing a snapshot of the flexible and automated aspects of the website. The screenshots also underline the multilingual support extended by the site, enabling Biozol to serve a broader customer base globally. All these elements combine to provide an overview of the comprehensive solution delivered by Biztech, radically transforming Biozol's online presence.
Results
Efficient Performance
The new website demonstrated high performance and efficiency, with reduced loading times and smooth navigation.
Improved User Experience
Users now enjoy a seamless browsing experience with a user-friendly interface and easy navigation.
Optimized Search
Customers can now swiftly browse through millions of product pages, enhancing the overall user experience.
Streamlined Data Management
Importing and managing extensive product lists became easier and more efficient with the bulk import feature.
Flexible Customization
The implemented custom features added flexibility and automation to the website's functioning.
Wider Reach
With multilingual support, Biozol can now efficiently reach and serve its customers worldwide.
Your Growth Transformation Partner
We help businesses like you expand their growth with the power of technology. Our world-class team of agile enabled innovators help you extend your tech capacity with advanced technologies and processes. To see it in action, let's connect today and initiate the discussion.
Contact Us
Let's create something awesome together. Reach out to us to hire the best talent for on-time and bug-free deliverables.