business category

Booking
Overview
The "Booking App" project was designed to create a universal booking management solution adaptable across various industries. With a minimum viable product (MVP) model, this platform provides a solid foundation with basic functionalities that could be customized and scaled depending on specific industry needs. It simplifies complex booking systems for vendors and customers alike, enhancing user experience and streamlining operational efficiency.
On the front-end, this platform presents two user login types: vendors and end-users. Vendors are given comprehensive control over product listings, instant bookings, service availabilities, and special offers. Meanwhile, end-users enjoy a user-friendly interface where they can manage profiles, track bookings, and make payments with ease. The back-end is reserved for admin, where user accounts, bookings, and services are overseen with ease. The MVP is currently available for several industries, including car booking, hotel booking, fleet rental, restaurant booking, and on-demand services.
Challenges
Catering to different industries with unique requirements demanded a flexible, adaptable platform.
Empowering vendors to manage their offerings required a balance of functionality and ease of use.
The need for a smooth, intuitive user interface was essential for customer satisfaction and retention.
Implementing a safe and efficient payment system was crucial to enhance customer trust and convenience.
Facilitating comprehensive admin control over vendors, users, and services posed a significant challenge.
Designing a system that could effortlessly expand and adapt to growing user bases and additional services was necessary.
Solutions
Customizable Platform
The MVP model offered a versatile foundation that could be easily customized for any industry.
Vendor Interface
A dedicated vendor login equipped with comprehensive tools for managing services and bookings was developed.
User Interface
A customer-centric, user-friendly interface was designed to ensure a seamless booking experience.
Payment System
A secure payment gateway, including an in-app wallet and integrated card payments, was implemented.
Admin Dashboard
A robust backend system was built, enabling admin to manage all aspects of the platform effectively.
Scalable Design
The app was designed to be scalable, accommodating growth and expansion in terms of user base and services.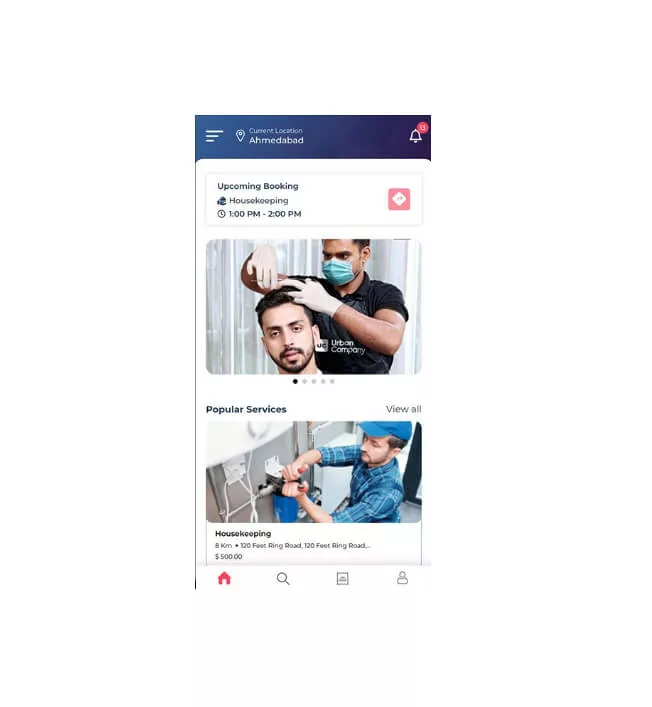 Screenshots
The screenshots provide an in-depth look at the Booking App's visually intuitive interface and robust functionalities. For vendors, they showcase effective product management, service availability, and booking detail overviews. From the user's viewpoint, they demonstrate a user-friendly dashboard, comprehensive booking tracking, and convenient in-app wallet features. For admins, the visuals underline the robust backend system, highlighting oversight of vendors, users, and service management. Overall, the screenshots succinctly portray the Booking App's potential to revolutionize booking management across various industries, reflecting Biztech's comprehensive .
Results
Universal Solution
The Booking App effectively provides a universal booking management solution across diverse industries.
Vendor Empowerment
Vendors enjoy better control and management of their services, leading to higher productivity.
Customer Satisfaction
An intuitive interface and smooth booking process have significantly enhanced user experience and satisfaction.
Secure Transactions
The reliable payment system ensures secure transactions, enhancing customer trust and loyalty.
Admin Efficiency
The robust admin dashboard simplifies management of all platform aspects, improving operational efficiency.
Future Growth
The scalable design of the app allows for effortless expansion and adaptability to future growth and needs.
Your Growth Transformation Partner
We help businesses like you expand their growth with the power of technology. Our world-class team of agile enabled innovators help you extend your tech capacity with advanced technologies and processes. To see it in action, let's connect today and initiate the discussion.
Contact Us
Let's create something awesome together. Reach out to us to hire the best talent for on-time and bug-free deliverables.