Overview
The trend of personalized printing on demand is rapidly gaining traction among people of all ages, including businesses. For businesses, this presents a promising opportunity to make money in this area. Many businesses are looking to digitalize their operations or enhance how customers make purchases on their websites to increase their earnings. However, running this type of business requires a bunch of tools, such as a website where people can shop, a tool for personalizing items, systems to manage orders and inventory, and financial systems.
Getting all these tools from a single source is quite challenging. That's where Brush Your Ideas comes in. Developed by BiztechCS, it's a complete web-to-print solution that aims to transform the world of print and personalization. Brush Your Ideas was created specifically to tackle this issue. Their range of integrated solutions offers different ways to help printing businesses achieve their goals more quickly and easily.
Challenges
Fluctuating Customer Trends
01
Ever-changing consumer preferences in the print industry challenge businesses to stay updated and meet demand.
Business Operation Complexities
02
Managing various aspects like design customization, order processing, and inventory management can be overwhelming for print businesses.
Longer Procurement Cycles
03
Assembling different tools from multiple sources can extend the time it takes to launch a web-to-print business.
Transition to Online Business
04
Traditional print businesses face difficulties with digital transformation and moving their operations online.
Complex Business Processes
05
Managing the intricate journey from design to print execution can be a daunting task without a unified platform.
Solutions
Web-to-Print Store
Facing offline-to-online challenges, Brush Your Ideas offers integrated web-to-print stores with preinstalled designer tools.
Mobile First Approach
To address personalization convenience, Brush Your Ideas adopted "Mobile First", enabling designing from anywhere, any device.
ERP Software
To streamline print operations, Brush Your Ideas introduced print ERP software, which optimizes the workflow from collecting print-ready files to product shipping.
3D experience
Enabling product configuration and realistic views from all angles using 3D rendering.
Product Personalization
To offer product personalization such as custom text, images, designs for products of any industry.
Tailored Customizations
Enabled tailored customization to the entire solution, giving the control to vendors.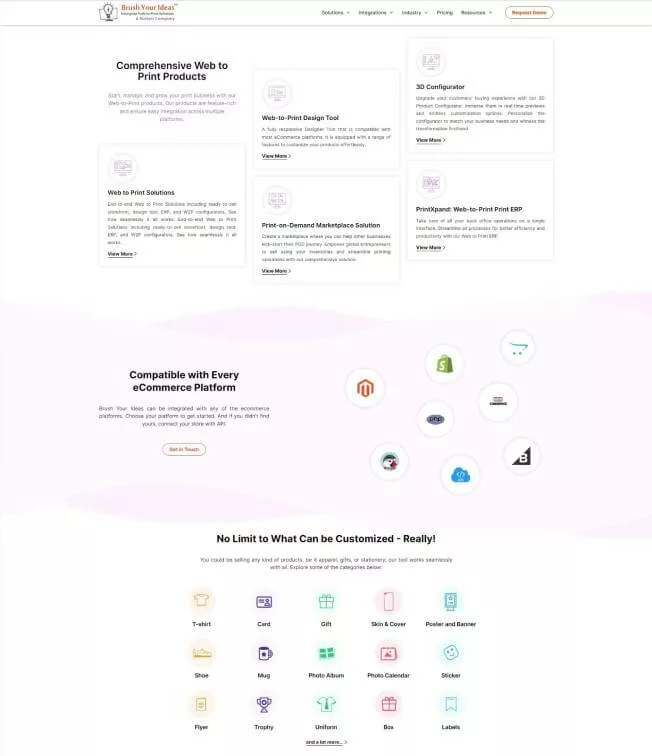 Screenshots
Biztechcs has crafted an all-encompassing solution for print and e-commerce businesses, seamlessly integrating a web-to-print store, a user-friendly product designer tool, and advanced print ERP software. This strategic overhaul empowers customers to personalize products effortlessly and businesses to optimize the entire production-to-delivery workflow.
The outcome? Increased sales, reduced turnaround times, and enhanced operational efficiency.
Embracing "Brush Your Ideas" is proving to be the gateway to streamlined success for businesses seeking an edge in today's competitive market.
Results
Faster go-to-market opportunity
With all the essential tools in one place, Brush Your Ideas helped businesses to quickly launch web-to-print businesses, enabling quicker entry into the market.
Greater user experience
Through advanced 3D visualization and user-friendly design tools, the platform enhanced the overall customer experience, driving higher engagement and satisfaction for various businesses.
Diverse Product Catalogs
The solution helped businesses to craft unique and customizable product catalogs, as the designer tool is compatible with a wide range of products.
Efficient Printing Turnaround
The streamlined operations facilitated by ERP integration led to faster order processing and reduced turnaround times for printing.
Sustainable Business Growth
Brush Your Ideas ensured consistent and sustainable growth in the competitive print industry for various businesses.
Your Growth Transformation Partner
We help businesses like you expand their growth with the power of technology. Our world-class team of agile enabled innovators help you extend your tech capacity with advanced technologies and processes. To see it in action, let's connect today and initiate the discussion.
Contact Us
Let's create something awesome together. Reach out to us to hire the best talent for on-time and bug-free deliverables.