Overview
In a business environment where time is often of the essence, customers increasingly demand immediate solutions to their queries. Recognizing this need for rapid, reliable response times, Biztech introduced CRMJetty. This innovative hub was crafted to answer pressing market demands and bring enhanced Customer Relationship Management (CRM) portal solutions to the market. CRMJetty aimed to bridge the gap between customer expectations and actual service delivery by addressing the need for instant customer query resolution.
CRMJetty takes customer interaction to the next level, drastically slashing standard response times from the typical 12 hours to near-instant solutions. Businesses no longer need to worry about keeping customers waiting – CRMJetty ensures that solutions are at hand almost immediately. The tools seamlessly integrate with Salesforce, Dynamics, SuiteCRM, and SugarCRM, making them versatile and adaptable. With an eye on enhancing CRM productivity and usability across different industries, CRMJetty acts as a one-stop solution, promising to revolutionize customer interactions at every stage of the customer lifecycle.
Challenges
Existing customer service methods led to average response times of over 12 hours, resulting in subpar customer experiences.
Biztech received requests for CRM integration from multiple platforms, necessitating a comprehensive solution.
Fragmented Communication
03
The absence of a centralized platform resulted in disjointed communication and reduced efficiency.
Every business has unique CRM requirements, creating a challenge for a standard portal solution.
Customization Complexity
05
Building custom solutions while retaining essential functionalities presented a significant challenge.
Creating a knowledge-sharing platform with controlled data access was a complex requirement.
Solutions
CRM Portals
CRMJetty's CRM Portals offer an accessible knowledge base, greatly improving customer service response times.
Unified Integration
Biztech created CRMJetty to integrate a client's preferred CRM with multiple systems, addressing diverse business needs.
Centralized Collaboration
CRMJetty's products provide a singular platform, enhancing communication and collaboration efficiency.
Tailored Solutions
CRMJetty caters to unique business needs with industry-standard solutions with customization flexibility.
Flexible Customization
CRMJetty allows for effective customization, ensuring businesses can adapt solutions per their requirements.
Controlled Accessibility
CRMJetty ensures secure data sharing with role-based access in its knowledge-sharing platform.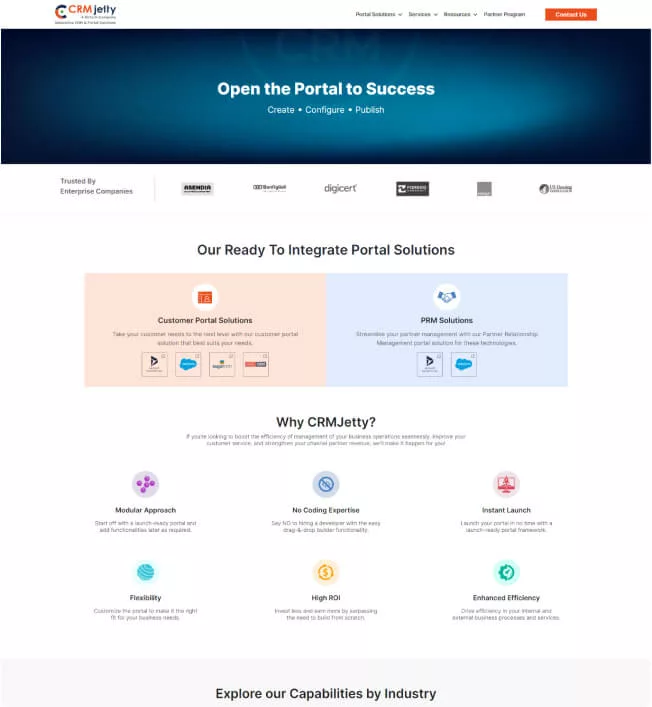 Screenshots
The screenshots of CRMJetty, as implemented by Biztech, exhibit a range of solutions that cater to diverse business needs. From developing comprehensive web portals to establishing custom customer, partner, and affiliate portals, the capabilities of CRMJetty are put on full display. The visual representation of the platform provides a clear idea of its user-friendly interface and varied functionalities. It gives viewers a practical view of the seamless CRM integration, efficient data management, and robust, secure infrastructure Biztech has built into CRMJetty. These images serve as a testament to Biztech's dedication to crafting a versatile, adaptable, and highly efficient platform that addresses a wide array of business needs, offering tailored solutions for different industries.
Results
Revolutionized Interaction
CRMJetty successfully transformed customer interactions, providing near-instant responses and enhanced customer experiences.
Multiplatform Integration
Integrating CRM with various platforms enhanced the usability and productivity of CRM, making it more versatile.
Streamlined Communication
The centralized platform improved communication efficiency and collaboration among all parties involved.
Bespoke Solutions
CRMJetty effectively catered to unique business logic through custom solutions, delivering tailored experiences.
Adaptable Customization
The flexible customization options provided by CRMJetty ensured its continued utility as businesses scaled and evolved.
Secured Data
The knowledge management portal of CRMJetty facilitated regulated, secure data sharing, ensuring confidentiality and control.
Your Growth Transformation Partner
We help businesses like you expand their growth with the power of technology. Our world-class team of agile enabled innovators help you extend your tech capacity with advanced technologies and processes. To see it in action, let's connect today and initiate the discussion.
Contact Us
Let's create something awesome together. Reach out to us to hire the best talent for on-time and bug-free deliverables.