Overview
Essential Aids, a UK-based online store providing aids and equipment, approached Biztech with a significant challenge: low website traffic and dwindling sales. As a long-standing client of Biztech, the company relied on us for their development, design, and marketing needs. By leveraging our multifaceted expertise, we diagnosed their issues and provided tailored solutions. As a result, Essential Aids not only recovered from its initial slump but also saw a substantial increase in revenue.
Essential Aids' primary concern was a sudden decrease in sales. After careful examination, we proposed key changes to address their technical issues and enhance the overall user experience in their store. We revamped their website, making it fully responsive, and introduced customized newsletters, checkout processes, mega menu customization, and a distinct seasonal discount section. As a result of these efforts, their traffic and sales recovered, enabling us to devise strategies to enhance their revenue further and reach their target customers.
Challenges
An exponential drop in sales was a significant pain point for the client.
The client's site was plagued by technical issues causing traffic loss.
Their existing website design was not user-friendly and needed an overhaul.
Inadequate SEO practices were affecting website visibility and traffic.
Their existing PPC campaign was not yielding the desired results.
There was a lack of detailed analysis and forward-looking strategies.
Solutions
Website Revamp
We redesigned the website for improved user experience and responsiveness.
SEO Audit
Implemented best SEO practices based on comprehensive website assessment.
Product Layout
Modified the product page layout in line with current eCommerce market trends.
Mega Menu
Introduced a personalized mega menu for a smoother browsing experience.
PPC Optimization
Improved PPC campaign with targeted keywords, audience, and continuous optimization.
Strategic Planning
Conducted thorough analysis for devising future strategies and maintaining growth.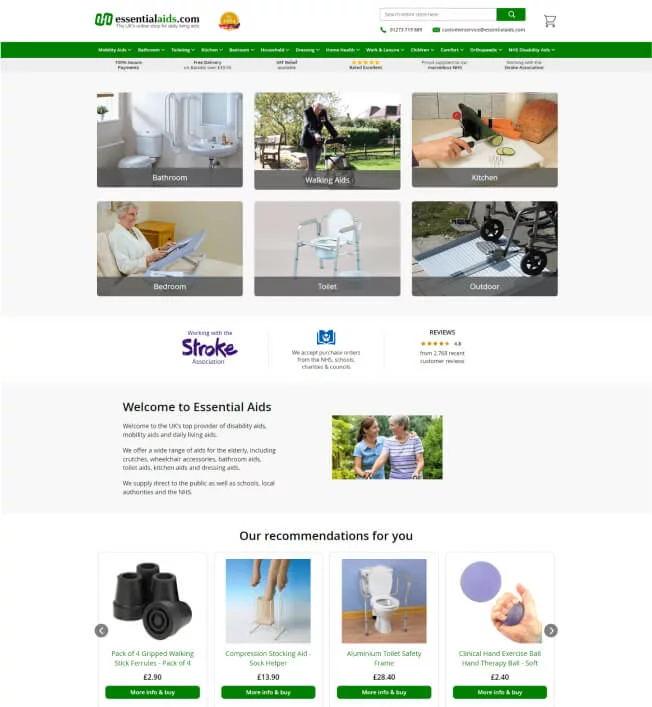 Screenshots
The screenshots from Essential Aids' reimagined website showcase Biztech's comprehensive strategy to address the client's challenges. These images highlight the refined user interface, offering a visually pleasing and intuitive browsing experience. They depict updated product page layouts, aligning with current eCommerce trends and enhancing user engagement. The personalized mega menu, evident in these screenshots, aids smoother navigation, further improving user experience. Additional features like the customized newsletter, checkout process, and a unique seasonal discount section are also displayed, testifying to Biztech's commitment to providing tailored solutions. These screenshots visually encapsulate our efforts in reviving traffic, boosting sales, and elevating overall user experience.
Results
Sales Recovery
Successfully recovered the client's sales, leading to an increased conversion rate.
Traffic Restoration
Recovered lost traffic, with the website seeing an increase in visitor numbers.
Revenue Increase
Helped increase the client's overall revenue by implementing strategic changes.
ROI Improvement
Achieved a significant 5x growth in ROI through SEO and PPC services.
Website Upgrade
Improved website user experience through design overhaul and functional upgrades.
Strategic Growth
Facilitated business expansion by devising and implementing future strategies.
Your Growth Transformation Partner
We help businesses like you expand their growth with the power of technology. Our world-class team of agile enabled innovators help you extend your tech capacity with advanced technologies and processes. To see it in action, let's connect today and initiate the discussion.
Contact Us
Let's create something awesome together. Reach out to us to hire the best talent for on-time and bug-free deliverables.