Overview
Good Heart Catering, located in Los Angeles, has carved a niche for itself in the catering industry, offering superior services that cater to a broad spectrum of clients. When the company wanted to leverage the power of digital, they turned to Biztech for a solution. The task was to build a comprehensive eCommerce website that would not only effectively reflect their brand and appeal to their target audience but also streamline their operations to manage orders, deliveries, and payments efficiently.
The website had to function seamlessly, emulating the ease and convenience of on-call takeaway or delivery, to ensure a positive user experience. The project called for several carefully considered features, including distinct options for delivery and takeaway, the capability for customers to add tips, the ability to customize bundled products, a system for auto detecting Google addresses, and a secure platform for payment integration. Biztech embarked on a meticulous journey, thoroughly planning and executing every step, resulting in an end product that perfectly catered to Good Heart Catering's needs and exceeded their expectations.
Challenges
Building a service-based website that provides a seamless customer experience akin to on-call takeaways was challenging.
Accurate design of delivery and takeaway options was crucial to provide customers with distinct choices.
Good Heart Catering asked for their customers to be provided with an option to add tips within the website.
Developing advanced features for customizing bundled products, including adding/editing product variants and quantities, was difficult.
Implementing a system for auto detecting Google addresses during order placement was complex.
The integration of secure payment gateways was required to facilitate convenient transactions for customers.
Solutions
Website Development
Leveraging Odoo's eCommerce development, a user-friendly website was created to serve Good Heart Catering's needs.
Comprehensive Design
The Odoo 12 website module was used to design advanced features, including delivery and takeaway options.
Tipping Feature
We integrated a feature where customers could select or enter their preferred tip amount if they were pleased with the quality and services.
Product Bundling
A feature for bulk ordering of bundled products, allowing customers to select variants and quantities, was developed.
Address Autodetection
A system that automatically detects the Google addresses entered by customers was built.
Payment Gateway
A secure payment gateway was integrated into the Odoo eCommerce website, providing customers with multiple payment options.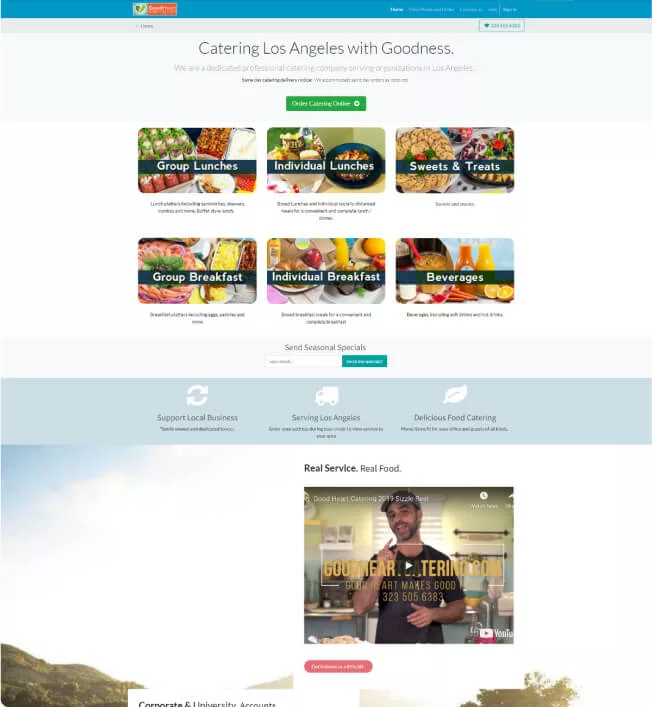 Screenshots
Screenshots of the Good Heart Catering website demonstrate the intricacy and finesse of the design and development process. The images reflect the multitude of features integrated, from delivery options and tipping to product customization and address autodetection, revealing Biztech's dedication to providing holistic eCommerce solutions.
Results
Enhanced Experience
The development of a user-friendly eCommerce website improved the overall customer experience.
Streamlined Features
With the distinct design of delivery and takeaway options, customers could easily choose their preferred service.
Tip Functionality
The ability to add tips offered an added layer of convenience for customers and appreciation for the service.
Customizable Orders
The bundled product customization feature enhanced the order placement process, offering flexibility to customers.
Address Autodetection
The Google address auto detection system streamlined the delivery process, reducing potential errors.
Secure Payments
The integration of a secure payment gateway facilitated seamless and safe transactions for customers.
Your Growth Transformation Partner
We help businesses like you expand their growth with the power of technology. Our world-class team of agile enabled innovators help you extend your tech capacity with advanced technologies and processes. To see it in action, let's connect today and initiate the discussion.
Contact Us
Let's create something awesome together. Reach out to us to hire the best talent for on-time and bug-free deliverables.