For someone who has spent years working in sales, you are likely to remember MapPoint. MapPoint was a real godsend – allowing users to view, edit, and integrate maps. Godsend because that wasn't the era of Google Maps and Waze. Created in 1998, it sold about 400,000 copies of its product.
Microsoft, for many years, supported MapPoint. But suddenly, in 2014, MapPoint said goodbye to the world. And with it also came an end of field mapping capabilities in Microsoft Dynamics CRM.
Today, Microsoft Dynamics 365 provides sales and marketing professionals a major advantage. Its AI capabilities empower sellers to drive personal engagement with customers. However, it has one major drawback. It lacks field mapping.
Therefore, many business owners take the old school approach – either use Google Maps or highlight details old-school using printed maps. This leaves a lot of room for error and can lead to missed opportunities.
After MapPoint's existence, many solutions took over the market, empowering sales reps to visualize the CRM data on a map. MappyField is one such effort by AppJetty, Biztech's child company.
About MappyField 365
CRM data is vital for businesses. But sometimes, sales reps cannot use it to the fullest. They need much more than the basic functionality a CRM has to offer. AppJetty's MappyField 365 plugin provides geo-analytical solutions that help leaders in sales and marketing.
Here's what the product does: After installation and configuration, the CRM user can view the map to get detailed information about the market geography. It also enables them to understand the regions of their prospective customers. They can plot different records, create territories, analyze data, and more.
CRM Mapping Plugin: A Glance
Our mapping integration is a conscious step towards empowering the leaders in sales and marketing with business intelligence. Therefore, MappyField 365 includes a wide range of functionalities that enable professionals to track, evaluate, and enhance the performance by predicting relevant insights.
All the changes we have had so far are a way to make the geolocation better at every step. The rebranding of Dynamics CRM mapping integration, Quick Maps, to MappyField 365 is one such example. We realized our tool (in fact!) added more value in resource management and field service when interacting with users and taking their feedback (something we always considered). Hence, we decided to give an appropriate name that focuses on the core functionality, i.e., location intelligence.
Moreover, enhancements in user experience, adding features like customization, dynamic dashboard, security template, etc., are also a part of the upgrade. Such changes ensure the users get the best of the product. To know more about MappyField 365, you can visit the store page of AppJetty.
Read More About MappyField 365 For Dynamics CRM
Let's have a look at the geolocation capabilities of the application.
1. Sales representative
Plot multiple CRM entities on the map and view the desired data. Filters like region, proximity, drawing makes plotting even easier.
Get an overview of daily activities to manage the schedule accordingly.
Check-in/check-out of all types of activities such as appointments or service activity.
2. Sales Manager
Create and share optimized routes with on-field team members. Also, find nearby customers in their territory to reach out to more customers in less time.
Get a smart overview of sales activity, open leads, follow-up data, and performance. This helps in planning daily/monthly activities.
Enhance team's performance with route optimization and sharing, territory management, auto-scheduling, live tracking, etc.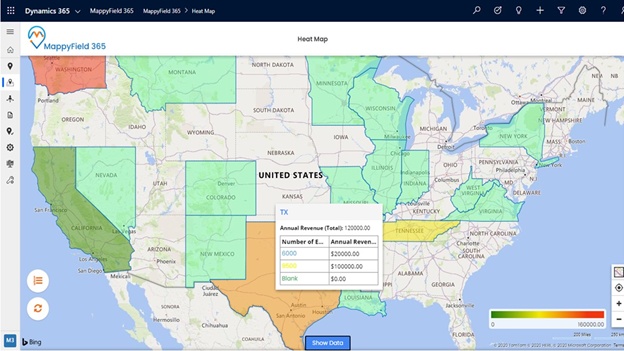 3. Marketing Manager
Analyze the market in detail with multiple geo-analytical dashboards.
Location-targeted marketing helps the marketing department reach specific clients in a specific area by creating territories.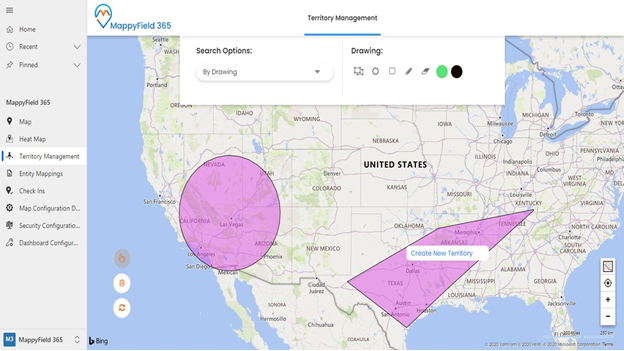 One of the things that mark MappyField 365 out of other applications is its native MS Dynamics coding. The same X++ language is used in the development of Dynamics 365 is the vehicle for developing the CRM mapping plugin. In addition to it being faster and more efficient, the dynamics coding ensures strong security.
Business owners have a lot on their plate. So, we think the tools and solutions they use should ease their task and create any inconvenience. Hence, we made the map compatible with mobile devices. This allows the user to access data from anywhere.
Marketing Strategy to Fuel the Growth
To market TapCRM, we worked on different strategies like search engine optimization, content marketing, video marketing, etc. Writing the best piece of content was not enough. To drive organic traffic and increase engagement, we worked on practical SEO techniques like optimizing for search intent, taking advantage of YouTube SEO, etc.
Such constant efforts to improve our product have made us a preferred choice on the Microsoft app store. Just like we helped sales professionals streamline their process, we would like to help your business. If you have a unique idea, we can guide you in creating a roadmap for it.
Getting Started with Geolocation
The advent of digitalization has led to an increased need for location-based services. From retail to travel, different industries have benefited from location-based services. Experts expect the market size to reach $183.81 billion by 2027. There's still an untapped potential that is worth your attention. We can help you unlock the opportunities in the market and find your unique fit.
At Biztech, we begin with a product discovery phase where we help you lay a solid foundation. This includes feature specification and UI/UX design. Once we test the functionalities with potential users using the visual prototype, we move on to development. Moreover, our marketing team can help you promote your developed product so that it reaches the right audience. Get in touch with us, and we will assist you further!