Overview
InCTRL is internationally renowned for its expertise in dynamic process modeling; especially for model-supported design of process control solutions. This project aimed to streamline their global operations, spanning over 2 countries, by leveraging cutting-edge technology like IIoT and SCADA. We became their go-to technology partner by providing them with comprehensive digital solutions; from web and mobile application development to automation of key business processes.
Digging deeper, InCTRL grappled with the challenges of managing vast amounts of data across numerous locations, making quick, data-informed decisions, and transitioning from manual to automated processes. In response, we constructed a centralized web application employing the latest technologies, which not only structured their data management but also significantly improved their customer journey. Through this partnership, we equipped InCTRL with the tools to make swift decisions, automate their onboarding processes, and manage machinery more effectively, setting new industry standards in water treatment solutions.
Challenges
Large volumes of unstructured data across different plant locations made management cumbersome and inefficient.
Lack of real-time information hindered effective plant and equipment monitoring and decision-making processes.
Finding and accessing relevant data was a time-consuming task, significantly affecting productivity.
Excessive manpower was required for equipment monitoring, escalating operational costs.
Lack of centralized data led to delays in decision making, affecting business outcomes.
Customer information, equipment, and inventory were manually managed, leading to inefficiencies, delays, and errors.
Visualization of Computed Data
07
The InCTRL team has built up an ML library, but there isn't a fully-functional system available which visualizes that data to the users.
Solutions
CRM Implementation
Developed and integrated custom CRM modules, providing structured and centrally accessible data.
Centralized Management
Built a web application to centralize and digitize all data, improving accessibility and organization.
Real-time Notifications
Implemented a system to alert users about threshold breaches, facilitating quick decision-making.
SCADA Integration
Utilized SCADA for seamless communication between the mobile application and machinery, enabling real-time monitoring.
Data Automation
Automated tasks like customer onboarding, equipment assignment, and inventory management, enhancing efficiency.
Mobile Application
Developed a mobile application for easy access to data, tracking, and notifications from any location.

Mapping Computed data to the system
We developed a feature through which the user is able to visualize the created advanced equations and calculated data on the system.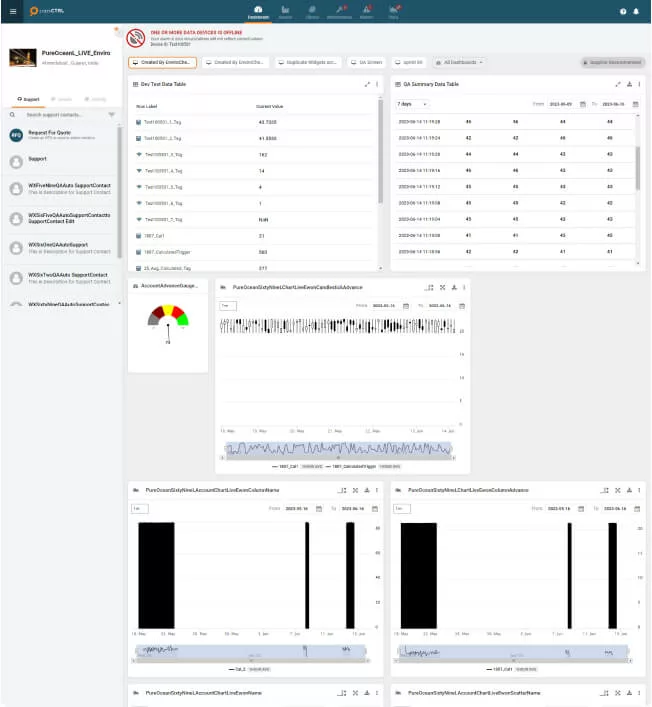 Screenshots
Biztech designed a comprehensive digital solution for InCTRL, aimed at efficient data management and real-time monitoring. We created a robust web application, integrated IIoT, SCADA, and built a user-friendly mobile application. Our CRM modules streamlined data access, and the alert system enhanced decision making. As a result, inCTRL achieved improved operational efficiency, reduced costs, increased revenue, and boosted customer satisfaction, truly modernizing their water treatment solutions.
Results
Increased Efficiency
The implementation of real-time notifications and alerts led to quicker response in emergencies.
Improved Monitoring
Real-time dashboard updates provided constant monitoring of different parameters across all plants.
Centralized Data
Centralization of data led to easy access, tracking, and management from anywhere, anytime.
Revenue Growth
Streamlining operations led to significant increases in revenue and employee productivity.
Cost Reduction
Automation of tasks and efficient data management resulted in a considerable decrease in operational costs.
Customer Satisfaction
Enhanced user experience and better service delivery led to an increase in customer satisfaction.
Your Growth Transformation Partner
We help businesses like you expand their growth with the power of technology. Our world-class team of agile enabled innovators help you extend your tech capacity with advanced technologies and processes. To see it in action, let's connect today and initiate the discussion.
Contact Us
Let's create something awesome together. Reach out to us to hire the best talent for on-time and bug-free deliverables.