Overview
Zarc International, Inc.™, the leading manufacturer of pepper sprays in the USA, has been at the forefront of personal and professional defense products for nearly four decades. Renowned for their exceptional quality, Zarc's products are the first choice for law enforcement and military agencies across the U.S. and worldwide. With a vision to further enhance their market presence, Zarc International partnered with Biztech to establish a groundbreaking eCommerce platform, built on the innovative Odoo 15 framework.
Leveraging the strengths of Odoo 15, our expert developers curated an interactive, user-centric eCommerce platform that effectively highlighted Zarc's product offerings. The newly built frontend is engaging, designed to deliver a seamless and intuitive user experience, while the backend is tailored to be effortlessly integrated with other applications, ensuring streamlined operations. Recognizing the need for staying ahead in the rapidly evolving digital landscape, Biztech facilitated a seamless migration of Zarc's eCommerce store to the more advanced Odoo 16. This strategic transition not only fortified the website's robustness but also prepared it for future scalability.
Challenges
Developing an Engaging eCommerce Website
01
Zarc International faced difficulties in developing a robust, secure, and feature-rich eCommerce platform that could captivate users and drive sales.
Ensuring a secure backup of their previous system's data was a significant concern during the development process.
Designing a homepage layout that effectively communicated Zarc International's brand values and appealed to customers seeking personal and professional defense products proved challenging.
Blog Page Customization
04
Creating a user-friendly and easily readable blog page layout required thoughtful design to optimize user engagement.
Category-wise Product Page Customization
05
Zarc International faced issues with product categorization and sought to develop a clutter-free and intuitive page design for seamless navigation.
The challenge of migrating to the latest Odoo 16 version without disrupting existing customizations added complexity to the project.
Solutions
eCommerce Development
We harnessed Odoo 15's website module to craft an engaging, feature-rich eCommerce platform for Zarc International.
Data Preservation
Addressing Zarc's concerns, we secured a comprehensive backup of their legacy system data, ensuring its future accessibility.
Homepage Redesign
We encapsulated Zarc's brand essence in a revamped homepage layout, utilizing various Odoo 15 applications.
Blog Customization
Through tailored Odoo development, we redesigned the blog page for enhanced readability and user engagement.
Product Categorization
Our team created a user-friendly backend setup, streamlining the process of adding, editing, and navigating product categories.
Platform Migration
We facilitated a seamless transition from Odoo 15 to Odoo 16, ensuring data integrity and retention of customizations.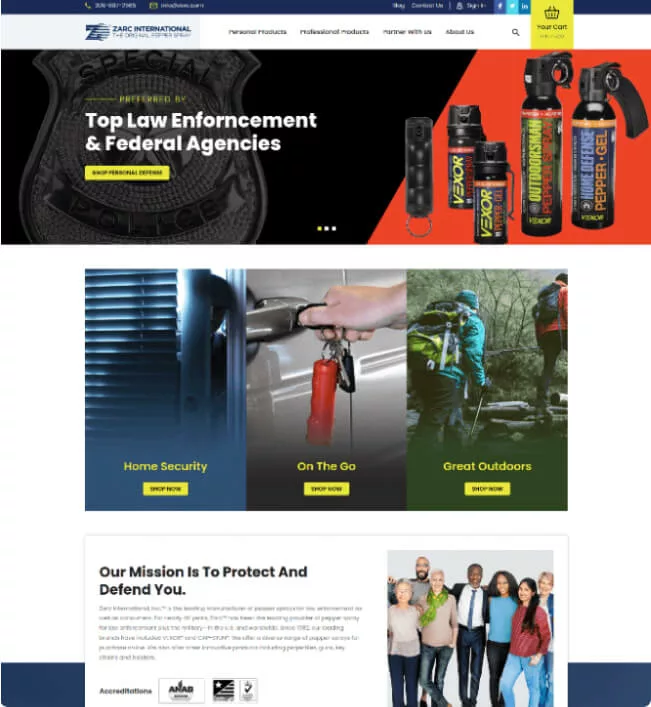 Screenshots
Zarc International partnered with us to overcome the challenges they were facing with their existing website that failed to leave a lasting impact on their visitors. Leveraging Odoo 15's features, we designed a user-friendly eCommerce platform and implemented a data backup system to secure their legacy data. We reimagined the homepage and blog page layouts for enhanced user experience and engagement. We categorized their products in a coherent manner. To future-proof Zarc's website for years to come, we performed a successful migration to Odoo 16 without data loss or disruption of customizations.
Result
Robust eCommerce Platform
An engaging and feature-rich eCommerce website developed using the Odoo 15 website module that delivers a seamless and user-friendly experience for their customers.
Secured Legacy Data
We successfully backed up the data from Zarc's old systems, ensuring it's safe and available for future use. This solution addressed their major concerns about data loss.
Revamped Home Page
The home page layout, enhanced with various Odoo 15 applications, now effectively communicates Zarc's brand and offerings, attracting more visitors and potential customers.
User-friendly Blog Page
The blog page, customized for better readability and user engagement, has become a valuable resource for visitors and has increased traffic to the site.
Streamlined Product Categories
The backend setup, redesigned for easy navigation and product categorization, has eliminated clutter and improved product discovery on the website.
Successful Odoo 16 Migration
The seamless migration from Odoo 15 to 16 preserved data and website customizations, thus future-proofing the platform with an upgraded, scalable framework.
Words That Make an Impact
I had long been researching new ERP systems and ultimately decided to go with Odoo. I will say that I was impressed from the first inquiry I made with Biztech. It was a Saturday when I sent the request and within an hour, I had a call from them.
This has been a big project for me and the help and resources that I have received from Biztech have been invaluable. Their developers know Odoo very well and have produced great designs and solutions. What takes me a lot of time to try and figure out, they can give me an answer very quickly. This project has been a learning experience for me and I thank Biztech for their assistance.

David Froelich
President, Zarc International Inc
Your Growth Transformation Partner
We help businesses like you expand their growth with the power of technology. Our world-class team of agile enabled innovators help you extend your tech capacity with advanced technologies and processes. To see it in action, let's connect today and initiate the discussion.
Contact Us
Let's create something awesome together. Reach out to us to hire the best talent for on-time and bug-free deliverables.