2020 is the pivotal period where digitalization is directing the world.
In 2007, when the iPhone made its debut, people were a little skeptical about the revolution it may bring to the mobile app market. However, fast forward to 2020, today's children now learn to "swipe" first before they even learn to tie their shoes lace.
Today when the world is going through this unpredictable pandemic, COVID-19, e-learning has seen a significant surge as remote teaching using e-learning solutions and education apps became the new normal.
If you also want to join this revolutionary journey and create an education app or e-learning solutions for either your institute, coaching class, school, or just a platform for independent tutors, you can explore the entire journey of education app development with us.
Here's what we will explain:
Market Scope of Education Mobile App Development
According to Statista, the e-learning solutions market is expected to grow over $243 billion by 2022, worldwide.
The reason is flexibility. Students can learn through different mediums like exercise files, instructional videos, activities, games, podcasts, etc. The platform offers resources and materials, one piece at a time so that a load of exercises and tasks doesn't overwhelm students.
Apart from that, it
Contains plenty of valuable instructional resources and provides students with an outstanding learning experience.
Makes seamless, quick, and bug-free interactions between students and teachers.
Gives learners a real-time analysis of their development.
Freedom to take courses independently based on the preferences makes Coursera, Udemy, edX, and Udacity the most popular e-learning solutions.
The Skeleton of a Functional Remote Education Mobile App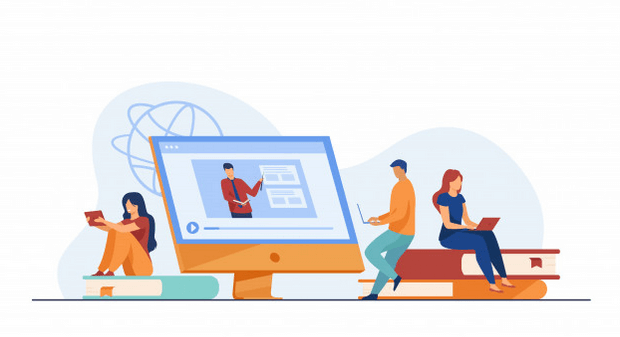 Decide the type for your e-learning Solution
When working in the education domain, it is important to first understand different e-learning solutions you want to offer on your online educational app. Are you planning to provide:
University certified courses like Coursera does?
Courses/workshops by individual instructors like Udemy
School/college curriculum lectures and classes
Courses for competitive exams
Micro training videos for employees like Udemy for business
Virtual games and puzzles, activities for kids
Have a unique idea?
Based on the types of e-learning solutions, you can choose to build a platform specific to the services and your target audience:
1. Playgroup Apps
This kind of e-learning solutions consists mainly of games, puzzles, and fun activities that inspire imagination among kids and lead to more enjoyable and entertaining experiences rather than repetitive learning exercises.
2. Virtual School/College Apps
Such e-learning solutions would be like a virtual school/college where teachers and students would sign in to join the session from their respective login credentials. Teachers can teach live, and students can attend those with certain interactive tools, such as Q/A section, discussion forums, attendance module so as to ensure they pay attention in the virtual class. This helps create an experience that's closer to the in-person experience.
3. Competitive Exam Apps
This kind of e-learning solutions aim to streamline the activities around competitive exams such as entrance exams for universities and many more. Instead of registering with hundreds of different competitive examination websites and individual teachers, you can provide students as well as teachers with a platform where they can develop customized examination courses and students can register for lectures based on their interests, tutors, etc.
4. Courses and Certifications App
Coursera and Udemy are major players in the e-learning solutions market. They mainly deliver a wide variety of quality courses from business to baking and pottery.
If you are also looking for something like that, you can develop an app like Udemy, where authenticated individual instructors can create courses and anyone can register depending on the form of payment for the course. You can offer both free and paid courses.
Besides this, e-learning solutions like Coursera also provide university-certified courses. So, you can use the app/website to connect with universities and offer their courses.
To know more about Udemy Clone App, read our blog 'Build your Udemy like App'
These are the few kinds of e-learning solutions you can create with the help of an education app development company. You may also combine the services which they provide. Coursera, for example, offers certified courses like Udemy, and it also offers a wide range of free courses.
Know your target audience
Next step in your e-learning solutions business plan is to evaluate your target market and your niche. Then, think in terms of customized content. Define the topics that you want to cover and learn what content is going to be engaging and helpful for students/learners.
Design a wireframe
After you've gathered all the information about the Education Mobile App Development, design a wireframe of your app based on the ideas and features you want to imbibe. For instance, a separate instructor and students' portal, for virtual school apps, a compulsory video on the feature, etc. List them all. We'll break down the features of an effective educational app in the next section.
Plan your budget
Before reaching out to an education app development company, plan your budget for the app. The cost of the app would vary based on the features, platforms, technologies, and many other specifications. Along with the app development cost, you would need to partner with the schools/universities or engage with individual instructors, market your business and all this will be a part of your budget.
So, plan your budget by considering all the factors from app development to its marketing and post-development maintenance.
Always keep a certain amount aside for additional requirements during launch.
Finding the Education App Development Company
Once you've finished planning, you can start looking for a reliable education app development company to build your remote educational app. Of course, only if you're not doing everything on your own.
However, you can go for an all-in-one subscription-based solution available in the market. But here's the alert! It may or may not have all the features and up of that, you won't be the prime owner of your app.
If you don't want to go for an all-in-one solution, the best option is to hire qualified educational app developers. To select a vendor, read their reviews & rating on platforms like Clutch. Next, learn about their past work and developments, their projects, clients, etc.
Engage good educators
Even great UI/UX design services and first-class website performance will have little success without great content. And great content can only be delivered by great educators. So, you'll need to cooperate with universities & education establishments or look for skilled tutors.
Partner with well-known and experienced tutors and introduce them to your students. For example, MasterClass, one of the most popular e-learning platforms among e-learning solutions, offered Marc Jacobs, Margaret Atwood, Neil Gaiman, Annie Leibovitz, and other distinguished people talking about their industry and lessons they've learnt from their experiences. And this collaboration helped them become a huge success.
Our 2 Cents on Educational Content
Content is king, right? Well, then be prepared to pay a king's ransom for the educational content. There's no bypass. It has to comply, engage, drive results. Remember it's what users come for. You won't succeed by feeding mediocre user-generated content (think Wikipedia) or marketing-driven pieces (think Google). Your consumers are among the most discerning and result-oriented lot.
Teachers have always been dedicated creators of syllabus, producers, and performers of lesson plans, best marketers to pilot their projects with early adopters (aka students). Today's educators are more than #JustaTeacher, familiar with ins and out of the process, and tech-savvy as never before. In fact, curriculum writers are among the hottest jobs in the EdTech market. So, make sure you have domain experts among those who contribute to your educational app.
Features You Should Not Miss in the Education Mobile App Development:
Let's take a detailed look at the e-learning app features.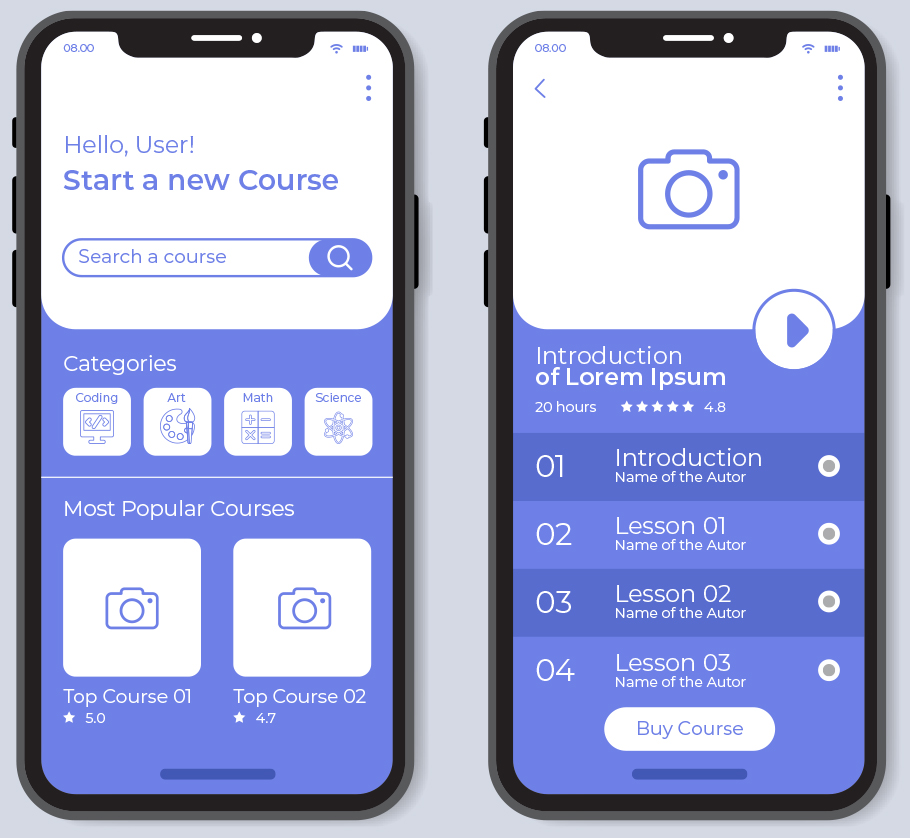 1. Registration & profile management
First of all, users – both students and teachers – need to register by creating an account or signing in via social network accounts like Facebook or Google.
As for profile management, the features would depend on whether it's a student's or teacher's profile. A student's account may show the following details:
User info and profile pic
Catalog of courses
List of active/completed courses
Information about certificates/points/credits
Purchase history
Settings page
And the teacher's profile can have:
Info page (with information establishment they represent)
List of added courses
Statistics and reports
Their accolades and degrees section
2. Search filters
Any e-learning platform is primarily a course catalog. When thinking about offering a wide range of courses, users will need a search bar to browse through the available courses.
So, provide tools such as:
Search bar where they can enter keywords
Categories
Filters (by level, language, prices, etc.)
Sort option with categories like Recommendation, Suggested, Popular courses
3. Dashboard
The dashboard helps both teachers and students track their progress and gain valuable insights into their studies or work. For example, students can see courses they have enrolled in, their completion status, hours they have spent on a course, etc.
And teachers are able to test the courses they have added, the number of students enrolled, scores, traffic, and their earnings.
4. Course page
A number of courses contain resources such as videos, podcasts, interviews, PDFs, manuals, activity sheets, and even chats. Lots of platforms are now incorporating elements of gamification that help students interact.
Each course can have:
Course description
Information about its creator(s)
List of topics and materials
Exercise Files
Ratings and Reviews section
Certificate upon completion, generated automatically or manually, by administrators.
5. Payment methods
If the model of e-learning solutions are based on paid courses, students should be able to pay for them and teachers can have a convenient way to collect their earnings. And keep in mind that it's worth taking some time to look for secure payment gateways since you don't want your users to feel unsafe about using your platform.
6. Course-making & editing page
E-learning solutions should provide accurate and accessible course-building devices like HTML toolbox. These tools will enable them to create a structure for the course, add materials, exercises, and links to additional resources (PDFs, videos, audio files), etc. This ensures a rich learning experience for students.
7. Notifications and reminders
You can inform users about new courses, recommendations, events, or updates by sending them emails or notifications. Reminders about their active courses if they are lagging.
Sending emails and notifications all the time would be considered irritating and may result in unsubscription. So, schedule your notifications and emails to be sent on a weekly/monthly basis.
8. Admin panel
An admin panel that would allow administrators to manage website content and users, edit or remove courses, generate and review statistical reports, manage alerts, and email newsletters.
Let's talk design and user experience
During education mobile app development, it is important to think from a user's perspective as to how they would like to have the experience and then align your design to their needs.
Three pillars of an e-learning app design
Why do people always find the most value with the transitional education system? Because students learn from real-life examples. Remember your little garden trip from school to learn about the environment?
So, how can you provide the same kind of experience? Because at the end of the day, what all matters is an educational app that promotes active, engaging, meaningful, and socially interactive learning.
Interactive design
Educational apps like this should have points of interaction like animated flows, direct feedback like solving a small puzzle to the next class, background music to certain things, etc. Only having written segments for students to read or video segments for them to watch is not enough. The design of the app itself should help them be more curious, and demand their attention towards learning.
Engagement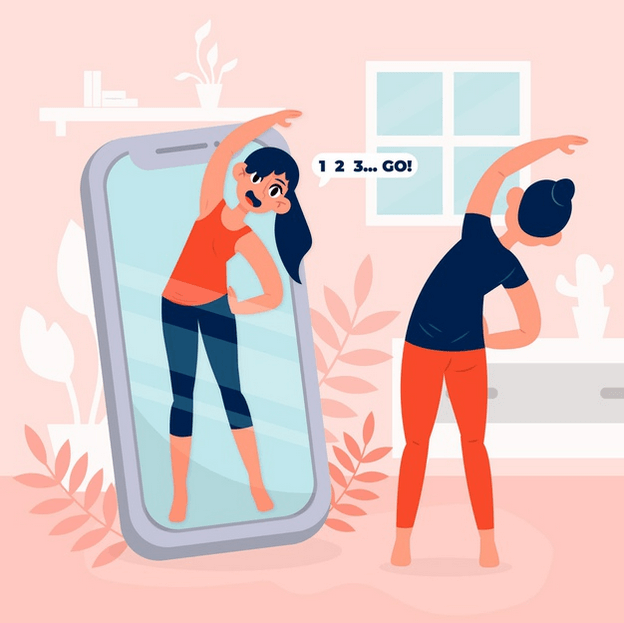 Your app's design should be a balance between the core education content and a touch of technology. It happens on different levels like emotional, behavioral, psychological, and cognitive.
Contextualization: embedding abstract concepts in a real-life context
E-learning solutions should be able to reinforce aspects of basic learning concepts. For example, it can be difficult to teach basic math concepts to lower primary school children. In that case, by leveraging advanced technologies like AR why not prompt kids to perform the addition of apples+bananas? This way, abstractions, and symbols become clear via visual metaphors and real-life examples.
Five things to avoid in Education App Development
When working on education app development, it is important to distinguish what qualities are genuine and can be included in your education mobile app development. Here are some:
1. Text Overload
Learners turning to the application for education indicate that they want to have more than just a textbook experience. Hence, make sure your app is not getting overloaded with just text information. Breakdown useful information into different media forms like images, videos to hold the learner's attention. You can take the help of content specialists as they can think of different ways to represent content creatively.
2. Lack Of Responsive Design
The number rule of any successful eLearning app is that it should be able to perform all activities in a jiffy on any screen.
Because everyone is always on the go, it is important to let them make the most of their time. For that, try incorporating a design that requires less interaction to access the information. Eliminating the need to scroll or zoom for content viewing in smaller screens can be a big win among students who are exploring the course.
3. Cluttered Application
It should not be too complicated. There might be students who are not that tech-savvy who are definitely going to have a hard time interacting with your application. An eLearning app should be fresh and smooth on the user's end. The best way of doing it is by keeping the navigation clear and self-explanatory that is capable enough to handle any alterations that might occur at a later stage.
4. Lack Of Assessment Tools
Learning has a purpose, which you can fulfill only with regular evaluations. If there's a lack of periodic evaluations, it may kill the entire purpose. Hence, it is important to have a continuous feedback loop mechanism in your eLearning app. Make sure that these are not time-dependent tests, leaving room for dropout due to unavailability. For some tests, you can also set time limits, self-assessments, so students can make the most out of the application. It not only makes a way for the learning experience but also helps learners to gain confidence.
5. Offer Offline Learning
The best way to add value while opening a new source of revenue! You can provide learners with offline content without the need for the internet. Providing learners with such opportunities will make your app reach in remote areas and can build a loyal audience base. You can also provide online sync which means they can download the course and access it offline, and when the connection/internet is available, they can continue from where they left off.
Technologies for education app development

Since there are so many online education apps out there, with emerging technologies you can make your app more engaging. Here is how:
Visualize everything with AR
AR apps can take any situation, location, environment to a whole new level by providing real-world experience. It changes the way people learn with mobile devices.
For example, science teachers take the students on a trip to Saturn or around the entire solar system. With the help of tools like EON Creator AVR, teachers can also create their own content. Basically, students can visualize any topic based on the subject and teachers can train/teach them through the app.
Enhanced Learning with VR
How about a 3D human skeleton? That chart you have created just went live. What a fun way to understand human body mechanisms with quality sound and overlay effects! And not just the science class, but coding, sports, music, math, and whatnot, VR apps can cover all.
Monetize to Earn
To monetize, first, you need a good number of users for your app. If you are just getting started, a free model can be an ideal scenario. Once you have a stable audience base, here are the options you can go for:
Subscription: The most common and popular method of monetizing an e-learning app. You can also introduce various user plans like the basic, premium that suit every user's needs.
Freemium: This model includes features like in-app purchases(IAP), offering paid consumables can also open new revenue streams for your app.
Commissions: If it is a user-generated platform, where tutors can upload content, you can charge interest for a course viewing or a commission for posting a paid course.
Paid download: Paid model is ideal when aiming for the mass market. To get good sales numbers, you should always start by providing a free trial of your app.
Advertisement revenue: In-app ads are not annoying when you use them in moderation and context. Make sure you know the ad policy for your target market. Since your target audience includes children, it should be rightly limited by strict rules and regulations such as the Children's Online Privacy Protection Act (COPPA) and the advertising industry's self-regulation through the Children's Advertising Review Unit (CARU).
How much does the education app development cost?
The factors that sum up the education app development cost varies based on your requirements. Even a slight technological change can increase or decrease the cost. If you want to build an e-learning app with the features that we have mentioned, it will cost between (range). Yet the exact price depends solely on the specifications. The more complex the platform is, the more time educational app developers spend working on its features.
How can we help you?
Biztech is a mobile app and web app development company with hands-on experience in different technologies and expertise in Education, Media, Healthcare, Retail, Logistics domains.
We can help you build your type of remote educational app, a one that's suitable for just schools or the one that fits all.
Have an idea for your educational app?