Hire Developers to Upscale

Your eCommerce Business

We have a team of developers who can help you at each stage of the software development life cycle. Let's get in touch to turn your app idea into reality.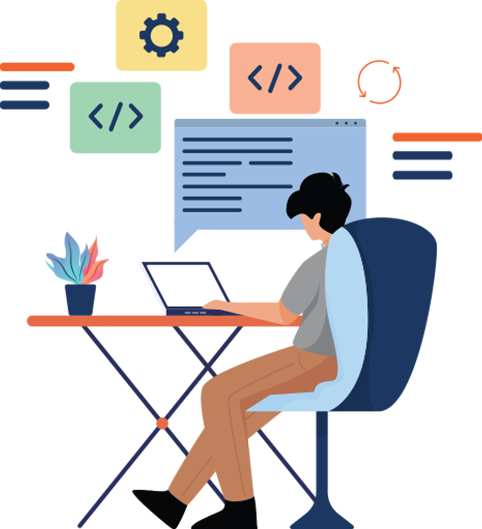 Launch Your Own App With Us
When it comes to eCommerce mobile app development, our team is proficient in building feature-rich, scalable, and fully-fledged mobile apps. Working with businesses across all vertices have pushed us to be flexible enough to accommodate specific requirements. So, whether it's developing immersive experiences using AR or a multi-vendor market solution, we deliver results as expected.
With Biztech, you can launch your own app in weeks. Yes! With our MageMob app builder, you need not wait months to complete the development process. Its cost-effectiveness is just an additional perk. Plus, it has all the robust features to meet your target users and industry requirements. Transforming eCommerce experience was never this easier!
Check Out Live Application Demo
eCommerce Applications for Every Business
From grocery shop to healthcare products, there is no limit to what kind of eCommerce applications can be developed. Below-mentioned are the most common types of eCommerce mobile applications. What best matches your business needs?
B2B
Business to Business
Are most of your B2B sales being mobile? Then maximize growth with B2B eCommerce application development. Let's create mobile-first experiences.
B2C
Business to Customer
Reach a wider customer base with our eCommerce application development services. Lets build feature-rich apps that your customers love.
C2B
Customer to Business
Have an idea for a C2B mobile app? Hire a team who has both technical and industry expertise for eCommerce application development.
C2C
Customer to Customer
Launch and scale your C2C business with a marketplace app. Hire experts who can deliver solutions as per your business-logic.
B2A
Business to Administration
We offer B2A eCommerce mobile app development to industries ranging from defence to aerospace. Build an app with a highly skilled team.
C2A
Customer to Administration
Mobile apps are a great way to increase flexibility of transactions. Build C2A mobile apps as per your requirements with us.
Some Fundamental Features for

eCommerce Application Development

We are a leading eCommerce app development company with more than 14 years of experience. Our team has helped eCommerce businesses across the globe to scale their online store and reach more customers with mobile apps. We are ready with our resources, tools, and expertise to build next-generation mobile apps for your business. Let's get started!
Easy Log-in and Checkout
Users are the centre point of our development process. From onboarding to a seamless checkout, we design and develop pages to offer ease and convenience to your app users.
Multiple Payment Options
Variety of payment options are crucial to provide a hassle-free shopping experience. With our payment gateway support, you can enable users with versatile payment methods that are secured.
Real-time Order Monitoring
Your users expect visibility throughout every step of the shipping process. Meet customer expectations with a real-time tracking feature. Hire a team who knows the in and out of geolocation technology.
Multi-currency &
Multi-language Support
Localization is the key to effectively reach a wider audience. With this feature, you can enhance your customers' experience by providing multi-currency, and information in their regional languages.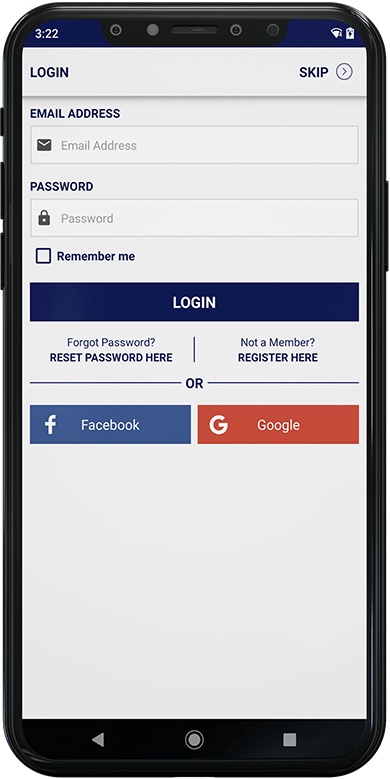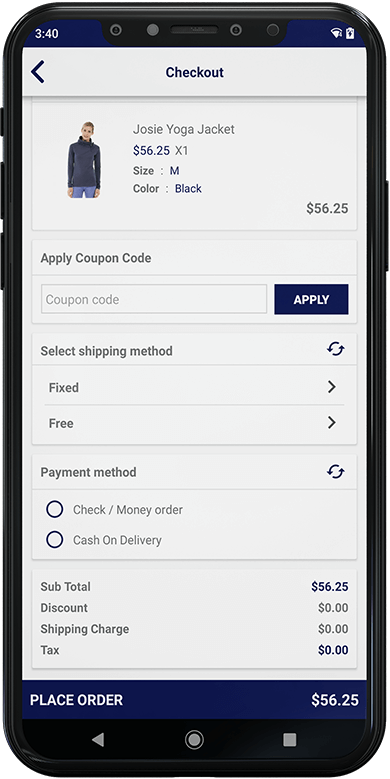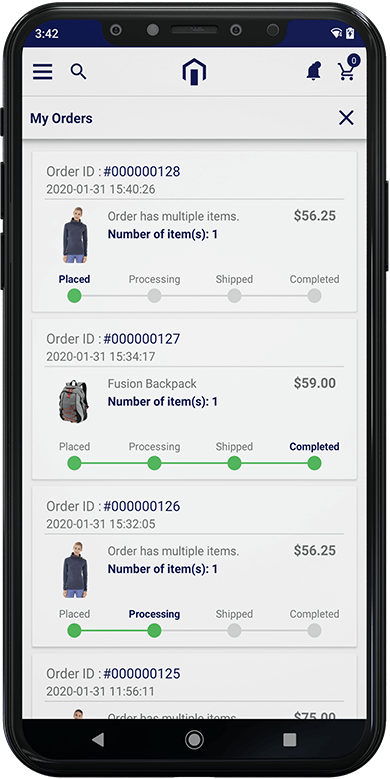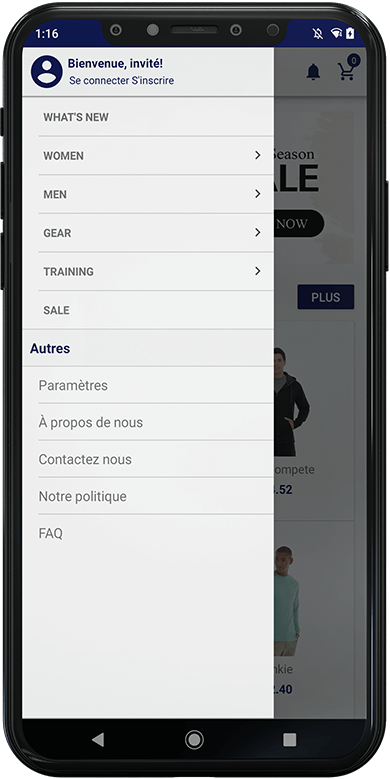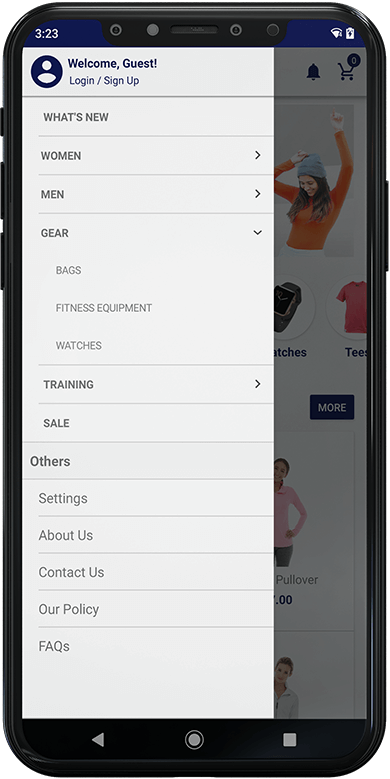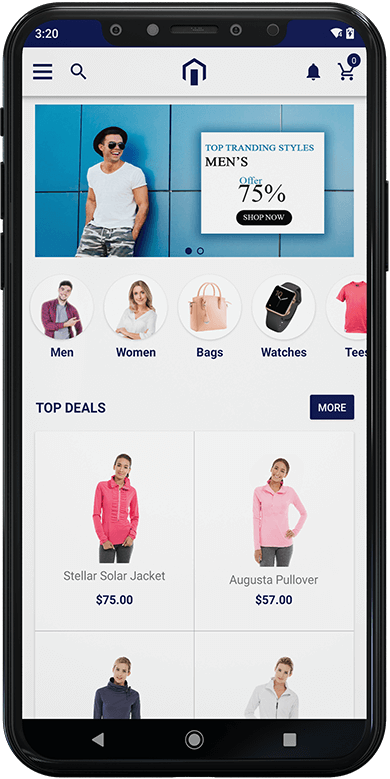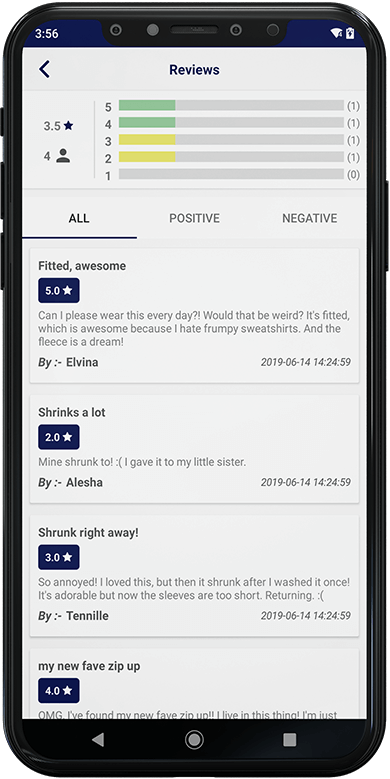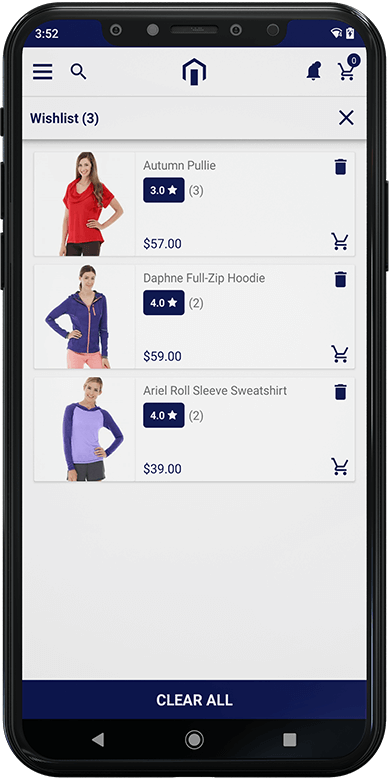 Dashboard
A dashboard provides app users with access to product categories, top deals, advertisement banners, and more. Hence, it's important to have a feature that is user-friendly and well-functioning.
Rating Functionality
Customer review and rating is one of the most common features of an eCommerce mobile app. Integrate an in-app review and rating feature with our eCommerce app development services.
Add to Favourites
Wishlist is a savior when it comes to convincing users to get back to finish the purchase. Allow users to bookmark their favorite products by integrating this feature.
Seamless Product
Categorization and Navigation
The success of an app lies in how quickly users can get what they want. Hence, we prioritize navigation to make your app more intuitive and seamless.
Hire eCommerce App Developer as Per Your Convenience
Flexible Pricing | NDA | Simple Exit Policy
Native App Development
Duration: Flexible
Communication: Email, Skype, Google Meet, Zoom
Hiring Period: Flexible
Billing: Weekly
NDA Security
100% Source Code Authorization
Native App Development
Hire dedicated 5+ years exp. developers
Popular
Duration: 8 hours/day, 5 days/week
Communication: Email, Skype, Google Meet, Zoom
Hiring Period: Minimum 1 Month
Billing: Monthly
NDA Security
100% Source Code Authorization
Scrum Team (3 developers)
$7000USD
A dedicated Native SCRUM
Duration: 8 hours/day, 5 days/week
Communication: Email, Skype, Google Meet, Zoom
Hiring Period: Minimum 1 Month
Billing: Monthly
NDA Security
100% Source Code Authorization
Schedule an Interview to Hire the Best Talent
Looking to hire the right team for your upcoming project? We assure you in finding the best talent that matches your needs. Schedule a developer interview at your convenience to build great solutions with the best team.
Have a Glimpse of

Our Portfolio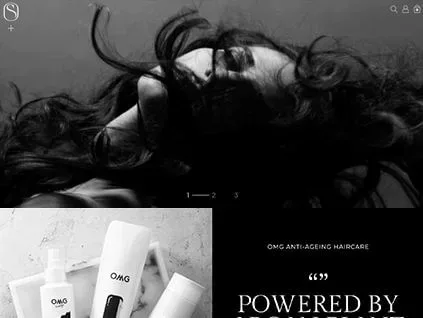 Beauty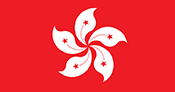 Shhh
Based in Hong Kong, Shhh is a hair care store that provides luxury hair well-being products and services.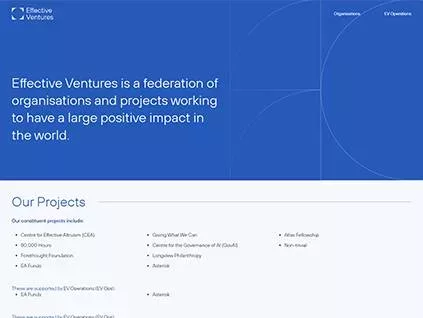 Social Service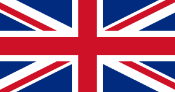 Effective Ventures
Effective Ventures is a federation of organisations and projects working to have a large positive impact in the world.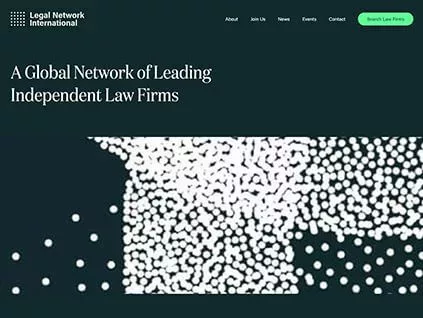 Legal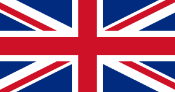 Legal Network International
Legal Network International is an alliance of legal firms representing cross-border acquisitions, mergers, and other international legal matters.


Know us through our

case studies

MageMob App Builder
Matt Haig, author of Mobile Marketing – The Message Revolution, gives a good piece of advice – "End-users, not technologies, shape the market." Today, as more and more users interact on mobile...
Read More
We wanted to build a new website from scratch and provide better services to our users. We reached out to Biztech and decided to work with them on the basis of their portfolio. They helped us a lot with ...
Hizbullah Watandost
Senior Application Officer - Afghanistan International Bank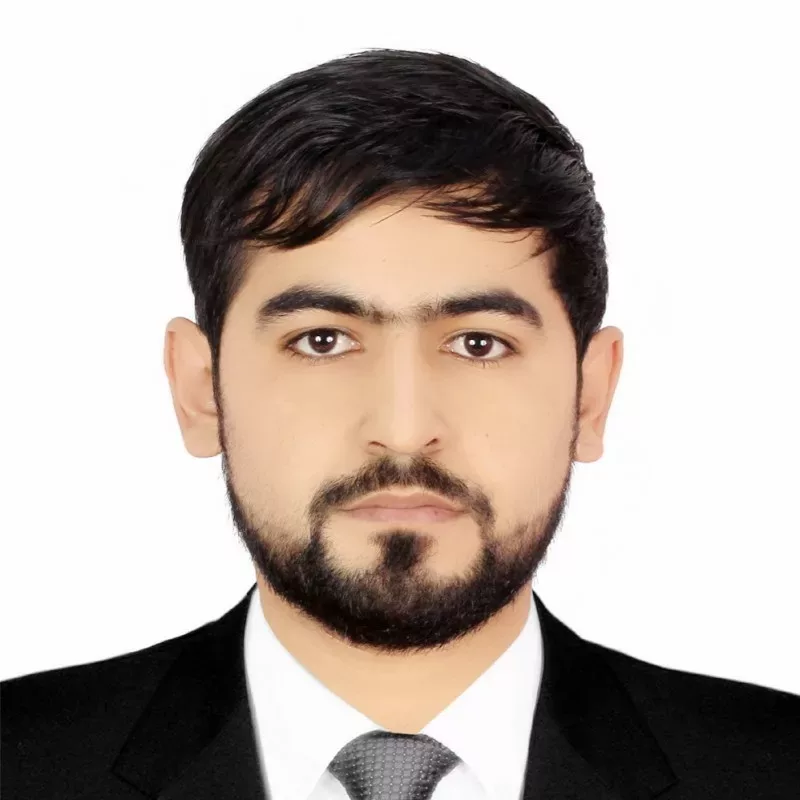 We have a very strong and long lasting relationship with Biztech which we have nurtured over the years. They have a close knit and skilled team which helps us in every possible way and provides us best ...
Matthew Gowar
Founder & Creative Director - Range Left Ltd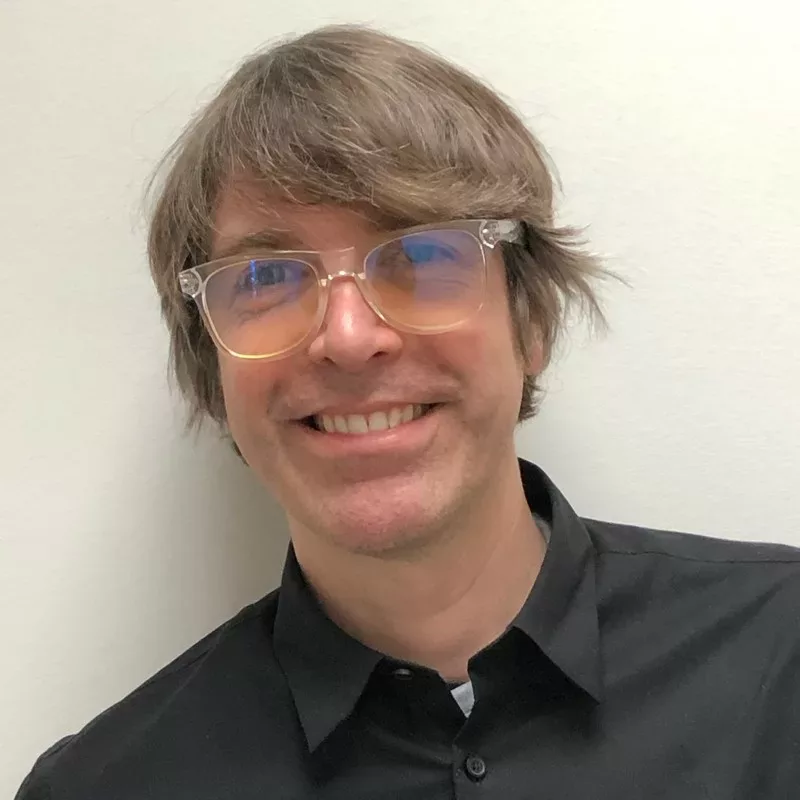 They built us a slick site that met our expectations and went beyond. Nothing was too difficult or impossible for them to do, and our website is easy to update form our side. On launch we had a considerable ...
Eleanor Hyland-Stanbrook
Creative Director - And-Now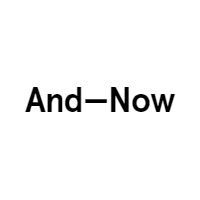 We are a kitchen retailer and we sell to both trade and retail customers, we do this we have been using an industry specific software for around 8 years and had come to the realisation that to take control ...
Ardene Stoneman
Managing Director - BETTER KITCHENS LTD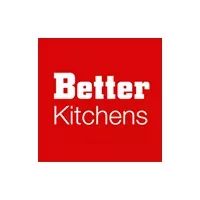 We have been working with Biztech for over 4 years now and been impressed with their breath of knowledge, their can do attitude and the good communication skills. Biorbyt has completed over 100 small and ...
Tillmann Ziegert
Managing Director - Biorbyt Ltd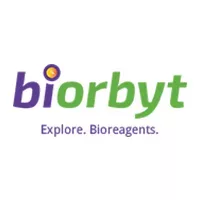 eCommerce App Development

Services by Biztech

 
eCommerce
App Consultation
Research, ideation, design, and development - you have complete support of our team at every stage. Our expert consultants will help you understand and overcome all your challenges and provide best-fit solutions.
Integration of
Third-party Tools
Want to expand the functionality of your app? With our eCommerce mobile app development services, easily pull tons of features with just an integration. Tell us your needs and we'll help you.
eCommerce
Mobile App Development
Transform the shopping experience with an engaging mobile app. At Biztech, we offer eCommerce app development services for all types of stores and platforms. Let's build feature-rich mobile apps for your business.
Enhance App
with AR VR
Immersive technologies are rising. Improve engagement and shopping experiences by building AR VR apps for your eCommerce store. 3D views to virtual try-ons, our team can assist you with eCommerce mobile app development.
Multi-vendor
Marketplace Apps
Being a leading eCommerce App Development company, we build multi-vendor marketplace mobile apps. Hire the right expertise to build quality- and business-centric solutions that are scalable and customizable.
Mobile App
Marketing Services
We not only design and develop apps, but also ensure that your app gets maximum downloads. Get advantage of our skilled marketers who will help improve app visibility and engagement. Let's connect!
eCommerce
Support and Maintenance
We offer support and maintenance services to ensure there are no interruptions. After project completion, we carry out performance tests to review your app. We are always here for your support needs.
Security
Updates
We are an ISO:27001 certified company. Your application security is of prime importance to us. We ensure that your eCommerce application gets timely security upgrades.
Frequently Asked
Questions
How is eCommerce app development beneficial?
The eCommerce industry is seeing a significant growth in mobile solutions. To offer convenience and greater experiences, businesses are investing in building an app. Following are some benefits that you gain with eCommerce mobile app development –
Wider reach and increased visibility
Offer hassle-free shopping experience to your customers
Facilitate acquisition and retention of new customers by improving experience
Increase sales with right functionality and features
Should I be building an MVP or a full-fledged app?
Developing any software requires investment. Therefore, you want to be very sure about each decision you make. If you are just starting out, building a minimum viable product with only basic features makes a lot of sense. The whole purpose of an MVP is to test and get user feedback which will guide further development processes. It not just saves you time and resources but you also acquire early adopters of your product. Have an app idea, let's get in touch to discuss its possibilities.
Can you list the most basic features any eCommerce app needs?
Following are some must-have features in an eCommerce mobile app –
Quick registration
Product filtering and sorting
Multiple payment modes
Easy checkout
eCommerce analytics
Push notifications
Review and rating
Order tracking
What all things can business owners manage using an admin panel in a mobile app?
The admin panel enables eCommerce business owners to manage products, store, staff, analytics, catalogue, order, customer data, order history, and more.
What are some advanced features that can be added later to an eCommerce app?
To ensure best user experience, you can integrate additional features later to your app. Some premium features are live customer service, wishlist, live location, AI/ML integration, customizable dashboard, and more.
Can you customize an app?
Yes, of course! We provide tailored solutions that meet all your business needs. Let's get in touch to know more about your project.
How augmented reality helps in eCommerce mobile apps?
Augmented reality enables customers to experience a product or service in their own environment before making a purchase. Here are two main ways of leveraging AR into mobile apps –
Virtual try-ons for products like apparel, jewelry, beauty products, etc.
Product augmentation to see how a product looks in real-time. For instance, how a type of furniture would look in a particular area in a room.
What types of AR shopping apps can you build?
Our eCommerce app developers are skilled at variou visual development tools like Vuforia, ARkit, ARCore, etc. Moreover, they have expertise in AR SDK, 3D gaming engine,  and command over UI/UX. We can build different types of AR shopping apps including marker -based apps, markerless apps, projection-based AR, and superimposition-based AR.
How long have you been in the industry?
We are an ecommerce application development company with 14+ years of experience. We have been helping businesses reach a wider customer base with mobile applications. And 350+ clients trust us with their code, software, and business. Let's connect to know more about your project and help you build a perfect mobile app.
Do you have expertise in developing cross platform apps?
Yes, We specialize in mobile app development for both platforms, Android as well as iOS and cross-platform apps.
Why type of eCommerce applications can you build?
Whether it's building a mobile app for a furniture store or creating an app like Upwork, we have the right skills on board. We offer ecommerce mobile app development services for these below-mentioned types –
Business to Business
Business to Customer
Customer to business
Customer to Customer
Business to Administration
Customer to Administration
Can you make my eCommerce app multilingual?
Yes, our team is well-versed in mobile app localization. We can help you build an app to reach a global audience who speak different languages.
Can you suggest to me some monetization strategies for my app?
There are various monetization models and choosing the best one depends on your business goals, and what you are selling. However, some common app monetization strategies are –  in-app purchases, subscription model, paid app, freemium model, and in-app advertisements.
Will you help me validate if my app idea is any good?
Yes. As an ecommerce mobile app development company, we offer consultation services. Our consultants help businesses find out potential market, target audiences. After intensive research and competitor analysis we find the best solution to turn your idea into reality.
What is MageMob App Builder?
MageMob is an eCommerce mobile app builder that lets you launch an app designed to work with iOS and Android. It provides you with a pre-built framework for a mobile app that saves time and effort to build an app from scratch.
What app features do I get with MageMob app builder?
Our eCommerce mobile app builder is equipped with all the features that any successful app must have. It includes –
Payment gateway support
App localization
Promotional features
Order management
Voice and barcode search
User profile management, and more.
Why should I partner with Biztech for eCommerce app Development?
Being a leading ecommerce mobile app development company, we have developed quality business solutions that our clients worldwide are fully satisfied with.
Partnering with Biztech means you get the extensive experience of our eCommerce mobile app developers. They have rich industry knowledge, and technical skills to get your work done. Therefore, you need not worry about implementation and development. We ensure you with a 100% success rate.
What truly makes us different is our work ethic, methodology, and dedication to your projects. With us, you will be gaining a long-term partnership that can help you through every step of your journey towards success.
Do you offer a free trial?
For ecommerce mobile app development services, we offer a free MVP for 15 days. During this period, you can assess the provided services, code quality, delivery, hired resources, and overall process. If you feel satisfied, you can continue, and if not, you can cancel it anytime.
Do I need to pay before taking a trial?
No. Our 15-day MVP trial is completely free.
How does a free trial work with a Scrum team of 3 developers?
We offer a 15-day free MVP. Here's how it generally works – 15 (days) x 8 (hours a day) = 120 hours. If you work with three developers, your free trial gets over when the sum of all developers complete 120 hours. As three developers work 8 hours a day, your free trial will complete in 5 days or a week.
What does the 15-day free trial include?
For the free trial, if you choose to work with just one developer, then the trial will include one small feature development or an MVP kind of solution with analysis, development, testing and delivery. If you are satisfied with the service then you can continue, if not then you are free to cancel.
What are the norms for hiring a development team?
You are free to select a team based on your requirement, from business analyst, developer (senior or junior), testing executive, and designer. The team you choose will be available with a given number of a dedicated unit for the billing including the 15-day free trial.
How will I get to know when the free trial is completed?
We will notify you on the completion of your free trial or prior, based on your requirement.
How long will the eCommerce app development process take?
The time taken for eCommerce app development varies. It entirely depends on your project requirements and what kind of app you want to develop. Get in touch with us to get a detailed estimation for your project.
How much will eCommerce app development cost?
There are various factors like size of your business, your project complexity, etc. that determines the cost of development. Below is the pricing model to hire a team of eCommerce mobile app developers.
Hourly Rate: Native App development – $20 USD
Monthly Rate: Native App development, $2500 USD
Scrum Team (3 developers): $7000 USD, A dedicated Native SCRUM
How can I select the best development team for my project?
The process of choosing a development team starts with analyzing your requirements. After having a complete understanding of your project, we share with you a list of eligible candidates. Then, the team you choose works on a trial project to give you an idea of our work.
Can I hire an eCommerce app developer of my choice?
Absolutely. You can conduct an interview as per your convenience to choose a developer of your choice. Looking to hire eCommerce app developers? Schedule a developer interview now.
Will I have a 100% dedicated development team?
Yes. The assigned team will be 100% dedicated to building your app. During the development process, you can connect with the team using a communication tool convenient to you.
What about source code authority?
As a client, you will have complete ownership of your source code after completion of the project. We are entitled to assign you the rights for all the paid-for intellectual property.
Do you have a legal contract in place?
We sign NDA (Non-Disclosure Agreements) to assure client's security of intellectual property.
Will I be charged for cancelling the contract early?
No. We do not charge for an early project cancellation. However, when we sign up for a contract, we mutually agree on the time duration request notice for cancellation.
What is the typical process Biztech follows to develop an eCommerce app?
App development process at Biztech is divided into 5 phases:
Requirement analysis – Here, we will identify your needs with every single detail and perform extensive analysis.
Wireframing and Design – We start by creating a wireframe to know how your app will work. Once we have finalized the wireframe, we create a working prototype to get user feedback. Only then we move on to the design stage.
Development – Our development team works on your app with advanced coding techniques. Since we follow agile methodology, we break down the project into sprints. This more-focused approach gets us better results.
QA Testing – After development, our AQ team takes up your project for automated testing. They perform a thorough testing and recommend changes if any.
Delivery – After ensuring that your app is without any glitches, we deliver your project on a predefined date.
What is your communication process?
Biztech is an ecommerce application development company who believes in open collaboration. Through daily standups, scrum framework, and weekly demonstration we ensure that communication is transparent. This process of open communication reduces errors in the development.
What development methodology do you follow?
We follow the agile process to design and build the right product for your eCommerce business. As the project is broken down into manageable sprints, it makes it easier for our team to focus on high-quality development, testing, and collaboration.
What does technical consultation with Biztech look like?
At Biztech, technical consultation starts with us getting detailed requirements from your end. Once we are on the same page, we help you figure out the challenges and decide the right solution along with the tech-stack for your project.
Do you provide support after the completion of the project?
Even after project completion, we will always be there for you. With Biztech, you get a complete package of eCommerce mobile app development services, including bug-fixing, support, and on-demand maintenance.