As humans, we dream and always seek to transcend reality in our own world. But whatever world we have in our dreams, it's merely the imagination. Physically we have been incapable of experiencing this imagination through our senses.
Because we are bound by the perception of reality. The inputs that our senses and actions provide to our brain creates the reality around us.
But what if we can tailor this information? What if we could capture these senses? Precisely, this is what Virtual Reality does exactly!
Virtual Reality is known and praised for its ability to transport the user into the digital realm. It lets the users interact with a computer-generated world using gestures and motions. The software simulation records the motions and gestures made by the user in the virtual world. This tangential effect is the sole reason that makes virtual reality and sports such a natural fit. And hence, the technology is finding success by supplementing this much older and even larger industry – Sports.
Virtual Reality is poised to become one of the largest trends in the sports industry. This happened with the release of consumer level tools like HTC Vive and Samsung Gear VR. VR in the sports industry allows the analysis and optimization of a player's performance upto an impossible degree.
In this article we are going to take a closer look at the major milestones in the journey of Virtual Reality technology.
Here's what we'll cover:
What is Virtual Reality?
NASA's definition of Virtual reality is:
"Virtual reality is the use of computer technology to create the effect of an interactive three-dimensional world in which the objects have a sense of spatial presence"
Virtual reality is a 3D computer generated interactive and immersive environment which a person can explore. The person who explores this virtual world, becomes a part of it. They can also manipulate objects of the virtual world or perform a series of actions to determine what happened in the environment.
Characteristics of Virtual reality
Believable: More or less the virtual reality creates an entire virtual world and makes you feel a part of it through what you see and hear.
Immersive: It makes you feel the same as the real world. For example, in the virtual world, as you move your head, the vision also changes. What you see changes, just as it would in real life.
Computer-generated: The virtual reality realm is created with complex 3D computer graphics. These graphics change in real time along with our movements.
Interactive: It is similarly interactive as reality. A person can interact with different objects. From pressing a button to opening a door, you can do it all.
Virtual Reality in Sport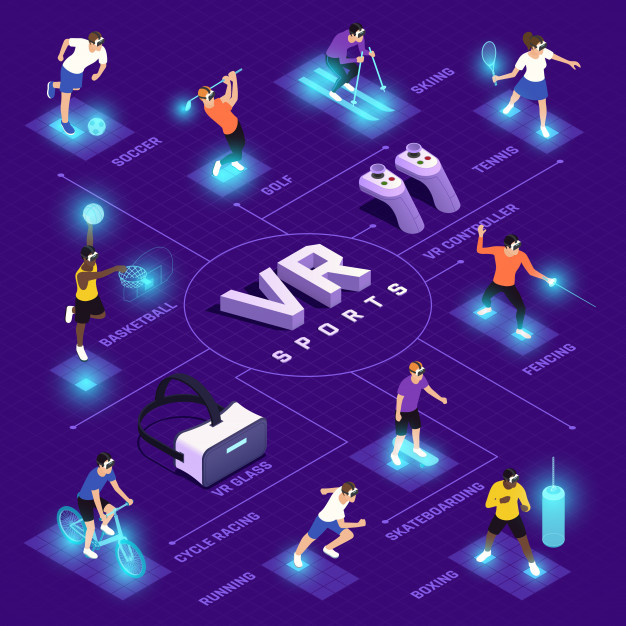 Sports are intrinsically engaging activities that bring out unique emotions and experiences irrespective of whether you are just a fan or an athlete. Virtual Reality technology can address experiences linked to sports. This new way is more sensory, immersive and engaging from both the fan's and athlete's perspective.
With multiple industries implementing Virtual Reality in their business, VR has now paved its way into sports as well. It is changing the way we watch sports. With several VR companies specialising in making live sports accessible to its audience. Broadcasters are trying hard to even deliver these live sports experiences on mobile VR.
This is a great way of opening up live sports events to fans. This also makes it easy for the fans who can't travel to the venue or afford the tickets to watch the sports in person. VR in the sports industry is most effective.
In 2017, BT Sport broadcasted the UEFA Champions League final in 360-degree VR via YouTube and via BT VR app for free. The experience was quite real as suggested by fans and they could watch the game from several locations in the stadium, as if they were actually there.
VR in sports Industry amplifies the overall sports experience. Read further to find out how VR is revolutionizing the sports industry and changing the way people perceive sports.
Want to know what scope your VR sports idea has in the market? We are here to discuss.
Here's how VR is revolutionizing sports:
1. View Sports through VR
Nowadays, the use of 360-degree cameras to capture the sport events is in-trend. VR in sports industry proves to be a boon to all the fans who cannot afford the luxury of flying across the world to watch their favourite teams play. All they need to experience the game is a VR headset and an app. They can watch the entire game without stepping out and leaving their comfort home. Not only is the experience comfortable but also as realistic as the reality.
The Summer Olympic Games 2016 in Rio-de-Janeiro was the first Olympic broadcasting viewable with VR headsets and their respective apps. At that time the VR broadcasting was in an experimental phase. Therefore, the games streamed only a day after it took place. Hopefully in the next Olympics we'll be able to see the live streaming using virtual reality.
2. View Action from the Player's Perspective
The sports industry with VR has seen many changes in the past few years. This includes the overall interactivity, statistics, display information, on player camera feeds etc.
In 2016, a start-up named FirstV1sion used its smart wearables to offer videos from a player's perspective using virtual reality technology. This included various sporting events, including the Euro league basketball match. These wearables included an embedded ultra-high definition camera, a microphone and additional sensors.
3. Recreating the Action in VR
VR in sports is progressing but easy broadcasting of the same may need some more time to develop. The 360-degree video feed allows users to move their head and look around but their point of view remains in the spot where they are standing or sitting. This raises a question that if the 360-degree video is actually a limitation of VR or there is more to it.
Experts say that we are still around ten years away before we can see the true implementation of proper Virtual Reality technology video. Although, there's no shortage of companies moving in that direction. There is also one Virtual Reality start-up called Beyond Sports. It gathers player data from matches and creates the 3D simulations of the entire game. This makes it possible to enable the users to view and explore the game from anywhere in the stadium and even view with different perspectives of players, fans or officials.
This might not be quite appealing to the fans but it is a lot useful for the team players. This medium can help sports teams improve by analysing the game from different perspectives.
Replay Technologies, known for its freed (3D) technology is also another notable approach towards VR in the sports industry. They use an array of high-definition cameras, set in the play-arena. This in turn creates a seamless, near-realistic 3D image of the action.
4. Play Sports through Virtual Reality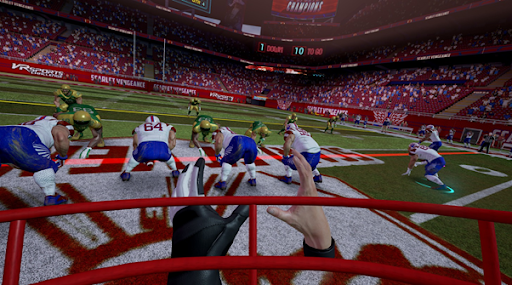 Watching sports is just one part of the use case of virtual reality in sports. Another important one is playing sports. This enables the viewers to be athletes themselves by immersing into the VR sports arena.
In 2008, Wii by Nintendo enabled its players to take part in tennis from their living rooms. That was the most that they could do. Nowadays, due to virtual reality, companies can create better experiences and that too in an engaging manner. Oculus Rift, HTC Vive, and PlayStation VR have built respective platforms for Virtual Reality gaming. Some of the excellent Virtual reality sports games that create life-like experiences for users are VR Sports challenge and BoxVR.
5. The Social Shortcomings and how VR Solves it
The use case of Virtual Reality in sports, in a way takes away the social experience for many. Perhaps, it is one of the greatest arguments when it comes to pros and cons of uses of VR in sports industry. The company of friends and family while watching sports is part of the game and pleasure in watching the game. Virtual Reality headsets only offer an individual experience. The acquisition of Oculus by Facebook is working to fix this shortcoming of virtual reality in sports.
A Tech start-up named Virtually Live targets to solve this problem. They aim at eliminating this social element with its VR offering. It is similar to that of Beyond Sports. Using this technology, the virtual reconstruction of stadiums and players in a near real time environment is possible. Fans can access and step-in to view this near-real time environment from any view they want. In this virtual environment, fans appear as avatars and can interact with each other through VoIP. This way people can get together and watch games in VR.
AltSpaceVR is another company that aims at reducing the social aspect of VR. Although its technology is more focused on socializing activities such as chatting while playing games it also has features that can make it fun to watch sporting events in Virtual Reality.
"VR industry size in 2020 is 30 billion US dollars"
This is the right time to grab the chance and get ahead of the competition with a VR sports app. With an app, you can not just boost user engagement but also double your profits.
We render fully-functional user-friendly solutions that will incorporate every feature you wish to have. Let us help you choose the best solution for your business.
6. Train Athletes and Teams
Professional teams have long used the method of studying the recorded matches to examine their own performance and also to assess the performance of the opponents. Here, the problem occurs that the point from which the viewers watch the game is different from the point at which the players experience the game. Hence, the results are not always optimal.
Now with virtual reality the trainers can train in a better way by watching and examining the game from the players' perspective.
A one good example of VR in sports training is STRIVR. It creates Virtual reality training videos. During practices these videos are shot from the player's eye view action. Then these players can receive realistic, repetitive training by visualizing using the VR headsets. Due to this, teams can practice more without breaking the stringent rules.
7. Sports Manufacture: Equipment Design and Innovation
One of the most popular uses of virtual reality is sports manufacture. Users also expand in the area of the designing of sports clothing and even equipment. Innovation is an important factor in the sports manufacturing industry.
Sportspersons are constantly finding new ways of gaining the technological advantage of being faster, stronger, and having better endurance than others. The clothing and equipment industry has to keep pace with the constant drive for sporting perfection. Sports equipment companies are constantly in touch with the latest technologies to deliver better results.
8. Virtual Reality for Live Sports
The five major US professional sports leagues (NFL, NHL, MLB, NBA, and MLS) along with the broadcasters are relying upon virtual reality (VR) to bring a revolution in the traditional methods of viewing sports and capturing the imaginations of their at-home audiences.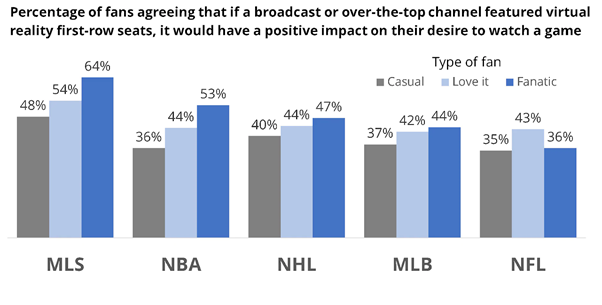 Broadcasters are hopeful that Virtual Reality tech. will attract new viewers too. This is because it enables fans to watch games from unique vantage points, gaining a new level of intimacy.
Evidence says that fan interest in VR headset adoption is constantly increasing. Although it may take a little longer to create a significant market in the near term. According to the 2018 Deloitte Fan Experience survey, a majority of fans of MLS and NBA agreed that they would more likely watch a game if they had access to VR front-row seats. They clearly found Virtual experience more appealing for those sports.
The number of consumers who own a VR headset currently is comparatively small. According to Deloitte's Digital Media Trends Survey, only 14% of respondents owned a Virtual Reality headset. However, the potential market is more likely to grow. Statista estimates that sales of VR headsets will grow to and reach 36.7 million units by 2023.
Broadcasters and leagues have been exploring this potential market of Virtual reality over the past few years. Both NHL and NBA are partners with NextVR that produces live VR broadcasts. This app enables viewers to watch the NHL All-Star Game and Stanley Cup Final, along with live NBA matches and also their highlights.
"While next-generation content consumption is on the rise, there are still some key challenges that need to be overcome before mass adoption. However, there is a path and a willingness for this to become a reality." – Allan Cook, Digital reality business leader, Deloitte Consulting LLP
9. In-Store VR
Virtual reality technology works well for both online as well as traditional retailers by bridging the gap between both worlds. The psychological power of Virtual reality deepens the online engagement. Along with this it also provides an attraction in-store in order to generate increasing foot-fall and customer engagement.
Considering this it is a good time to think about how you can use VR in sports stores online as well as offline. Incorporating VR in sports stores will mean turning a dull shopping experience into an interesting one. This only points towards increasing digital footprints online or increased sales through physical stores.
One such example is of BT sport, one of the biggest London retail stores that created an in-store experience for its customers. It was designed to promote the VR content and increase the footfall. The proposition was simple. Jamie Hindhaugh, COO of BT sport stated that "they recorded a football premier league match between Chelsea and Arsenal live in Virtual reality so that fans could enjoy the highs and lows of the match." It lured fans from both the teams to the store as the match was streaming live.
Have an idea to incorporate VR in sports stores?
Future of Professional Sports along with Virtual Reality
Virtual reality has not manifested its full potential in sports yet. It can do a lot more than what it is currently doing. For example, the recruitment process can be made easier. The athletes can indulge into this immersive experience of virtual reality completely. They can visit their locker rooms, weighing rooms, stadiums etc very easily. All this without leaving their home and without stepping on any plane.
The mixture of augmented reality, virtual reality and mixed reality can contribute in the emergence of many more new sport technologies. More or less Video games are also a part of sports. Esports have been a part of our lives since a while now. Games such as Pokémon Go and Racket: Nx are a great example of integrating gaming elements into the real physical world.
Until then, watching sports in VR will likely remain as it is. The overall viewing experience will improve and present something truly unique.
5 Examples of VR in Sports
According to Statista the market value of Virtual Reality is forecasted to go over $40 billion by 2020. Sports companies are investing millions in Virtual reality technology to improve and diversify the training methods, sports coverage, fan engagement etc. Here are five sports that are already benefiting from Virtual Reality!
1) American Football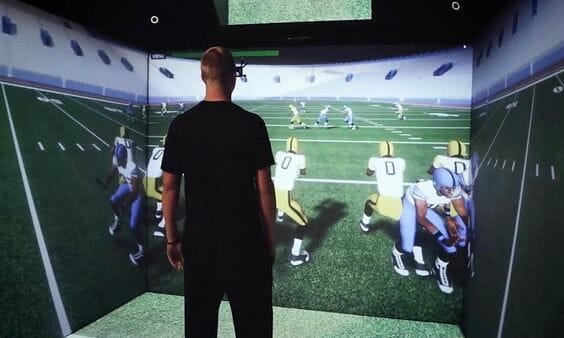 Image Source: Viar360
Virtual reality is the most popular in American football. The NFL is using Virtual Reality for sports training. According to NBC Sports, by 2019 at least three NFL teams and colleges were incorporating the Virtual reality technology into their practices.
One of its many benefits are for college athletes, as it helps them balance the practice and study hours. Because it allows players to practice without stepping on an actual football field.
2) NASCAR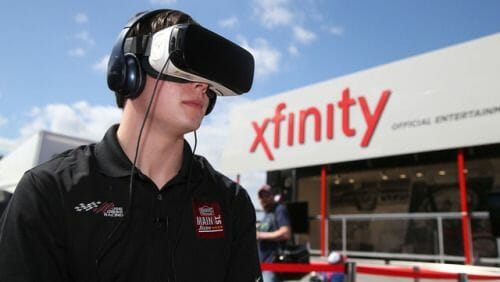 Image Source: Viar360
NASCAR racers also use VR. With the VR headsets, racers can step into the world of Jeff Gordon, Dale Earnhardt Jr., and Bill Elliot. In an NBC Sports feature, Horowitz states that "advancements in VR have more or less made actual and simulated realities virtually indistinguishable." Virtual reality by blurring the lines between the real and virtual world, has now become "the ideal means of supplementing work on the field, on the rink, on the court, to further athletes' skills and knowledge of the game."
3) Soccer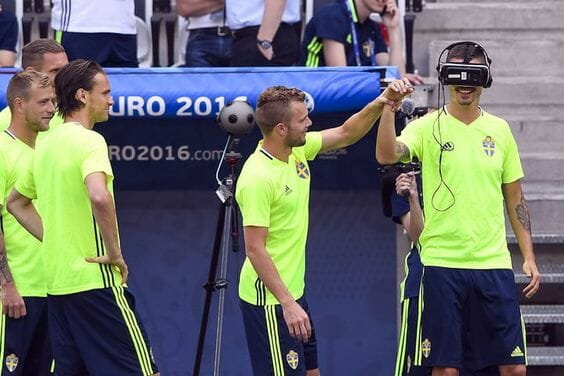 Image Source: Viar360
Soccer teams across the world have started to use virtual reality technology to bolster their training techniques. The soccer viewing experience is also getting a big boost due to the implementation of VR. The fans were able to view the match from positions that were usually inaccessible to them.
4) Basketball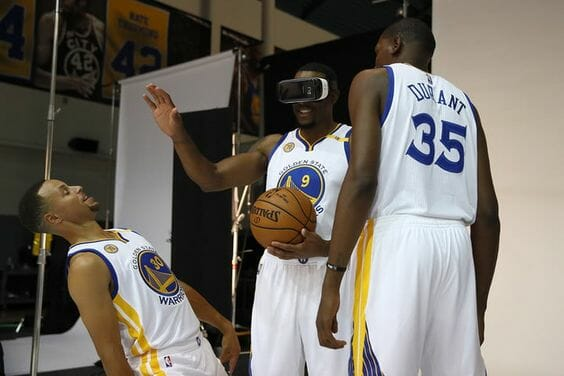 Image Source: Viar360
The NBA leads the VR in sports marathons. They have been using VR to improve the game since its inception. VR technology is also getting used for training purposes. NBA executives told Sports Illustrated that they expect Virtual Reality to "play a major role in growing the league's global audience by enhancing its broadcasts, providing new fan experiences, and possibly even improving its officiating."
5) Poker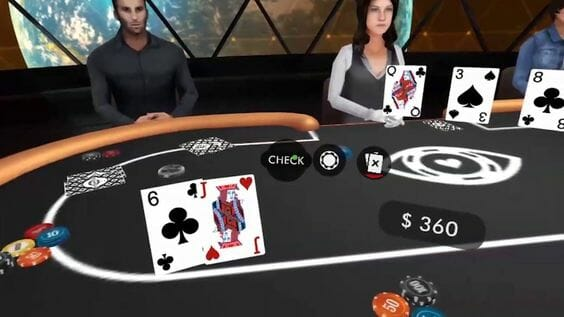 Image Source: Viar360
Casino VR poker allows players to play the poker games online. 20Next describes Virtual reality poker as "Something that provides players a unique experience where they can play multiplayer poker in virtual reality through their VR headset." As of now, this is the only VR poker game available. It already has held various professional poker tournaments across the globe.
There is no doubt that VR in sports is fast becoming a lucrative industry. No doubt in a few years it will become ubiquitous and an integral part of our daily lives. However, it still has a long way to go. Today the use-cases of VR in sports are limited and flexible only upto certain extent.
Creating a whole new world in sports with Virtual Reality is just a click away.
Now, let's have a quick look at the challenges and problems faced by Virtual Reality technology.
Challenges of Virtual Reality in Sports
Currently, Virtual Reality in sports is still in the development phase, and is also facing problems that are far from unsolvable.
Firstly, it is not as practical as compared to other such concepts like augmented reality. Neither is it handy, nor is it that flexible. And surely it is not economical. According to a study by Stanford, it was discovered that people tend to get tired of wearing a VR headset in about eight minutes.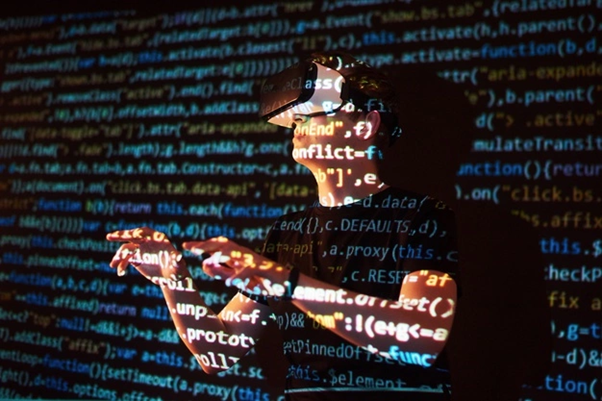 It also isn't much comfortable for professional athletes to use VR along with a big headgear. Another issue in its use-case is that it is not that easy to fix and it can easily cause problems to both athletes during practices and to fans' game watching experience.
The isolation issue is still prevalent. People get isolated when using VR devices and obviously their communication is very limited. Vocal interaction, if added to this, can prove a huge improvement too. Developers from companies like Oculus are working hard to find a way to incorporate vocal interactions and access to social media platforms and networks.
This eliminates the social barrier and allows people to attend social or sport events together. The distance limit would be gone and they can take part irrespective of wherever in the world they are or wherever in the world this event is taking place. Lastly, the video quality of 360 cameras is still not good enough for the modern eye and hence needs improvement.
Conclusion
The fact remains that Virtual Reality in sports is here to stay and improve for both performers and fans. When Hollywood imagined the future, Virtual Reality in sports always had a big role in that imagined future. That future is now here. With the VR's role growing at a faster pace, it would be utterly foolish to arrive late at this VR party.
We are a web and mobile app development company with 14 years of experience. With technical expertise, and knowledge of latest trends, our team will help you create an immersive experience with virtual reality sports app development. Moreover, our marketing experts can guide you in implementing advertising strategies within the sports marketing space.