1653
Augmented Reality in Retail: Beginning of an Immersive Era
30 Dec, 2020
14 min read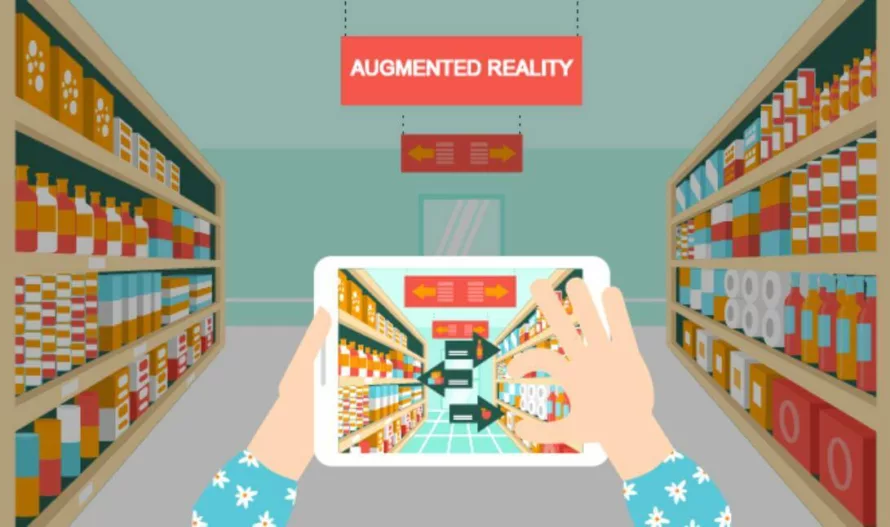 https://www.biztechcs.com/blog/augmented-reality-in-retail/
It seems as if the futuristic vision of the advanced world that we all wanted, has arrived. It is changing the way we perceive the world. The ideas that used to fascinate us in the science fiction movies are now becoming our reality. Ease through technologies that we could only dream about are now accessible to us at fingertips. Technology has added that convenience to shopping too. And that's why customers prefer online shopping.
Smart retailers, to do what matters the most: serve customers better; are supporting advanced technologies like augmented reality to improve customer experience.
In the lieu of recent events involving the COVID-19 pandemic and with the advent of the internet, most businesses have opted to implement the augmented reality concepts.
In this article, we are going to look at the role, benefits and impact of augmented reality in retail stores.
Table of Contents
The blog covers the following topics. If you think you already know what's AR, you can directly jump read how your retail business can benefit from AR. We have covered everything from personalized content to how augmented reality impacts purchasing decisions.
Everything You Need to Know about Augmented Reality
Augmented reality is a technology of adding digital elements into the real world to perceive a live experience or view with the help of a camera. AR works in conjunction with headsets and/or digital devices such as smartphones.
Retailers and other companies are using augmented reality to collect user data, promote products, and launch marketing campaigns.
Augmented Reality Retail – An Introduction
Augmented reality retail is one of the most game-changing innovations of all time. It empowers customers with the ability to visualize and customize products by interacting virtually in 3D while shopping.
Augmented reality retail lets the customers visualize myriad types of digital content and interact with the products. They can reach out, touch, view from different angles, take pictures, compare multiple designs and much more. Thus, creating a wow effect. This leaves a lasting impression on customers' mind and hence, enhances the brand value. In simpler terms, it provides customers with an access to a world of their imagination beyond the real world.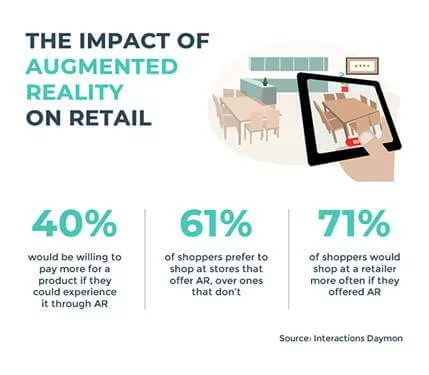 One thing that retailers always want is keeping their customers engaged in the shopping process. With the introduction of AR, they now have a new way to deal with customers from across the world. All they have to do is provide an acing customer experience with AR. This would eventually in turn, lead to higher sales.
"Retail is a sector where AR is revolutionising the way we shop by bridging the gap between digital and physical worlds. A radical store re-invention will offer retailers new ways to increase convenience and personalisation, and consumers the opportunity to experience re-envisioned shops." –Muchaneta Kapfunde, Founder @Fashnerd
We offer AR solutions that have the potential to transform your business. The AR experts in our team will help your retail business build the online-offline gap by creating immersive experiences. Do you have an idea to incorporate AR into your retail store?
Benefits of AR in Retail
AR Retail solutions have the potential to transform your business. Let's have a quick look at the benefits of Augmented reality shopping.
1. Rich and Interactive Customer Experience
With augmented reality retail apps, you can provide a personal touch to the products. Moreover, it is also more informative than the usual personalized customer experience. Plus, they can get everything they want in a few clicks just by sitting at home.
2. Personalized Content
AR gives you the opportunity to enhance personalization. This technology places people in a virtual environment, responding to every users' unique surroundings. For instance, using the camera, the customer can test make-up products virtually on their own face. They can even see how a chair would look in their bedroom. This way, by providing a unique customer journey, personalization leads to higher user engagement.
3. Customers would Pay more for Convenience
The convenience of location serves as a benefit for both customers and retailers. Recent studies show 40% of consumers say they would pay more for a product that they could customize in AR. When customers shop in-store, they're able to see, touch, and feel the product. But, augmented reality shopping can provide all these see, touch and feel from anywhere across the world. With Augmented reality retail, they can shop while cooking near the kitchen counter, or on their shelf.
4. AR helps Users understand a Product
"39% of AR retailers use AR for the consideration phase while buying products"
We all know that compelling imagery is a must for selling products online. Augmented Reality gives a great opportunity for presenting highly detailed 3D models of your products. With 3D models of your products in AR, consumers can have an exact idea about the product. They can easily figure out how their product will work for them, with their specific needs and space.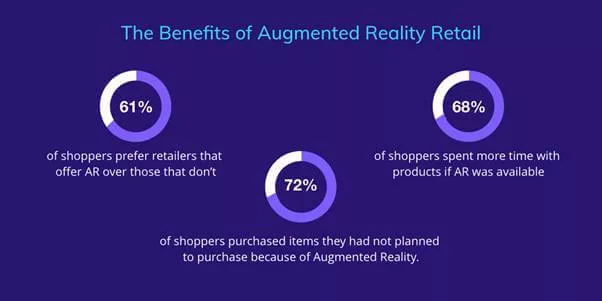 Image source: Techies India Inc
5. Contributes to Brand Awareness
Marketers constantly keep asking themselves ''To which extent are people aware of our brand?''
Augmented reality is the new medium for increasing brand awareness. This is because they have the personalized characteristics of social media. Through social media people can experience content on a deeper level due to direct access and the first-person perspective.
6. Huge impact on Customer Buying Decision
Marketers can activate certain metrics like customer retention, customer acquisition. This can lead to giving more heads up in their buying decision and increase sales. Sales is one of the ultimate purposes of any efficient and scalable business.
Another goal is satisfied customers who will come to them again and again. When you manage to retain the attention of your customers once, they are likely to come again and again. Using technologies creatively, you can set a new standard of surprise for customers. This will make your brand their first choice.
7. Data Collection
One of the foremost advantages of AR for retailers, is the fact that they are able to collect vast data of consumer brand interaction. The consumer on the other hand, gets an immersive experience and responsive customer communication.
Unleash the potential of AR technology, and engage your customers with immersive experiences. Contact us today to know what solutions work best for your retail business.
Current Scenario of Augmented Reality Retail Shopping
Statistics show that augmented reality in retail is already making money and will make even more in the near future. All surveys conducted on AR, points out in the direction of the high interests of consumers in using Augmented Reality. Let us have a look at two of such surveys to get a better idea about the current scenario of augmented reality from the consumers' perspective.
Interactions Consumer Experience Marketing conducted a study of 1,100 U.S. adult shoppers.
Out of these, 58% were female shoppers and 42% were male shoppers. 40% of them were between the ages of 18 to 34 and 18% between the ages of 55 to 64.
The survey included basic questions revolving around the choices of consumers to shop with an AR experience or with a VR experience. The conclusion obtained from the survey was something like: "Unlike virtual reality, which creates an entirely artificial environment, augmented reality allows users to integrate digital images into their view of the real world, in real time."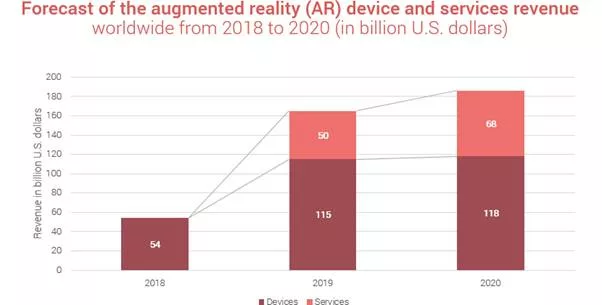 Image source: Statista
Study on the Impact of Augmented Reality in Retail: The study on the impact of augmented reality in retail marketspace has derived the following observations.
Augmented Reality retail is already trending among buyers: 34% of shoppers use one or the other form of AR while shopping.
Preferable Augmented reality use cases in retail : 77% of users said they used AR mainly to see product configurations like colors and styles. 65% of AR users used it to find more about product information.
Influence of AR: 71% of shoppers confessed that they were more likely to shop more if they used AR retail apps. 61% said they prefer stores with AR over those without it. 55% admitted that AR makes shopping more fun and exciting.
Augmented Reality drives impulse purchasing: 72% of customers said that because of AR they purchased stuff they didn't plan to buy in the first place.
AR keeps customers engaged: 45% said it saves their time, while 68% admitted that they would spend more time at the shop if provided with the augmented reality experience.
This suggests that retailers now have a more powerful tool of AR to entrap customer attention into their stores. It is inevitable that customers may use AR time and again to make more wise decisions and buff their own shopping experiences.
Things to Know Before Introducing AR to your Business
You should keep two things in mind before introducing augmented reality in retail stores.
Accuracy: Inaccurate Augmented reality retail experience is as good as "no experience" at all. It will neither be useful for the customers nor for your business. For example, a user won't like if the virtual couch they are trying to place doesn't rest on the ground properly. They may get irritated by this and abandon your app altogether.
Speed: AR retail experience must be instant and lag-free. Long loading time and high latency has and always will drive the user away.
If you think your retail business needs a shift to AR shopping, our team can help you choose the best solution for your store. Contact us today, and our project manager will get in touch to provide you with further details.
Besides several benefits of Augmented Reality retail apps, there are four major challenges that these AR apps may seem to face in the longer run.
Challenges Posed by Augmented Reality Apps
Augmented Reality technology for retailers sounds incredibly tempting. However, it is important to note that implementing a successful AR app is not as easy as it sounds. Let's find out what are the challenges you are likely to face when working with this technology.
1. Security & Privacy issues with Augmented Reality Retail
Privacy & Security also pose significant challenges to the AR industry. Due to inconsistencies in AR programming, oversight and negligence, there is a legitimate chance of getting into trouble even without the developers meaning to do so.
There are no actual regulation guidelines. This poses the chances of using technology with a malicious intent.
Part of the problem is lack of awareness in people about not understanding the sensitivity of the subject. The other part of this problem is the reluctance of the developers to take action before there is any heat on the corner.
2. Lack of Development Standards
The overall standards of augmented reality seem to be in the phase of under construction. The reason is simple. The technology is too new, and it is still developing at its own pace in terms of both hardware and software. This could be challenging for entrepreneurs and business owners to set a bar of standards with their apps.
3. Chances of Physical Harm
Any technology comes with its benefits and drawbacks. Same is with AR. The problem here being the mixture of digital components into our very real world! Sometimes these digital elements brought into our real world can contribute to driving our attention elsewhere from reality which can cause a potentially dangerous situation.
Let's take a very recent and relevant example of the game Pokemon Go. There were hundreds of news titles in the name of Pokémon go. News reports of people getting hurt while playing the game, were everywhere. Well, this example of Pokémon goes just the tip of an iceberg. The distracting factor of Augmented Reality holds can cause much more harm than this.
4. Poor Quality of Content & Use Cases
AR technology is rapidly developing. While it is gradually expanding its scope – the problem with its use cases like try-on features in apps or smart mirrors in offline stores, and the content remains. The majority of AR content available on the app-stores mostly perform simple things.
Sure, AR technology is still in its infancy, and will take a little longer to generate efficient outputs. One reason for this is the lack of expertise in this field. To deliver accessible and useful experiences, we need developers who have a firm grip on technology. This seems to be missing.
The other big problem is the lack of credible uses of AR technology. To change the day-to-day lives of people, we need more solution-oriented AR apps use-cases. For instance, car displays using AR may seem like a fascinating idea on paper but it is not a very useful solution when applied practically. On the other hand, AR in medical or engineering training can be a very helpful tool for the education sector.
Summing it up!
In 2020, the old rulebook of how we understand and interact within the real world no longer applies. The pandemic has been a catalyst for this digital transformation, in many ways. Physical retail evolved in response with AR. Augmented reality retail proved that it can bring enormous change in the shopping journey of customers. Now is the time for business leaders and brands to not only reimagine retail, but to catapult these immersive shopping experiences and bring it to reality.
In order to implement AR for profit of your company or to your marketing strategies or to your app, you first need to define your goals and needs and see which areas call for optimization. After defining the issue, you will be able to come up with a suitable solution and then implement AR to it.
An important thing about AR retail apps is the quality of your app performance. It is one thing to implement the AR technology and another to make the app UX smooth and bug-free. Make sure that you work with experienced developers. Experienced developers can ensure AR integration along with high-quality user experience.
At Biztech, our team of experienced AR developers, who along with technical expertise have the knowledge of latest trends. We can help you develop both android and iOS apps. Not just that, we also help our clients with marketing strategies. Bring your ideas to life with our AR solutions.
All product and company names are trademarks™, registered® or copyright© trademarks of their respective holders. Use of them does not imply any affiliation with or endorsement by them.
Befriend Technology for Transformation
Selecting the right technology is pivotal to your business's growth and success. Have you already decided the suitable one for your next project? If so, we can help you take the next step. If not, we can help you decide the best option. Connect with the Top 1% pre-vetted software engineers to build your software.