Almost a year and the pandemic doesn't seem to end.
Our lives, for sure, have changed but not stopped. While we may not step out of the house to go for usual shopping in malls, nowadays we scroll, save, and purchase products from our phones.
According to IBM's 2020 U.S. Retail Index report, the pandemic has accelerated the shift to digital shopping by roughly five years.
Some brands are quick in adopting technologies like augmented reality to keep their business going. For instance, when due to Covid-19, jewelry brand Kendra Scott's stores were shut down, the retailer introduced an AR tool enabling customers to virtually try-on different earring styles from the comfort of their homes.
With augmented reality online shopping increasing, there is a ton of potential for businesses in the coming future. If you think your retail business needs a similar jump to augmented reality shopping to reach your potential clients, then this guide is for you.
Continue reading to know everything about augmented reality in retail and how you can build an augmented reality eCommerce app for your business.
We will cover:
Retail Industry Challenges
The retail industry is constantly changing . As a result, there are new challenges they may come across. In this section, we have summarized the most common challenges that both the high street and online market faces.
What's in store for Brick-and-mortar?
Customers now prefer online shopping over brick-and-mortar. The pandemic has further put a strain on traditional retail by widening the gap between online and offline commerce.
So, is traditional retail dead?
Of course not. A year or two later, people will want face-to-face interaction, they will like to go to a bookstore, or try on clothes.
"There will always be a human dimension to commerce, and that means there will always be a level of demand for bricks-and-mortar." –
Ben Voyer, Professor, ESCP Business School, Europe
The below stats reveal the same picture.
65% of U.S. consumers surveyed in a poll are OK with traditional in-store shopping. What's more, 72% of 2,000 people polled said they are more likely to shop with retailers that offer contactless, curbside pickup.
However, there's no hidden truth that once you resume your business, you will face challenges to survive.
We are already experiencing a shift in consumer behavior. Consumers now are doing most of the shopping with the click of a button. In such a scenario, why would they come to your offline store? Another major concern offline retailers may face is customer loyalty. While discounts and offers are a good way to make the customer feel special, the real deal is personalization.
Challenges for Online Retailers
How many times did your customer return a product because it was damaged or the product they received was different than they saw online?
If you think product returns have been the bane of your store for a long time then you are not the only one. Returns are a major headache for many retailers.
"Did you know at least 30% of all products ordered online are returned as compared to 8.89% in brick-and-mortar stores?"
This obviously leads to the cost of returns soaring. Stats depict in 2019, return deliveries in the Asia-Pacific region amounted to around 256.4 billion U.S. dollars. While the total value of merchandise returns reached over one trillion U.S. dollars globally in that year.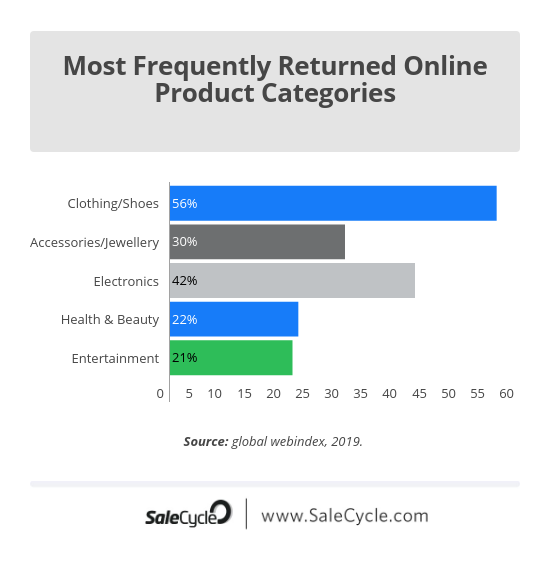 Augmented reality Shopping – An Answer to These Challenges
To all the challenges of the retail world, AR is the answer. Incorporating Augmented reality in retail is a proven way to increase conversions. Wondering why? Here are the three major reasons-
The AR shopping experience is novel and this drives more people to your store.
The try before buy feature eases decision making.
The combination of AR and social media can do wonders.
Providing AR shopping experience allows you to increase the capacity of your store without having to expand the store physically. AR in retail eliminates the barriers of capital and geography by creating a virtual experience. All you need to do is create an immersive product catalog and put that on the AR app. This is best suited for those business owners who do not have a brick-and-mortar store.
By providing unique experiences, you encourage the user to share them with others and the more they spread the word the more traffic your store witnesses.
Have a look at what shoppers think about augmented reality shopping-
42% of shoppers think that AR would help them make a better buying decision.
76% of consumers said they would purchase more items if the brands offer a try before you buy feature.
Have an idea in mind for your AR Shopping app project?
There are many ways augmented reality shopping can transform retail. We have honed in on 8 ways. Let's take a look.
Reshape your Retail Game with Augmented Reality Shopping
From 3D models to navigation inside the store, have a look at how brands are leveraging augmented reality shopping. Then decide how you can incorporate AR in retail.
3D Products
Real-time 3D products are changing the way customers discover products and purchase online. From virtual showrooms and catalogs to search results, the potential to display physical products as 3D models is huge. We find this approach majorly in furniture, apparel, accessories, and appliances.
"Online furniture and lifestyle retailer CB2 found that product pages featuring 3D and AR experiences drove 21% higher revenue per visit and a 13% lift in average order size – Retail Customer Experience"
A popular example of AR in retail is the Place app by IKEA. By scanning the expanse of your room, it lets you visualize a product within a space. You can browse through the catalog of 2,000 chairs, sofas, tables, and other items. Once you choose a product, you must point the device to the desired spot in a room, then drag and drop the selected product onto space. Re-positioning, moving closer or further away, different angle view is also possible. Ikea claims a 98% rate of accuracy. All in all, a good example of giving shoppers the feel of different products by using digital experiences.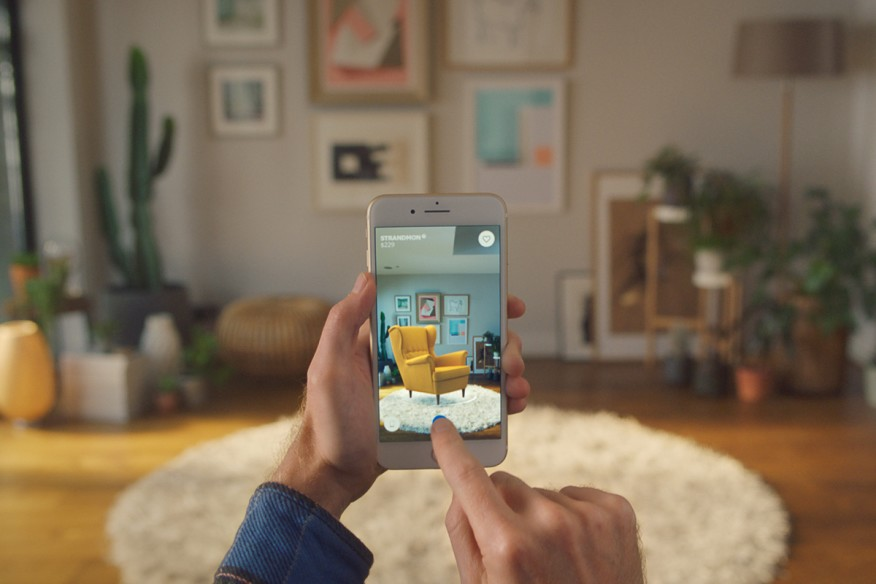 (Source: ikea.com)
3D product rendering, also known as product visualization is worth investing in for these reasons:
By providing a realistic view, it gives the potential buyer a clear idea about how the product will look outside of a screen.
It works as an effective tool to boost your advertising campaign.
It will significantly reduce the number of return orders while boosting sales.
Helps improve customer relationships.
Virtual Fitting Rooms
The virtual fitting room, the online equivalent of an offline store is changing the way people buy products. Some virtual fitting rooms come as a mobile app where users can upload their images and then create an online avatar.
In offline retail stores, they work the same way as the app only that it requires the shopper to stand in front of a mirror-like screen. By hand movements like swiping, the user can try on different clothes.
Studies predict the global virtual fitting room (VFR) market size to reach USD 10.00 billion by 2027, exhibiting a CAGR of 20.1% during the forecast period.
The fashion industry has already begun to leverage AR to make the retail experience more interactive. The main trend in augmented reality online shopping is the try before you buy feature. The best example is GAP's virtual fitting room. Using this app, shoppers can try on virtual outfits on their personally chosen avatar. Shoppers can also put multiple avatars side by side to view different sizes next to one another.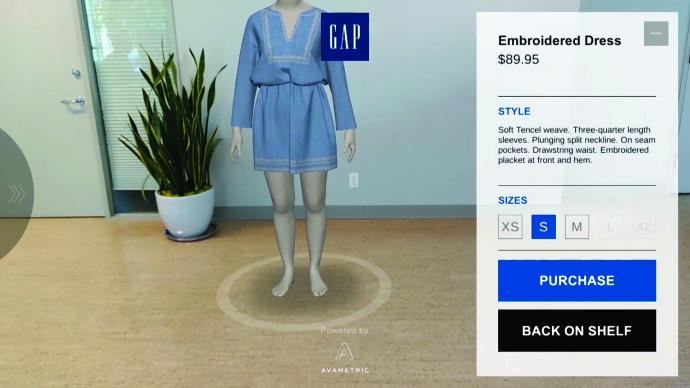 (Source)
Brands are incorporating augmented reality shopping in their offline stores as well. For example, Timberland created a virtual fitting room where customers could try out clothes from their newest collection. Standing in front of the device, customers could see how the apparel looked on them. Using hand gestures, they could freely change outfits.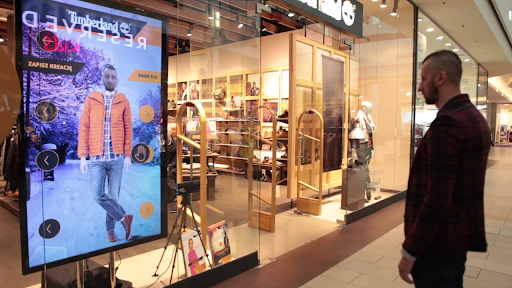 (Souce)
With social distancing becoming the new norm, this trend is going to witness growth in the coming years.
Try-On Feature
Augmented reality in retail stores has become essential. From furniture to engagement rings, the try before buy feature is truly changing retail.
With virtual try-on beauty app, GLAMlab, saw their engagement increased by seven-fold post-Covid.
AR-enabled virtual makeup apps let buyers experience the product look on them simply with the try-on feature. The beauty and makeup industry is investing heavily in this technology to attract millennials, personalize beauty advice, and increase sales.
The L'Oréal Style My Hair app uses augmented reality to let users check out new hairstyles and colors. With the AR tracking feature, users can just move around to see how their hairstyle will look.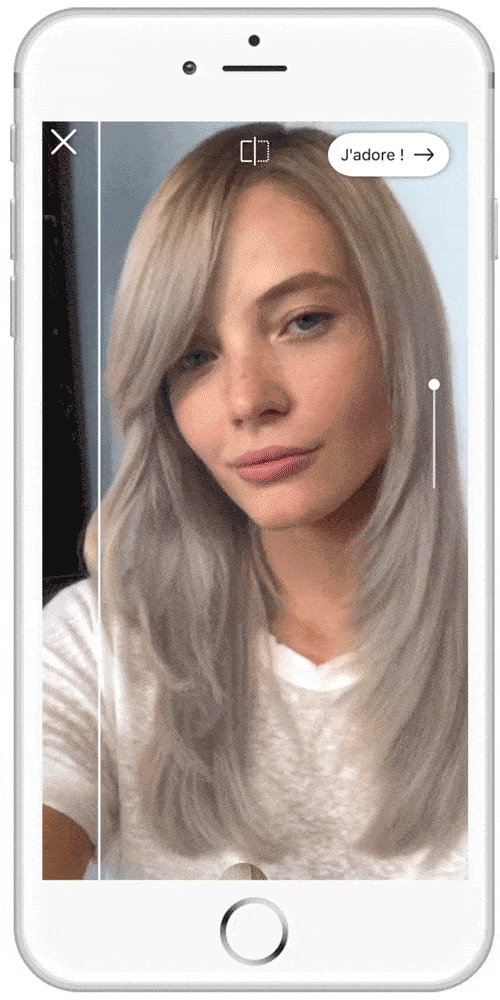 "Say Yes" is an AR application for trying on potential engagement rings without needing to visit a physical store. The app uses hand-recognition technology to map the users' hands and the "put a ring on it," allows shoppers to decide if they like the look. Users can use built-in integration to share the images on social networking sites.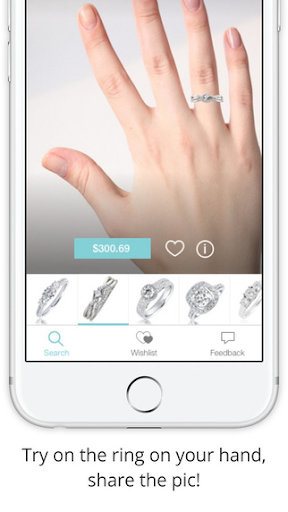 (Source)
Companies like FittingBox and Ditto are using AR technology for the virtual glasses try-on where the users choose a glass model from a virtual catalog and then put on their eyes. Shoe and accessories brands have also leveraged AR solutions by virtually allowing shoppers to try-on products.
How can you enable your clients to use the try-on feature?
In-store Navigation
61% of customers say that technology reducing the time spent navigating around a store would be most valuable. – Consumer Retail Technology Survey
In your large brick-and-mortar store, shoppers come looking for products on their shopping list. Now, exploring the whole store could be a hassle to find that one product they are looking for. They expect a smooth shopping process with less time spent on shopping.
To make their in-store experience faster, and seamless, you can introduce augmented reality navigation. This real-time navigation will have a profound impact on the customer experience.
Lowe's, a global retail chain, introduced Lowe Vision, a mobile app that allows users to navigate through the store based on what they want to buy. Using the app's catalog, shoppers can create shopping lists and the real-time navigation guide you with the fastest path to reach those products along with product details.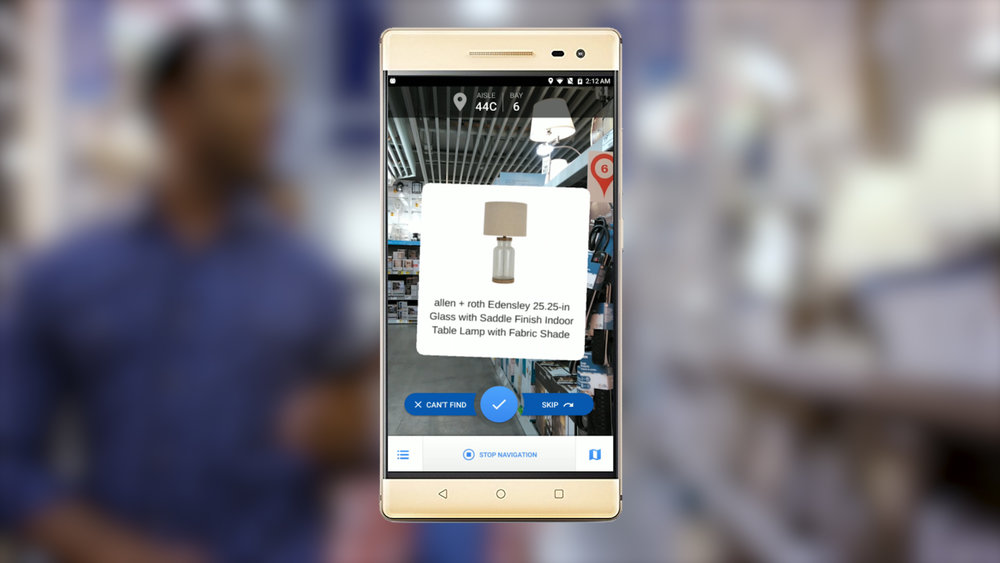 (Source)
The data science approach can help brands better understand customers' shopping behavior and buying decisions. From the arrangement of products in stores to studying traffic, real-time navigation is beneficial. This way, AR navigation technology is becoming a new lease of life for offline retailers. It can benefit you as well!
This brings us to another approach to AR in offline shopping – real-time product insights.
In-store Information
Your customers are looking for positive reviews about your brand before making a purchase decision. They are obviously not going to ask the salesperson about what others think about your product. If they cannot compare the product or look for reviews at the very moment, there are chances they might avoid purchasing especially if it's an expensive product. AR can answer this question directly.
82% of customers use their mobile phones while making a decision about purchasing in-store.
So, why not allow the customer to check reviews and product information there and there? For example, the AR app of American Apparel allows customers to read information including product details, customer reviews, price, color options, etc.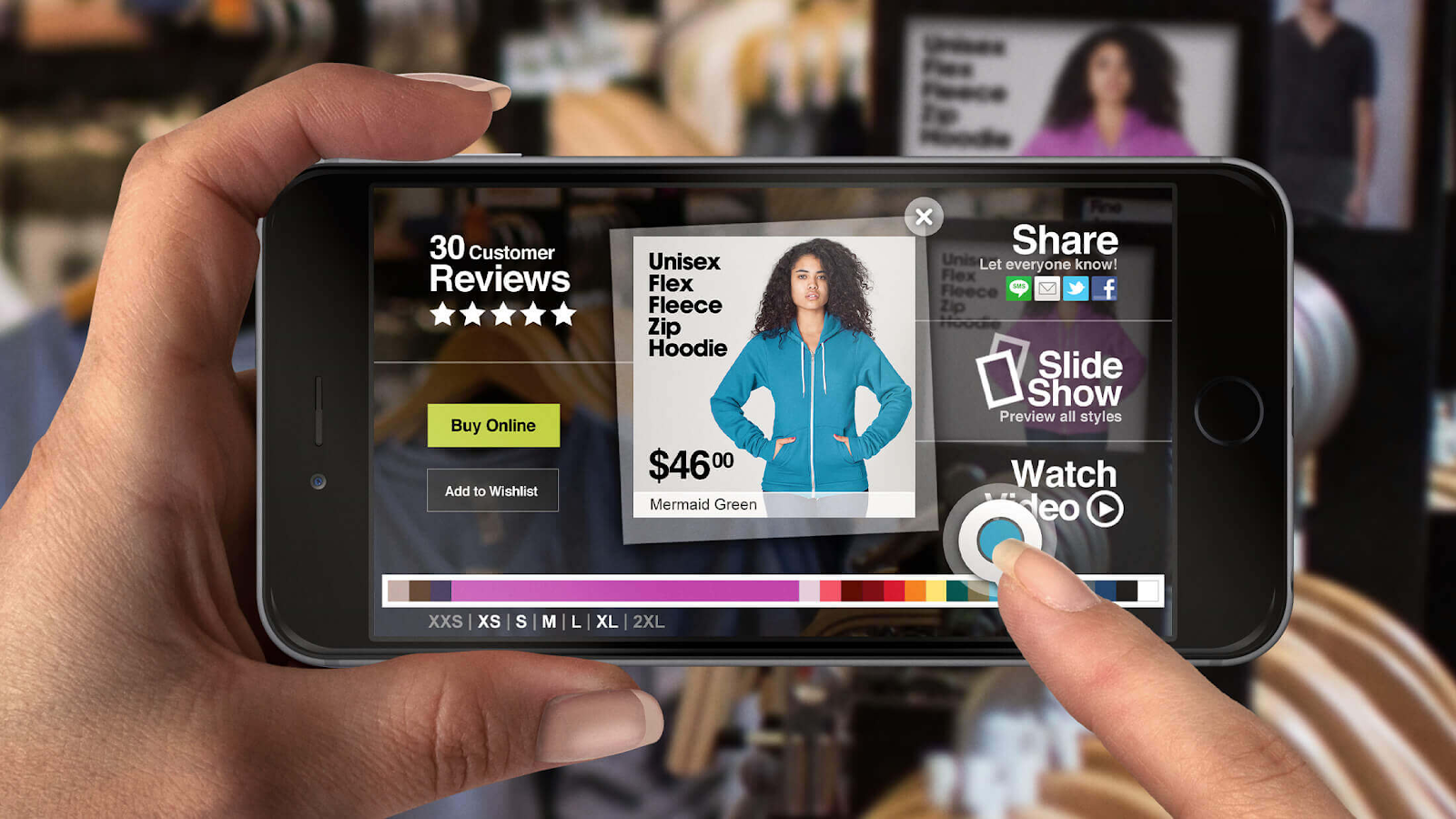 (Source)
This way AR in retail helps bridge the gap between online and offline shopping. Consider using AR for in-store to help customers find what they need.
AR in Warehouse Management
A warehouse is one of the most essential parts of the supply chain. To ensure that a product reaches the customer at the right time, the smooth functioning of warehouse operations is necessary. AR in warehouse management activities like inventory management, order allocation, and order pick-up simplifies the entire process.
According to a report by DHL, picking orders forms 60% of all warehousing operations. To reduce the expenses, it introduced a Vision Picking pilot project that brought AR smart glasses-based vision picking to warehouse operations.
The smart device, and barcode scanning help employees locate necessary items by providing the best route. This increases efficiency and cuts the travel time.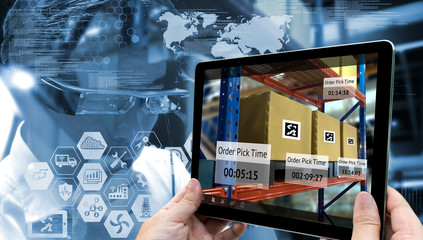 (Source)
Let's see, what are the advantages of AR in warehouse management –
Inventory Management: AR enables the staff to manage everything hands-free. For instance, with AR smart glass, a worker can get detailed information like the order number, trolley number, etc. on the screen. Going by the numbers, the worker knows which product belongs to which shelf. This way, managing the loading and unloading process becomes easy.
Warehouse Management: AR's potential to create interactive and 3D layouts can be of great help to warehouse managers. It is now possible to optimize, plan, redesign the complete layout in a cost-effective way.
Order Picking: The manual method of order-picking where the staff moves around the warehouse is time-consuming. With smart glasses and barcode scanning, your staff can identify the item, and through AV assistance, guide the operator to send the parcel to the correct location.
Empower Marketing Campaigns
AR is not limited to physical products, you can leverage augmented reality in retail business to empower your advertising strategies. You can add a virtual component to your marketing brochures, and business cards. For example, the client can scan a static brochure bringing dynamic elements to the text. Creating such fun AR experiences can result in engagement and significantly enhance your brand image.
Retail stores that use AR for advertising campaigns always set them apart as innovative and modern. One of the most creative examples is Airwalk's "invisible" pop-up shop. Airwalk used geolocation and AR to create the pop-up for promoting the limited-edition relaunch of the Airwalk Jim.
To purchase the shoe, customers would download Airwalk's app and go to a virtual pop-up store location. This fun shopping experience resulted in $5 million in earned media.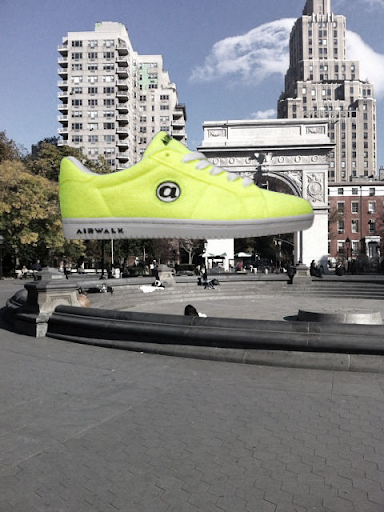 Here are some advantages of incorporating Augmented reality in retail marketing plan:
New experiences attract customers to the brand. This will increase engagement, and reinforce brand image.
Innovative techniques set you apart from your competitors.
AR allows readers to truly connect with your marketing campaigns by creating a unique medium of storytelling.
This is how AR is transforming retail. Do you have innovative ideas for augmented reality in your retail store?
A Mobile App Strategy for Augmented Reality Shopping
Business is based on the principle of reciprocity – meaning, a tendency to want to offer something in return for something.
'You did something good for me and now I am obliged to repay'
What does this mean in business? – Your client performs an action which helps your business. For instance, buying a product. In return, you offer something valuable to appreciate the client.
Starbucks, for instance, uses its mobile app to motivate customers to buy more by offering rewards.
Customer loyalty is one of the many advantages a mobile app can bring to your business. And AR in retail mobile apps can help tick all the right boxes by providing a visually appealing, and personalized experience.
So, let's find out everything that you will need for a powerful augmented reality eCommerce app. But before that, we would like to alert you to the challenges in augmented reality in retail.
Challenges in Augmented Reality Shopping App Development
Security and Privacy – The biggest problem with AR in retail apps. There are no set rules in augmented reality in retail for what is allowed and what is not. Also, sometimes due to inconsistency in augmented reality eCommerce app programming, you might end up in trouble without a set intention. For example, what if the try before buy feature fails, hackers can use the user data such as images, or other personal details for malicious intent.
Social Norm – AR is no doubt a popular topic of discussion. But sometimes, customers are not aware of the benefits or are a bit skeptical about how an augmented reality eCommerce app functions. In your journey of incorporating augmented reality in retail, you might face a problem encouraging people to try out the features.
Technology Limitations – There is a huge gap between implementing AR solutions for smartphones and for AR devices. The latter has more accurate results and a user-friendly experience. However, your audience is not likely to purchase gear and therefore you only have a smartphone as a preferred option.
Must-Have Features of Augmented Reality eCommerce App
If you are planning on building an augmented reality shopping app, below are some features to consider –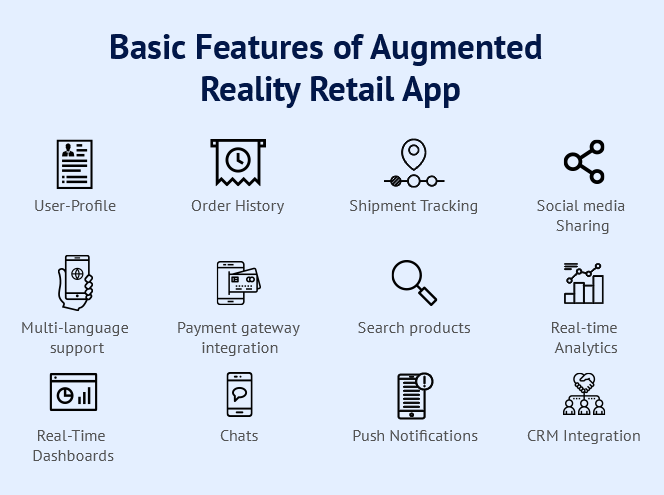 Product Catalog
In the purchasing journey, a catalog is an important point of contact. The catalog for augmented reality shopping works in 2 ways:
Buyers can view all products, and read the specifications. The 3D visualization gives them and gets a clear understanding of how the product will look in real life thus enhancing the purchasing decision. The AR mode allows customers to change attributes like color, size, direction, etc.
Use the immersive technology by synchronizing it with a printed catalog. Here, the users can see the AR content on their digital devices. This is ideal for retail furniture stores that want to leverage AR in their offline store.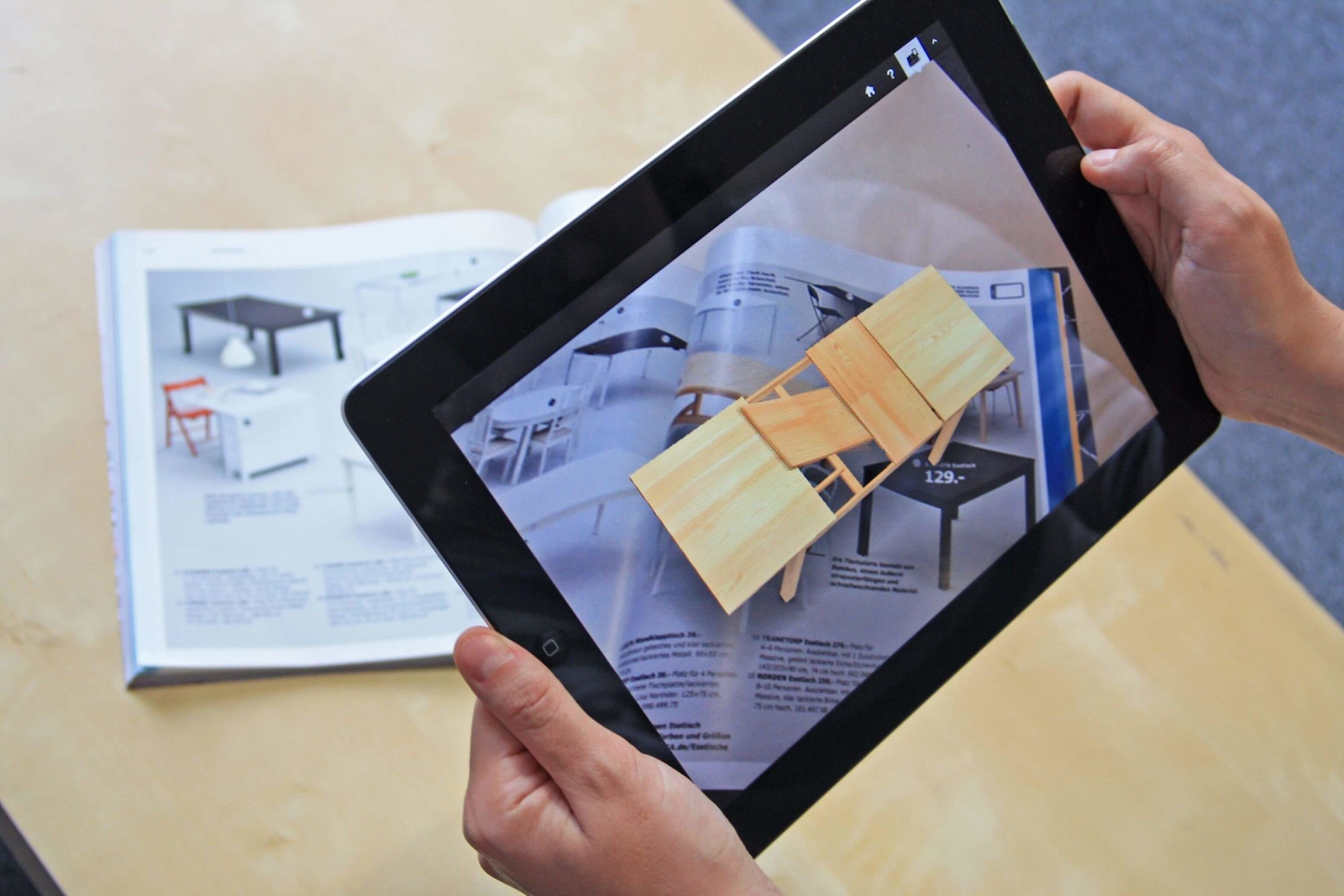 (Source)
Tips to make your catalog outstanding:
Filter and search option
A well-written description of every product
Multi-language content
Seamless navigation
Interactive design
AR-enabled Product Search
This AR feature offers a precise method for in-store navigation to search for products. The user can select a given product and the app will guide the user through the store by displaying directions on the mobile screen. With advanced features, the augmented reality eCommerce app, after knowing the position of the shopper can indicate the shortest route to the product. Customers can get instant insights into the product information as well.
Retailers can use AR technology to arrange the right products on the right shelves according to the planogram. This makes the in-store shopping experience easy for the users. Moreover, you can even check if the products are out of stock.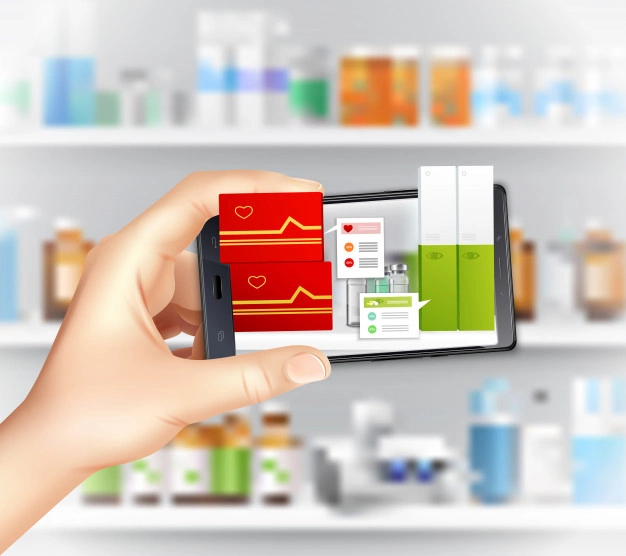 (Source)
AI Chatbots
Whether it's at the store or online, customers are using chatbots to solve their inquiries. 82% of consumers say that instant responses to their questions are very important when contacting brands. And a chatbot will help you with this 24/7.
These bots are no longer an I-will-look-into-this-later feature. They are a must. Your eCommerce store needs a combination of AR, VR, and chatbots that has the potential to bridge the gap between the virtual and real world. A live chat with the assistant chatbot that helps the customer choose the right dress or lip color can make all the difference.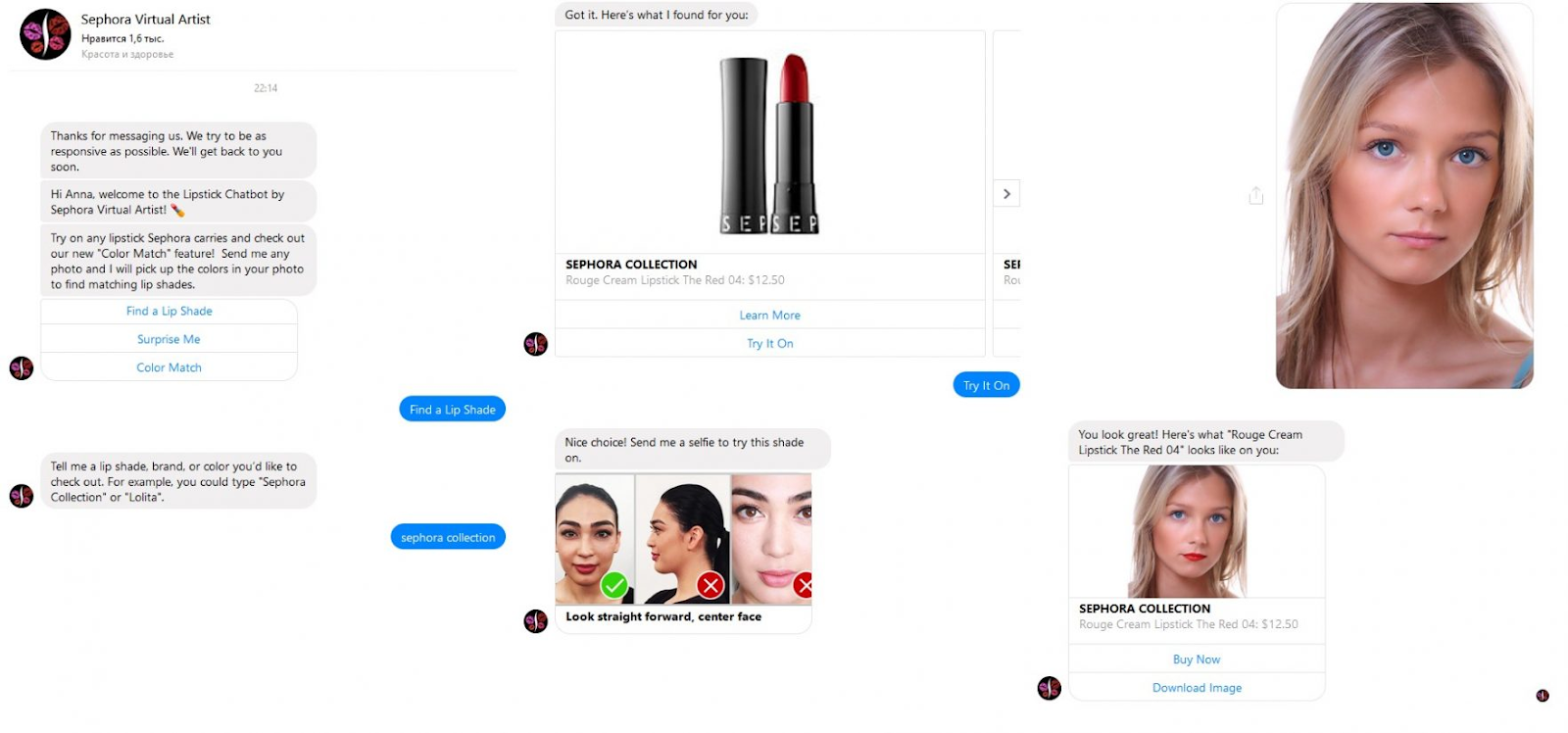 For example, in
Sephora Virtual Artist
, the bot can help the user find a perfect lip shade by suggesting random products. It then encourages the user to use the try-on feature to see what they look like.
Other features to consider are:
Product Recommendation – A personalized product suggestion at the right time cannot only improve the user experience but also increase the conversion rate. According to a report by Accenture, personalization increases the likelihood of a customer purchasing from you by 75 percent. Consider including intelligent recommendations on your online store.
Wishlist – Users with a registered account can add products they would like to buy. A wishlist feature is convenient for users who want to postpone buying but there are chances they will come back to your store. You can send push notifications in case of updates on the price or availability of those products.
Location Tracking – If you have an offline store, you would want users to find your store if they are in a nearby area. With real-time tracking, you can notify users about a discount or new collection in your store. This will drive more customers to your business and increase offline sales.
Social Sharing – This is free advertising for you. When a user buys a product or uses the try-on feature, you can encourage them to share the screenshot with their friends. The social sharing feature will enable them to do so without leaving the app.
Payment Gateway – A must-have feature to accept digital payments. Payment gateways deal with sensitive information, so make sure they are secure. Payment gateways like PayPal, Stripe, and Braintree are reliable and time-trusted. If you are into selling expensive products like jewelry, you can include the buy now pay later option in your app too.
Guide To AR App Development
From technical tools to choosing the best team, in this section, we will discuss all how you can bring an experience of AR in retail.
Deciding the Type of App
There are different ways to go around augmenting the real world. Every type has its own pros and cons. To make things easy, we thought we will group the current types into two categories – markerless and marker-based.
Marker-based App – In marker-based AR experiences, you need a static image/trigger photo that users can scan using their mobile device via augmented reality app. This will trigger the additional content like video, 3D, or animation that you have prepared in advance to appear.
Marker-less App – This app works by scanning the surrounding environment to retrieve augmented reality content.
Technical Requirement Checklist
The front-end and the back-end of augmented reality retail application requires a specific toolkit and platforms for creating augmented reality functionalities. Here's all that you need to know:
#1 eCommerce Components
Once you choose a platform (Shopify, Magento, etc.) for your application, the next step is to focus on important functionalities such as catalog, search engine, checkout, etc. On average, this job takes 15-20 days.
#2 Software Development Kit
An SDK consists of different software development tools that simplify the coding phase. Popular SDKs for augmented reality retail apps are Kudan, Wikitude, and Vuforia.
As compared to other frameworks, Kudan is faster and requires less memory storage. However, it lacks functionalities like cloud-recognition or geo-location. Wikitude on the other hand offers these as well as other functionalities. Moreover, it is the first SDK to support JavaScript API which enhances the augmented reality experience.
Vuforia on the other hand is a good option for 3D objects and marker-recognition. The kit even supports all platforms like iOS, Android, UWP & Unity Editor.

ARKit for iOS:
The SDK utilizes iPhone/iPad hardware, motion sensors, camera to enable Augmented Reality applications. ARKit supports 2D & 3D image recognition, and image tracking.
ARCore for both Android and iOS devices: ARCore comes with the following capabilities –
Motion tracking
Environmental understanding
Light estimation
Real-time position tracking
Integration of virtual objects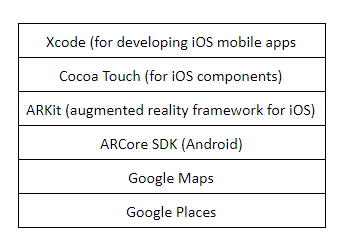 #3 AI for Product Recommendation
If you are planning to include intelligent product suggestions for augmented reality online shopping app, then you should consider these three basic approaches to product recommendation algorithm:
The content-based filtering method analyzes customer data based on the likes and dislikes and then makes suggestions based on the browsing history of that user. The idea behind this method is that if you like item A then you are likely to appreciate a similar item.
The collaborative-filtering method takes data from users who purchased similar products, then combines that information to give suggestions. Let's simplify this – collaborative-filtering assumes that if both customer A and B like a similar category of products, then customer B might like a product that A recently purchased.
The hybrid approach is the combination of the above-mentioned methods. But the outcome of this method is peculiar to a specific customer. For example, the personalized discover weekly playlist in your Shopify app is a result of this approach. A complex filtering system collects data based on your choice and similar users' choice to create a suggestion that aligns with the users' personal tastes.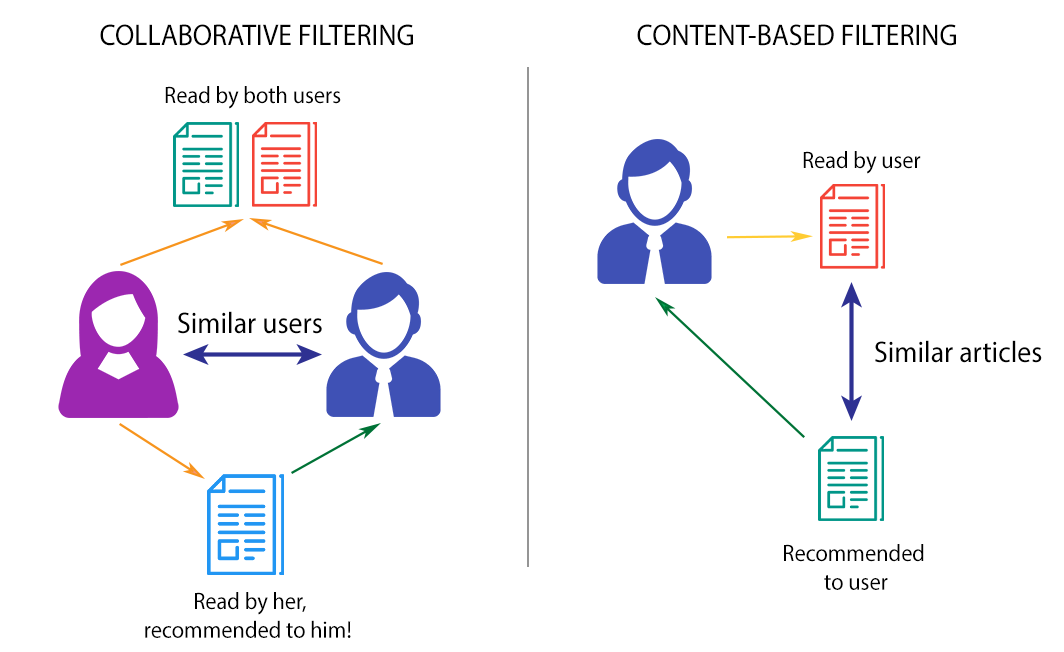 (Source)
Estimated Cost to Build Augmented Reality Shopping App
The cost of building an Augmented reality retail app depends on the type of app, platforms, and the features you wish to add. Secondly, it largely depends on the development team you hire. Usually, AR retail apps involve complicated 3D images & animation. So, it is necessary that you have a team of experts who are amazing at these skills and even have the technical expertise. The team includes project managers, designers, unity developers, Android/iOS developers, QA specialists.
How Biztech Can Help
In the last few months, we have observed that the pandemic has enforced the necessity of adopting new-age technologies to attract new customers. Augmented reality in retail is emerging as an innovative solution transforming the customer experience.
Whether you are selling shoes or deal in diamonds, augmented reality eCommerce apps have the potential to supercharge your business. By adopting the latest tools and advanced technologies, our team will help bring out the best results for your business needs. Whether your plan is to build an iOS or Android or a web app, our agile working method guarantees timely delivery of your project.