1167
Magento 2.3 End of Life - What Should You Do Now?
01 Aug, 2022
5 min read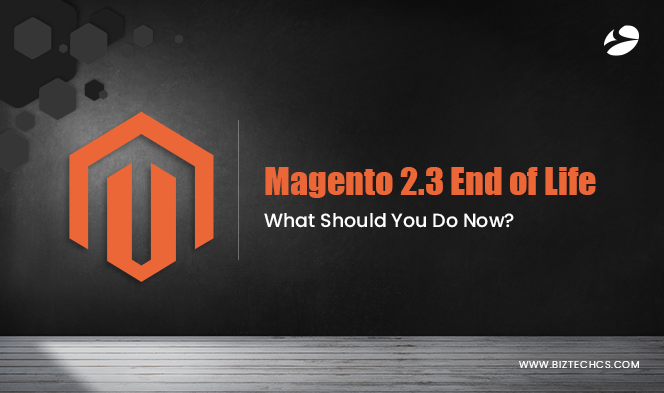 https://www.biztechcs.com/blog/end-of-support-for-magento-2-dot-3/
What Does Magento 2.3 End of Life Mean
Magento 2.3 end of support means that users having Magento 2.3 supported websites will no longer get software support and security fixes for their Magento platform.
Here are the challenges you will face if you don't upgrade from Magento 2.3 to Magento 2.4.
No Upgrades
There won't be official support for Magento 2.3 anymore. It means no upgrades for security patches, payment gateways, and compliances. So, stores relying on Magento 2.3 might face security and data risks.
No Security Patches
No security patches leave the store vulnerable, giving hackers and malicious attackers a chance to exploit sensitive data. Thus, depending on Magento 2.3 version after its EoL can be risky.
P.S. Adobe is going to release the last full patch security patch for Magento 2.3 this month to help businesses transition to Magento 2.4.
No Support
Along with updates, the support tickets will no longer be valid for unsupported Magento versions after one year of the EOS date. If you face any technical issues in the long term, you can't expect support from the Adobe team. You will have to take assistance from an external Magento development company.
Restricted Compatibility with Third-Party Extensions
The latest Magento extensions may not be compatible with the old Magento 2.3 version.
As an e-store owner, it means you won't be able to access the latest extensions and leverage new features that your customers might expect. This could limit your store's capacity to work efficiently.
Also, incompatibility with extensions could affect a few features to cause errors. They may not work as expected, affecting the overall performance.
No More Dev Docs
The last piece of support, i.e., official documentation support, will be removed once Magento 2.3 becomes obsolete. So, if you want to troubleshoot errors or implement new features, documents can't be your savior!
You can hire dedicated Magento developers for Magento support services. But the support for an obsolete version will be costlier in the long run.
Befriend Technology for Transformation
Selecting the right technology is pivotal to your business's growth and success. Have you already decided the suitable one for your next project? If so, we can help you take the next step. If not, we can help you decide the best option. Connect with the Top 1% pre-vetted software engineers to build your software.