919
Magento 2.3 End of Life - What Should You Do Now?
01 Aug, 2022
5 min read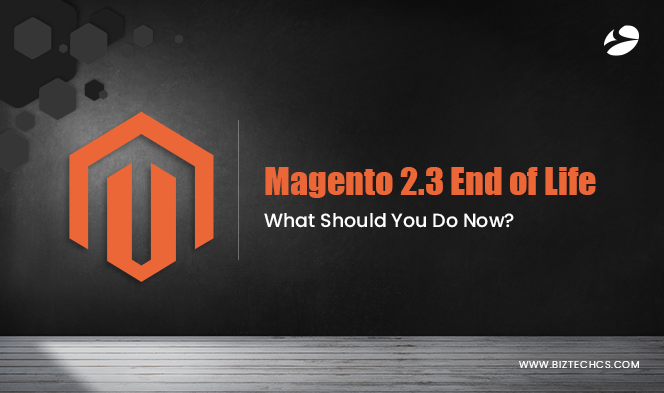 https://www.biztechcs.com/blog/end-of-support-for-magento-2-dot-3/
Magento 2.3x has been with us since 2018, and in less than two months, it's going to enter EOL (end of life).
This means that Adobe won't longer provide Magento support and security fixes for the Magento 2.3 version as of 8th September 2022.
To bridge this gap, Magento users should upgrade to Magento 2.4.x version. The Magento 2.4, launched in 2020, comes up with a list of advanced features, bug fixes, and enhancements.
Though it's not new, approx 36,519 websites still rely on Magento 2.3. Maybe they never thought of upgrading to Magento 2.4.x or couldn't find a good reason.
If you're one of them, I believe now you have a valid reason. Upgrade to the latest Magento 2.4 version with skilled Magento developers and their expertise!
Still unsure if you should upgrade?
Read this article to know what changes are coming up with Magento 2.3 end of life and how it's going to affect your business.
What Does Magento 2.3 End of Life Mean
Magento 2.3 end of support means that users having Magento 2.3 supported websites will no longer get software support and security fixes for their Magento platform.
Here are the challenges you will face if you don't upgrade from Magento 2.3 to Magento 2.4.
No Upgrades
There won't be official support for Magento 2.3 anymore. It means no upgrades for security patches, payment gateways, and compliances. So, stores relying on Magento 2.3 might face security and data risks.
No Security Patches
No security patches leave the store vulnerable, giving hackers and malicious attackers a chance to exploit sensitive data. Thus, depending on Magento 2.3 version after its EoL can be risky.
P.S. Adobe is going to release the last full patch security patch for Magento 2.3 this month to help businesses transition to Magento 2.4.
No Support
Along with updates, the support tickets will no longer be valid for unsupported Magento versions after one year of the EOS date. If you face any technical issues in the long term, you can't expect support from the Adobe team. You will have to take assistance from an external Magento development company.
Restricted Compatibility with Third-Party Extensions
The latest Magento extensions may not be compatible with the old Magento 2.3 version.
As an e-store owner, it means you won't be able to access the latest extensions and leverage new features that your customers might expect. This could limit your store's capacity to work efficiently.
Also, incompatibility with extensions could affect a few features to cause errors. They may not work as expected, affecting the overall performance.
No More Dev Docs
The last piece of support, i.e., official documentation support, will be removed once Magento 2.3 becomes obsolete. So, if you want to troubleshoot errors or implement new features, documents can't be your savior!
You can hire dedicated Magento developers for Magento support services. But the support for an obsolete version will be costlier in the long run.
How to Tackle the Issues of Magento 2.3 End of Support
The only way that every Magento expert will recommend Magento store owners to overcome the challenges of Magento 2.3 is to upgrade. Upgrade to the latest version of Magento, i.e., Magento 2.4.x, to get rid of security threats, support, and PCI compliance.
Partner with a Magento development company to upgrade Magento 2.3 to 2.4 today. The longer you wait, the costlier and riskier it will be to run the store.
You might have a lot of questions about Magento 2.4. Should you upgrade to Magento 2.4 or continue with Magento 2.3 version? Below is the answer to all your questions.
Why Upgrade to Magento 2.4.X
The first and foremost reason to opt for Magento 2.4.4 before 08th September 2022 is to keep your e-store running smoothly while protecting against security threats.
Bug and enhancement issues that businesses face in Magento 2.3 are resolved in the latest version, i.e., Magento 2.4.4. Here are the other benefits of upgrading to Magento 2.4.4.
1. Security Upgrades for Storefront and Data
Magento 2.4 includes over 30 security fixes with tons of security features such as two-factor authentication support, MFA for SSH access, strict mode, and more. The new version also provides enhancements to the content security policy support, securing your store.
Plus, the regular security patches will ensure your store is secure from malicious attacks.
2. BOPIS Support
As an e-store owner, you might know the benefits a BOPIS (buy online, pick-in-store) feature can provide. Your customers prefer it for the convenience and speed. Now, with Magento 2.4, you can natively integrate BOPIS support into your Magento store.
3. Performance Upgrades
Another reason you should consider Magento 2.4 over Magento 2.3 is the faster loading time and better performance. Magento 2.4 provides significant improvements to store catalogs, search features, add-to-cart, enhanced caching, and lists of other features.
All these features will increase your conversion if you upgrade to Magento 2.4.
4. Media Gallery, Adobe Stock Integration
You can preview the licensed Adobe stock from the New Media Gallery in Magento 2.4. The new media gallery allows you to search, sort, and filter 30 times faster than the older version.
5. Platform Support
Adobe Commerce 2.4.4 version provides support for PHP 8.1. From a technical perspective, it means high speed and better performance, which, in turn, mean customer satisfaction and increased sales.
6. B2B Improvements
Magento 2.4 provides a lot of B2B features like seller-assisted shopping, purchase approval workflow, and improved notifications for orders. While upgrading from Magento 2.3 to Magento 2.4, you can leverage these features to streamline your business workflow.
7. Headless Commerce and PWA Support
The latest Magento version now supports PWA 6.0 and PWA 6.1, making it easy for you to develop progressive web apps for your store. While there's also support for headless commerce to ensure a consistent user experience across all channels.
All-in-all, upgrading to Adobe Commerce 2.4.4 has a lot of benefits for your eCommerce store. It will help you keep up with the latest updates while helping you grow exponentially.
P.S. Adobe Commerce has also introduced Magento 2.4.5 beta version. Here's everything you need to know – Magento 2.4.5 Stable Version Coming Soon!
Need Assistance?
At Biztech, our skilled Magento developers can help you upgrade your store from Magento 2.3 to Magento 2.4 without affecting your data or business operations. We provide all the services from consulting to Magento development maintenance support for Magento 2.3 and upgradation.
You can even hire dedicated Magento developers from us to keep your store functional and flourishing.
Trust me, it's wise to let experts do their work! Let our developers help you upgrade your store.
Befriend Technology for Transformation
Selecting the right technology is pivotal to your business's growth and success. Have you already decided the suitable one for your next project? If so, we can help you take the next step. If not, we can help you decide the best option. Connect with the Top 1% pre-vetted software engineers to build your software.