2276
Magento 2.4.5 Stable Release Coming Soon! What Can You Expect?
05 Aug, 2022
5 min read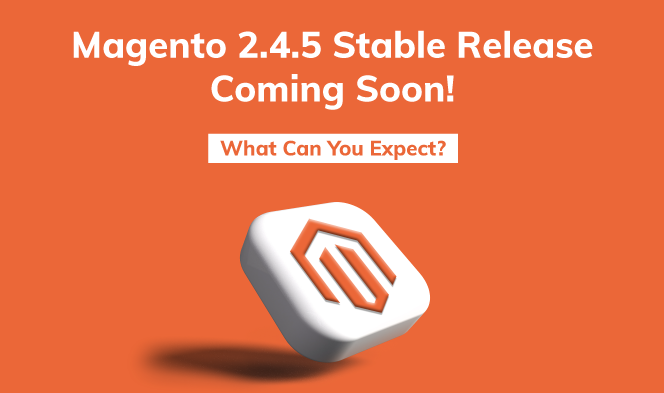 https://www.biztechcs.com/blog/magento-2-4-5-release-notes/
After bidding farewell to Magento 2.3, Adobe Commerce took a step ahead by rolling out the pre-release of Magento 2.4.5 on July 26, 2022. Currently, the Magento 2.4.5 version is in beta testing. It will be available to the general public on August 9, 2022.
Magento 2 store owners be ready to enjoy better security, performance, quality, caching, accessibility, and payment enhancements!
According to official Adobe Commerce DevDocs, the new version of Adobe Commerce 2.4.5 includes 400 quality fixes and enhancements while the Magento open source version has around 290 fixes.
The platform includes upgrade to Google Modules and many more features. Let's have a look at Magento 2.4.5 updates.
Overview of Magento 2.4.5 Version
The Magento 2.4.5 highlights include a lot of bug fixes and feature enhancements.
Security Enhancements
The new version includes 20 security bug fixes and platform security enhancements. Other improvements include:
Google reCAPTCHA support for Wish List Sharing, Create New Customer Account, and Gift Card forms.
Instilled ACL resources to inventory.
Enhanced inventory template security.
MaliciousCode filter upgraded to HTMLPurifier library.
Security Tips: Protect your Admin by IP allowlisting, two-factor authentication, using VPN and unique location, and strong password hygiene. Hire dedicated Magento developers to keep your store protected from malicious attacks!
Platform Enhancements
Adobe Commerce, in their upcoming Magento version have brought in various enhancements for Magento developers such as:
Support for Composer 2.2, TinyMCE 5.10.2, jQueryUI 1.13.1, and PHPStan 1.5.7
DHL Integration Schema updated from v6.0 to v6.2
20 Composer Dependencies upgraded to latest version
Upgraded all outdated JS libraries to the latest version, Magento 2.4.5
Accessibility Updates
With Magento 2.4.5, you can now create a storefront experience on Venia PWA. The accessibility enhancements include:
Screen readers can now know the search results summary information
Informing screen readers when new page loads
Improved contrast and keyboard accessibility
Performance Enhancements
Adobe has worked a lot on improving store performance in the upcoming release of Magento 2.4.5 version.
Optimized the price indexer performance
Reduced the number of primary indexes from 3 to 1
Reduced indexing time
Read More: How to Change Admin URL in Magento 2?
New Features in Magento 2.4.5
Apart from the enhancements, the new version of Magento has various module and feature specific enhancements. Here are the highlights of the Magento 2.4.5 version in brief.
Google Analytics
Google has updated AdWords and Analytics in web applications. Adobe Commerce has built-in modules including Google AdWords, Analytics, TagManager, Optimizer to track and manage content with Google services.
GraphQL
Magento 2.4.5 will bring in various GraphQL enhancements. The highlights of GraphQL enhancements in Magento 2.4.5 features include:
Rebuilding unified storefront GraphQL schema on deployment or on changing various attributes. Merchants can experience increased page load speeds.
GraphQL API capability to consume the expiration date/time of the authorization token.
Disabling session cookies for all GraphQL operations.
Launching session cookies with class proxies only when required.
Session usage removed from http header.
Inventory and Live Search
In the latest Magento 2.4.5 version, Adobe Commerce has enhanced the inventory template security. Next, the live search feature in Adobe Commerce now supports product assignments to specific customer groups and pricing.
Page Builder
Page Builder v1.7.2 is now compatible with Magento 2.4.5 version. This means that users can now add columns directly on the stage. They can duplicate, hide, delete column groups, and even manipulate multiple lines inside one column group.
Payment Improvements
In the latest version of Magento, Adobe has included new payment option, Apple Pay for all the Magento merchants. There are also changes to PayPal and Braintree gateways.
The highlights of Magento 2.4.5 in payments include:
Apple Pay is available for all the merchants on product details page, cart, and checkout page.
PayPal Pay Later option is available for shoppers in Italy and Spain.
Magento store admins can preview PayPal, Credit, and Pay Later.
Removed KOUNT fraud protection integration from Adobe Commerce Codebase.
Braintree payments now have the 'Always request 3DS' option.
PWA Studio
PWA Studio v12.5.x is now fully compatible with Adobe Commerce 2.4.5. The new features in Magento 2.4.5 include:
With the help of PWA studio storefront, merchants can collect shopper behavior data for web analytics services.
Merchants can now deploy a service from Google Tag Manager.
Other Issues Fixed in Magento 2.4.5 Version
Adobe Commerce has fixed hundreds of issues in the Adobe Commerce core code. Some of the major fixes include:
Changing Admin URL to custom URL no longer throws exception.
Users can easily sign out of the Adobe Stock.
Adobe Commerce now correctly calculates total cart of the product bundles while product subselect is applied.
No DOM errors on the address search pop-up on the billing step of the checkout workflow.
Active scheduled update can no longer be updated from entity edit page.
Magento 2.4.5 has fixed the product pricing issue when the quantity changes.
Adding bundle product through Page builder no longer throws exception.
Shoppers can leverage multistore views with single login.
Admin Action Log displays correct product ids and status.
Error message is displayed on the shipping page when shopper enter invalid email format.
Adobe Commerce now allows removing sample links and files from downloadable products.
The logo related issues in the storefront print order/invoice/credit memo pages are fixed.
Magento accurately displays customers name for orders placed by guest customers with PayPal.
Entering invalid birth date while creating account shows an error.
Magento 2.4.5 doesn't store duplicate copies of the customer address during re-orders' checkout.
Admin can now set the session size to 0 from backend.
Images on product pages are displayed without flickering.
Adobe has fixed the functionality of unsubscribe URL in the email newsletter.
Filtering products by color in layered navigation is now possible.
Hide product images on storefront during export.
Dependency on PayPal module is removed.
Prices in Order report uses correct currency symbol.
Checkout process no longer fails with network disruptions.
Optimized web font loading for themes.
Lengthy names in product grid are word wrapped.
Magento 2.4.5 - Official Release Notes
Magento 2 enthusiasts can find more information about the latest Magento 2.4.5 beta version at:
Adobe Commerce 2.4.5 Release Notes
Magento Open Source 2.4.5 Release Notes
In a nutshell, the new version has a lot in store for Magento experts and store owners. Magento 2.4.5 resolves hundreds of bug issues with upgrades. Whether it's payment gateway, security enhancements or store optimization, Adobe Commerce ensures seamless experience to all its users.
Store owners – you must upgrade Magento 2 store from Magento 2.3 version to Magento 2.4.5 once the stable version is out! Leverage Magento development services to gear up with the fastest and most scalable Magento version.
Befriend Technology for Transformation
Selecting the right technology is pivotal to your business's growth and success. Have you already decided the suitable one for your next project? If so, we can help you take the next step. If not, we can help you decide the best option. Connect with the Top 1% pre-vetted software engineers to build your software.