1383
Multi-Tenant CMS: A Centralized Solution for Your Website
01 Dec, 2021
3 min read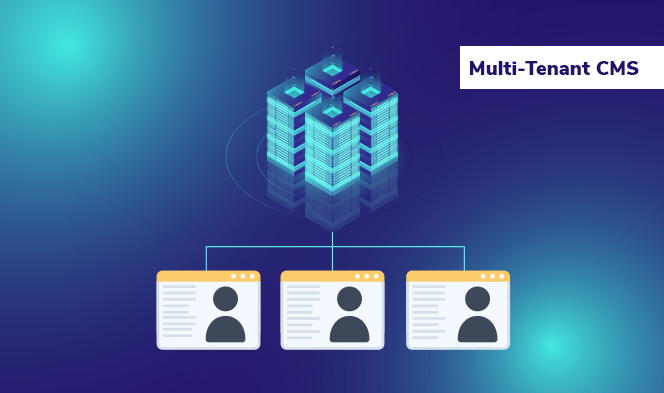 https://www.biztechcs.com/blog/everything-about-multi-tenant-cms/
Today businesses want to take their companies overseas to gain more user-base, increase their sales, and grow their business. The first step which businesses need to take is to build a website that honors their target audiences' country and traditions. Managing many domains can be difficult if you are using a single-tenant CMS. But not anymore. With the help of multi-tenant CMS, you can manage multiple domains with a single back-end service and provide customers with a seamless experience of your website.
Let's see what multi-tenant CMS is, its benefits, how you can custom develop multi-tenant CMS by leveraging CMS development services from Biztech, etc.
What is a Multi-Tenant CMS?
Multi-tenant CMS is a centrally hosted CMS instance with a centralized database that serves multiple tenants. Each of them can manage and control their host independently. Businesses who have multiple domains are most likely to use this multi-tenant CMS.
Going further, let's see some of the major benefits of multi-tenants:
Benefits of Multi-Tenants:
Security:
Using multi-tenant applications, you can isolate each tenant's data. Each tenant has dedicated login credentials so administrators can know actions performed on the platform by each user. It is secure as each user has restricted access in three different ways i.e., restricted access to cloud service, individual resources, and access to data.
Simplify Updates:
Traditional update management involves admins distributing changes to applications and databases. This process needs each customer to have a dedicated server when using single-instance. Thus, it becomes difficult for admins to update each machine. This is when a multi-tenant CMS makes the updating process simple. With multi-tenancy, the distribution package is not installed in a single server and so the updates needed don't depend on the number of customers. Hence, tenants get timely and automatic updates.
Scalable:
A multi-tenant CMS is scalable because all instances share the same core codebase and can develop on top of shared code. This makes it a better choice for enterprise companies. In a single-tenant CMS solution, developers need to create everything from scratch which can be time-consuming. Whereas, in a multi-tenant architecture, each tenant is using a common infrastructure so there is no need to increase the number of data centers or hosting capacity.
Save More Time:
There will be less investment needed as multi-tenant CMS solutions share their resources, content, files, databases, and folders. As a result, you can increase the number of tenants on your platform. You don't need to hire a dedicated resource for maintaining each instance, as a single admin can handle it.
Smoother Onboarding of New Customers:
Enterprise customers have a large user base and need to target each market uniquely. With the help of multi-tenant CMS, it becomes easy to develop landing pages, microsites, blogs, websites, etc. Companies can understand their customers, their market, and provide service accordingly. This helps brands to stand out from the competition and build good relationships with customers.
Customizing multi-tenant CMS is one of the best things to do as it will help you to build it according to your business needs. Recently, we helped one of our clients implement a multi-tenant CMS in their website which provides unified experience on all domains.
Problem Statement:
They wanted their editor to create, edit, and publish content on their e-store and have full function of WordPress content creation capabilities. They wanted to push content into API or feed which allows any site to pull into the content and place it within their own content hierarchy to display.
Solution:
We understand this need and decide to implement a multi-tenant CMS which will help editors to handle their domains. With the help of multi-tenancy, we divided WordPress into workspaces and each of them has a different domain. Moreover, based on each editor's role they can either have access to multiple domains or a single domain, which helps to keep restricted access to domains. Whereas, on the front-end, users have a unified and seamless experience on any domain and can access the content of the site easily.
Rely on our CMS development services and let our experienced team of developers help you with the development of multi-tenant CMS for your business. Over a decade we have served 1000+ clients and provided them with solutions that cater to their unique needs.

All product and company names are trademarks™, registered® or copyright© trademarks of their respective holders. Use of them does not imply any affiliation with or endorsement by them.
Befriend Technology for Transformation
Selecting the right technology is pivotal to your business's growth and success. Have you already decided the suitable one for your next project? If so, we can help you take the next step. If not, we can help you decide the best option. Connect with the Top 1% pre-vetted software engineers to build your software.