975
Take Your Offline Gym Business Online with a Gym Booking App
26 Aug, 2020
14 min read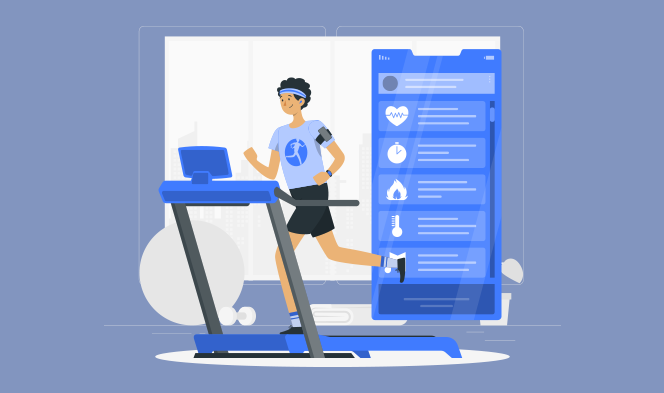 https://www.biztechcs.com/blog/gym-booking-app/
Building a fitness business is, in itself, a cardio session with some extra lifts :p
Tell someone you run a gym (a fitness studio, a yoga studio, or a kind of fitness business) and the first thing they will notice is your physique. And in the worst scenario, if you have that extra fat on your belly, Oh dear! You have already lost your potential customer.
I know that's sad and you can't even tell them that it's the stress of managing the business, inquiries that eat up your workout time. That you would have invested in the gym if only you had something as trustable as a mobile phone to take care of your business operations.
Wait! You know the solution to your problem is a gym booking app.
Wondering whether a gym booking app is the right idea or not?
Keep reading to know the answer!
Is having a Gym Booking App worth it? 
Mobile apps are in demand. The number of app downloads which was 178 billion in 2017 is expected to grow to 258 billion by 2022. Whereas the global fitness and health industry generates more than $80 billion in revenue per year and is projected to grow at a rate of 10.6% from 2018 to 2023. Fitness is a new trend that is being revolutionized by mobile apps and these mobile apps are somewhere the growth enablers for this industry. Hence, investing in developing a gym booking app for your fitness business might actually be a great idea. 
The overwhelming feeling that you get managing a business and multi-tasking is the most important reason why having an app that handles appointments and sessions, commissions or payments, clients' fitness regiment, workout packages, membership, marketing, and onboarding new members is a must-have. And at last, would reward you with a bonus of free time for your workout. 
If you're someone planning to step in the fitness business or already have one offline, then it is time to step into the internet realm.
Moreover, people becoming more fitness conscious and pandemic together have upsurge the demand of fitness apps. People can't visit gyms and are booking their in-person sessions online using fitness apps or via a call if their gym is still offline.
Offline fitness studios are struggling to streamline their operations and retain their customers since their customers have to do 5-7 steps more to get one session in comparison to an online fitness app.
So, there can never be a better time than this to make your fitness regimes accessible to your customers.
Here's how to build one.
The fitness app you should build 
Before learning how to build a gym booking app, let's understand the different models of booking apps that you can choose from.
This type of gym booking app is mostly suited for gym owners/fitness studios having a single branch. You can manage your studio's workout bookings, in-house and Virtual Sessions, payments, customer details, etc.
A well-established gym with multiple branches would benefit from this model. This version of the gym booking app would let your customers book a session in their nearest branch, and in need, can even reschedule it to another branch for some other time.
This is more like an aggregator model. You can partner with different fitness studios having their own planned sessions and packages for Yoga, Pilates, Zumba, etc. For example, a customer wants to book a weekly pilates session, so they can browse through your booking app and book the pilates session from the list of studios/centers providing them. This version of the app will be quite similar to the Zomato food delivery app. 
You can combine several types in one. For instance, gym owners can allow booking for their training sessions as well offer services of different trainers and studios such as Pilates sessions, Yoga sessions from a personal trainer along with activity tracker, calorie counter, virtual workouts, and more. 
Tip: Go for a hybrid model where you can provide customers with your services as well as external services. Your app would attract a wide range of customers as you'll be providing something for everyone.
Features of your Gym Booking App 
Each industry functions differently and offers unique features for its users based on the goals they want customers to accomplish. However, there are some basic but key features required for a gym booking app to make it functional.
Helps your customer to buy or renew membership, manage sessions, schedules through a calendar, book appointments or classes & pay automatically.
To let them register and join different workout sessions. Offer personalized training and group workouts online as well as offline.
A custom section in the mobile app for your members to book, join classes, view workout plans, give feedback, view diet plans, offers, manage their accounts, track progress, avail vouchers, and deals, etc.
To manage their appointments, upcoming workout sessions, and to organize the schedule through a hassle-free process.
Schedule automated push notifications, email, and SMS to members and leads with offers and deals such as upcoming sessions, renewal due, irregularities, feedbacks and etc. in order to reduce no show-ups.
For customers to book regular classes.
Cancellation and Reschedule
Customers can easily cancel/amend a booking according to their preferences. 
Add diet and nutrition plan, fitness tracker, motivational quote and video feature, weekend or special event/sessions kind of features to make it an all-rounder fitness app.
Online payment through different options such as MasterCard, PayPal, Stripe along with EMI, Cash, and Pay later options.
Manage all the bookings/staff's sessions, payments, and overall business operations through the admin dashboard.
Reports ranging from sales, visits, and leads to customer and inventory to analyze your business anytime.
24*7 online support to support customers with services. FAQs to help them with their membership and other booking process related queries.
Clients can share their experience with the gym, personal trainer, sessions, ambiance, workout plan, etc. by rating and posting a review. This will help in attracting new potential clients by providing them an idea to seek your personal trainer expertise.
Integrated Marketing Tools
Attract new customers by offering coupons/deals and discounts. Loyalty Programs to retain existing members. SEO and CMS for traffic, social media integration for engagement, and more. 
How to Build a Successful Gym Booking App 
A fitness business requires a lot of planning such as having different workouts, equipment, professional or personal training, and the list goes on. Similarly, your gym booking app will also have complex structuring. So, to perfect your app, you need to follow these 8 steps.
Select your app's model
Depending on your business requirements, network, and the status of your fitness business at present, choose a gym booking app model that would meet all your criteria. Also, make sure to research well about market demand, your competitors, financial plan, and projection before deciding a business model.
Decide your target audience 
After deciding the business model, you need to evaluate your target audience. Suppose you're planning to provide different workout types, then you can target the audience interested in Pilates, Weightlifting, Yoga, Cardio, Zumba, etc. Next, the age group such as Kids Zumba for 6 to 12 years, their health factors like over obese would avoid extensive cardio, and financial stability for people who're looking for affordable fitness options.
Listing all the different use cases to decide your target audience would be overwhelming. Better create a buyer's persona that would give you insight into your audience's details based on their demographic, behavior, psychographics, and geographical factors.
Finalize the monetization model
To get fruitful rewards, look for the different ways of monetizing your app. Based on your criteria, you can include:
Paid Subscriptions: To allow customers to reap the benefits of gym booking apps, you can provide them with different subscription plans. A monthly/yearly subscription plan to book for a gym/session. You can always start with a free trial.
Commission: Receive a fixed fee from the gyms and other fitness studios on every successful booking just like the Booking.com business model or you can charge them for listing their gym on your app.
In-app Purchases: If you want to launch a free app, you can still generate income by encouraging customers to buy advanced features such as a health monitor, fitness tracker, diet planner, calorie counter, device compatibility, or premium content like educational videos and tutorials.
Design the model
Once you've decided on the type of gym booking app and the revenue model, it's time to design a wireframe of the app. 
It starts with structuring the flow of the app, like how bookings would be done, and admin and other vendors would be notified of the same. 
How the app should look like design-wise — It should give customers an adrenaline rush to be fit and stay connected with the app. 
What should be the features of the app – From booking to reporting and user experience.
Marketing ideas and ways to promote the app.
By planning step by step, you can successfully build a roadmap to your gym booking app. 
Now, it's time to decide whether you would go for an all-in-one ready-made solution or develop a custom gym booking app.
If I were in your place, I would go for a customized gym booking app and ask the development team to integrate all those features of the fitness app in the gym booking app. Why not provide a customer with one fitness related app that has all the features.
So, if you have similar thoughts, the next step would be to gather your technical requirements.
Gather all the technological requirements
For a tailored gym booking app, the tech stack is incredibly important.
Open your notes app to jot down the kind of technical stack you would need to implement your gym booking app.
For application and data management, you would need a programming language such as Java, HTML5, etc.
A public cloud platform for dedicated cloud hosting.
You would need to choose the framework of the app from the available options: ReactJS, AngularJS, Vue.js, Flutter, Ionic.
Different APIs for features such as health monitor, calorie counter, workout tracker, videos, SMS and Email, CMS, data sync.
A database and backend data processing such as two-way data sync between the devices.
You would require secure payment gateways integrated into your system for quick transactions.
Know the estimated budget cost 
App development cost is a deciding factor before developing a booking app. However, the actual cost depends on the final features and other factors such as:
Business analysis
App development company's location
UI/UX design
Features and complexities
Project management
Post development support
Total hours required
Rework and modifications
3rd party integrations, etc.
Overall, your app's value and cost depend on the level of development company you hire. Thus, it's imperative to choose the right tech partner.
Partner with an app development company 
Launching a gym booking app requires a mobile app development team that specializes in different mobile app types such as Native, Cross-Platform, PWA, Hybrid, etc. Moreover, it's crucial that the team has a product portfolio, positive client approaches, testimonials, and feedback.
When vetting a company to partner with check their:
Work portfolio
Technical experience
Industry knowledge
There would be many factors to consider while choosing the right app development company, but with these, you can start your basic research and then get a call with the team. After all, don't they say, "Communication is the key"?
Market your gym booking app
After the development of the app is done, the final step is to attract the customers to your gym booking app. 
You can start small with shout-outs, targeting the locals first. On the next stage, engage with your customers via social media, offering them deals and rewards, and then after you've set your baseline, go for PPC, affiliate marketing, sponsored ads on social media, Google, etc.
Lastly,
Make sure your fitness app development
Has all the features of a fitness app
Provides the customer with an easy way to work out and monitor their health
Is flexible and profitable
Fitness is a journey and the customized gym booking app would accompany you in that journey, making it less struggling and more impactful. 
To accomplish all this, partner with an experienced app development company.
Befriend Technology for Transformation
Selecting the right technology is pivotal to your business's growth and success. Have you already decided the suitable one for your next project? If so, we can help you take the next step. If not, we can help you decide the best option. Connect with the Top 1% pre-vetted software engineers to build your software.