545
Time to Connect With Enterprises Across Borders: Meet Us in Europe
02 Mar, 2023
5 min read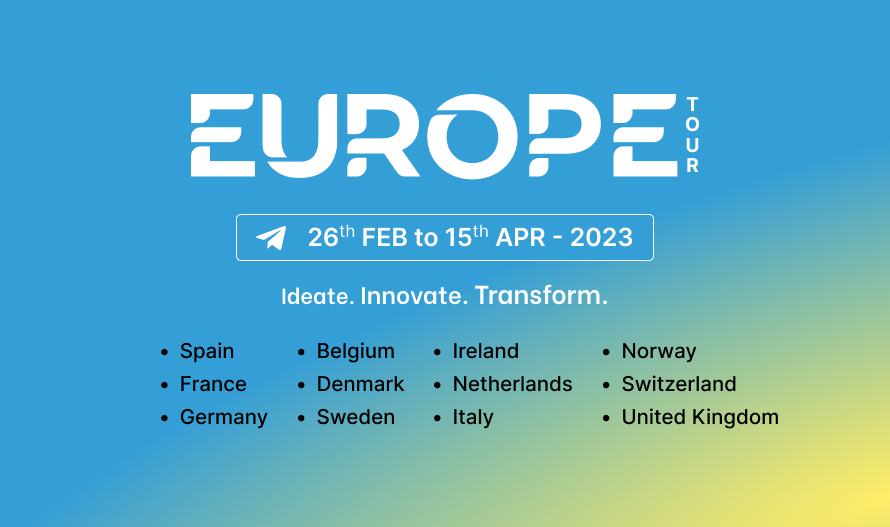 https://www.biztechcs.com/blog/meet-us-in-europe/
Summary
BiztechCS was found 16 years ago and ever since we have worked non-stop in digitally transforming businesses. Having worked in multiple industries and on 1200+ successful projects, we got to work with several clients across the globe. 
But now, it is time for us to expand our horizons, network, and meet more enterprise leaders who need to lead their enterprises to success. 
Thus, with the thought of getting more opportunities to meet entrepreneurs around the world, we have planned a Europe tour. Yes, we are traveling around European cities between 26th February and 15th April 2023. 
If you hail from the UK, Spain, Belgium, Netherlands, Denmark, and Germany or will be around, you have a chance to meet us in person. We can talk about the latest technologies and how our partnership can elevate your business growth.
More About BiztechCS
Biztech is known for delivering best-in-class digital solutions to businesses of all sizes and sectors. With over 350+ pre-vetted, top-tier professionals working together for a common goal, the company aims to put innovation at the heart of every project. 
With our rich industry experience and skills, we can extend assistance in various areas including but not limited to: 
Software product engineering 

Enterprise mobile app development

Quality engineering 

eCommerce development 

DevOps 

Cloud applications 

AI/ML development 

CRM & ERP integrations 
Our developers are prepared to work on the agile model and consider all security benchmarks while development. Besides our technical expertise, we also keep our soft skills polished to ensure smooth communication with clients.
Why BiztechCS is Out On a Europe Tour?
We believe in creating opportunities not just waiting for it! You create avenues and start working on them to achieve your goals faster. 
At Biztech, we aim to become one of the top three IT enterprises in our segment and establish its presence in the market of Europe, America, and Asia by 2026. 
Driven by our goals, we have planned this Europe tour. It is well-planned to meet entrepreneurs and tech enthusiasts around the world. If you have an extraordinary vision and passion to make it to the top, our partnership can take you there. 
Let's meet in person to get into the nitty-gritty details and increase your business sales 4x times. To schedule a meeting with us in person, please use the below link to book an appointment. 
Befriend Technology for Transformation
Selecting the right technology is pivotal to your business's growth and success. Have you already decided the suitable one for your next project? If so, we can help you take the next step. If not, we can help you decide the best option. Connect with the Top 1% pre-vetted software engineers to build your software.