'You have 15 new notifications'
The host of emotions that this five-word line trigger is insane!
While some of us might think the need to unplug and sort or logoff, but honestly; we can't. Because of the sheer convenience, the technology-driven world has to offer.
Want to learn a new skill? Go online.
Want to buy something? Get it online.
Craving for a pizza? Buy it online.
The other day I ordered a cake sitting on my couch for a friend who stays miles away. Convenience and swiftness are two prime reasons why on-demand food delivery apps like seamless are gaining popularity.  The popularity is not just among the consumers but also serves as an inspiration to budding entrepreneurs like you who want to begin a food delivery startup.
So, this post is for all you passionate entrepreneurs who wish to create a Seamless Clone App.
Let's start!
Seamless: A Dotcom Start-up
Seamless started its journey in 1999 as SeamlessWeb, a web-based system that caters to corporate clients like bankers and lawyers who worked long hours. In 2006, Aramark, a food services company, acquired SeamlessWeb but unfortunately suffered from minimal investment and increasing competition. To ensure survival even during a crisis, the startup made a smart shift to the consumer market through app updates and advertising and changed its name to Seamless.
Further, in 2013, it merged with Grubhub. The merger resulted in connecting diners with approximately 25,000 restaurants online and mobile-ordering across the United States and in London. In the first half of 2013, the combined organization processed approximately 130,000 orders per day.
Business ideas to take from this story
The transition from SeamlessWeb to Seamless teaches us that it is necessary to adapt to changes in order to survive. Whether it is adapting to new technologies or applying to trend marketing strategies; you must always keep experimenting. Secondly, it is important to pay close attention to your competitors. Grubhub kept an eye on seamless and by learning different strategies, they acquired Seamless.
Business Model of Seamless App
Seamless, being a consumer-centered application has both mobile and desktop versions. So, when you feel hungry while working on your laptop; next tab-browse-place your order and done!
Three stakeholders
Just like any other food delivery app, Seamless has three main groups of stakeholders:
Customers- They place an order to restaurants via the Seamless app and thus generate demand.
Restaurants- Restaurants that are associated with the app get a notification when a customer places an order.
Delivery Personnel- They help integrate demand and supply chain by providing logistics support.
3 Important Features of Seamless App
Quick Search
It is necessary to ensure that your users can easily look for the menu and select what they are looking for. The main function of the Seamless app is to allow users to find nearby restaurants without any hassle. This results in a user-friendly experience. Seamless provides lots of restaurant options as well. Users just type the cuisine in the search and pick from a list of nearest local joints.
Pre-order & Re-order
People are always running short of time. To make their tasks easy and increase more profits, food delivery apps are adding the pre-order feature. Even Seamless lets its customers order food from two hours to up to four days in advance. Secondly, with the 'Express Reorder' option, you can quickly bring a previously ordered meal straight to checkout.
Review and Ratings
Diners research online and where to order based on the reviews. And that is why business owners are playing an active part in managing reviews. Review and ratings feature to allow users to effortlessly rate restaurants where they receive food orders. This provides transparency between users and restaurants and increases the scope for improvement.  In seamless, users can rate a restaurant based on three things: how accurate was the delivery time, how accurate the order was, and how good the food was.
How Seamless Earns Money
The core components of pricing across all food delivery apps are:
> Menu: the actual food you are ordering
> Service fee: a fee charged by the delivery company for providing the service
> Taxes: sales tax on your order based on applicable local tax laws
> Delivery fee: the price for having the food delivered
> Gratuity: this is the optional tip for the delivery driver
Grubhub and Seamless provide their services to consumers for free. Seamless earns cash from restaurants by a percentage of the sale price. This example will make the point clear-
If the price of a meal in the restaurant is $10, Seamless would charge the restaurant let's say 30% of $10. I.e. $3. Restaurants that pay more appear in higher search results. They at least pay 10% while some pay more.
What's Unique About Seamless
Gift Cards
Gift cards are a good marketing tool to acquire new customers and retain existing customers. The give and take of cards will also ensure that more and more people are getting to know the brand. This will increase brand awareness.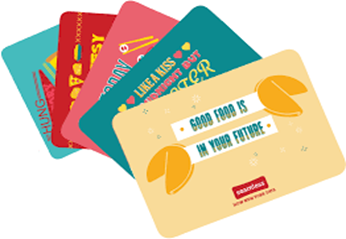 You can give Seamless gift cards to your friends or family as a gift. The recipient after entering the code at checkout can redeem the card.
Enticing Discounts
Seamless offers a wide variety of menu to choose from, it allows users to save preferences, address, and payments, it even has a feature of searching food within a price range. Cool. But what's, even more, a wow thing is; there is no fee to pay when customers pay an order. Seamless offers a discount on the first purchase and gives frequent promotions on the following orders.
Related: Instacart Clone: Reinventing Grocery Shopping
Things to Consider Before Developing a Seamless Clone App
Business Model
Before you decide to begin with food delivery app development, you need to choose a business model. There are two successful business models for food delivery startups. First is the restaurant to customer model in which restaurants directly connect with customers. They deliver food with the help of their in-house logistics staff. Second is the platform to the customer model.  Here, the customer places the order on the app/web, the platform confirms the order from the restaurant, and the delivery is either done by the restaurant or by the platform.
Unique Selling Points
A unique selling proposition defines your company's unique position in the marketplace. It makes you stand apart from your competitors and also improves the way you cater to your customers. Develop a strong USP keeping in mind your audience's needs and pain points. Some ways to do this are: (a) Customers want a quick delivery. So, you can ensure that ordering on your app will get the meal delivered in 40-50 min. (b) make sure you link with a variety of restaurants and offer a wide range of cuisines. This will give customers multiple options to choose from. (c) with an increase in demand for hygiene due to the pandemic, you can assure your users that you provide a contactless delivery. This will instill trust in your brand.
Secure Payments
There is an underlying fear that all of us have when we make an online transaction either through a credit card, or any other payment gateway. Cybercrimes are increasing and every online business owner tries to ensure a secure payment gateway that users trust. Consider choosing from Stripe, PayPal, Authorize.net, Amazon Pay, PaySimple, and others for your app. Secondly, as you will require customer data like address, you need to consent from them first.
Push Notifications
It is an important feature to incorporate into your app. You can notify your users about special deals and offers, news updates, reminders, alerts, etc. But remember that notifications can make or break your business. While notification of a discount can get you more orders, it will only bring worries if you spam the user or send offers at midnight. You can use your creativity here and create engaging notifications. You can send short yet effective messages like the one below.

User-friendly Interface
If customers can not connect with your app or website, there are chances they might never visit your store. To keep your customers engaged, providing an attractive and user-friendly interface is necessary. While developing an app ensure that options like a restaurant menu, restaurant search, cart, etc. are easily usable.
Keep Up with The Trends
Innovations in technologies are advancing. So, it is necessary for your business to keep up with those trends. For instance, Artificial Intelligence is in demand. You can use AI, and machine learning to provide a better customer experience. Secondly, Millennials are the key drivers for the online food industry. 59% of restaurant orders from millennials are takeout or delivery. So, when you develop your business plan, consider them as your target audience.
Rise of New Delivery Channels
63% of Americans abandon digital orders. The major reasons are poor user experience, failing to offer customized orders, errors while using an app/website. You can avoid this by simplifying ordering and letting your customers order via other channels like Social Media, virtual assistants, smart devices, etc. You can create a bot for Facebook Messenger which answers consumers' queries and takes orders. Grubhub has integrated with Alexa, which lets customers reorder any of their last three purchases on Grubhub.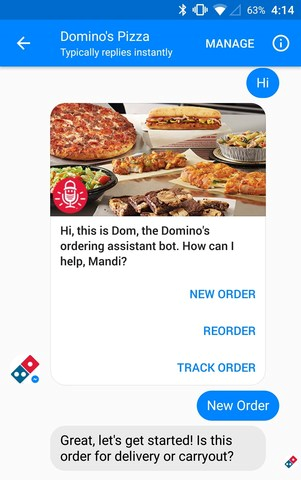 Dominos lets you order via messenger. Image Courtesy: techcrunch
How to Build Seamless Clone App
Customer App
With increasing competition in the food delivery market, it is essential to provide a feature-rich app to your users which is user-friendly and includes these below mentioned necessary features.
Easy Social Log-in: Creating a new account and manual login takes up time. Instead, users can sign up using their social media like Instagram or Facebook. 
Smart Search: With the help of a smart search that has a powerful search engine and filter options, users will find it easier to navigate restaurants, menu, and cuisine based on their preferences.
Cart: The cart feature includes the order that a customer adds along with the price and quantity of the item. It also gives the liberty to edit the order and then checkout.
Payment Options: Users can pay using their desired mode of payment. This feature gives several options like Debit Card, Credit Card, Cash on delivery, Mobile wallets, etc.
Notification: Customers receive notification about their orders, what is trending, discounts, etc.
Call Restaurant/ Driver & Tracking Order: Call Restaurant/ Driver allows the users to directly make a call if there are specific instructions they wish to give. The tracking driver feature lets users access the live location and track the status of their food.
Social Community: With this feature, users can integrate their social media handles with the app. In this way, they can connect with other users, follow recommendations, etc.  
Real-time Availability: In case the user wants to opt dine-in option, real-time availability will allow him to check the availability of the tables.
Restaurant Management
Providing a separate dashboard to vendors for restaurant management is necessary to increase their functionality. Consider these features to add to your vendor panel.
Order Alerts: This gives real-time notifications to restaurants on orders from customers.
Accept/Reject Requests: The restaurant can accept or reject orders based on availability.
Offer Management: This feature allows restaurants to create new deals and offers.
Live Tracking: Restaurants can see the real-time location of the delivery person and manage the order accordingly.
Analyze Sales: This enables the restaurant owner to view top spenders and analyze the sales report for better functioning.
Delivery Dashboard & Driver App
This feature makes the task for delivery professionals easy by providing every information on the order, restaurant details, customer address, etc. The following are the basic features that a delivery dashboard should include.
Navigation: The GPS integrated in the app allows the delivery professionals to easily navigate the route and total time estimated for the delivery.  The map will also help them to optimize the route according to traffic. 
Start/End Trip: With this feature, a delivery person can conveniently start a trip after accepting the request from a restaurant and end it once the customer receives the order.
Contact the User/Restaurant: The feature helps the driver to call the concerned stakeholders without calling manually.
Admin Panel
Admin panel gives a complete view of different stakeholders associated with your brand. It enables you to manage different functionalities and keep a check on the number of users. Furthermore, it also gives you the right to add or remove any stakeholder.
Analytics Dashboard: Admin can view every activity and get an overview of the total number of orders, commissions earned, frequent locations, etc.
Offers and Coupons: This feature lets the admin send promo codes, updates, and offers using push notifications.
How Much Will a Seamless Clone App Cost Me
The cost for developing a Seamless Clone App depends on two factors: (a) what type of app are you building (iOS or Android or both) and (b) the features you are looking to integrate into your on-demand food delivery app (c) do you want to add a web app as well?
Most startups begin with an MVP (minimum viable product) model. It is a fundamental model of your product to meet your primary goal where you build an app only with key features. For the driver and the user app, you can choose the MVP model but your admin panel might need some additional features. It is therefore advisable to approach professionals who can help choose the best.
So, What's Your Plan?
We hope this complete guide helps you execute your plan for building the Seamless Clone App. If you are unsure about what features your user app should include or what are the latest trends that are ruling the food industry; you can contact our team anytime! 
All product and company names are trademarks™, registered®, or copyright© trademarks of their respective holders. The use of them does not imply any affiliation with or endorsement by them.