685
Slack Wanted Competition But Lost to a Stronger Team(s)
04 Dec, 2020
3 min read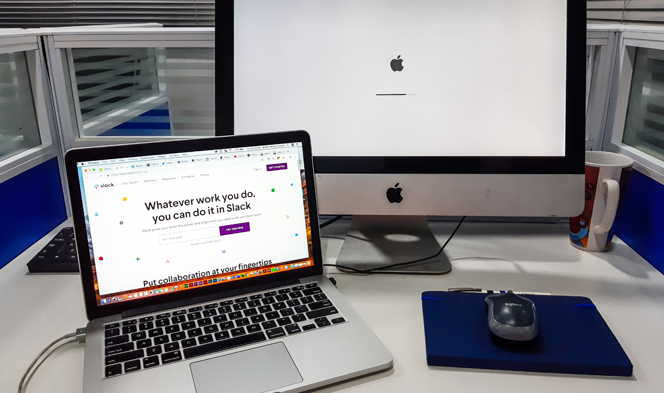 https://www.biztechcs.com/blog/slack-microsoft-big-tech/
Workplace communication and management tools is a whole industry. The one tool that made its mark was, and is Slack. Whether you use Slack or not, you know Slack and you have at some point said, Slack-like-tool-that-my-company-uses to describe what you use.
In 2016, when Microsoft launched Teams, Slack wrote them an open letter saying how excited they are for some competition.
Well, Slack and Salesforce have just signed a deal that brings the communication tool under the CRM giant. So much for competition.
Popularly, Teams seems to be not quite as fun as Slack but it comes all wrapped up and ready with Microsoft's Office 365 suite of applications.
Slack, one would have to buy separately and integrate with whatever other office tools you are using.
Microsoft also happens to be a parent to another huge CRM, Dynamics 365, which is a direct competitor to Salesforce. 
Slack could never match up to Microsoft Teams in terms of the number of users, inspite of being the better experience. When bundled with Salesforce, their userbase is set to increase exponentially.
That is often the advantage that Big Tech has. They are able to bundle a new product and offer it at no extra cost. As a business when one is already paying for plenty of things, not having to pay for one thing is preferred. And this is especially true when it comes from something as trustworthy as Microsoft.
Microsoft's office tools are unparalleled and getting better every day. Not to mention, the tight integration that Teams has with Office 365 also make it a pretty seamless experience when you are sharing files all the time, collaborating on documents and spreadsheets, or have virtual team meetings.
Big Tech often has the power to subsidize tools, and these are the companies that are often already on your computers, offices and homes. Getting more value out of something you already have or are using, is easier, and customers put less thought into arguing against it.
This is also one of the reasons why Amazon is able to put Alexa's smarts into cheap plugs and why Google can Meet directly into the Gmail app and Calendar. Bundles are cheaper for the customer, whether they are businesses or individual customers.
For companies making these bundles, their new product sits ready with the things a customer already uses and needs, ready for use when the time comes.
I don't play games so I would never sign up for Apple Arcade, but I do need iCloud storage, Apple Music and Apple TV+, so opting for the Apple One bundle is a great option for me. Especially since I will be able to share with my family. If one day I decide to play a game, I automatically use Apple Arcade since I am anyway paying for it.
Microsoft Teams is a part of a convenient bundle. You don't have to think about it. Slack is a conscious choice. And sometimes we don't want to have to choose.
All product and company names are trademarks™, registered® or copyright© trademarks of their respective holders. Use of them does not imply any affiliation with or endorsement by them.
Befriend Technology for Transformation
Selecting the right technology is pivotal to your business's growth and success. Have you already decided the suitable one for your next project? If so, we can help you take the next step. If not, we can help you decide the best option. Connect with the Top 1% pre-vetted software engineers to build your software.