8 Ways to Monetize your Free Apps
18 Jun, 2021
7 min read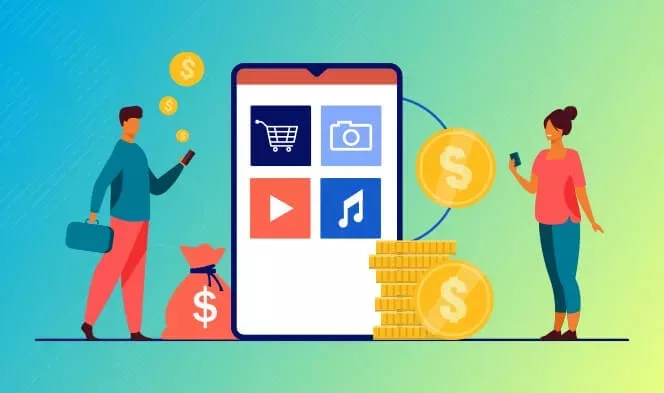 https://www.biztechcs.com/blog/ways-monetize-your-free-application/
Since the boom of the internet, there has been plenty of revolution, and we have come a long way from supercomputers to personal computers to mobile phones and smartwatches. With every passing day, new things are coming into the tech world. Over decades we have seen an increase in the usage of mobile phones and applications. Every week billions of users come online for the first time with mobile phones.
According to Statista, there will be an increase of 4.3 billion new users by 2023. The mobile phones and app market has vast potential in the coming years as well. The increase in the number of users of mobile phones increases the number of applications as well. There have been plenty of applications in the Android and iOS market which are just going to increase over the coming years. There is also a huge market for developing applications, whether it is free or paid.
If you plan to start with free ecommerce mobile app development and wonder how to monetize the app, you are at the right place. Herein, we are going to see different ways to monetize your free application.
Ways to Monetize Applications:
Freemium Model
The Freemium model is a well-known way to monetize your free apps. Many leading applications like Clash of Clans, Spotify, MX Player follow this model for their applications. In this, users get access to the application's basic features, and you can use advertisements to monetize. Further, if users need to access some premium features and don't want ads, they can opt for a premium version of the application.
Example: Talking about Spotify, it allows users to have access to the basic functionalities like creating playlists, listening to music, following their favorite artists, and more. Once they purchase the premium version, they get further access to other features of the application. Freemium models have three categories:
Consumable: these items are used once in the application like digital currencies or health points
Non-consumable: these items are useful permanently in the application once the users purchase a premium version of the application
Subscription: this allows to unlock the further features of the application for a particular amount of time
Advertising:
When starting with ecommerce mobile app development, advertisements are the most common way to monetize your application. There are different ways to display the ads in the application, depending on your business model. Following are different ways you can display your ads:
Banner Ad:These ads are either on the top or bottom of the screen. They are less intrusive as users can still use the application. It also has a low engagement rate as they are dependent on brand recognition.
Video Ad:This ad lasts for 10 to 30 seconds and is within the application where it automatically plays. It is most commonly found in gaming apps and image and video editing games. In some parts of the application, the video ad category rewards the users with app currency, extra points, etc., which they can use in the application.
Native Ad:Native ads integrate into the application and use sponsored content or videos to promote a particular brand or product. They are static and less annoying, which does not bother the users much, and they can easily use your application.
Interstitial Ad:These are full-screen pop-ups that appear for a specific moment within an application. It displays when the application is either closed or open, and the users have two options, they can either close the ad or check out the content.

For example, Emirates Airlines used this ad type to promote their new New York-Dubai destinations by showcasing their full-screen ads to travelers in New York airport once they connect to the Wi-Fi.

Incentivized Ad:It uses preferred rewards for specific in-app actions or engagements like polls, content sharing, showing videos or certain brands, etc. These app bonuses can increase app loyalty and user engagement; further, you can profit from this tactic using in-app currencies and sponsorships.
Referral:
Another name for referral marketing is Affiliate Marketing. This model connects with the previous model of an in-app advertisement to monetize your application. Necessary information about the other brands already exists in the application using affiliate links, and based on click and app installs, you receive a certain commission. The basis of these rewards is on the cost-per-action model or revenue sharing. There are three ways you can use the referral marketing model:
Promote another application
In-app advertisement
Advertise products or services via in-app store
Many affiliate network companies will help you to find a suitable affiliate for your application. Moreover, different software programs and tools can be useful to integrate this model. Similar to the advertising model, varied campaigns can be useful in affiliate marketing:
Cost per Mille (CPM): you receive payments based on the number of impressions; the advertiser is usually charged every 1000th time.
Cost per Click (CPC): you receive payment based on the number of clicks on a displayed application.
Cost per View (CPV): you receive payment based on the number of video views.
Cost per Install (CPI): you receive payment when the user installs the promoted app using its ads in your product.
Subscription Model:
The subscription model sets up the revenue stream from the weekly, monthly, or annual fees for special services provided by the free app. This model is useful in cloud services audio and video streaming apps. Consumers receive access to the content according to their subscription plan. Some examples are Netflix, e-publications like Wall Street Journal, New York Times, etc.
Sponsorship:
The sponsorship model is the most profitable way to make money from free apps. This model is for the developed apps that already have regular users. You can gain the major benefit of applications with a specific market niche. You can contact sponsors in the same industry to match their brands with ads, information in the app or adapt the app design with the brand. Two ways to run sponsorship deals:
Equally divide revenue from the application.
Set a monthly sponsorship fee.
Crowdfunding:
This is a new way to monetize an application for free. Customers can use the following platforms to raise funds for app development and marketing: Kickstarter, Indiegogo, CrowdFunder, and AppsFunder.
Email Marketing:
Email marketing is a profitable method to gain users. Here, businesses can get the users' information by making them sign up for newsletters. Businesses can increase their subscribers for the products and services. You can send emails about new products, discounts, new features, and letterhead services. These things will help you to increase traffic towards your website and increase sales.
Pro-tip: Don't annoy your customers by sending them emails too frequently.
Keep the frequency of emails less, making customers open the emails and interact with them. Make sure to abide by the data laws of different countries while you are gathering your users' email id and using them for your business.
App Merchandise:
Ecommerce industry is booming, and customers are shopping online from the safety of their homes. Amazon offers the opportunity to earn a profit from the app with the help of a merch tool, a program allowing app owners to create and sell their branded items. All the logistics are managed by Amazon, i.e., production, selling, payment, and delivery, while you also get your profit share.
Conclusion:
The app market is highly competitive and already has plenty of applications. You need to define different ways to monetize your application and make it available to people. If you are thinking of starting with ecommerce mobile app development, you can reach out to us. We will help you develop an application as well as help you define a monetization model.
All product and company names are trademarks™, registered® or copyright© trademarks of their respective holders. Use of them does not imply any affiliation with or endorsement by them.
Befriend Technology for Transformation
Selecting the right technology is pivotal to your business's growth and success. Have you already decided the suitable one for your next project? If so, we can help you take the next step. If not, we can help you decide the best option. Connect with the Top 1% pre-vetted software engineers to build your software.