4054
7 Best Web App Ideas for Beginners to Make Money in 2023
17 Jan, 2023
5 min read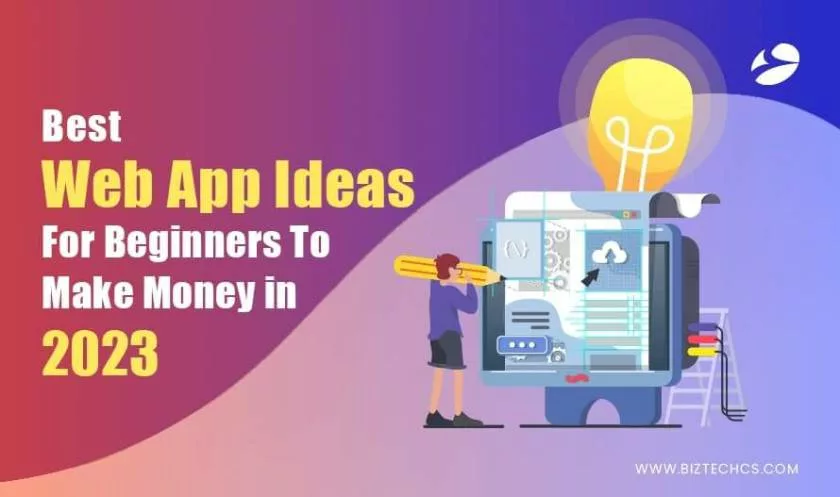 https://www.biztechcs.com/blog/web-app-ideas-to-make-money/
Summary
So, you have planned to develop a web app! Great.
But, do you have the best idea to follow through? Or, you are still confused about the kind of web app you should build?
If you haven't decided yet, these web app ideas might help you. Not only can you pick the best ideas for your web application but will also be able to see if your ideas are profit-worthy, trending, and budget-friendly.
P.S. – You can also consult a web app development company and see if the idea is technically viable.
But before we explore these ideas for web apps, let's help you understand how they work and the different types! Then, you would be able to decide the best idea for your web app.
Working of Web Apps - A Brief Introduction
In layman's words, software that runs on desktop and the web is termed a 'website', and the ones on mobile is 'app'. However, we are seldom introduced to terms like web apps unless we need to develop one or work with one.
So, what are web apps?
A web app is an application that can be accessed via any device (desktop, mobile, or tablet) with the help of a web browser. Like mobile apps, you don't have to install them on your smartphone. Rather, they have a web hosting address and are accessed just like a website. There are many hosting providers and you can compare Cloudways vs Bluehost.
However, their user interface is a lot like a mobile app that one could confuse one with the other. For instance, Gmail, Facebook, Netflix, Office 365, and Google Drive are some of the best web applications present out there.
How do web applications work?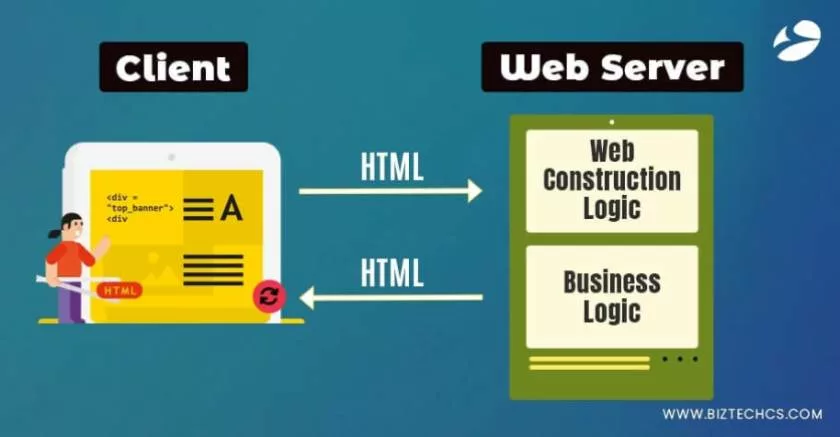 Just like websites, web apps also have a backend (server-side) and a frontend (client-side) developed using a programming language or framework. For a web app to work, you need a web server, an application server, and a database.
When a user requests access to the web server, it redirects the request to a web application server. After collecting requisite information from the database, the web app server sends the requested information to the user, which is accessible on their device interface.
What are the types of web apps?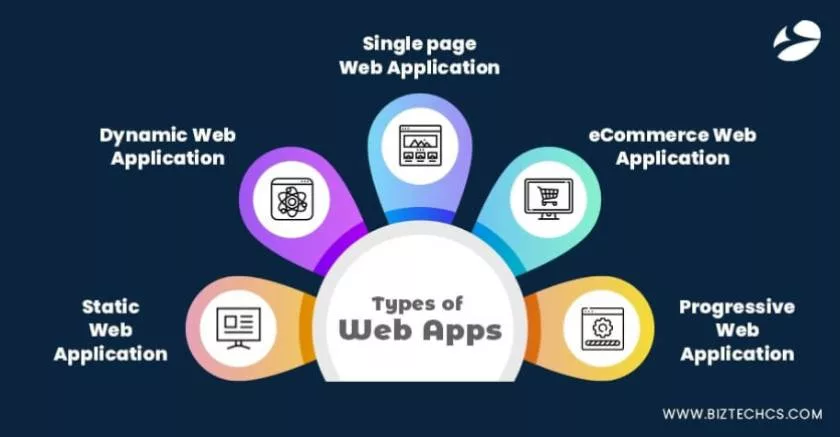 There are several kinds of web applications. And if you want to build the most profitable one, you will have to know the various types.
Developing a web app can be a hectic task as it takes lots of time and money. Here, you can consider using the React Admin template which comes with pre-built components and features.
Here are some of the popular web application types:
Static web application
It is the simplest form of web app containing information and content. Such kinds of applications don't have any personalization and any changes occur only after the page loads.
Dynamic web application
Such web apps are one of the most interactive and sophisticated forms of apps present out there. It has a front and a backend and uses the database to store any public or private data that users might query about.
Single page web application
An SPA loads only one web document and the rest of the page content loads via Javascript APIs. These are simple and work quite fast. However, SPAs are not SEO compatible. Some best examples of single-page applications are Netflix, Gmail, and Twitter.
eCommerce web app
If you build a web app for selling products and services on it, you can call it an ecommerce business or web app. There are plenty of eCommerce web applications like Amazon, Flipkart, Ajio, and so on.
Progressive web app
Such web apps are built using HTML, CSS, WebAssembly, and Javascript. The PWAs can be accessed from a web browser and can run on any device like desktop, mobile, tablets, etc.
Unlike mobile apps, they don't need to be installed on your device. Besides, they have better UI/UX, automatic updates, and can be developed at a lower cost. These are some of the reasons, why you need to build progressive web apps for businesses.
How do Web Applications Help you Make Money?
Now that you have learned of the types of web apps, you must be curious to know the unique web app ideas. But before we jump onto that, let's first help you understand ways to monetize your app. It should help you decide which will be the best option for your business.
So, it all comes down to making money in the end. If you are building an eCommerce web app, you already have your monetization model, i.e., you earn profit by selling your products and services.
But, what if your web application idea doesn't involve eCommerce? Suppose you want to build a web app like Facebook or Instagram. Which monetization model would be suitable then?
Or, have you ever used a classified ad website like Craiglist and wondered how does Craigslist make money?
Well, since it's a non-profit platform, it earns its share through paid ads. But, what about you? How would you monetize your app?
Here, I have chosen a few web app monetization ideas to help you out.
Through advertisements
This is one of the most tried and tested ways of making money. You might have seen ads on websites while browsing online. Just like websites, web apps also have spaces to feature ads of the chosen bidder.
If your web app is reputed enough and hosts potential leads, there will be more bidders who are interested in earning ad space on your web app. Now, the cost is determined using different metrics like CPC (Cost per click) and CPI (Cost per impression).
Sponsored content
It is alternatively known as 'Native Advertising', it is one of the more subtle forms of advertising and money making. Have you ever noticed how some pages that you haven't followed or liked on Instagram and Facebook still appear on your feed?
If you have, you might have noticed the word 'Sponsored' right above the post. Though it can get a bit confusing for users as they find it undistinguishable from other content, some people find it to be a sophisticated way of showing ads.
Freemium
While some content or features of your web app is available to everyone, you can keep some of these features at a price.
E-wallet interest
If you have used apps like Robinhood or Paytm, you already know examples of e-wallet interest. They have their own wallet where you can store money and transact more easily and securely. Such apps earn from the interest out of this.
Borrowed time
Many startups start building their web app on borrowed time. They get an investor to invest in their business idea or use the venture capitalist fund for it. Businesses don't follow any monetizing plan initially and invest their time in making the app popular and in demand. Then, either they adopt any of the above-mentioned monetization plans or allow any bigger organization to acquire them at a cost.
These monetization ways will help you screen ideas for web apps as you will be able to connect the dots and decide which model will work where.
Now that you have learned how most popular web apps make money, let's look at some of the best web application ideas.
7 Unique Web App Ideas for Beginners
You might have heard hundreds of cool web app ideas for your startup. But, questions like the ones below will often cloud your judgment.
'How much is it going to cost me?',
'Is the idea profitable enough or marketable enough?',
'Has the business idea already seen saturation?'.
Today, I will not only help you with the best ideas for web applications but also help seek answers to the above questions.
1. CRM software for businesses
Do you use a CRM yourself or ever used one? CRM or customer relationship management software help companies manage their relationships with existing and new customers to improve their business processes and relationships.
Some of the popular examples of CRM software are – Salesforce, Zoho, HubSpot, Dynamics, etc. While there's a range of best CRM solutions already available in the market for enterprises, small-scale businesses are still looking for a cost-affordable yet seamless CRM solution. It's useful for them to compare the costs of CRM software solutions that are available.
So, if you can build business web apps that can meet the modern-day needs of startups and small to medium-scale businesses, it's a great idea.
Things to take into consideration: Keep the UI/UX simplest, and offer services at a convenient price.
How to monetize? With Freemium or premium features.
2. Professional services web app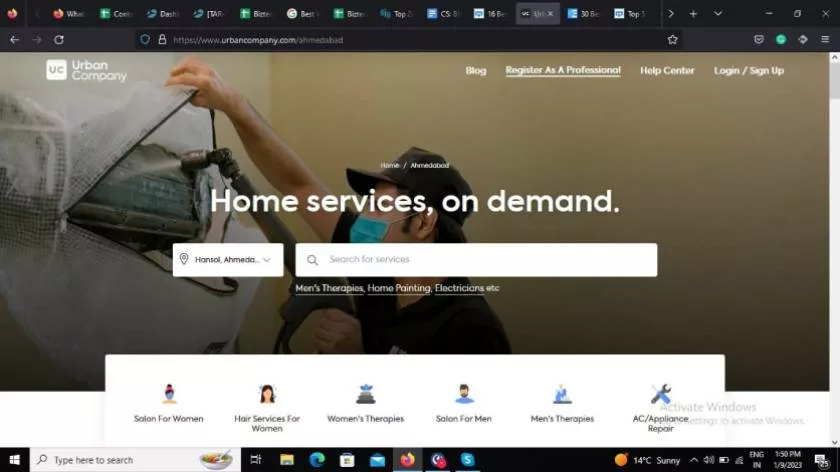 Web apps can also sell professional services just like physical and digital products are sold online. For instance, Urban Company (earlier famous as UrbanClap).
Here, users get to enjoy multiple services, all in one place. Whether it is salon services, plumbing services, or electrician services, they get everything under a roof. As per statistics, the revenue of Urban Company grew to 437.6 Crore with a 76% jump in FY ending March 2022.
But sadly, the revenue came at an expense of Rs. 1,000 Crore with an increase of 90% in costs. While the industry shows immense growth statistics, it is also clear that companies like Urban Company have to find a sustainable ground to survive in the market.
If you believe you have the right money making app idea in this sector, you should definitely give it a try. Since it is still an emerging sector that is yet to be explored in depth, you have a lot of potential.
Things to consider: How would you minimize the cost of traveling, promotion, hiring, and operations to gain profit?
How to monetize? Borrowed time, profit from services.
3. Online classroom app
If there's one industry that had seen the least technical innovation, it is probably the education sector. While eLearning apps like Byjus and Vedantu have been here for quite some time now, the emergence of online classroom apps wasn't in demand until recently.
When the pandemic forced the shutdown of schools and colleges, the education sector saw the need to change the way traditional classrooms work. Today, there are web apps that allow schools and colleges to connect educators and students.
Salient features include: live video posting, online attendance, notifications, and alerts for classes. You might consider such web app ideas to make money sufficiently.
4. Language learning app
It is one of the most simple web apps available out there. People always need to learn multiple languages and if you can solve their problem by developing a simple web app, there is nothing better.
Salient features to include: Profile creation, login/ signup options, various levels of teaching, quizzes, gamification, practice test, test paper evaluation, and achievement certificate download.
5. Food delivery web app
A food delivery app is one of the most interesting and cost-effective app ideas for beginners. It doesn't require much investment as you just have to spend on developing a robust web app and connect with local restaurants.
You have to ensure timely delivery and excellent features that make it easier for your customers to find their favorite restaurants easily and order from them. Even though there are market leaders like Zomato and Swiggy already doing great in this sector, you can make a mark of your own by addressing the various challenges users face while ordering.
Salient features to include: Quick sign up, interactive search, dynamic listing, ratings & reviews, recommendations, quick ordering, order tracking, group order, and support services, etc.
6. Review web apps
Books, movies, or plays – there are plenty of things you can include in your review web app. You can get people to sign up on your app and add reviews for the movies they have watched and books they have read.
You might have browsed sites like IMDB and wondered how these review sites make money. Well, they use the advertising model or subscription-based model to make money. You can choose your preferred monetizing model and build a review web app for yourself.
One can also try and build an app like Reddit where the content and discussions get upvoted or downvoted. These Reddit app ideas should help you choose the best one for your web app.
7. Social platforms for similar minds
There are plenty of social networking sites available today right from Facebook and Instagram to LinkedIn and Twitter. While some of them are more on the entertainment side, some can help build a professional network.
Now you have to think smart because social media giants like Facebook and Instagram have become an indispensable part of our lives. In times like this, you will have to think about what kind of social web apps can benefit your business.
In today's life of hustle-bustle, developing a social app for similar-minded people to nurture their hobbies and interests can be an interesting idea. The web app can act like a single platform where people can browse content they are interested in, and connect with fellow community members.
How to monetize? Through sponsored content, advertisements, or membership fee. You need to work on these social app ideas and see what works best for you.
These are some of the most promising web application ideas for projects that beginners can make use of. However, you may have to hire dedicated developers to build robust web applications of their choice.
A professional team will have the skills and experience to help build feature-rich and futuristic web apps for you. If you are still looking for one such team, our web developers can be of assistance. Hire web app developers from BiztechCS and build a profitable web app for your business in 2023.
Takeaway
Do you have multiple web app startup ideas but can't narrow them down to one? Well, this list of web app ideas for beginners will help you out. You should be able to choose the best idea that streamlines your business vision and you will also learn the potential ways to make money.
There are plenty of ideas for building web apps for businesses today. In the end, you have to decide based on the investment you can spare, market demands, and monetization ideas.
FAQs
How to make money from web app ideas in the future?
There are several ways to make money from your web apps – using the advertisement model, freemium or premium features model, subscription-based model, revenue generation by selling products/services, borrowed time, sponsored content, etc.
What is a web-based app?
A web application is software that can be accessed via the world wide web using any device with an internet connection. Though it can be accessed via a web browser and doesn't need to be installed separately, it gives users an app-like feel and is easy to use.
What kind of web apps are in demand?
Today, there are unseen possibilities for web apps with high demand for CRM software, online teaching apps, dating web apps, crime alert apps, employee orientation software, eCommerce web apps, and more. Do you have an interesting idea in mind? We can help you diagnose their technical feasibility.
What are some of the best programming languages for developing web apps?
Here is some best language for web apps development – Python, Java, Javascript, C++, C#, Dart, PHP, Scala, Kotlin, etc.
Befriend Technology for Transformation
Selecting the right technology is pivotal to your business's growth and success. Have you already decided the suitable one for your next project? If so, we can help you take the next step. If not, we can help you decide the best option. Connect with the Top 1% pre-vetted software engineers to build your software.