Project Overview
CarrierBagShop wanted to develop an eCommerce responsive website for their customers, which had a good design, supported multiple languages, and other customer-centric features. They have been part of our family for a long time, and working with them on this project has helped both parties grow.
Responsive website:
As an eCommerce company, they wanted to have a responsive website that helps them and their customers place an order, check out products, and perform many other activities. We helped them develop a website where our main focus was on the UI and UX of the website and making it clean and intuitive. Not only that, but we've been maintaining their website, updating from time to time, and making sure that they have a competitive edge.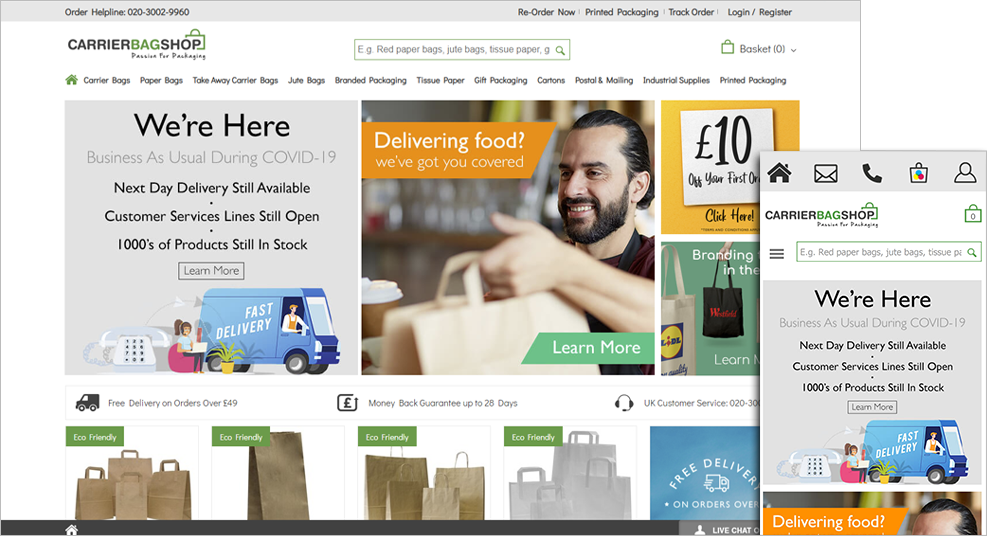 Multi-language support:
Our major challenge was to make the website multilingual dynamically. The client wanted that website to support various European languages to build their brand there. Also, they wanted to keep the website's functionalities and look & feel along with the user experience the same on all their store views. So to fulfill this request, we used the original source code to create multilingual stores, maintaining the integrity of their brand throughout all the stores. Apart from the development, we are currently maintaining multiple domains of our client in different languages:
CRM Admin:
The client wanted to have features wherein they can manage various modules of the website. To fulfill this need, we have developed various support modules to manage customers, tasks, cases, leads, opportunities, quotes, orders, invoices, purchase orders, offline orders. Additionally, we developed an attractive dashboard and charts to review reports and statistics and effectively manage inventory from the backend.
eCommerce Website:
The need was to develop an eStore where users can purchase bags easily from the website. We helped them develop an eCommerce website for online shopping for existing and new customers, wherein users can search for various products, add to cart, place an order, and more. We have also simplified the payment process by integrating PayPal, Cheque, and Bank transfer. This provides users with a seamless shopping experience from start to finish.