Project Overview
The client wanted to create a space to showcase their spaces and give their brand visibility and a personality online. For this, a website is a perfect way to start. If their website had to have a personality to match their contemporary style spaces, then it was supposed to be design heavy and it was. Since most of the design-heavy websites take time to load and usually fail Google's page test, this was one of the challenges.
We had to make sure that we deliver the quality in terms of design as well as user experience while making sure the website's response time is kept to minimal.
And delivered on both the fronts.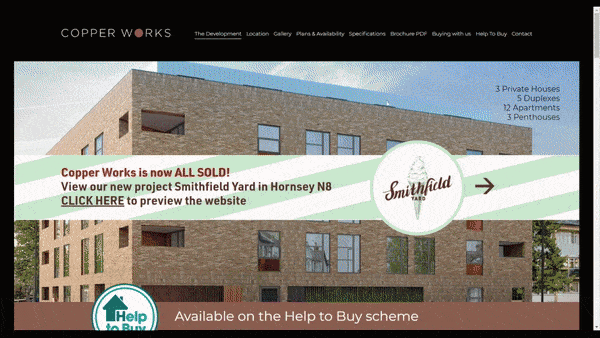 Challenges
Scrolling Animation
As seen in the above GIF of the home screen, the major challenge we faced was getting the circle animation that was in sync with the user's scrolling. And not only that, we had to maintain the same experience in the responsive site too without losing any quality and had to keep it glitch-free.
Pixel Perfection
Great design is the direct output of a lot of attention and details. With the animation required for experience, we had to make sure everything was pixel perfect. From images to font, and to each and every element you see on their website.
Solutions
Research
The solution to scrolling animation required a lot of RnD for our HTML and WordPress teams. They had to put their thinking caps alongside creative ones to come up with the right solution. They found an almost similar animation in an animation library which required 40% changes to fit into our requirement. After a lot of efforts, we were able to come up with the right output.
Detailing
As mentioned in the challenges section, our goal to deliver pixel-perfect results required us to pay extra and focused attention which is our usual way to work with all our design projects. And we can proudly say that we were able to achieve it.
Page Speed
The main deliverable being the page speed, we were able to reach the right page speed to help them make that right first impression in front of their visitors.