The Prologue
This pandemic has more or less been an unprecedented situation. It has seen everyone come together to fight it in whatever way they can, even if all that someone can do is stay at home. An infectious disease like COVID-19 can only be curbed by avoiding the transmission. Certain activities, however, might be difficult to avoid, like getting groceries, or if you're in the line of work that falls under essential services, like medicine, banking, etc., then you have to work. 
In all infectious diseases, the best way to figure out who is infected is through contact tracing. Contact tracing means tracing who you may have come into contact with. This helps to determine who you may have infected, and then in turn, who they may have infected. This requires a minute analysis of where you have been in the last 14 days.
Traditionally contact tracing is done by healthcare providers when you test positive for the said disease, in this case, COVID-19. But that would probably mean that you talk about the people you consciously meet rather than ones you come across in public places.
However, technology gives us new ways to implement contact tracing. There are two different technologies that can work together to do this: GPS, and Bluetooth LE.
We have made an app that leverages these technologies to make contact tracing easier.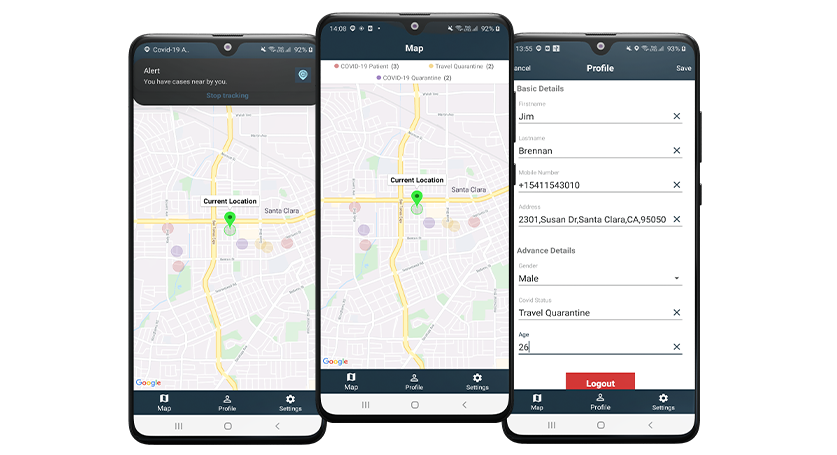 How does it work?
The data of positive patients will be given by the government or medical authority concerned with that particular area/city/country. This data will be put on a map to figure out active zones of the virus. The way that this would work is that if a person were in the active zone, the app would alert them about it and give instructions as to what measures they should take now that there is a chance that they have been exposed.
Technical explanation of how contact tracing will work:
GPS puts an app on a map. This way medical authorities can know where you have been. Moreover, it can know everyone else who has also been there, and therefore can cross check the exposure spread from one location and person to another.
At the second level comes Bluetooth. This is Low Energy Bluetooth so it doesn't drain your battery. It exchanges encrypted keys with other devices that it comes into contact with. Then if, you test positive for COVID-19, then you can mark that in your app. Now the app will upload the keys you have come into contact with in the last 14 days to the main database to alert those users. It is important to note that all of this is encrypted and no user data will go to anyone else. Anyone who was in contact with you will be altered with potential exposure and therefore be asked to self isolate.
This way, with a multifold network, contact tracing might be easier and more anonymous than having interviews by medical organizations.
Apart from this, the app will have CMS pages for FAQs regarding precautions, measures to take while self isolating, options for getting essential items, etc. It will also have features like reporting a case, etc.
Now, of course, not all exposure time is equal. If you are working with someone who has been exposed in the next room and using the same facilities for hours in a day, there are more chances of you getting infected. On the other hand, if you only came across an infected person in a market for a brief moment, then the chances of you touching the same surfaces are lesser.
Highly infectious diseases like COVID-19 can only be kept in control by curbing the spread, identifying points of exposure and then treating those patients.
Important Note:
This app will work best with data from medical organizations so that it is trustworthy and doesn't cause unnecessary panic. The dataset can only be managed by the governing body of the area that uses the app.