Project Overview
Initially, El Camino Real Charter High School had a lot of issues handling all the school operations, students, and staff records. They wanted to have a solution that can track and manage all the tardy prints, attendances, detention marks, courses, field trips, emergencies, inventories, and events. They required a powerful application that can automate all the manual work and be accessed from anywhere anytime. Along with these specifications, ECR school had additional requirements such as:
Multi-School support
Google Cloud Print integration
Aeries and ERP System integration
Simplified Admin process
Mobile application
Digital ID generator
Our work
Backend Processes
To keep a track of all the management activities, notifications sent, we documented and synchronized every activity in the web backend during run time. Since every log was being documented in the backend using trylock, the chances of missing out on any detail or action reduced to none for the school.
Simplified Admin Processes
To help the admin get an overview of all the activities or complete information of a particular student in one place, we provided an Admin Panel. And along with it, a dynamic Report Generation feature using which admin can generate reports and send it to a specific group of people. Next, to ease up the admin's work, the Role User Admin feature was added in order to assign sub-roles. To send instant notifications to parents, staff, or guardians, we integrated Dynamic Email and SMS features.
These features help admin to streamline the processes, assign roles to particular users, and with the help of instant notifications all the users will be on the same page. On the basis of the roles assigned, users can have access to the needed features.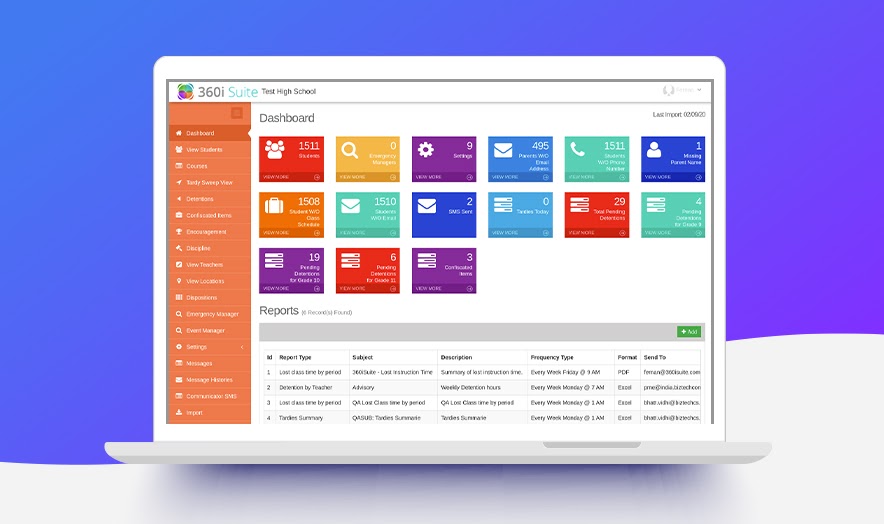 Seamless Google Cloud Print & ERP Integration
To help the school get rid of manual tardy markings, we integrated GoogleCloudPrint System to the 360i application in order to print tardies from the Google cloud configured printer. Next, connecting the ERP system to the 360i iOS application for fetching teachers' data helped to update any changes done in the teacher's information or courses on the application automatically into the system.
Digital ID generator
To provide staff with easy access to every information of the students, we introduced a new feature called Digital ID generator. Through this feature, students would no longer need to carry their physical ID cards. A unique student ID will be generated the first time a student scans the QR code and through the PWA installed on their mobile device, every information regarding that student will be automatically recorded in the system. Currently, the feature supports tracking of tardies, moreover, it aims to track students' attendance soon.
Gone are the days when students had to hang ID cards around their neck, digital ID generators help in saving paper and plastic. Teachers can scan QR-codes of students and view details like schedules, tardies, and detention lists of each student.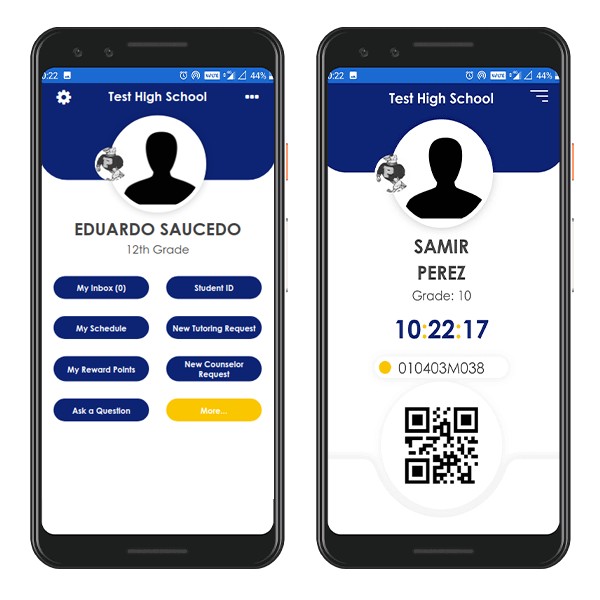 Challenges
After developing the Student Information System with all the desired management modules, the major challenges were to provide the multi-school support with cloud-based data connectivity. So, here's how we tackled that challenge and helped ECR streamline operations of all their branches.
Multi-School Support
To support multi-school data, for example, to access the data of all the school branches in one place, we provided an Add New School option to the Admin. With this feature, Admin can add a new school, and simultaneously a new database would be dynamically created. To increase the performance and reduce the data fetching time, we created a separate individual database for each school and connected them to a master database that would be accessible by the Admin. And thus, Admin can now fetch selective information of an X student studying in another branch of the school without any extra logins. Centralizing the entire system helps admin to know the whereabouts of all the branches and access necessary information anytime from anywhere.
Data Integration
As the product advanced to support multiple schools, the smooth integration of data synching based on their data input model was the necessity. For the schools or their branches with data connectivity to the Aeries system, we allowed syncing of all data from a global database, i.e. Aeries to custom 360i website. A one-click data input feature, i.e. excel sheet import was provided for the schools that recorded the data manually. This way we ensured that every school can use this solution despite their data models.
Outcome
With 360i suite, El Camino Real Charter High School was freed of all their manual data record entries or loss of a few, saving time and resources. The application helped them and is helping many other schools track, manage all the minute details within a fraction of seconds, and reduce paper work.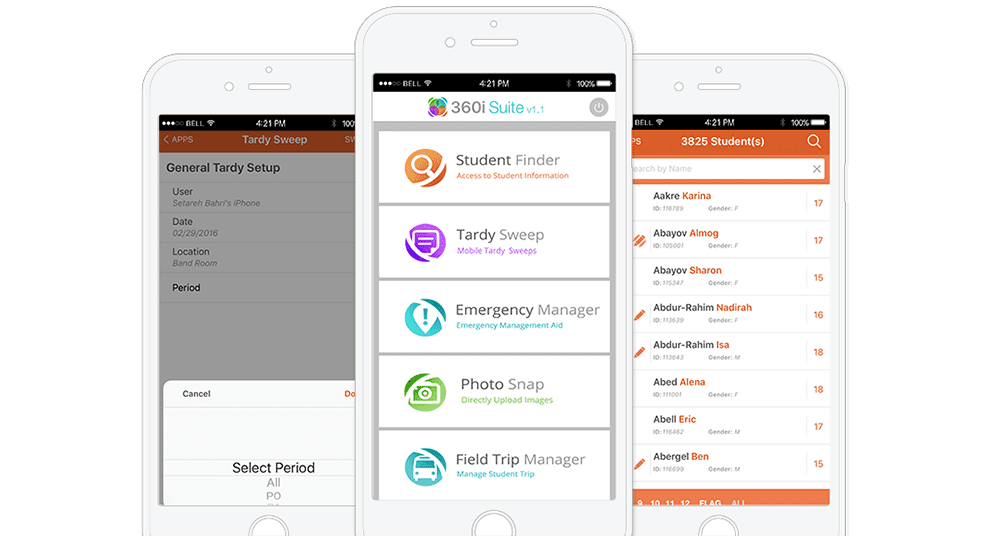 To know how it can help you, check out the full solution explanation of the
360i suite
.
Future Scope
The system aims to add a Face Detection feature to record the students' details.