Project Overview
Route1 is a perfect marketplace for legal recruitment in the UK. The client wanted to upgrade their website with an attractive frontend and a series of functionalities in the backend. Many of the basic admin operations like adding roles and a specific country were static. They wanted to modify their website and candidate application by adding dynamic features while making sure there are no bugs. The major changes with which we helped Route1 client attract more candidates and employers were:
Enhanced Admin Processes

Improved Content

Feature-rich Employer & candidate portal

Full-functioning Mobile Application
Our Work
Enhanced Admin Processes
Previously, the admin had to add all the job details like Roles, Company Types, Countries, Regions, Cities, Currencies, Verticals, and Candidates manually. To provide the admin with a simplified approach to add details, we implemented Dynamic Settings feature using which admin can dynamically set all the roles and other job-specific details. For exporting candidates' and employers' records, a PHP export functionality was integrated into the system.
Improved Candidate Experience
As Route1 is a candidate-centric recruitment platform, the client wanted to provide candidates with all the updated news and information from various law firms along with job specifications. To help the client help candidates with proper decision making, we integrated Lexology API to the system. Because of this API, the candidates can now collate articles from across 300 law firms.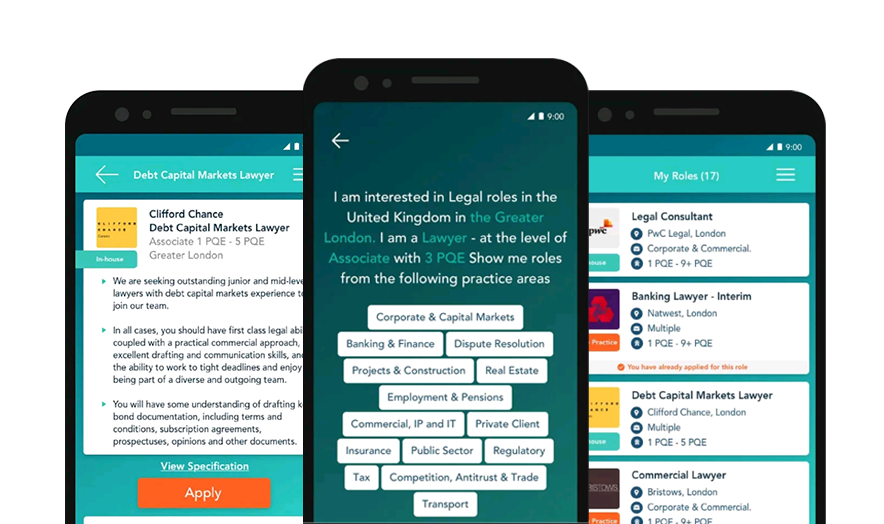 To provide candidates with relevant matches, we refined the job matching algorithm by adding new filters like multiple practice areas and roles. Candidates can now choose from more than one practice area while setting the preferences. Using the Add Document feature, they would be able to upload and store multiple CVs and relevant documents on the client's secure storage.
Feature-rich Employer and Candidate Portal
We redeveloped the Roles Module in the Employer Portal. Using this, employers can now set the roles and other job-relevant specifications of the jobs listed for their firms, which was previously set by admin only. We added a Candidate Application screen in the Employers portal through which employers can view the list of candidates who've applied for the job along with their status.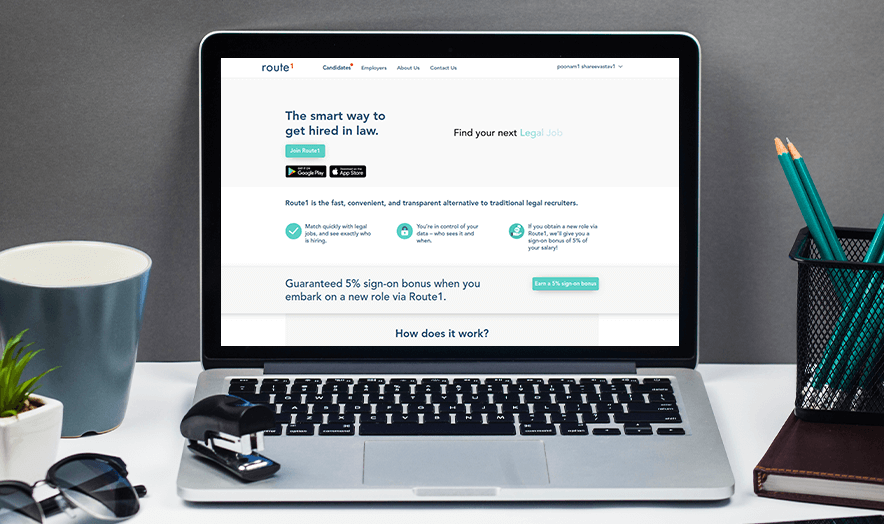 To provide candidates with a wonderful and friendly website experience, we designed a new Role Matching screen where candidates can view the list of jobs that matches their preferences and roles. Instead of surfing through hundreds and thousands of job specifications, candidates can now view the jobs that are specific to their requirements.
Seamless Integration
Since recruitment is an ever-growing industry and keeping up with candidates and employers all the time with the latest updates and news can be impossible sometimes. So to make it easier, we integrated CIO and Twilio API to the system. Using the CIO API, admin can send emails, news and articles, weekly digest, and other industry-related updates to employers and candidates dynamically. For OTP notifications, we integrated Twilio API with the system.
Outcome
With a modernized frontend and bug-free feature-rich backend, Route1 is growing at a rapid pace in the recruitment industry. The enhanced candidate experience is revolutionizing the way legal firms hire.