Overview
El Camino Real Charter High School (ECRCH), located in the United States, is steadfast in its mission to deliver exceptional education and facilities to its students. To help fulfill this mission, they have collaborated with Biztech over the years, entrusting us with the task of digitizing their administrative procedures and transforming their traditional workflow into an efficient, tech-powered system.
As the COVID-19 pandemic imposed unprecedented challenges, ECRCH needed a solution to ensure the safe and organized reopening of their school. Biztech responded with the creation of Royal Pass, an innovative web and mobile application. This application was specifically designed to track and maintain records of COVID test reports and vaccination status for all students and staff. It served as a reliable digital platform for health data management, fostering a safe environment and streamlining administrative operations amidst the crisis. With the deployment of Royal Pass, ECRCH successfully navigated the complexities of the pandemic, demonstrating the resilience and adaptability of their institution.
Challenges
Managing extensive health data of thousands of students and staff was a significant challenge.
Organizing and tracking regular COVID tests for a large number of individuals was arduous.
Swift decision-making based on updated health records for school access was crucial.
Manual entry and verification of COVID test data was time-consuming and prone to errors.
Ensuring the safety and health of students, staff, and associates in a large-scale educational setting was paramount.
It was critical to adhere to new rules and guidelines imposed by health authorities.
Solutions
App Development
Biztech developed a Royal Pass application for maintaining and updating COVID test results and vaccination status.
Test Result Upload
Users can upload their test results and vaccination certificates, simplifying data management.
Status Indication
The application shows a real-time 'Allow' or 'Not Allowed' status based on the latest health records.
Daily Questionnaire
The app includes a daily COVID-related questionnaire to monitor potential health concerns.
ID Scanning
The application includes an ID scanning feature for school entry, making the process efficient.
Schedule Display
The application includes features for users to view their regular schedules.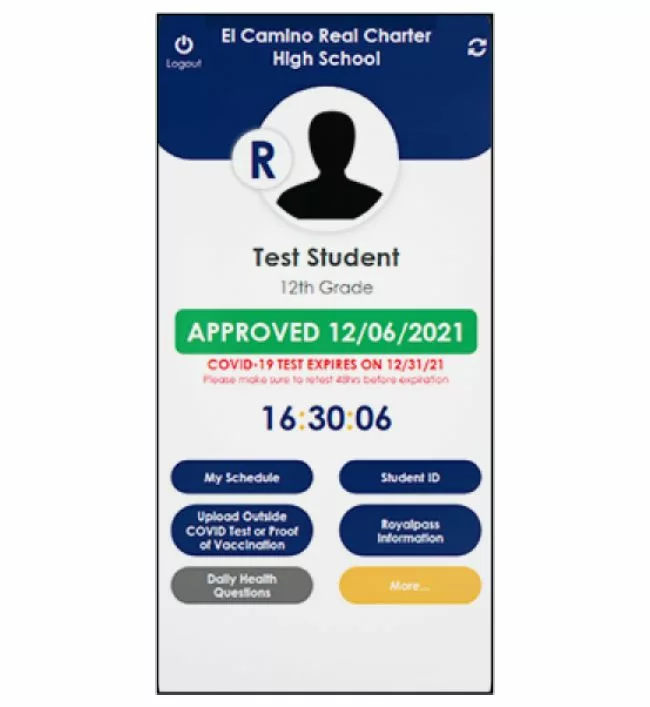 Screenshots
The Royal Pass application screenshots display a user-friendly interface with clear sections for uploading COVID-19 test results and vaccination certificates. Key features visible include the daily health questionnaire and the immediate 'Allow' or 'Not Allowed' status based on users' health data. The administrative side is also showcased, demonstrating an effortless management system for user data. These visuals underscore Royal Pass's role in streamlining operations and enhancing safety at El Camino Real Charter High School.
Results
Streamlined Process
The Royal Pass application simplified the process of maintaining COVID certificates and daily health questionnaires.
Improved Safety
The application helped maintain safety and security within the school during reopening.
Societal Contribution
The application significantly contributed to society's fight against COVID.
Efficient Management
Admins can efficiently manage and verify COVID test results and vaccination documents through the application.
Better Decision-Making
The system allows for quicker decision-making based on updated health records.
Time Efficiency
The manual labor involved in logging COVID test data has been greatly reduced, saving valuable time.
Your Growth Transformation Partner
We help businesses like you expand their growth with the power of technology. Our world-class team of agile enabled innovators help you extend your tech capacity with advanced technologies and processes. To see it in action, let's connect today and initiate the discussion.
Contact Us
Let's create something awesome together. Reach out to us to hire the best talent for on-time and bug-free deliverables.